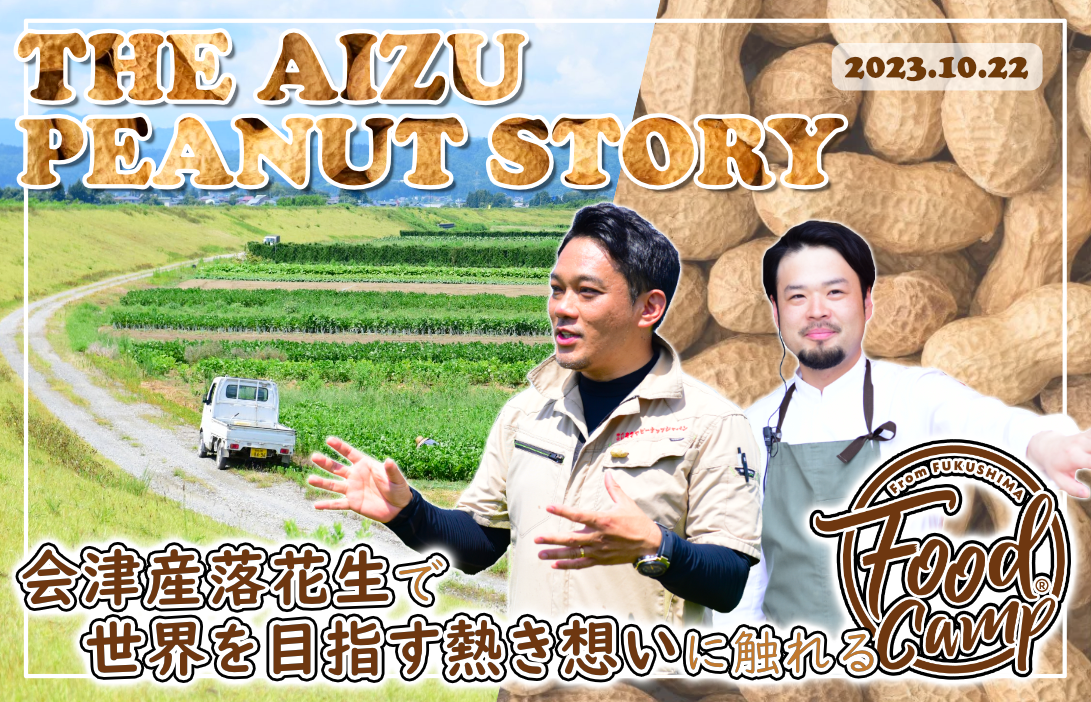 Aizu Peanuts Japan (APJ) has a vision: working with more than 70 peanut farmers in the Aizu and Kitakata area to make Aizu-produce peanuts something to be proud of. Working together with around 15 centers for people with disabilities as a cooperation between agriculture and welfare, APJ organizes the entire production chain, from planting and harvest, to cleaning, selecting, drying and roasting. The meal will be provided by Chef Inoue from Hashiyada Shoten, who specializes in French cuisine and considers it his life work to discover all of Aizu's seasonal products. Come witness the debut of two new FoodCamp stars!
APJ (Aizu Peanuts Japan) Co., Ltd.
https://okuya-pj.co.jp/
Hayashiyada Shoten
https://hashiyada-shoten.jp/
This tour is no longer offered.
A report is being prepared.
Highlights
Try harvesting peanuts yourself and try them freshly boiled!

Harvesting peanuts is a fun experience for adults and kids alike. Dig to your hearts content for the bigger-than-usual peanuts that Aizu's rich soil produces. Of course, no harvest-party is complete without some freshly-boiled peanuts to snack on on-the-spot.

Experience Kentaro Matsuzaki's salesman-spirit and love for peanuts

Kentaro Matsuzaki (APJ Co.Ltd.) has the kind of salesman-spirit that brings a community together. His story features many inspiring and emotional moments. Why not meet the man behind the peanuts?

A lunch course with all of Aizu's deliciousness, presented by chef Inoue

The lunch course for the day will be a product of the collaboration between Kentaro Matsuzaki, and chef Inoue, who loves Aizu more than anyone, featuring all the rich flavor this region has to offer.
Cast
Global dreams for peanuts from Aizu

Okuya Peanuts Japan Co.Ltd. -

Kentarou MATSUZAKI

Okuya Peanuts Japan works with 70 peanut farmers in the Aizu area to make Aizu's peanuts something to be proud of. Working together with around 15 centers for people with disabilities, Okuya cleans, selects, dries and roasts peanuts. What drives owner Matsuzaki?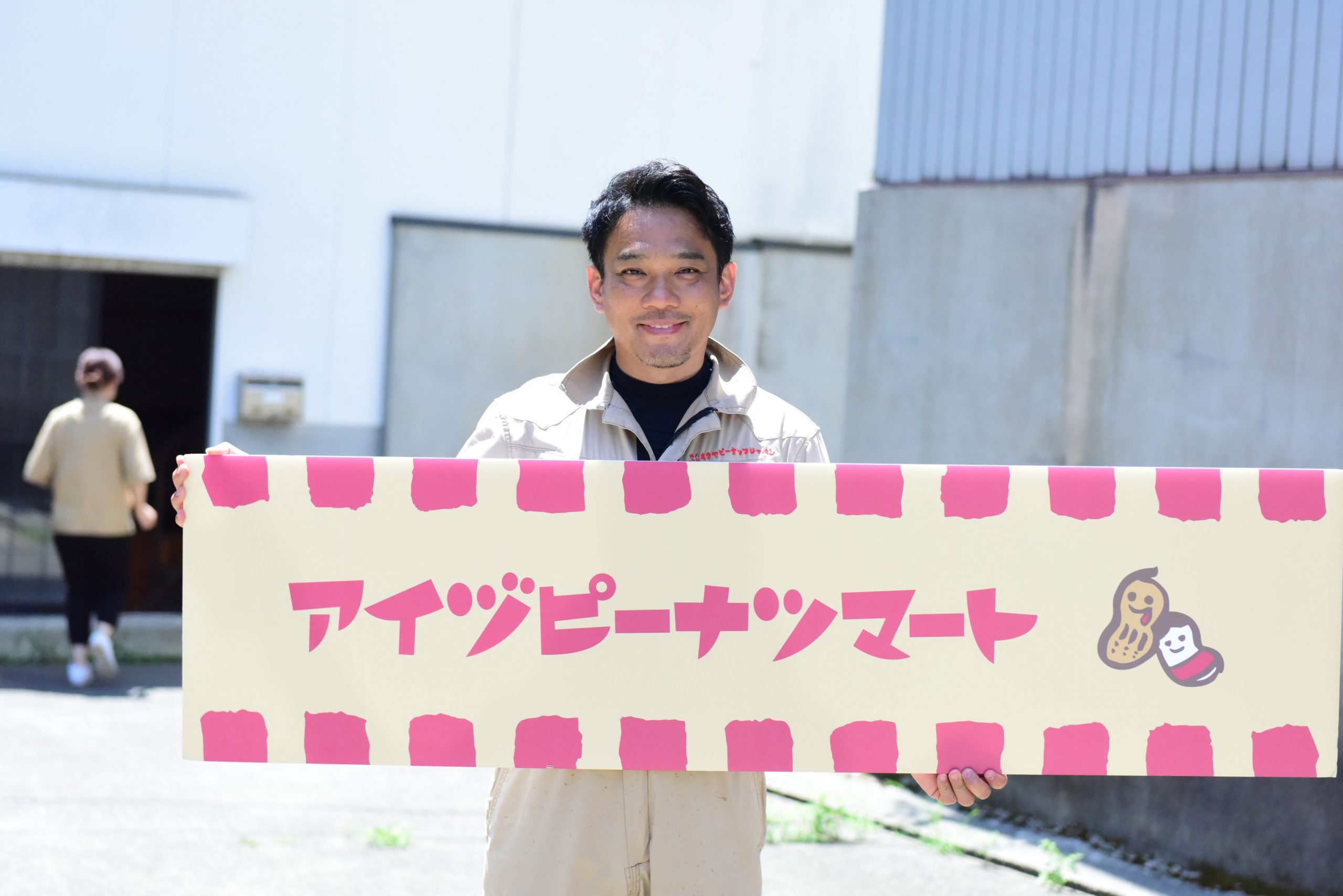 What I want to be when I grow up? Business owner.
At age 2o, Kentaro Matsuzaki first started his own company. When handing out his business cards to people he met, they would ask: "What kind of company is it? What do you do?" His reply would always be: "I don't have any work in particular. Let me know if you have any work for me!" He did not have any particular line of work in mind, but one thing he was sure of: he wanted to do business. From helping with farm work such as weeding, to transportation services to and from hospitals, grocery shopping services, cleaning gravestones, and even attending funerals in someone else's stead, Matsuzaki did anything. One thing he learned during this time: solving regional problems is a good way to do business.
The hidden history of peanut cultivation in Aizu
Later, Matsuzaki established a company that produced bean-based snacks, but when trying to make a switch to domestically-grown products, he found that good quality peanuts were hard to come by. This was about 13 years ago. "If they're not available, we can give up on the idea, or grow peanuts ourselves," Matsuzaki thought. Having always had a soft spot for farming, he chose the latter without hesitation. Farming had always been a difficult trade to start as a newcomer, with several challenges like finding good soil and acquiring the necessary equipment. Nowadays it is much easier to start an agricultural business, making the project feasible.
Matsuzaki stumbled upon a surprising truth while starting up his peanut farm. For about 10 years since the mid-70s, peanuts had been grown in the Aizu area by contracted farmers. And not just a little: around 100 hectares of peanuts! Fascinated, Matsuzaki inspected documents he found about the cultivation, and met with farmers from that time, who told him all about the peanut farming situation back then. He learned that – because there was no place for the peanuts to be processed in the area – the peanuts would be shipped to factories in Chiba. This way, Aizu-peanuts would find their way to the market, labeled "From Chiba." Later, it became possible to import cheap peanuts from abroad, which made their market value plummet, and meant the end of peanut farming in Aizu.
The fact that peanuts had been grown in his own region of Aizu 40 years ago was the most shocking revelation to Matsuzaki. Whether it was pure coincidence or Matsuzaki's desire that led him to this encounter is open to interpretation. Regardless, it became his drive to help bring life to peanut farming in Aizu once more. In order to tackle his biggest challenges – peanuts as "From Aizu," buying in peanuts from Aizu at a competitive price, and establishing his own processing factory – he established a new company: Okuya Peanuts Japan Co.Ltd. (now Aizu Peanuts Japan Co.Ltd.).
The story of a peanut salesman: peanuts that Aizu can be proud of worldwide
Nowadays, 'agriculture and welfare cooperation' is a common concept in Japan, but this was not yet the case when Matsuzaki started it. About 200 people from welfare facilities, such as people with intellectual disabilities, help peel 200 tons of peanuts by hand. Add 100 contracted farmers and 100 people working for processing companies (including Hayashida Shoten), and you've got around 400 local people working together. For Matsuzaki, rather than making a lot of profit for himself, his focus is on making sure the whole community benefits. He is still trying to include more players in the project. This story of a peanut salesman is what will bring peanuts to the limelight as something Aizu can be proud of worldwide. Pay a visit to the center of this new peanut-trade, with this edition of FoodCamp!
Discovering Aizu's seasonal ingredients as a calling

Hashiyada Shoten -

Koji INOUE

Born in Kitakata City, Chef Inoue specializes in French cuisine, and worked as the saucier - a high ranking position - for a hotel restaurant. Making it his life's work to discover Aizu's seasonal products, we can't wait to see what he will bring to the table.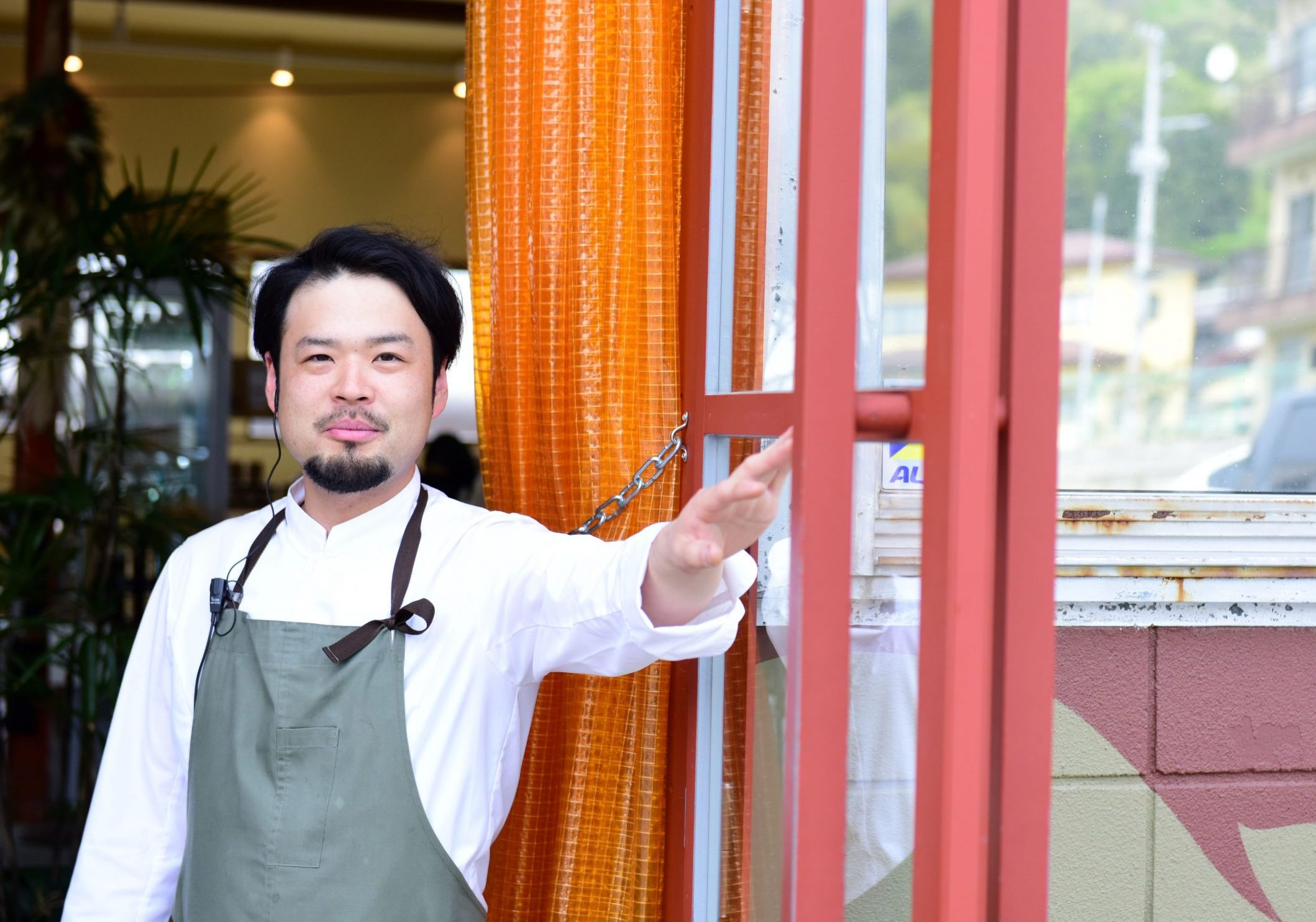 Cuisine as a way to make people happy
Chef Koji Inoue grew up cooking together with his mother and grandmother. They taught him many different home recipes, and everyone in his family enjoyed the dishes his own homecooked meals. This experience of making people happy by cooking for them is what led him on the path to becoming a chef.
After high school, Inoue entered a culinary school, where his first encounter with French cuisine made him fall in love for cooking more than ever before. Finding a job at the Koriyama View Hotel, he gained a very wide experience, from its French restaurant, to various international cuisines, catering to wedding parties, and cooking for receptions and banquets. He obtained the national 'Western Cuisine Chef'-license, and got one of the most important jobs in a hotel kitchen: the saucier, a specialist in charge of soups and sauces. He gained further experience as the main chef for the chairman's office of the Hoshi General Hospital in Koriyama City. Finally, he returned to his hometown of Kiyakata, where he joined Hashiyada Shoten, a local company specializing in the development and processing of new food products from local ingredients.
Aizu: a chef's treasure trove
One thing Chef Inoue learned through the years is that Aizu is a veritable treasure trove of food. With Aizu Traditional Vegetables at the forefront, Aizu's local culinary culture, with its abundance of unique ingredients, has been passed on through the generations. Aizu's peanuts is one such ingredient. In other areas, peanuts are harvested multiple times throughout the year. But in Aizu, which turns into snow country every winter, harvesting is only possible once a year. The peanuts planted in spring take their sweet time growing and developing in the nutrition-rich soil and clean water of the Aizu basin, live through the particularly hot valley summer, and stock up on all the nutrition they need by the time they are harvested in autumn. This is what gives peanuts from Aizu their large size, as well as an almost chestnut-like texture, making it outstandingly flavorful, even when simply boiled with a bit of salt. They are exceptional, both in aroma and flavor.
Chef Inoue notes that one of the best features of Aizu is its long period harvesting period from fall to winter, in which many delicious foods can be enjoyed. "Being able to call a place with such abundant delicious food home is a real luxury," says Inoue; a sentiment he feels strongly both as a chef and personally.
A dream come true: contact with FoodCamp
Funnily enough, Chef Inoue already has FoodCamp-experience! He joined Chef Matsuoka of Restaurant L-Marl several times as an assistant in previous editions. "Chef Matsuoka always comes up with dishes and menus to surprise both producers and guests, and clearly has a good time himself too. I always hoped I'd get the opportunity to serve my food at FoodCamp too. Now that I'm getting that chance, I'm looking forward to it more than anyone!" says the chef. Joining forces with one of the best producers from his own hometown, Kentaro Matsuzaki, he is dedicated to presenting a meal all guests will enjoy.
We are 100% certain that this will be an edition of FoodCamp that will bring out the best of Kitakata's bountiful autumn!
Tour Schedule
Pick-up / Meeting Place

8:40 a.m.

Pick-up by taxi (Koriyama Kanko Kotsu Taxi) from your house or place of stay in Koriyama, or at Koriyama Station. We will inform you of your pick-up time one day before the tour.
*For those scheduled for pick-up at Koriyama Station, please arrive at Koriyama Station by 8:30.

Let's go!

9:10 a.m.

Departure for the tour site, from the Magonote Travel Asaka Office.
* Those coming to the Office directly, please arrive by 9:00 (limited parking available).
*We will make a brief stop at the Bandaisan Service Area.

Arrival in Kitakata: Harvesting Experience

10:50 a.m.

We will arrive at a peanut farm in season. After APJ-owner Kentaro Matsuzaki tells us all about what makes his peanuts so great, it's time to harvest some delicious, ripe peanuts ourselves! Finally, enjoy some freshly-boiled peanuts on-the-spot.
* We will provide you with harvesting gloves. Please bring items like a hat and towel, and be sure to wear comfortable clothing.

Arrival at the Peanut Center

12:35 p.m.

Next, we will head out to APJ's Peanut Center, where you will learn how the peanuts find their way to the market: from the selection, to the cleaning and roasting.

Lunchtime!

13:10 p.m.

Enjoy a wonderful lunch, featuring some of the best ingredients of Aizu's fall season, in an area of the Peanut Center magincally transformed into a dining area. The menu will be provided by Chef Inoue, in charge of product development at Hashiyada Shoten. Chef Inoue is specialized in soups and sauces, with a background in French cuisine. His life's work is going into the mountains of Aizu to discover delicious local ingredients. We can't wait to see what Chef Inoue comes up with!

Departure

15:25 p.m.

Time flies when you're having fun. We will depart from the Aizu Peanut Center and make a brief stop at the Kita-No-Sato Roadside Station for some souvenir shopping, before heading back to the Magonote Travel Asaka Office.

Arrival at the Magonote Travel Asaka Office

17:30 p.m.

After arriving at the Magonote Travel Asaka Office, you will be brought by taxi to your home or place of stay in Koriyama City, or to Koriyama Station.
*For those planning further travel by public transportation please prepare an itinerary from 18:30 forward.
Tour details
Date(s)

October 22 (Sun.)

Fee

*same rate applies for children/participants travelling to the venue directly with their own vehicle.

What to wear/bring

・This tour takes place outdoors. In case of clear skies, please prepare a hat or cap to protect you from the sunlight.
・Please wear comfortable shoes and clothing.
・In order to prevent the further spread of COVID-19, please wear a mask.

Conditions of Participation

Participation open to everyone over elementary school-age, and able to participate on their own (no need for accompaniment by a care helper, or with permission from a doctor). Same price for adults and children.

Operating Company

Koriyama Kanko Kotsu K.K.

Tour Operator

Magonote Travel's own staff will accompany the tour.

Travel Insurance

Travel insurance is required for all tours, in case of accidents and emergencies. The insurance fee is included in the price. For this reason, we need to ask for your date of birth.

Cancellation Fee

The following cancellation fees will be charged for tours with lodging and tickets: 20 to 8 days in advance: 20%, 7 to 2 days in advance: 30%, the day before the tour: 40%, on the scheduled date before the tour starts: 50%, no-show without notice: 100%.
For one-day tours, the following fees will be charged retroactively from the day before the start of the tour: 10 to 8 days in advance: 20%, 7 to 2 days in advance: 30%, 1 day in advance: 40%, on the scheduled date before the tour starts: 50%, no-show without notice: 100%.

In case of bad weather

The tour will not be cancelled in case of bad weather. However, in case the tour has to be cancelled due to a natural disaster, you will be informed one day before the tour. In this case, you will receive a full refund.

Minimum number of participants

If there are fewer than 15 participants the tour will be cancelled. In such case we will inform you at least 4 days in advance.

Other points of caution

In order to prevent the spread of COVID-19, we ask all guests to fill in a health-check form beforehand. We will send you the details after we have received your application. Thank you in advance for your cooperation.