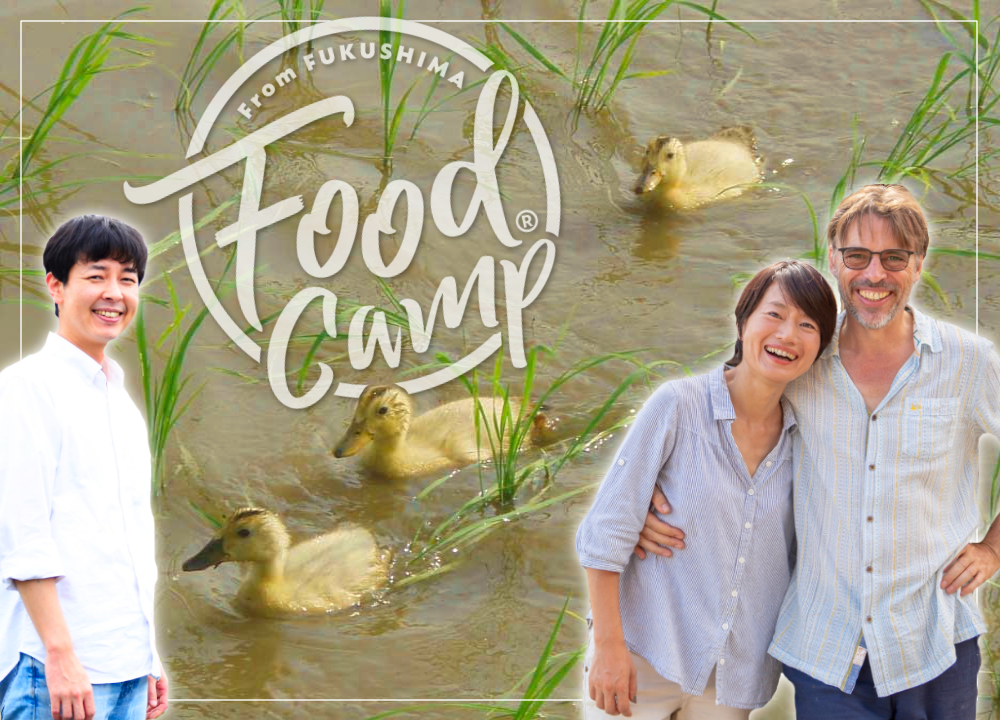 The father of Aki Bond started cultivating rice with the traditional 'aigamo'-rice farming method around 30 years ago. Every June, ducklings are released onto the rice paddies, where they feed off the weeds and insects that usually harm the rice, making for a perfectly organic cultivation method without the use of pesticides. With the mission of growing delicious rice and vegetables using this natural and safe method, Bond&Co. now aims to sell their original LOHAS* Sake, made exclusively from rice cultivated with their aigamo-method. This edition of FoodCamp, Chef Sato from Teppannyaki Aizu-Ya makes another appearance, to provide a delicious original course menu making full use of Bond&Co.'s organic produce. Come visit Aizu in early summer to meet these wonderful people!
Bond&Co. - https://www.bondcafeaizu.com
Teppanyaki Aizu-Ya – http://www.aizuya.mobi/
*LOHAS stands for Lifestyles of Health and Sustainability.
Report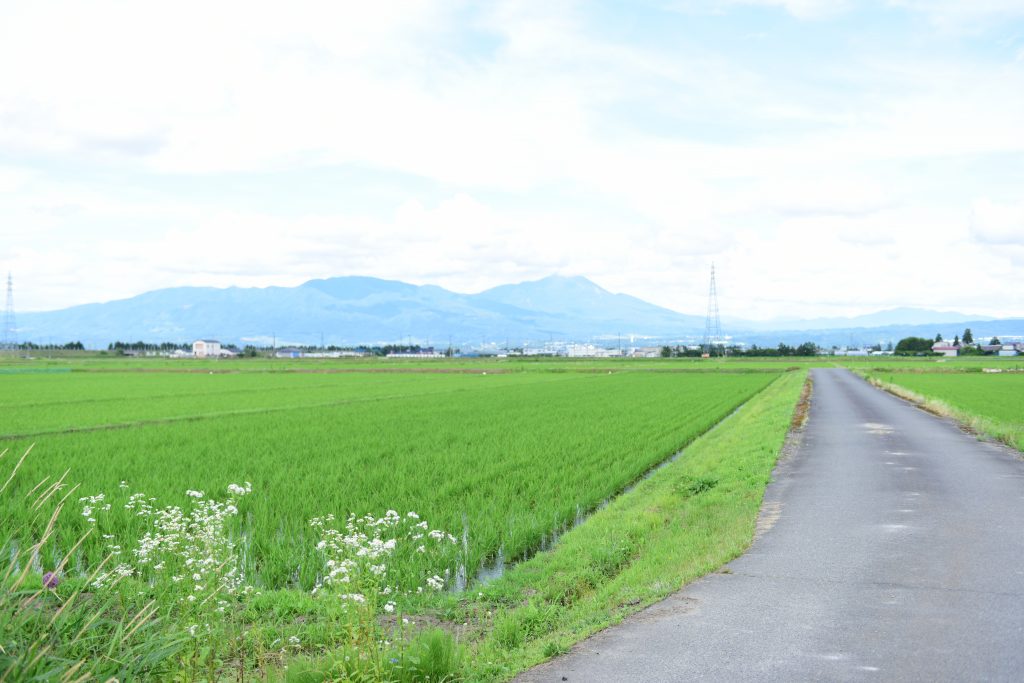 An Organic & International FoodCamp
In late June, as the mountains were turning greener and greener, and the rice stalks were steadily getting taller, we headed out to the Kita-Aizu area of Aizu-Wakamatsu City. Even though late June is peak rainy season, at times the sun peered through the thin veil of clouds. At the main venue for this edition of FoodCamp, Richard and Aki Bond of Bond&Co, as well as Aki's mother, were waiting for the guests' arrival with bright smiles of anticipation. What a wonderful, happy way to start the day.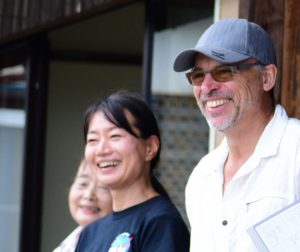 All resources are precious, nothing is put to waste
Bond&Co. produces rice through the aigamo-(duck-rice) method, of which also their LOHAS Sake is made. First up for the day is an activity using sake lees, a valuable side product from the sake production process. Aki calls for the group to gather around the mini-truck functioning as an ad-hoc work table, with its height being just right for the activity. What a great way of using every tool at your disposal! The guests receive some sake lees the size of a rice ball, add some sugar and raisins to the mix, and knead the mixture into a paste. When left in the fridge for about two weeks, this mixture turns into a delicious snack! It can also be put on bread or crackers. At the end of the day, all guests took their own homemade sake-lees & raisin snack with them.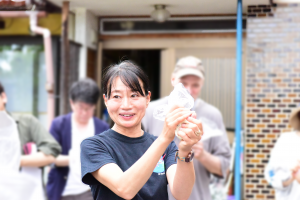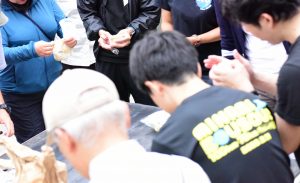 "Kooooi, koikoikoi!"
Next up: an activity that can only be enjoyed during this specific season. Equipped with boots for rice planting, the guests headed out to Bond&Co.'s rice paddies. The ducks, having just outgrown their duckling phase, were spread out over the wide-open paddies. Richard let out a call: "Kooooi, koikoikoikoi!," triggering the ducks to all flock together. The ducks are trained to respond to this call, knowing it to mean it's time for food. As the guests joined Richard in his "Kooooi, koikoikoikoi!"-call, they got the chance to feed the ducks directly, to their great delight, as it's rare to be able to get this close to aigamo-ducks without scaring them off.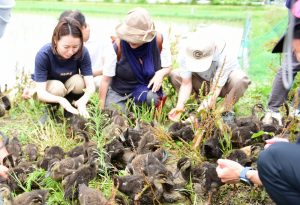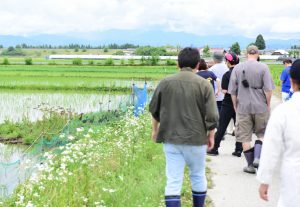 One of the activities for the day was getting into the rice paddies to replant some of the rice that the ducks trampled (something Richard calls Duck Damage). Although it was difficult to walk for those who weren't used to working in a rice paddy, the water in the paddies was nice and cool; perfect for a hot day. Another activity was balling up leftover sake lees, and scattering them throughout the paddies as a very luxurious kind of fertilizer. The activities offered a great chance to really get a feel for the local environment.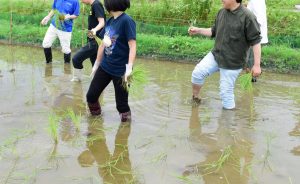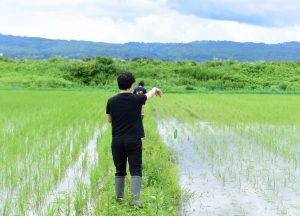 A rice-filled organic course lunch
The main event, the lunch course, took place in a greenhouse on Bond&Co.'s premises. Luckily it was a shaded type of greenhouse, making the temperature slightly lower than outside. As the greenhouse is usually used to do farmwork, as well as for storage, a lot of the farming equipment was left on display, to really maintain that farm feel.
The lunch was presented by chef Manabu Sato from the restaurant Teppanyaki Aizu-Ya (Nanuka-machi, Aizu-Wakamatsu City). Chef Sato takes his connection with farmers and producers very seriously. This time too, he made sure to contact the Bond's directly beforehand, to prepare a wonderful menu for the day.
A pottage of fresh onions
From amuse-bouche to dessert, every dish on the menu featured rice from Bond&Co. Of course, duck meat was also on the menu for the main dish.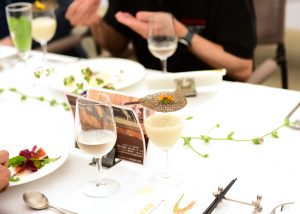 For the fresh onion pottage, the chef made the rounds around the table and topped off the dish with a tuile (a thin wafer) of Chennai (unpolished brown rice) roasted like coffee. This was also a great opportunity for the guests to interact face-to-face with the chef. The meal was also carefully paired with a set of different varieties of LOHAS Sake served either cold or lukewarm, taking into account their respective characteristics to ensure the best kind of match with the various dishes.
The drinks menu for the day offered original drinks like genmai-tea of Bond&Co's rice, as well as the drink for the toast: Crystal Mint Cidre using locally grown organic mint.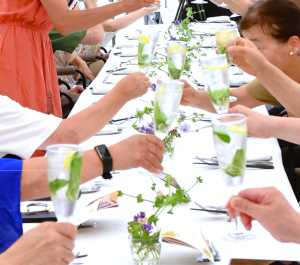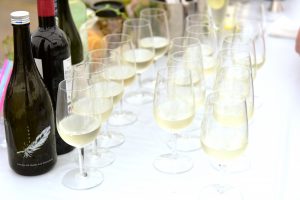 During the event, the chef told us something very special. As Richard is a vegetarian, Chef Sato originally planned to provide a special menu just for him, before changing his mind and deciding it would be better for everyone to share the same meal that Richard could have. He changed his original plans so that outside of a few adjustments, everyone had the same menu, as he explained while introducing every dish. This was especially touching for Richard and Aki, with whom we are sure the chef developed even deeper ties than before. In the end, it was a very satisfactory lunch for all the guests.
Farmers market at the storage house
After lunch, the group moved on to an under-renovation old storage house on the premises. Organic farmers group Miketsukami (meaning 'the god of food') – of which the Bond's are also members – set up shop in the storage house, to sell their wonderful produce and processed goods. Hearing about organic farmer processes and practices directly from the farmers presented the guests with an invaluable chance to learn more about organic farming and sustainability.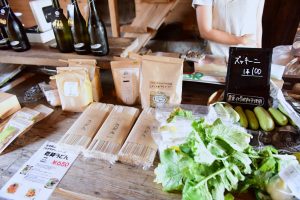 Undoubtedly, this edition of FoodCamp managed to share the philosophies behind the duck-rice farming method, organic farming, and sustainability. Thanks to Richard and Aki Bond's passion for their work, and Chef Sato's empathetic approach, surely it was a day to truly appreciate the relationship between people and nature.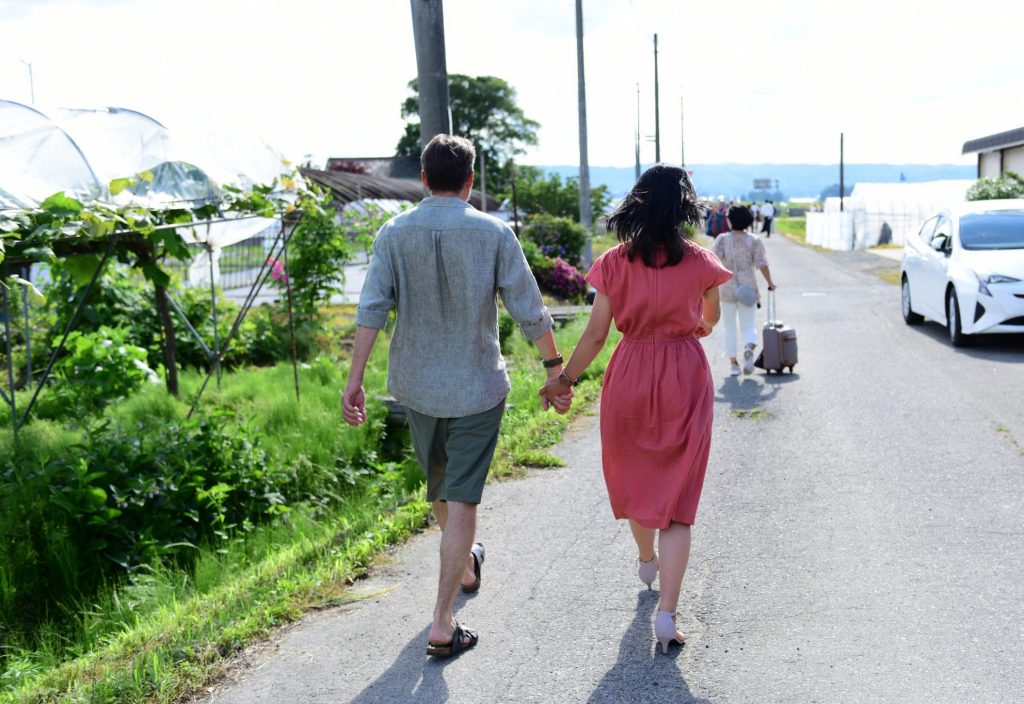 Highlights
Join the ducklings for a full-fledged farming experience!

Bond&Co. has been producing rice without pesticides through the traditional 'aigamo'-method for years. Join the ducks in the rice paddy, and help them get rid of the weeds! Who's better at weeding: the ducks or the humans? (Just watching the spectacle from the side is also fine.)

Conversing in English

Richard and Aki Bond both have years of international experience, and lots to talk about. Get to know these friendly, warm people, and learn all about their global perspective.

Taste organic ingredients

Enjoy organic produce, such as the Bonds' very own 'LOHAS Sake' Japanese sake made from pesticide-free rice, and the vegetables from the local pesticide-free farmers group Miketsukami. *A 4-drinks sake-pairing option with the LOHAS Sake will be available to go with the meal (additional fee).
For those who want to join the experience in the rice paddy, please bring boots like those listed below:
❊Please make sure they are boots made for rice-planting. Regular boots can easily get stuck in the mud and slip off when walking in the paddy. If you cannot find rice-planting boots, and would like for us to provide them for you, please write so the additional notes, including your shoe size (3,380 yen per pair).
Also, please be aware that your clothes will get dirty, so be sure to bring an extra set of clothes. We will provide a place to get changed.
Cast
Safe and delicious rice, made possible by the power of nature

Bond & Co. -

Richard & Aki Bond

Every June, Richard and Aki Bond release ducklings onto their rice paddies that eat the weeds and insects, allowing them to cultivate safe and delicious rice and vegetables without the use of pesticides. Artist Richard has come to love Aizu's rural lifestyle. Come meet this wonderful couple!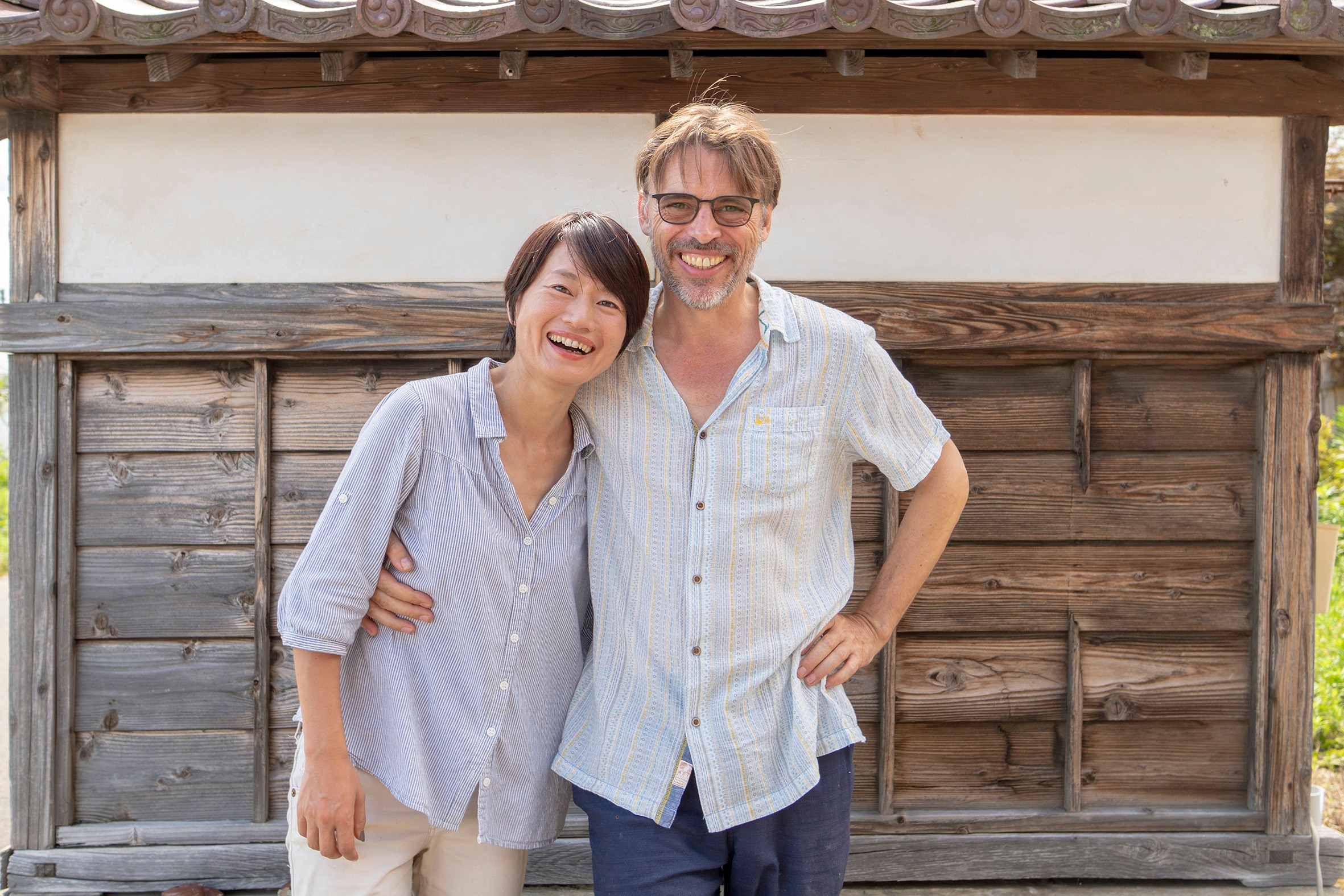 What is 'organic?'
In recent years, the word 'organic' has become a household term in Japan, and especially in the food business, where it has developed into a stable market. The term can best be described as "a method of food production or processing that does not rely on the use of pesticides and artificial fertilizers, but rather on the bounties of nature, such as the sun, water, the soil and the organisms that live there." By expanding organic production methods, we can realize "a peaceful and safe natural environment and circle of nature for all lifeforms, be it humans, or other flora, fauna, and micro-organisms." (Translated from the homepage of the Japan Organic & Natural Foods Association).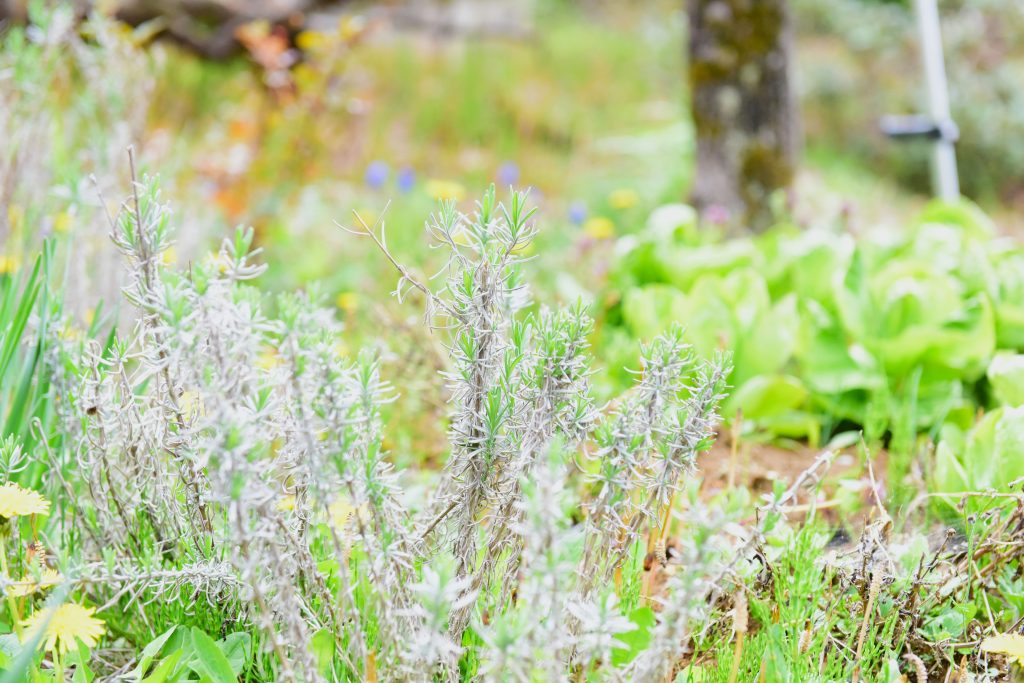 It was Aki's father who originally started farming organically. In the past, he farmed with the usual method, including pesticides and artificial fertilizers. But one day, his mother accidentally opened up a bag of pesticides, of which she breathed in a small amount, after which she passed out. Fortunately she was not hurt or suffer any after-effects. However, it was an eye-opening experience that helped the family make the switch to organic farming.
Aki also had a health-related experience. In 2021, when she was working as a Japanese language teacher in Poland, her friend was diagnosed with leukemia, and told she had only about 1 year left to live. Besides the regular cancer treatment, she was encouraged by the doctor to switch over to an organic lifestyle. Aki decided to help her friend by regularly getting organic produce and cooking together. One year later, the leukemia had completely receded. For Aki, this was also an eye-opener as to the inherent quality of organic food.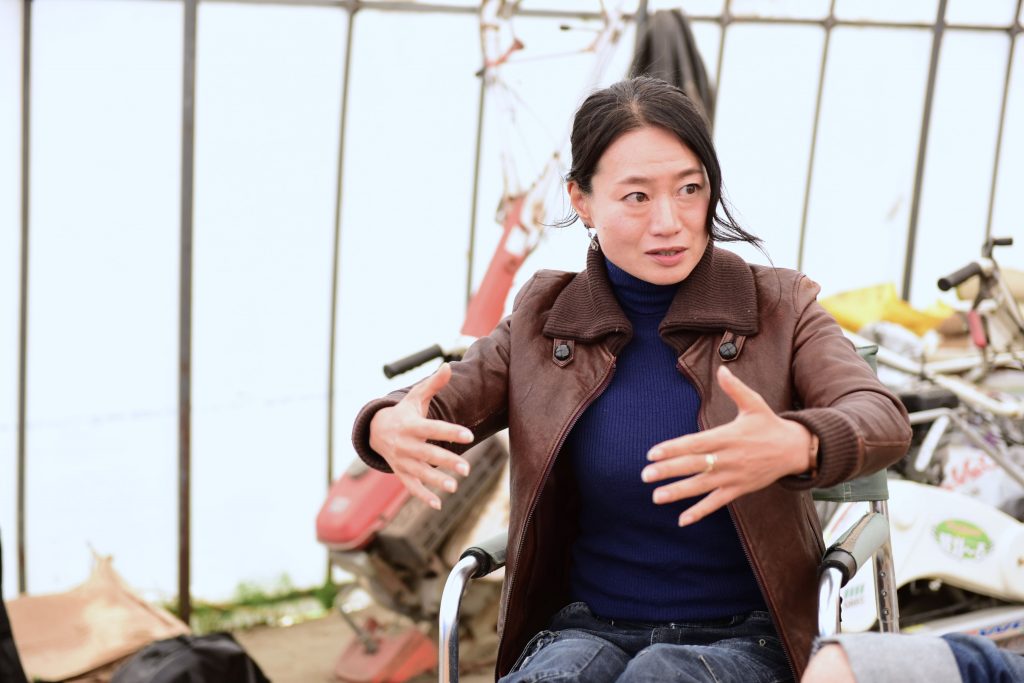 A shared experience brought the two together
When Richard was young, he too suffered from a difficult condition, rendering him unable to walk independently. He was told by his doctor to change his diet, which made him take up an organic lifestyle. The results speak for themselves. "I can ride my bike, as well as do farming. I also believe that an organic lifestyle is just the best thing we ourselves can do for the planet, which is suffering environmental problems like climate change." Clearly, an organic lifestyle is very effective both from a philosophical- and health perspective.
It seems only natural for these two, who share similar experiences, to end up together.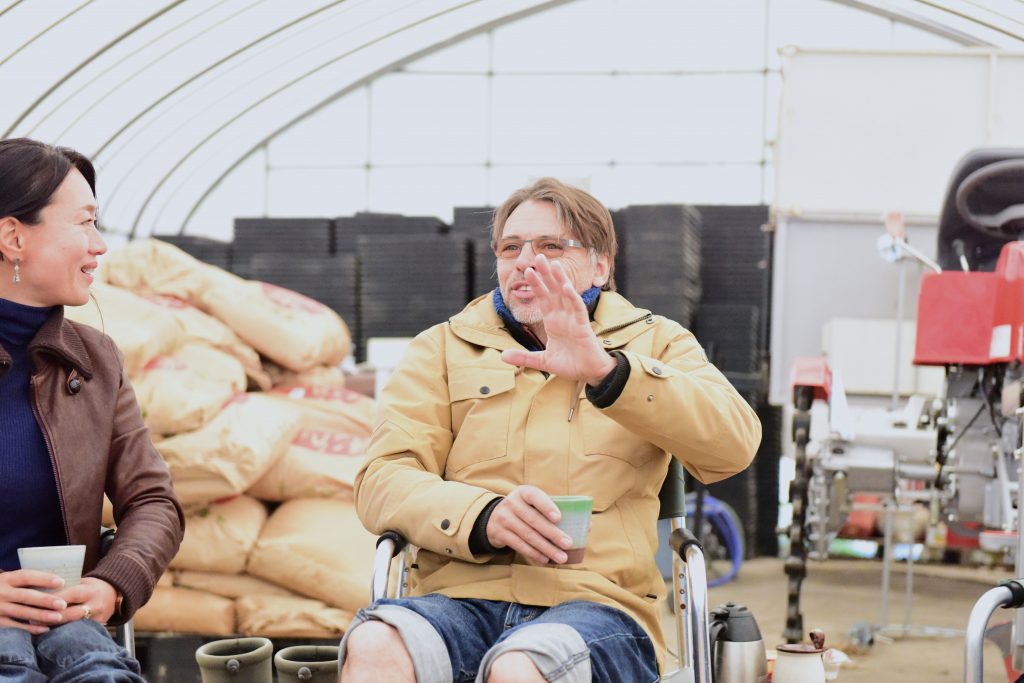 Organic farming: only possible through conviction
The two met while spending time abroad, but soon moved into Aki's parents house in Aizu-Wakamatsu. They admit that at first it was culture shock upon culture shock, and they sometimes struggled to find common ground. Richard recalls seeing footage of life in Japan, featuring scenes of people being pushed into overcrowded trains in Tokyo, and thinking this would never work for him.
Looking back at his time spent in Aizu, he notes that the region feels a bit like an island, in the way that the Aizu-valley is separated from the rest of Japan by the surrounding mountain ranges. He believes that this likely formed the basis for the local identity which is still palpable today. Could this be the famous 'Aizu-spirit?' In any case, it's clear that Richard has a good understanding of what Aizu is all about.
For Richard, organic is a way of life. On the day of the interview, it was rather cold. Greeting us at the entrance to the Bond's house, Richard says, "Let's go warm up somewhere!" and leads us to the place where the fertilizer is being made, from fermenting rice husk and malted rice.
Plunging a thermometer into the mountain of rice husks, the devices shows a number: 50℃. While fermenting, the fertilizer produces a lot of heat. Richard takes off his shoes and socks, and says: "Sit down, and try putting your feet in it!" Amazingly, it actually feels like a hot footbath, including the warm, rosy feeling in your feet after getting out. Conducting the interview in this usual, but exceptionally comfortable situation, we also get to enjoy coffee with – what else – Scottish shortbread.
In Japan, organic produce makes up less than 0.1% of the market. Compared to some European countries where the organic market reaches up to 25%, Japan is lagging behind. Organic farming is definitely something that can only be done with the right amount of passion and commitment. Our time together with this couple made it clear that the Bonds' have the right kind of spirit for the job.Why not take the opportunity of this edition of FoodCamp to get to know them and learn more about their lifestyle.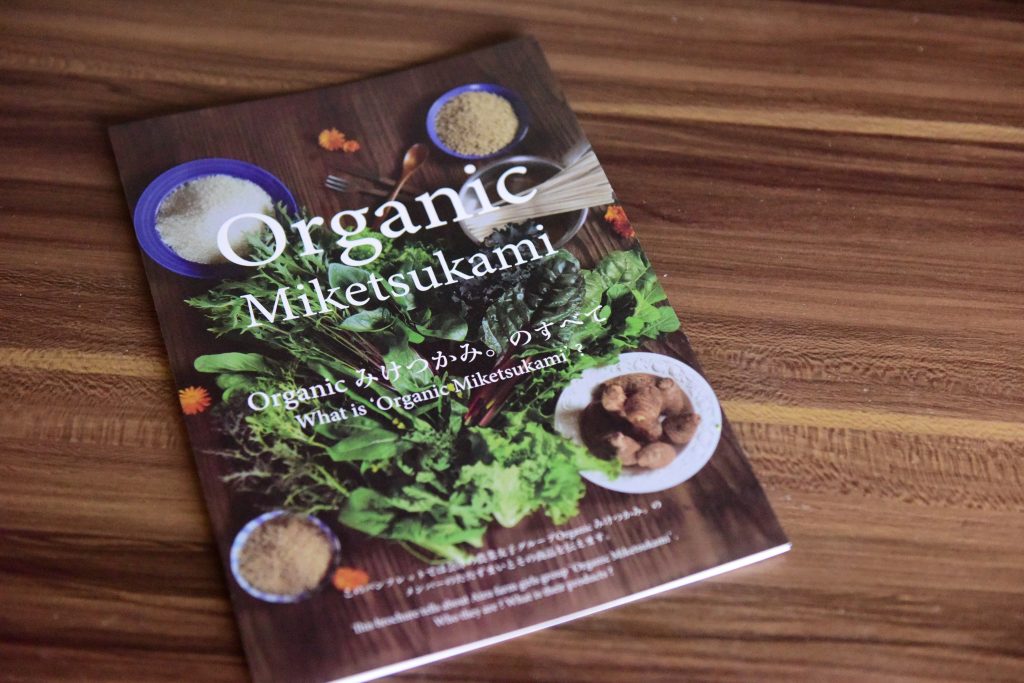 Particular about food, soil and people

Teppanyaki Aizuya -

Manabu SATO

Chef Sato highly values visiting farms and meeting the farmers before deciding on using their produce in his restaurant Teppanyaki Aizuya. This policy of meeting the people behind the product resonates with Bond&Co. Get a taste of the Aizu region's delicious cuisine!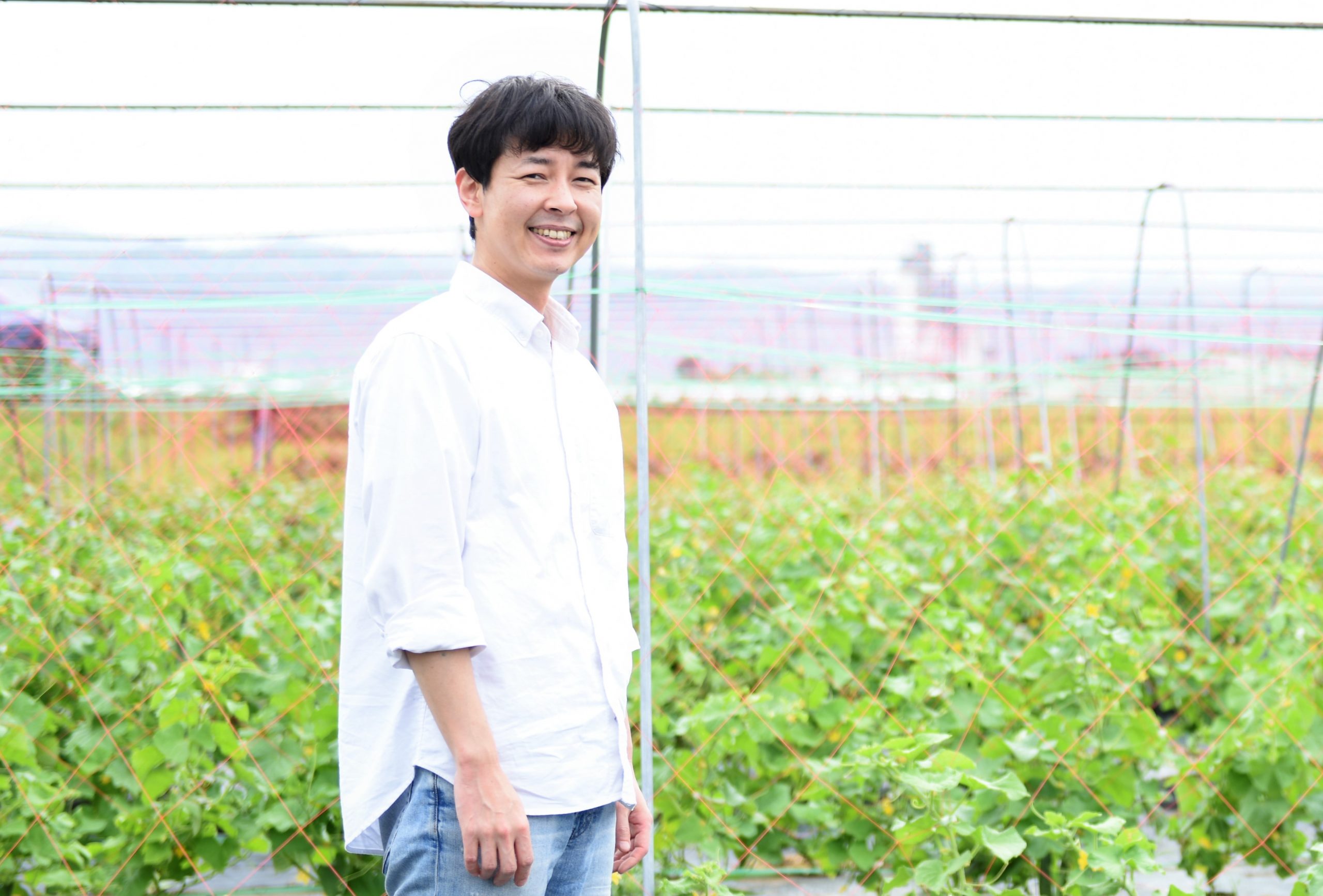 Teppanyaki – the Japanese style of cuisine using an iron griddle – is considered pretty straightforward. That makes it all the more suitable for  bringing out the true taste and character of the ingredients. But it also means that a chef who focusses on the art of grilling on the hot plate can't get away with anything; failing to grill properly (or overcooking on the other hand) is instantly noticeable to the customer. And then there's the balance between the main dish and the garnish. Some ingredients go better with meat and some with fish, and even when using seasonal vegetables suitable for teppanyaki, they often prove more difficult to grill than the main ingredients. One of the best parts of eating at Teppanyaki Aizu-ya is experiencing Chef Sato's perfect, skilled grilling technique firsthand, right in front of you.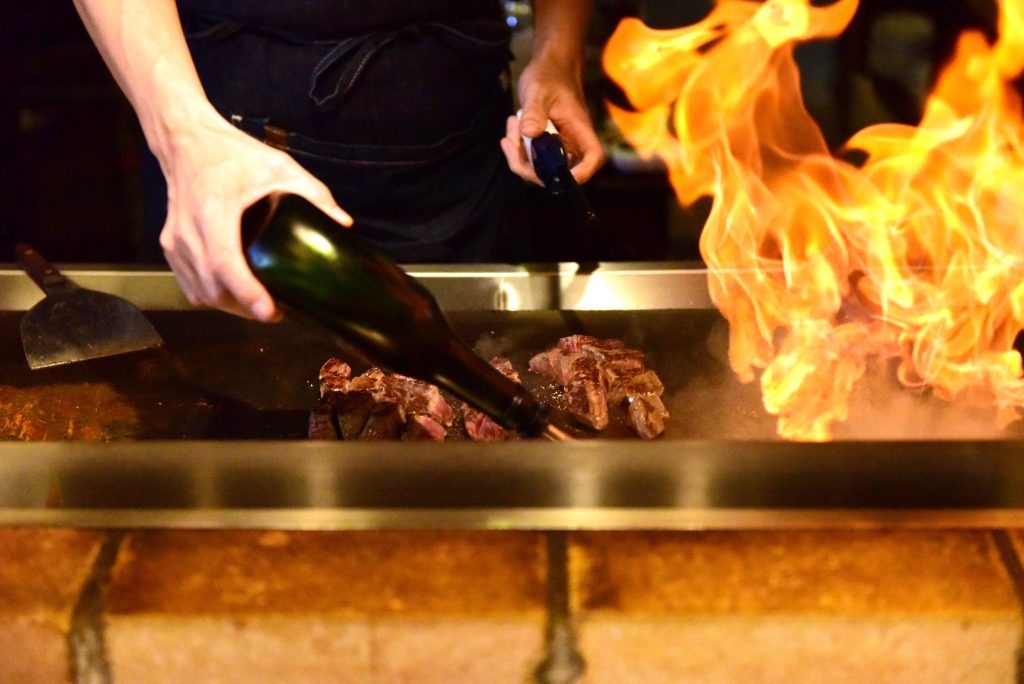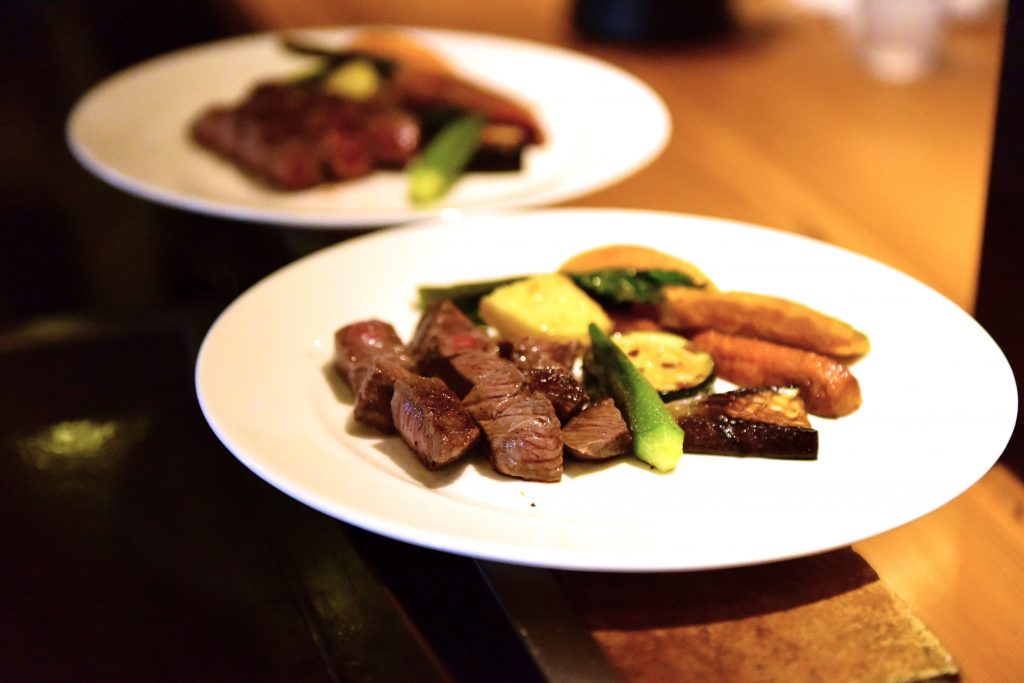 A first-encounter thanks to wheelchair-accessibility
The reason for the first contact between the Bonds and Chef Sato was an unlikely one. Richard was using a wheelchair for a sculpting project he was working on. On that occasion, he planned to have dinner with a skier with a disability, and was looking for a restaurant with wheelchair accessibility. This is how he came upon Teppanyaki Aizu-ya. Of course, Richard and Aki had heard about the restaurant before, thanks to its good reputation. "I remember the time they visited my restaurant," says Chef Sato, who was looking forward to seeing the two again.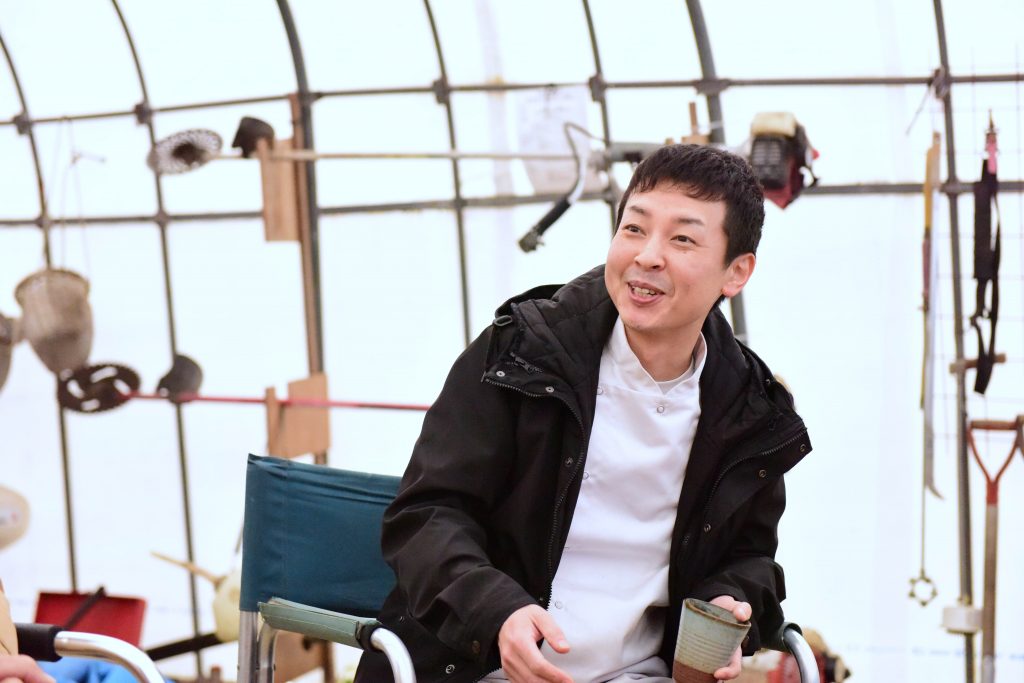 The same in real life as online
Chef Sato: "I'm interested in organic food, both on a personal level and as a chef. I've been following Bond&Co. on social media. Meeting the two in person for the interview, I can tell that in real life the Bonds exactly match my image of the two." He had tasted the Bonds' rice before and was already well acquainted with organic produce. Producers of organic food in Japan tend to be odd ducks out (pardon the pun). "But I think it's great that the Bonds don't care about being seen in this way, and hold firm to their own style and way of farming," says Chef Sato.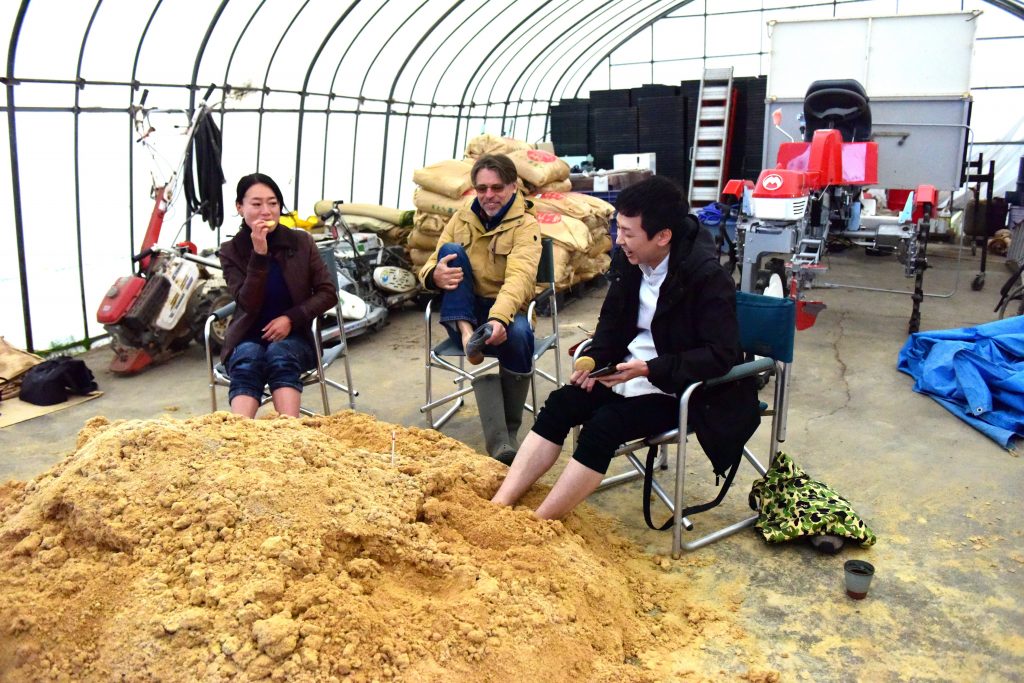 The chef also expressed an interest in using the Bonds' LOHAS Sake in his dishes on the occasion of FoodCamp. We are sure that his meeting with the Bonds and the opportunity to learn about their worldview has given him new inspiration. We are looking forward to this new collaboration between the Bonds and Chef Sato in Aizu's early summer and we hope you are too!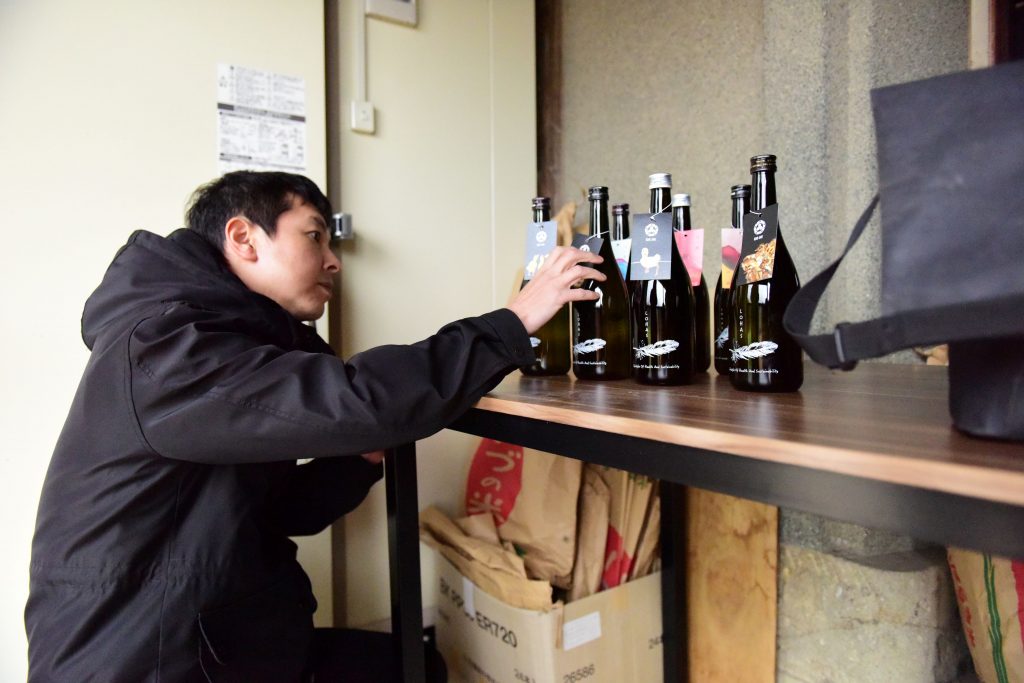 Tour Schedule
Pick-up / Meeting Place

8:40 a.m.

Pick-up by taxi (Koriyama Kanko Kotsu Taxi) from your house or place of stay in Koriyama, or at Koriyama Station. We will inform you of your pick-up time one day before the tour.
*For those scheduled for pick-up at Koriyama Station, please arrive at Koriyama Station by 8:30.

Let's go!

9:10 a.m.

Departure for the tour site, from the Magonote Travel Asaka Office.
* Those coming to the Office directly, please arrive by 8:50 (limited parking available).

Brief stop at Aizu-Wakamatsu Station (pick-up)

10:20 a.m.

Before arriving at the venue, the bus will make a stop at Aizu-Wakamatsu Station. Those who prefer to join the tour from Aizu-Wakamatsu Station, please be at the Aizu-Wakamatsu Station's Rotary by 10:10. (There will be time for a bathroom break)

Arrival at Bond&Co. - Weeding with the ducks

11:00 a.m.

Richard and Aki Bond of Bond & Co. not only cultivate organic rice with the 'aigamo'-farming method, but also grow various vegetables and brew sake from their own organic rice. Learn all about their organic lifestyle. Join Aki into the rice paddy for a weeding competition with the ducklings. *Please bring rice planting boots. If you do not have them available, please let us know you would like to purchase them, together with your shoe size.

Lunchtime!

12:30 p.m.

Enjoy a lunch course that - besides the Bonds' organic rice - also features produce from the organic farmers group in the Aizu region 'Miketsukami.' The lunch will be prepared by Aizu's star chef Manabu Sato of Teppanyaki Aizu-ya.
*There will also be a pairing set available of four different kinds of Bond & Co.'s LOHAS Sake (¥3,300).

Farmers Market & piano concert in an artsy storehouse

14:55 p.m.

After lunch, admire artist Richard's works, together with a wonderful piano concert. Organic products that featured in the lunch, as well as LOHAS Sake will also be available for purchase.

Departure

15:55 p.m.

Time flies when you're having fun. We will depart from Bond & Co. and head out to Aizu-Wakamatsu Station.

Brief stop at Aizu-Wakamatsu Station (drop-off)

16:20 p.m.

Before returning to Koriyama, the bus will drop-off guests at Aizu-Wakamatsu Station. For those planning to use local train lines from here, please plan your itinerary from 16:50 forward.

Arrival at the Magonote Travel Asaka Office

17:45 p.m.

After arriving at the Magonote Travel Asaka Office, you will be brought by taxi to your home or place of stay in Koriyama City, or to Koriyama Station.
*For those planning further travel by public transportation please prepare an itinerary from 18:40 forward.
Tour details
Date(s)

June 24 (Sat.)

Fee

| | |
| --- | --- |
| Per person | ¥18,700 |
| Option: LOHAS Sake Pairing Set (3 drinks, 90ml) | ¥2,500 |
| Option: Rice-planting boots | ¥3,380 |

*same rate applies for children/participants travelling to the venue directly with their own vehicle.

What to wear/bring

・This tour takes place outdoors. In case of clear skies, please prepare a hat or cap to protect you from the sunlight.
・Please wear comfortable shoes and clothing.
・In order to prevent the further spread of COVID-19, please wear a mask.

Conditions of Participation

Participation open to everyone over elementary school-age, and able to participate on their own (no need for accompaniment by a care helper, or with permission from a doctor). Same price for adults and children.

Operating Company

Koriyama Kanko Kotsu K.K.

Tour Operator

Magonote Travel's own staff will accompany the tour.

Travel Insurance

Travel insurance is required for all tours, in case of accidents and emergencies. The insurance fee is included in the price. For this reason, we need to ask for your date of birth.

Cancellation Fee

The following cancellation fees will be charged for tours with lodging and tickets: 20 to 8 days in advance: 20%, 7 to 2 days in advance: 30%, the day before the tour: 40%, on the scheduled date before the tour starts: 50%, no-show without notice: 100%.
For one-day tours, the following fees will be charged retroactively from the day before the start of the tour: 10 to 8 days in advance: 20%, 7 to 2 days in advance: 30%, 1 day in advance: 40%, on the scheduled date before the tour starts: 50%, no-show without notice: 100%.

In case of bad weather

The tour will not be cancelled in case of bad weather. However, in case the tour has to be cancelled due to a natural disaster, you will be informed one day before the tour. In this case, you will receive a full refund.

Minimum number of participants

If there are fewer than 15 participants the tour will be cancelled. In such case we will inform you at least 4 days in advance.