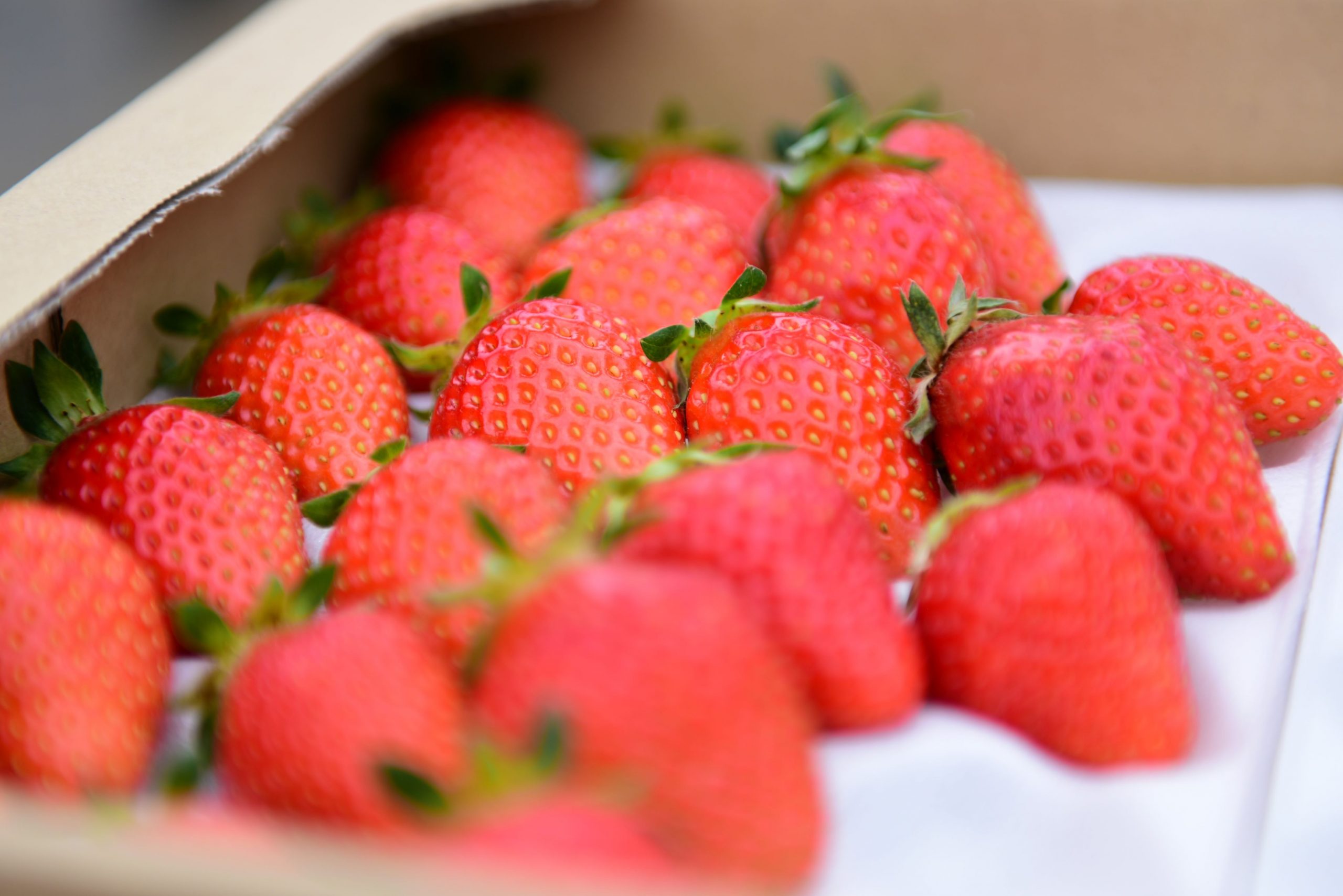 In response to the high number of applicants during the last edition in May, we decided it was time for Round 2! At the start of the season, Ozawa's strawberries promise to offer a different, yet not-less delicious quality!
The strawberries from Ozawa Farms are astoundingly delicious. With their perfect color, sheen and fragrance, as well as their perfect balance of sour and sweet, they are unmistakable even in a blind tasting. This time, Chef Kunioka –  who recently opened a French bistro in Koriyama- will take up the mantle. Having been trained in a Michelin-star restaurant in Southern France, the battleground of French cuisine, he specializes in wine pairing. The combination of fabulous strawberries and high quality French cuisine is a recipe for perfection!
Ozawa Farms http://www.caan.jp/producer/86/
Koriyama French Cuisine Laboratory Recettes –  https://www.instagram.com/recettes_kunioka
* In the event that the number of applicants exceeds the maximum, the participants will be chosen by lottery. Applications are open until the 31st of March. We will announce the results in early April. Thank you for your understanding.
*Those interested in a wine pairing option, please let us know on the application form.
This tour is no longer offered.
A report is being prepared.
Highlights
Explore the secret to perfect strawberries on a farm tour!

Take a tour of Ozawa's farm, with it's ever-present sweet scent of strawberries. Learn the ins-and-outs of this wonderful fruit, including a very special kind of activity!

A spectacular lunch in a one-day-only restaurant!

One of Ozawa's greenhouses magically transforms into a one-day restaurant! Take a seat at the long tables, for the real strawberry-experience!

A marvelous combination: ripe strawberries paired with wine and French cuisine!

An exquisite lunch course prepared by the highly-skilled hands of chef Kunioka. Add a wine pairing set, and watch Chef Kunioka's world expand before your eyes!
Cast
A relay of delicous strawberries!

Owner, Ozawa Farms -

Mutsuhiro OZAWA

During the season for strawberries, from November to June, Ozawa's farm shop is always packed. Some days all strawberries are sold by reservation, leaving none for the day itself. During the season, Ozawa adjusts the taste slightly so people keep coming back, making for a delicious strawberry relay!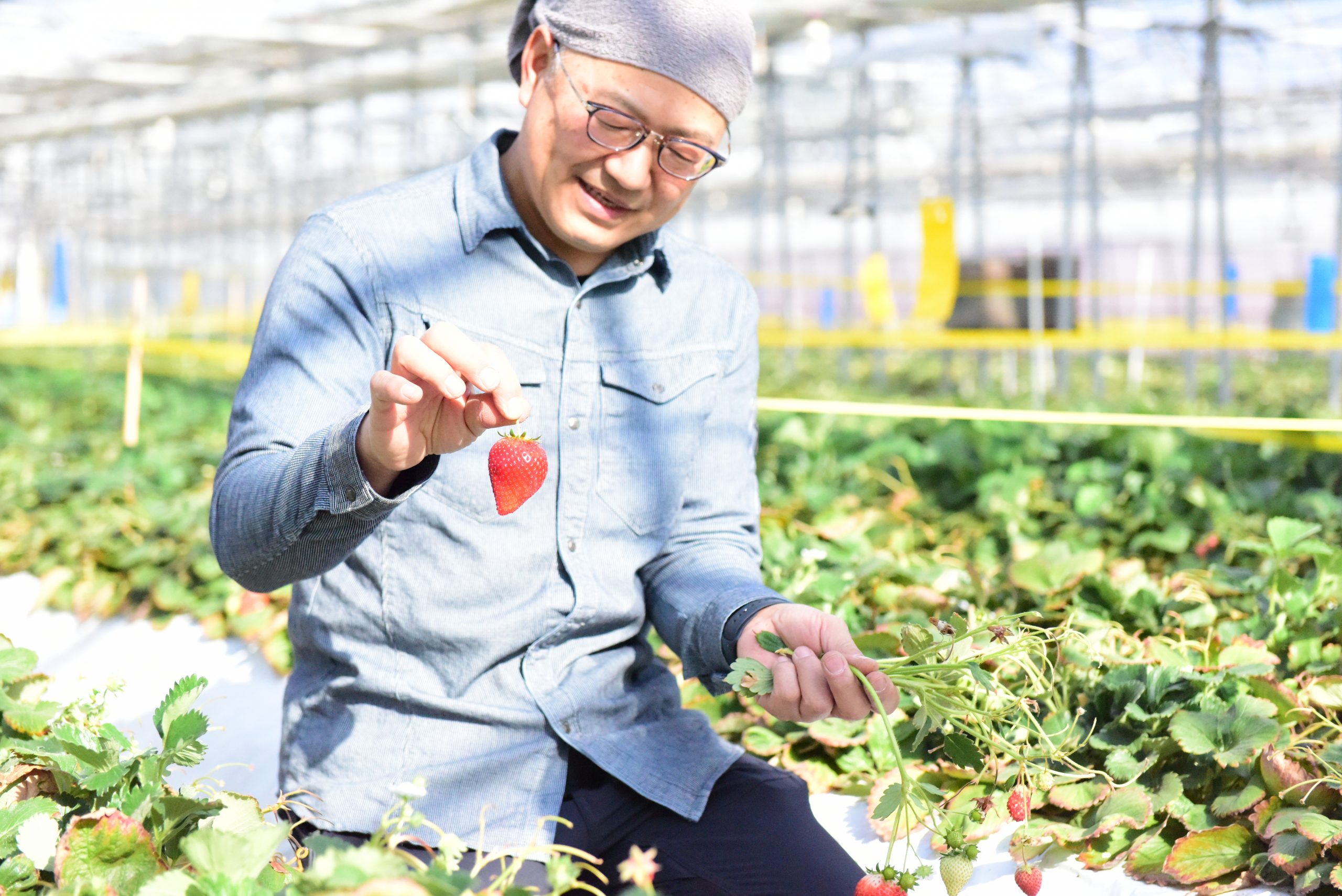 The taste depends on the guest

Owner & Chef, Koriyama French Cuisine Laboratory Recettes

Hiromi KUNIOKA

Chef Kunioka was trained in a star-restaurant in Bergerac, France. Last Septeber, he opened up his own restaurant: French Cuisine Laboratory Recettes. Not bound to fixed recipes, he knows how to adjust his dishes to the state of the ingredients, the temperature of the day and even to the guests!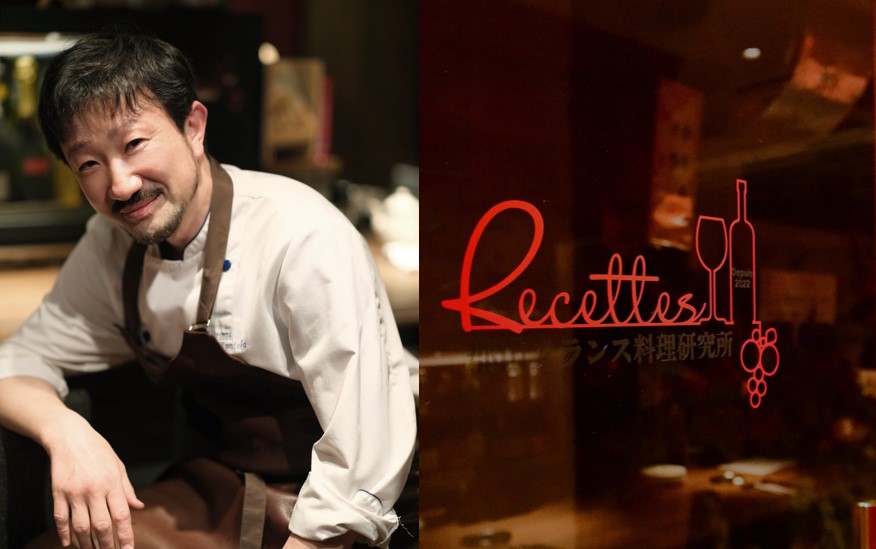 Tour Schedule
Pick-up / Meeting Place

9:30 a.m.

Pick-up by taxi (Koriyama Kanko Kotsu Taxi) from your house or place of stay in Koriyama, or at Koriyama Station. We will inform you of your pick-up time one day before the tour.
*For those scheduled for pick-up at Koriyama Station, please arrive at Koriyama Station by 9:15.

Let's go!

10:00 a.m.

Departure for the tour site, from the Magonote Travel Asaka Office.
* Those coming to the Office directly, please arrive by 9:50 (limited parking available).

Arrival

10:40 a.m.

Take a guided tour of Ozawa's farm, and enjoy activities like strawberry-picking! (Note: Ozawa Farm usually does not allow strawberry-picking, so please refrain from inquiries)

Lunch time!

12:00 p.m.

Enjoy a fabulous multi-course French lunch prepared by chef Kunioka from Koriyama French Cuisine Laboratory Recettes, offering many new culinary discoveries! (1 drink included in tour price, further drinks charged seperately)

Shopping!

14:30 p.m.

Purchase delicious in-season strawberries from Ozawa's shop. Strawberries can also be shipped throughout Japan on-demand.

Return to the Magonote Travel Office

15:40 p.m.

After arriving at the Magonote Travel Asaka Office, you will be brought by taxi to your home or place of stay in Koriyama City, or to Koriyama Station.
*For those planning further travel by public transportation please prepare an itinerary from 16:30 forward.
Tour details
Date(s)

November 19 (Sun.)

Fee

| | |
| --- | --- |
| Per person | ¥18,700 |
| Wine-pairing set (3 drinks) | ¥3,300 |

*same rate applies for children/participants travelling to the venue directly with their own vehicle.

What to wear/bring

・This tour takes place outdoors. In case of clear skies, please prepare a hat or cap to protect you from the sunlight.
・Please wear comfortable shoes and clothing.
・In order to prevent the further spread of COVID-19, please wear a mask.

Conditions of Participation

Participation
Participation open to everyone over elementary school-age, and able to participate on their own (no need for accompaniment by a care helper, or with permission from a doctor). Same price for adults and children.

Operating Company

Koriyama Kanko Kotsu K.K.

Tour Operator

Magonote Travel's own staff will accompany the tour.

Travel Insurance

Travel insurance is required for all tours, in case of accidents and emergencies. The insurance fee is included in the price. For this reason, we need to ask for your date of birth.

Cancellation Fee

The following cancellation fees will be charged for tours with lodging and tickets: 20 to 8 days in advance: 20%, 7 to 2 days in advance: 30%, the day before the tour: 40%, on the scheduled date before the tour starts: 50%, no-show without notice: 100%.
For one-day tours, the following fees will be charged retroactively from the day before the start of the tour: 10 to 8 days in advance: 20%, 7 to 2 days in advance: 30%, 1 day in advance: 40%, on the scheduled date before the tour starts: 50%, no-show without notice: 100%.

In case of bad weather

The tour will not be cancelled in case of bad weather. However, in case the tour has to be cancelled due to a natural disaster, you will be informed one day before the tour. In this case, you will receive a full refund.

Minimum number of participants

If there are fewer than 15 participants the tour will be cancelled. In such case we will inform you at least 4 days in advance.