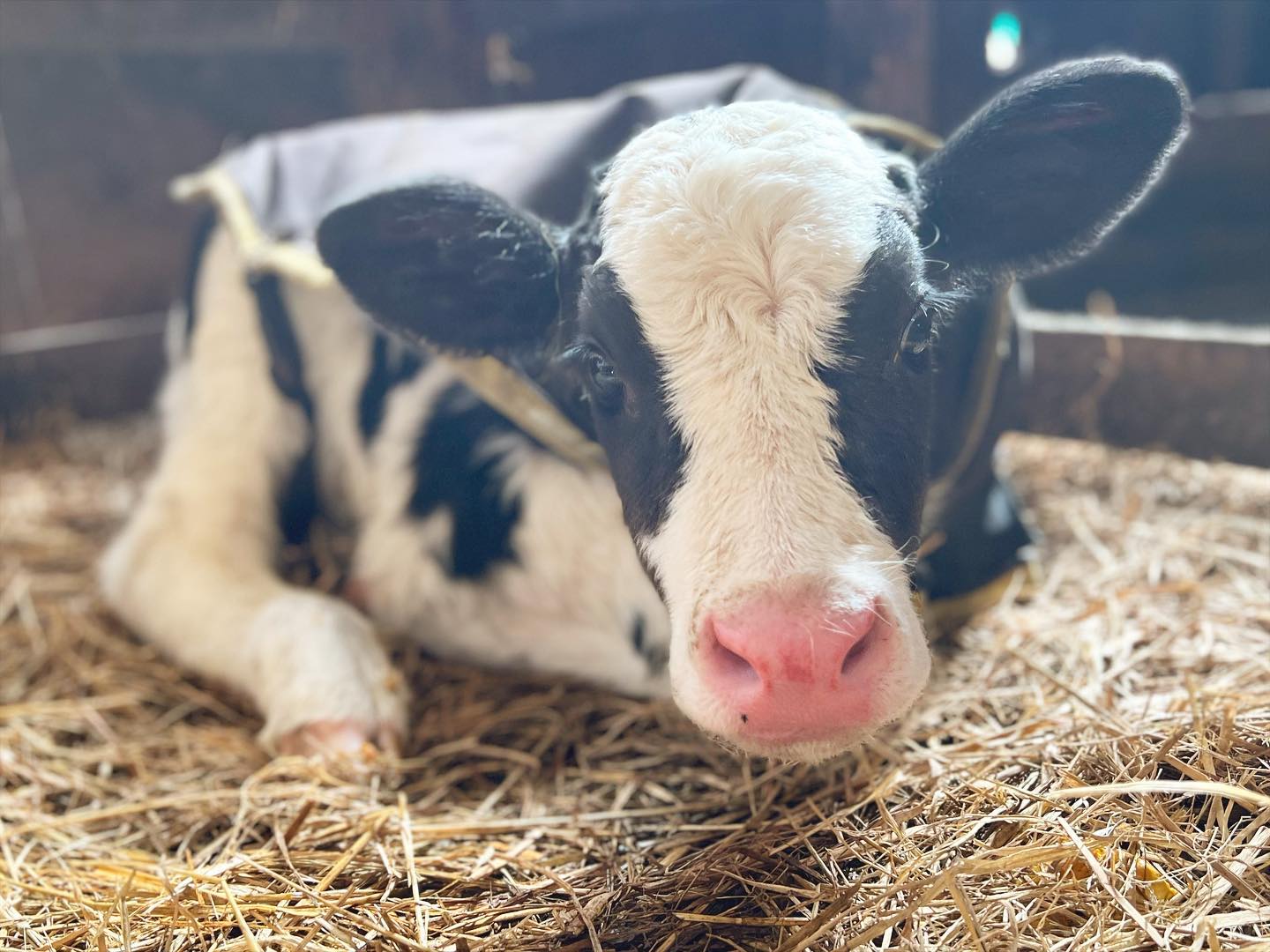 This edition of FoodCamp will feature two new faces! Sasaki Farm, besides producing milk and other processed dairy products like cheese, also operates a café. Their rich-yet-fresh tasting soft serve ice cream is a hit among adults and children alike. The dinner will be presented by Chef Aoyagi from the popular Italian restaurant Aoyagi, whose outstanding sense for using local produce attracts customers from far and wide. Enjoy a late-afternoon Italian dinner-course in early summer.
※ Departure in the afternoon
※ This tour features a dinner course, but can be suitable as a one-day trip.
Report
First things first: cheese-making at an old Japanese townhouse
After the tour bus from Koriyama picked up the last participants from Fukushima Station, the first stop of the day was at the Kyu Sakuma Tei (Former Sakuma-Residence) in the Sagura-area of Fukushima City. Built in the Edo Period as the residence of a wealthy merchant family, it is now maintained by the Fukushima City local government and used as a community space.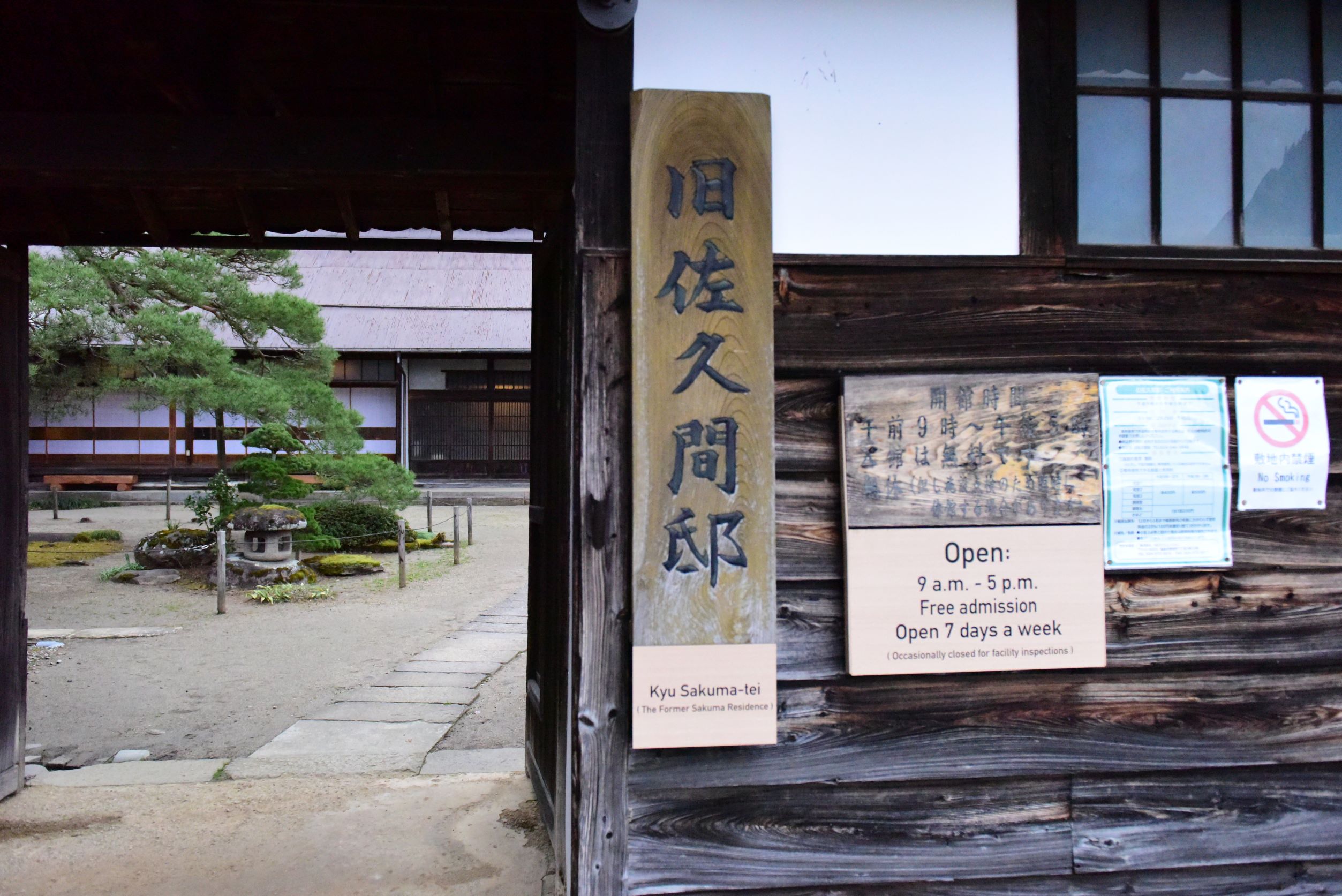 When you cross the little stream that flows along the front of the premises and pass through the magestic gate, you get a feel for the wealth of this old family, seeing the beautiful old townhouse and rich Japanese garden. Almost like a quick trip through time! What on earth could FoodCamp have in store for us in a place like this?
As it turned out, this was the venue a mozzarella cheese-making class, using milk from Sasaki Farms. This farm is operated by farm-owner Sasaki-san (in charge of the milk production), and his sister Kouda-san, who makes processed goods using the milk, such as cheese and soft-serve ice cream.
Kouda-san was the one who pitched the idea of organising the cheese-making class at Kyu Sakuma Tei, out of a desire to have participants enjoy the taste of fresh cheese made from fresh milk, while also learning about the history of the area.
As one might expect from a Japanese townhouse, the entrance hall is spacious, perfectly fit for a cheesemaking class. The staff from the Sasaki Farms cafe swiftly prepared the cheese curds, and divided them into portions for the guests.
The next step is taking this mozzarella cheese, with the right size and elasticity, and giving them the right shape. At first, the cheese is still quite elastic and chewy. When it is left in water in a tupperware box, however, it absorbs the fluids and makes for a softer cheese.
The participants were divided into two alternating groups. While one group gave cheesemaking a shot, the other group had some time to relax in one of the townhouse's tatami rooms, and enjoy a lecture from facility-caretaker Sato-san about the history of the Kyu Sakuma Tei, as well as the region.
Learning about milk production using original paper theater!
It was finally time to head over to the main stage for the day: Sasaki Farms! Sasaki-san showed the guests around the cow sheds, located at a stone's throw from the cafe. The participants saw the doe-eyed cows up close and even go the chance to feel the cow-milking equipment for themselves. Finally, Sasaki-san used his own hand-made paper theater presentation to explain the process of milk production and processing.
Drawn in by Sasaki-san's explanation and original presentation, the participants' level of expectation for Sasaki Farms' milk and cheese went through the roof!
Before dinner, there was time for shopping at Sasaki Cafe. At the entrance, everyone was handed a small cup of Sasaki Farms' famous fresh, pasteurized milk. Everyone instantly acknowledged the quality of fresh milk, with its mild, yet full taste. The cafe sells milk and cheese, but also delicious processed products such as scones and rusk. Of course, as the cafe's signature soft serve ice cream can't be missed, the cafe offered a special one-day mini-soft serve ice cream, so as not to spoil everyone's appetite. Temperatures were exceptionally high for the time of year, making the cool, refreshing ice cream really hit the spot!
Chef Aoyagi's 'Southern Italy meets Fukushima' combination
By the time the sun was setting behind the mountains, temperatures dropped rapidly to a very pleasant level. The eastern sky turned a magical kind of purple, befitting the occasion. Time for dinner!
Italian Restaurant Aoyagi is very much in vogue right now. Many participants gave the fact that Chef Aoyagi was in charge of the kitchen as their main reason for joining the tour. "I've wanted to go to Aoyagi for so long!" "Finally, a chance to try Chef Aoyagi's food!" The bar was set high indeed.
The cuisine's beautiful, almost art-like presentation of Chef Aoyagi's dishes causes many a participant to let out involuntary gasps. From the Stuzzichino (hors d'oeuvre) to the Dolce (dessert), every dish offered vibrant colors and deep, rich tastes that can only stem from Chef Aoyagi's experience living in the Apulia region in Southern Italy. Using an abundance of local products, Chef Aoyagi's respect for Fukushima's produce was also very apparent in his dinner course.
Participants were offered to combine this dinner with wine pairings from the nearby, newly-established Azuma Sanroku Winery. Paired with apple cider of 100% Fukushima-produced apples, rosé, and the Italian wine Sangiovese really made the concept of 'Southern Italy meets Fukushima' come to life.
Send-off by lantern light
Across the road from the dining area is a small enclosure for cows, which could be seen from the participants' seats. But as the sun was starting to set, the protesting mooing from the young cow left in the enclosure grew louder and louder. When Sasaki-san went to get her and escort her back to the shed, he first brought her close to the participants, where she posed for pictures almost as a goodnight-greeting, before turning in for the night.
The spontaneous scene, indicative of Sasaki-san's character, left a sweet, warm feeling in the hearts of the participants, as the peaceful day was coming to an end.
Time flies. As the surroundings had already turned pitch-black, the cafe staff joined ranks with the FoodCamp staff to see the participants off, lanterns in hand. When you join FoodCamp, you never know what surprises you will encounter. Look forward to the next edition!
Highlights
Spend time with the cows on a farm in early summer!

Sasaki-san will share his knowledge about dairy farming, while giving us a look at all the cute cows. The relatively small and compact farm feels heartwarming and nostalgic.

Cheese-making experience with rich and fresh milk

Try your hand at cheese-making at Sasaki Farms, which specializes in both milk-producting and processing. Koda-san, who runs the cafe as well as the processing, can teach you all you want to know.

An Italian dinner of Fukushima produce, that really makes the chef's sense stand out

Chef Aoyagi swears by the use of Fukushima produce, and attracts customers by letting his dishes unpretentiously show off his great sense for both taste and presentation. Expectations are high for this dinner course, and how the chef will convey early-summer Fukushima through his cuisine.
Cast
Sasaki Farms -

Mitsuhiro SASAKI & Jun KODA

The secret to Sasaki Farm's longevity is the minimalized operation from the production to the processing, rooted in a deep sense of respect for their area and family. Learn what makes Sasaki Farm so special, how they realized their father's dream, and gained the trust of the local community.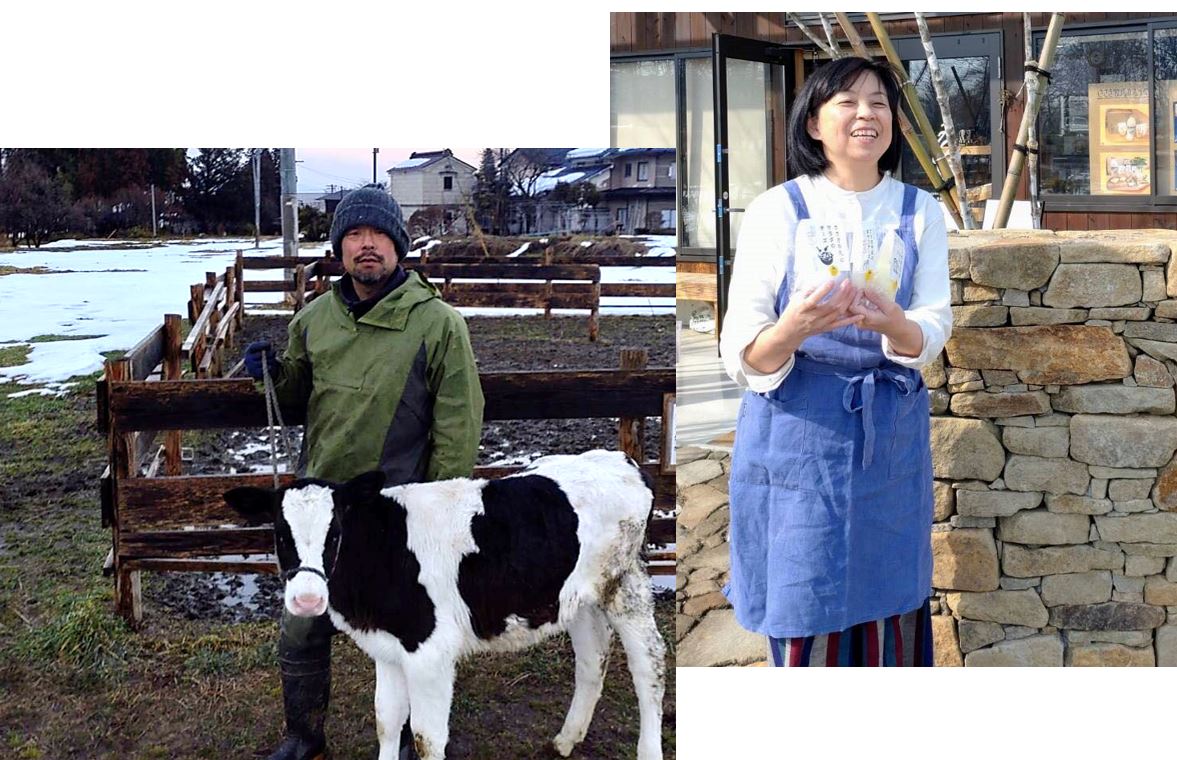 How to become a dairy farmer
Up until the 1960s, the Sasaka-family was a run-of-the-mill Japanese farming family, growing rice and silkworms. After WWII, however, livestock farming started to be promoted as part of the national agricultural policy, leading the Sasaki family to take a chance at dairy farming.
This was the very policy in which livestock- and fruit farming were promoted in order to improve citizens' diets, which led to the current status of Fukushima as a major fruit-producing paradise.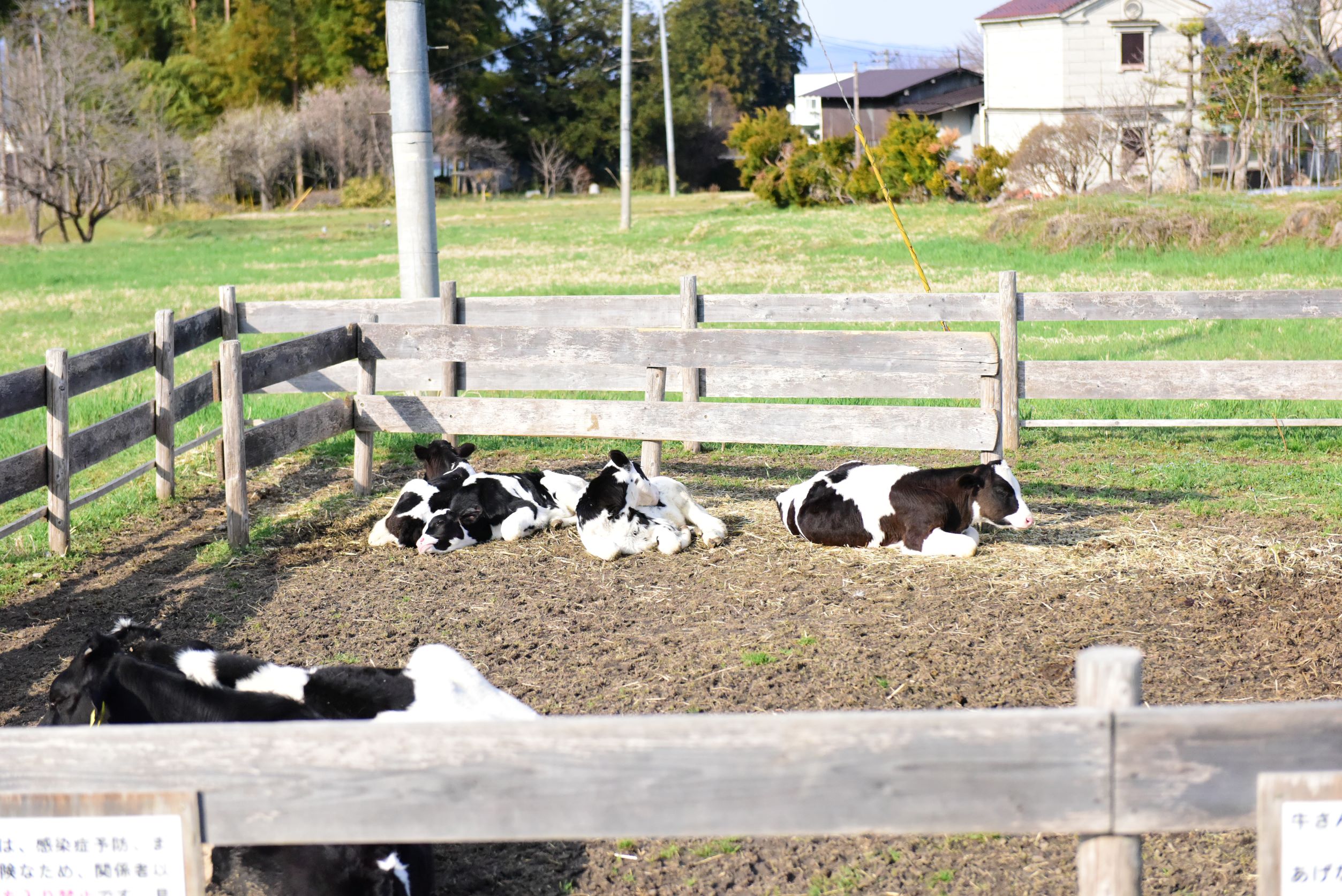 Understanding the spirit of the times, the Sasaki family stopped producing silkworms and focused on dairy and wet-rice cultivation, increasing its stock to around 20 cows and 10 calves by the mid-70s.
By the time Mitsuhiro Sasaki grew up, dairy farming was already the main business, and together with his four siblings he took care of the cows on a daily basis while attending school.
After graduating from a local high school, Sasaki-san started working for a dairy farm in Tokachi (Hokkaido Pref.). He received 3 years of training as a living-in farmer, before moving back to his parental home in Fukushima in 1991.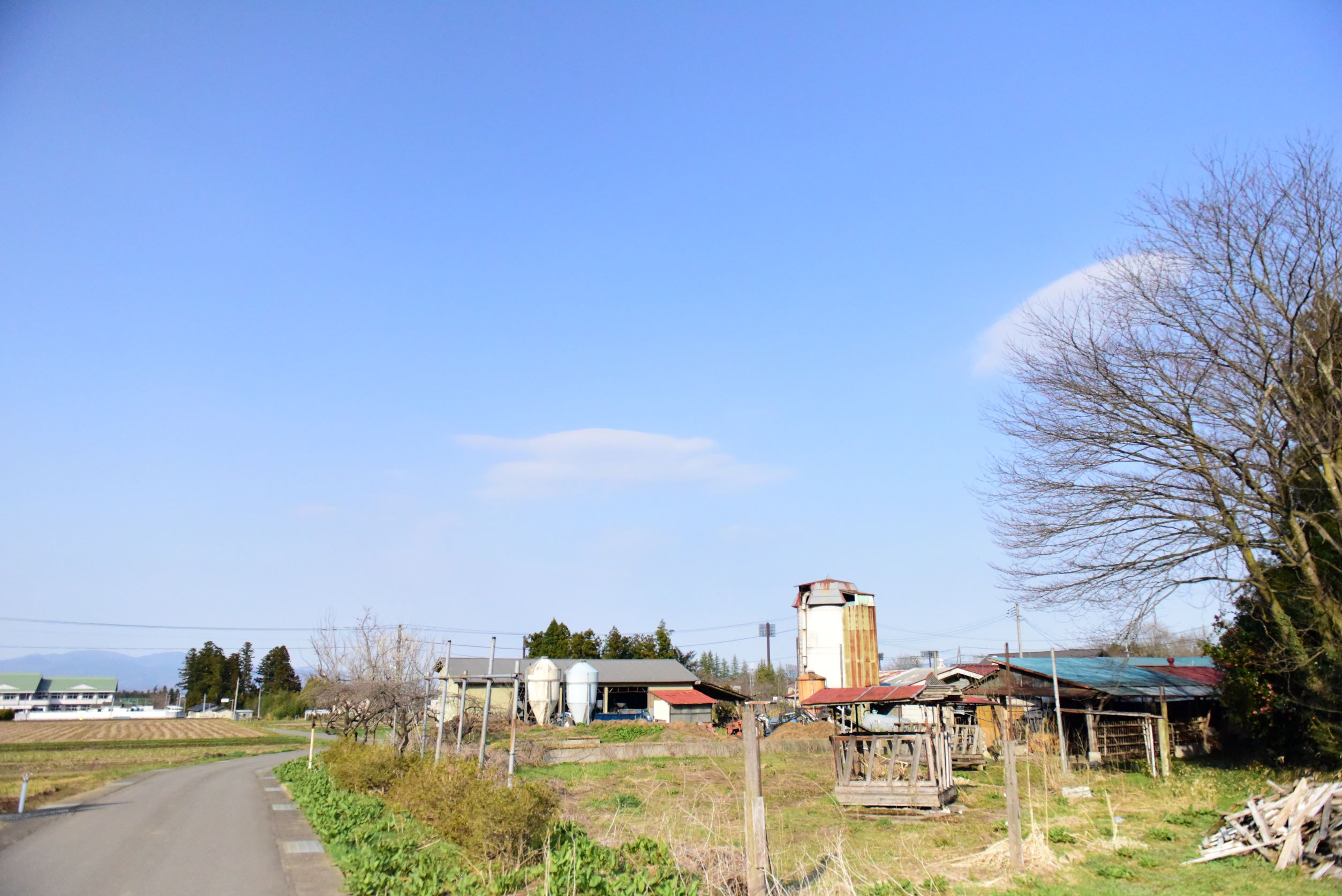 Responding to local needs
As the dairy farming project was just underway, the farm learned there was demand for delicious, freshly-squeezed pasteurized milk. It was a request from a group of ladies living in the Horai residential area in Fukushima City. This is how Sasaki Farm started its milk-delivery service.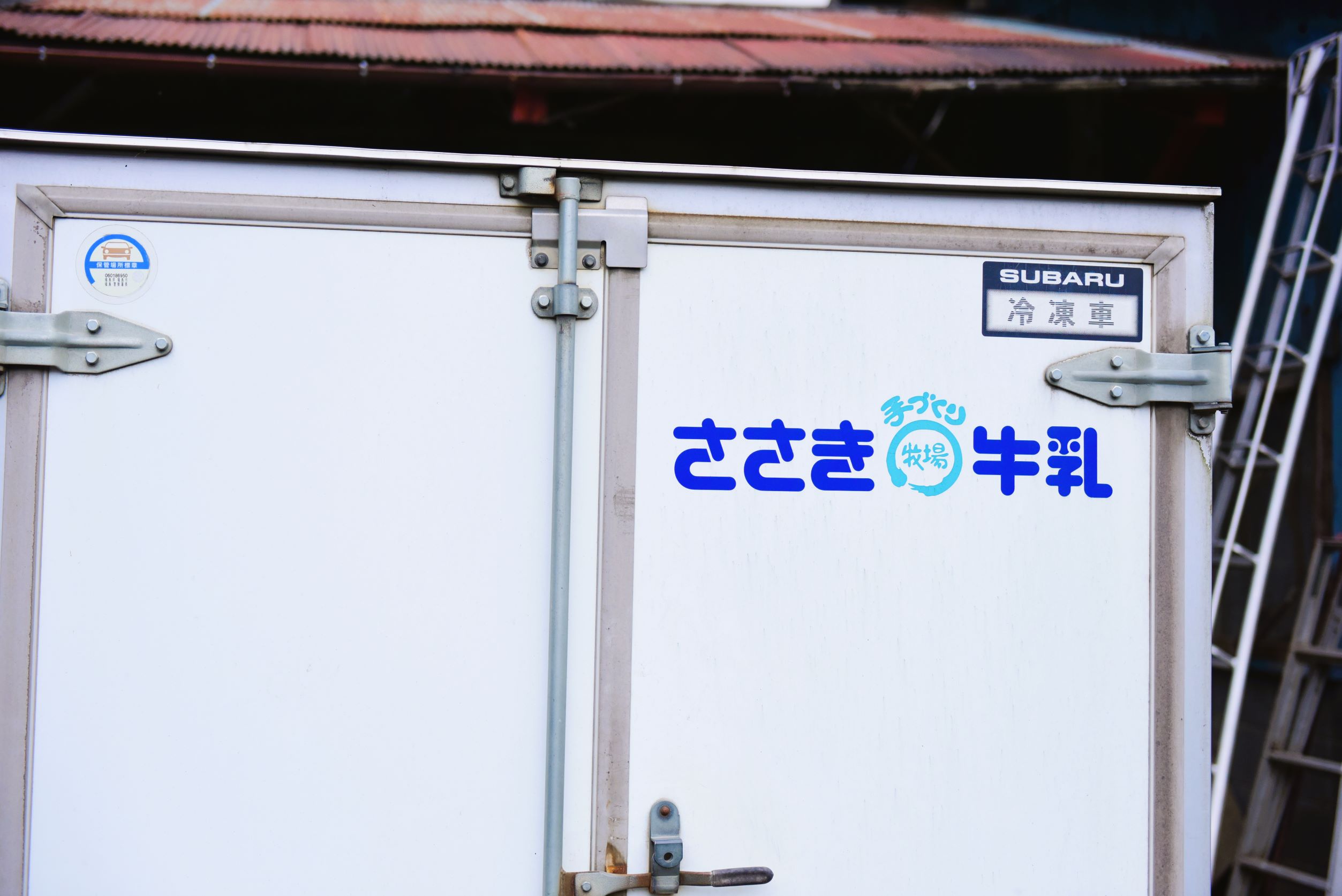 They first focused on home-delivery and wholeselling to co-ops. However, because of their policy of collecting- and reusing glass milk bottles, which became more and more troublesome, wholesale started taking a back seat. This led to the farm's policy of exclusively focussing on home delivery. As the delivery practice included collecting the empty bottles again, this was a great deal for consumers.
Small scale as an advantage
Even though the farm is small, the factory that pasteurizes and bottles the milk is located right next to the cow barn. The head of the factory was Mitsuhiro-san's mother. When Sasaki-san was 39 years old, however, he took up management of the factory too.
As the long, slow process of pasteurization at 63℃ for 30 minutes takes a lot of time and effort, and the milk can only be produced in small batches, it is hard to compete on price with the large players in the milk market. Nonetheless, the locals keep on purchasing.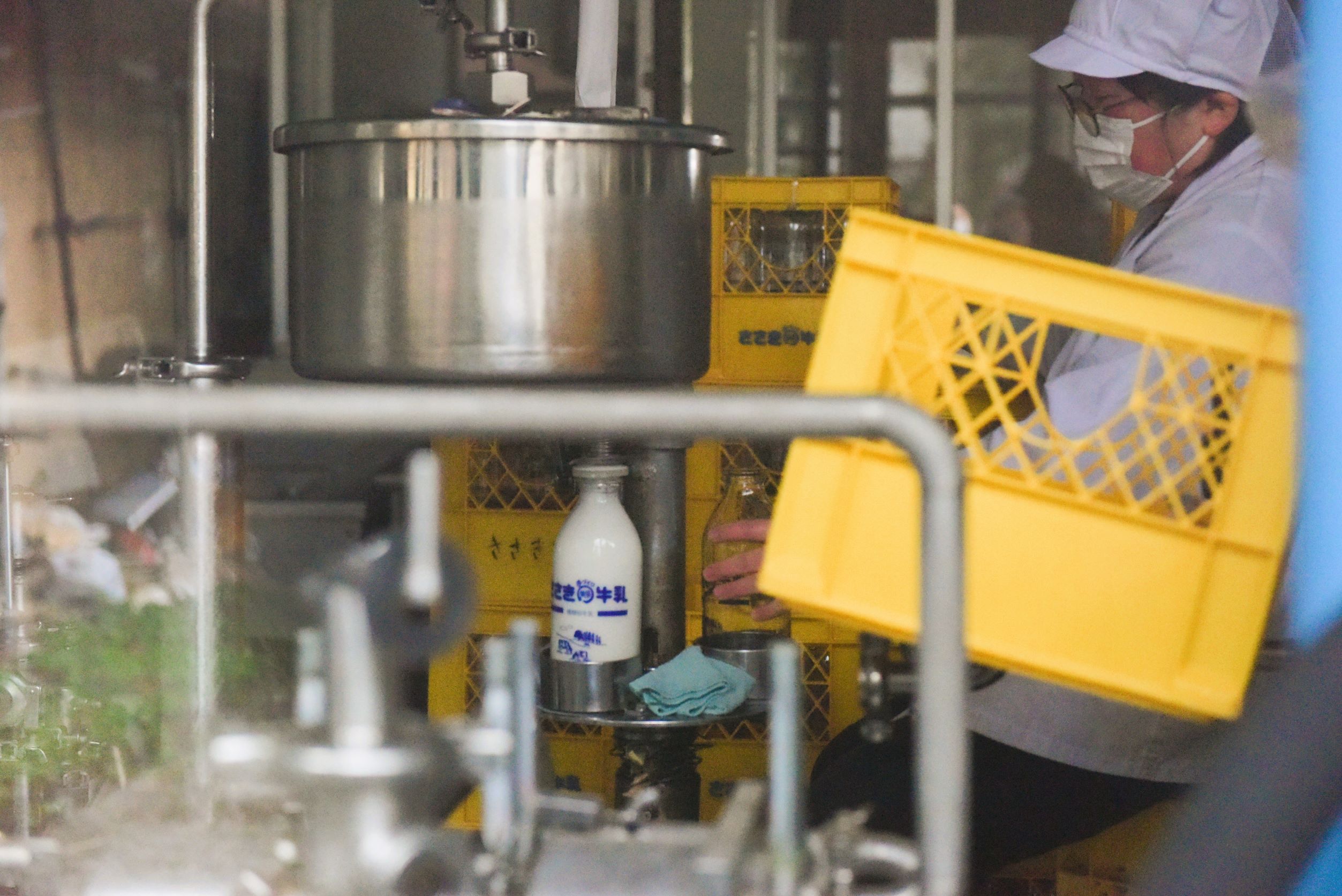 The reason for this continued popularity is likely that the entire process takes place locally.
Raising the cattle, the milk production and the processing is all done on a plot of land small enough to cover by a short walk. Perhaps the fact that the whole process is overseeable makes it easier to maintain quality than one can expect from mass-production.
There are dairy farmers that aim at high-quality production for the wealthy classes in urban areas. However, as Sasaki-san says: "If we had done that, we would have surely lost everything during the 2011 disaster. It is thanks to our relationship with the local people that we are where we are today."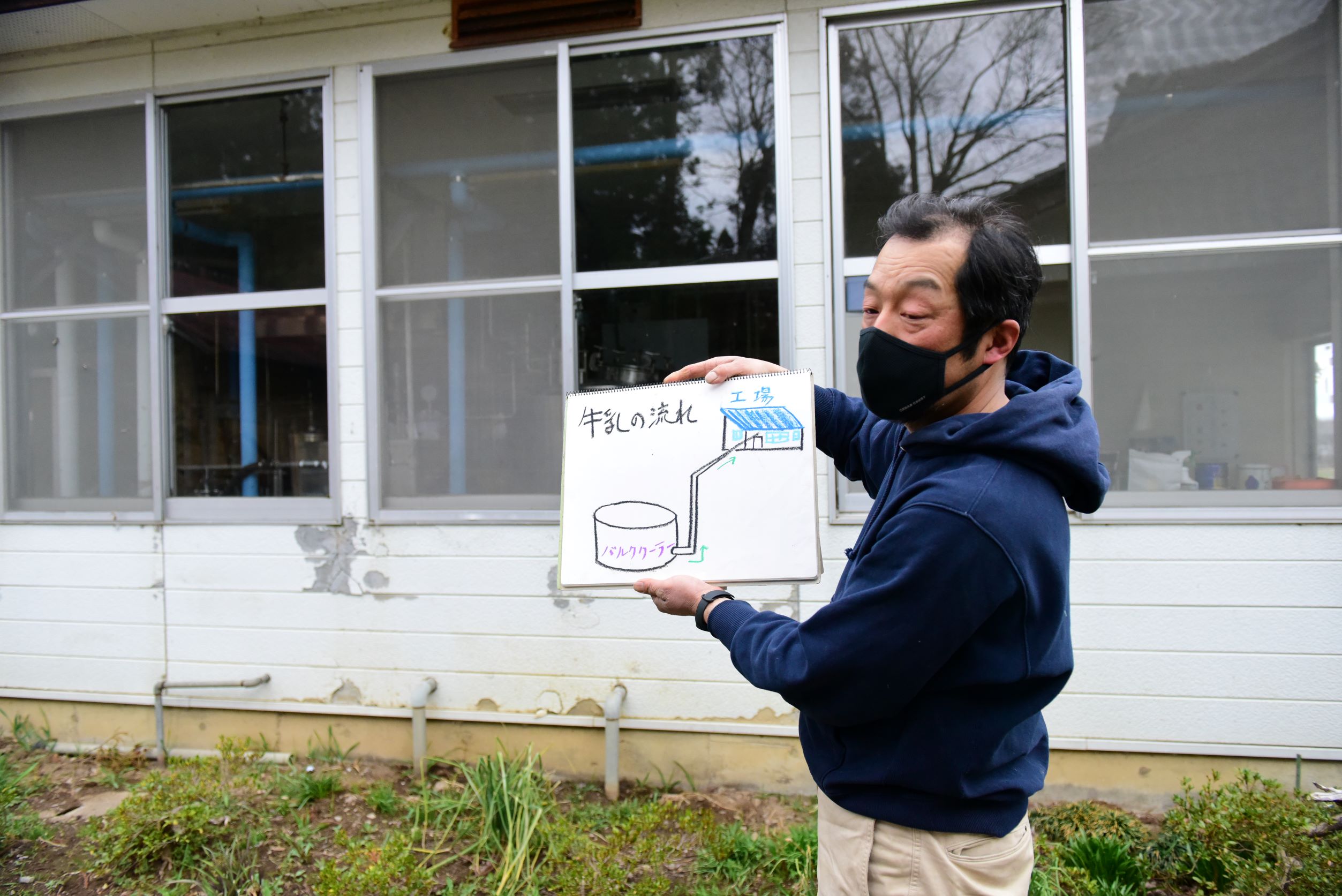 Inherenting the dream of creating a place to gather
2016 saw the opening of the Sasaki Farm Cafe, right across from the Azuma Sports Park. Their specialty of soft serve ice cream of Sasaki Farm's milk, with its rich-yet-fresh taste is widely popular, regardless of age or gender.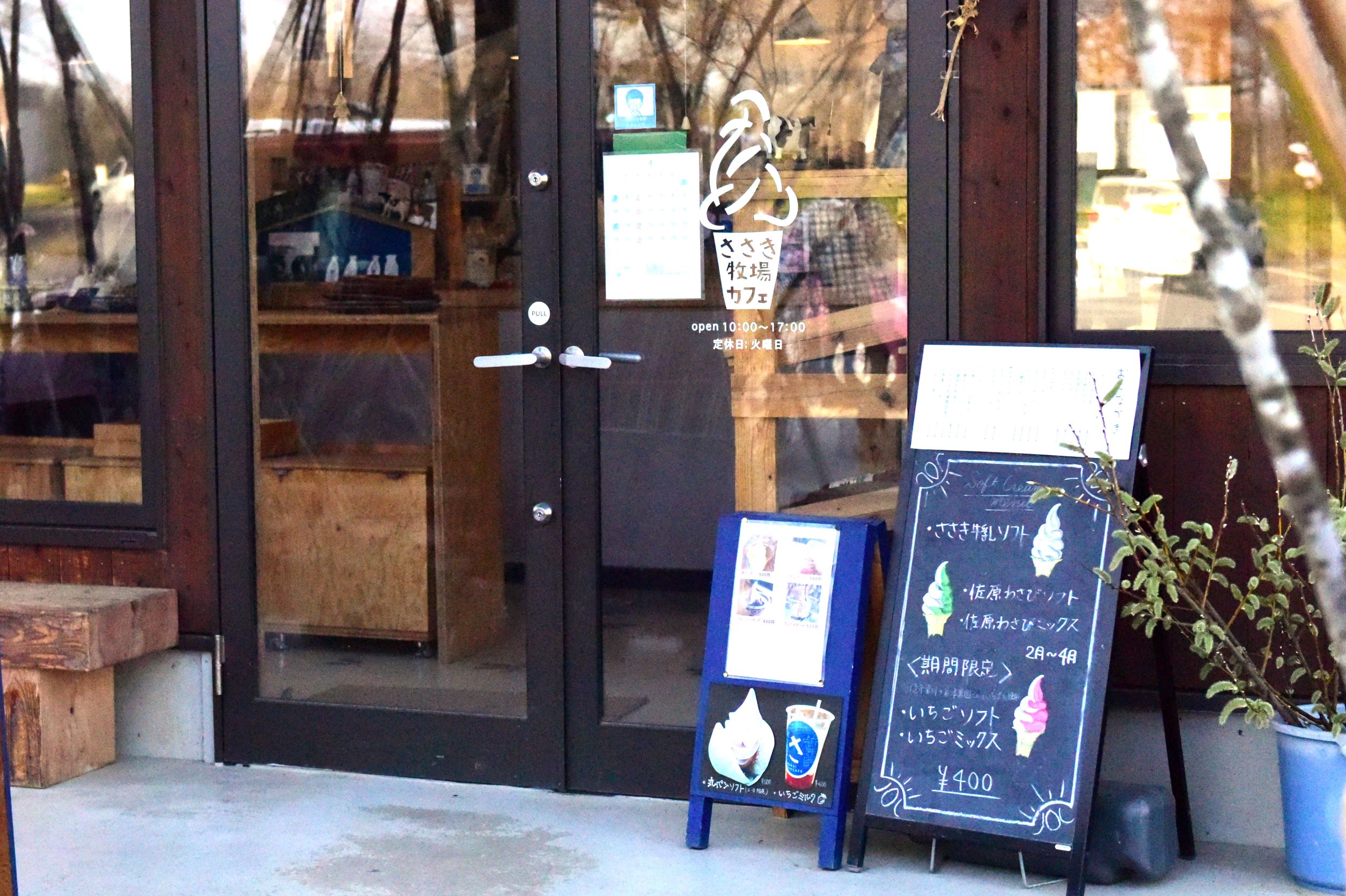 Managing the cafe is Mrs. Jun Koda (née Sasaki), Mitsuhiro Sasaki's older sister. Surprisingly, Koda-san actually used to be an elementary school teacher for 24 years before opening up the cafe. Surely, her students must have been surprised when they learned their teacher suddenly became an ice-cream vendor!
There is a single, important reason for this change.
It was something Koda-san's father said last year, while struggling against Parkinson's disease.
"I want to create a place where people can come together. Rural towns lack places for people to gather. Every year, 1,5 million people visit the Azuma Sports Park, but nobody stops at the farming town that's only a short ways away. I want to do something for that town," is what her father started saying regularly.  The fact that, despite his loss of mobility, her father went out of his way to visit city hall in order to make his case, for the benefit of the local area, is something that is deeply etched in Koda-san's memory.
Seeing her father's plight, her first thought of "Who's gonna actually do that?," soon changed into "Me, of course. I'm the only who could."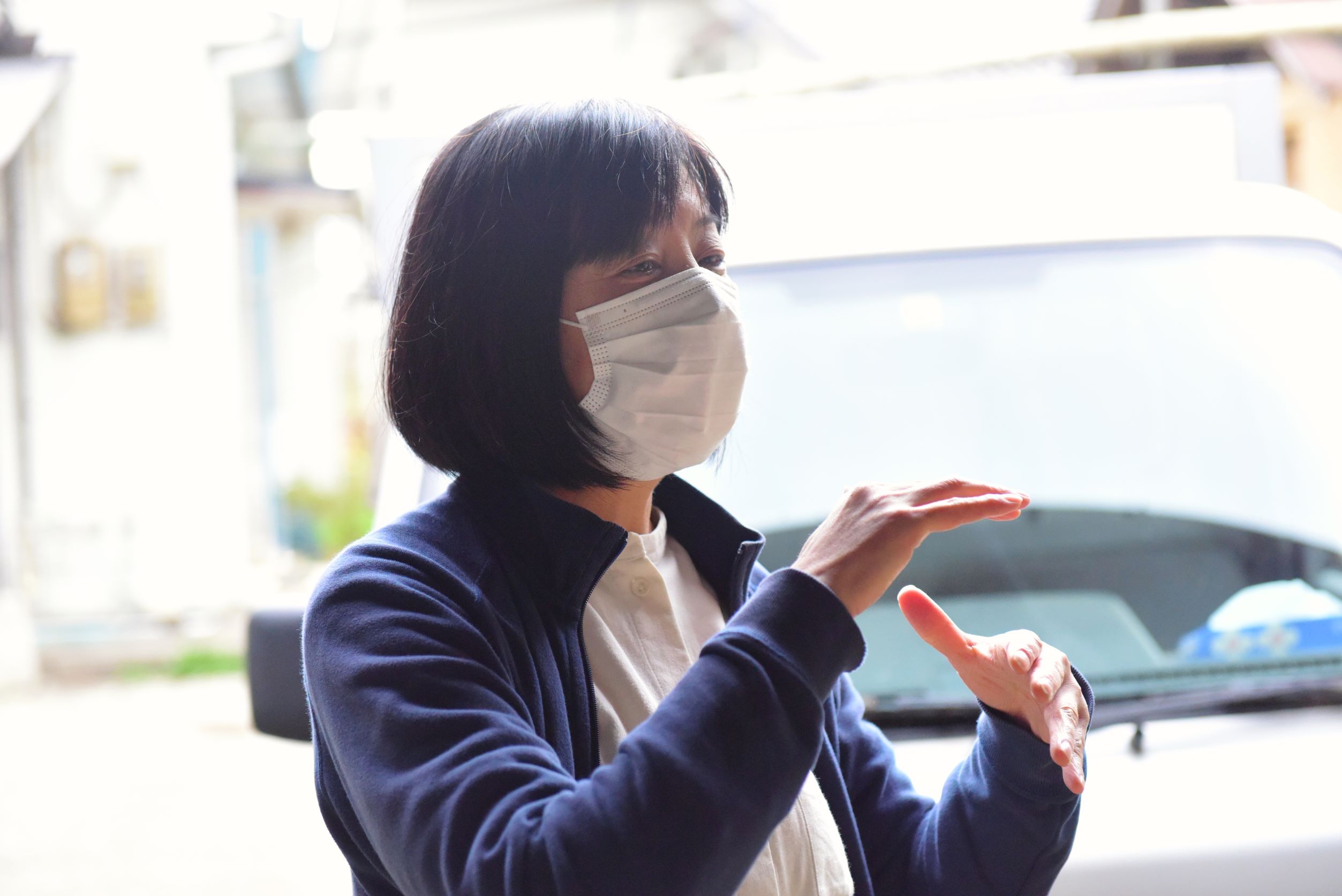 From then on, she became singly focused on opening up the cafe, with a sense of self-confidence not-yet-backed by experience. Her character trait of starting right away when she sets her mind on something – and only figuring out how along the way – is something she probably inherited from her father, as she herself shyly admits.
The dream of Koda's father took shape. It became a place where even on weekdays people come together in droves to enjoy a relaxing time on the foot of Mt. Azuma and the delicious soft serve ice cream.
Sadly, about 1 month before this interview Sasaki-san Sr. passed away. He wrote down all of his experiences in his personal memoirs. We really wanted for him to see FoodCamp for himself, but we are sure that he will be smiling down on us.
Aoyagi -

Takuya AOYAGI

Some say his dishes are like art and tell a story. Finally it's time for Chef Aoyagi of Italian restaurant Aoyagi to take the FoodCamp-stage. He actively uses local produce, not for any lofty causes, but simply because of their quality. We can't wait to explore his world through a sunset dinner!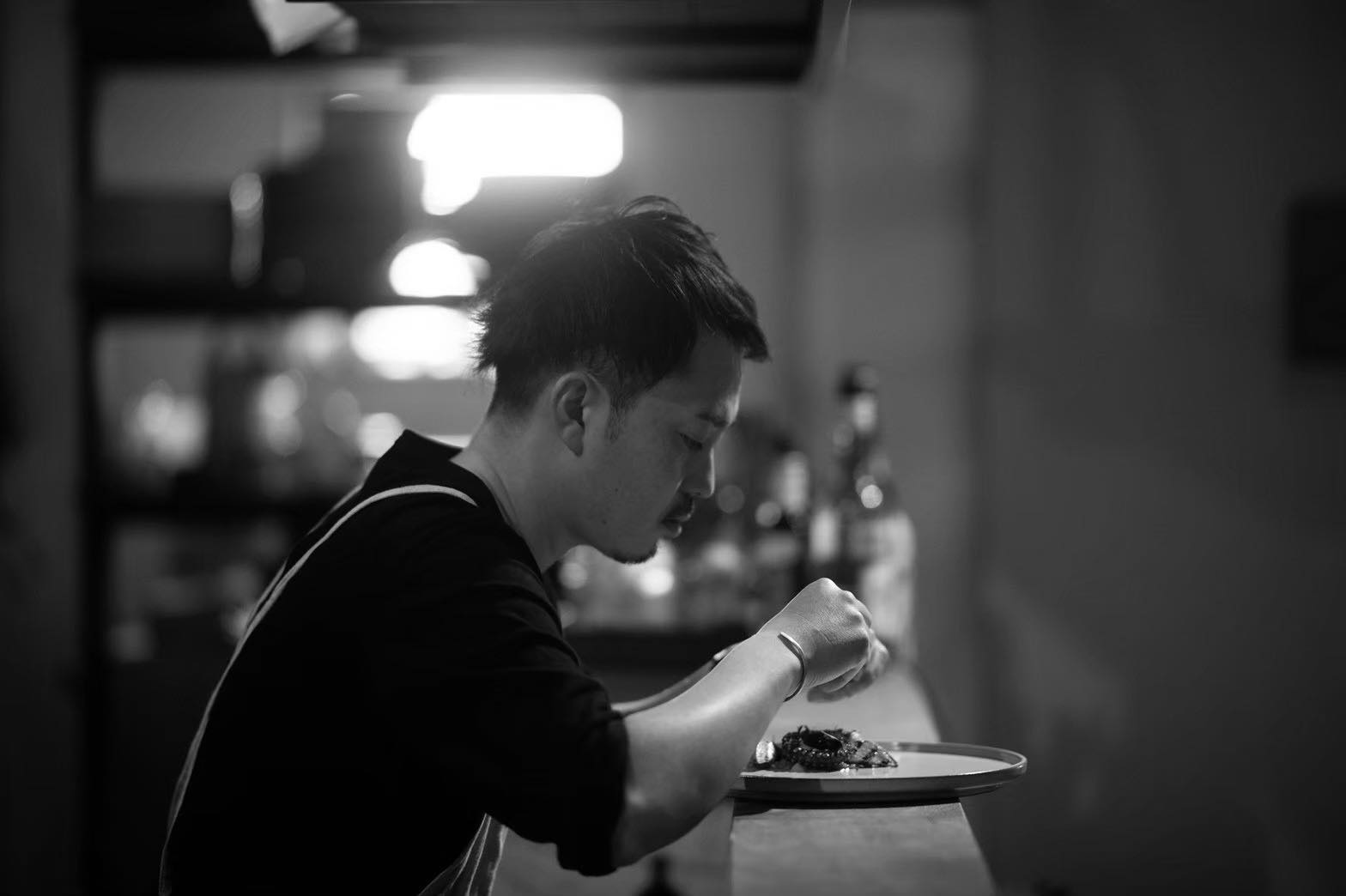 Days in Apulia, southern Italy
Aoyagi, a 10-seat Italian restaurant on a corner of the Fukushima City downtown area with room for about 10 people was first opened in 2013. Owner and chef Takuya Aoyagi has built up a significant fan-base with his exquisite dishes. One of his fans gushes, "Every single one of his dishes tells a story, and tasting it is like taking a little trip somewhere." According to another, "Aoyagi-san's dishes are like art, and the plate is the canvas."
When we ask him whether this high praise is thanks to having received trained in a well-known restaurant or something, he responds with modesty: "No, no, I didn't work at some famous place at all. As for training, all I did was spend some time in the Apulia region of Italy."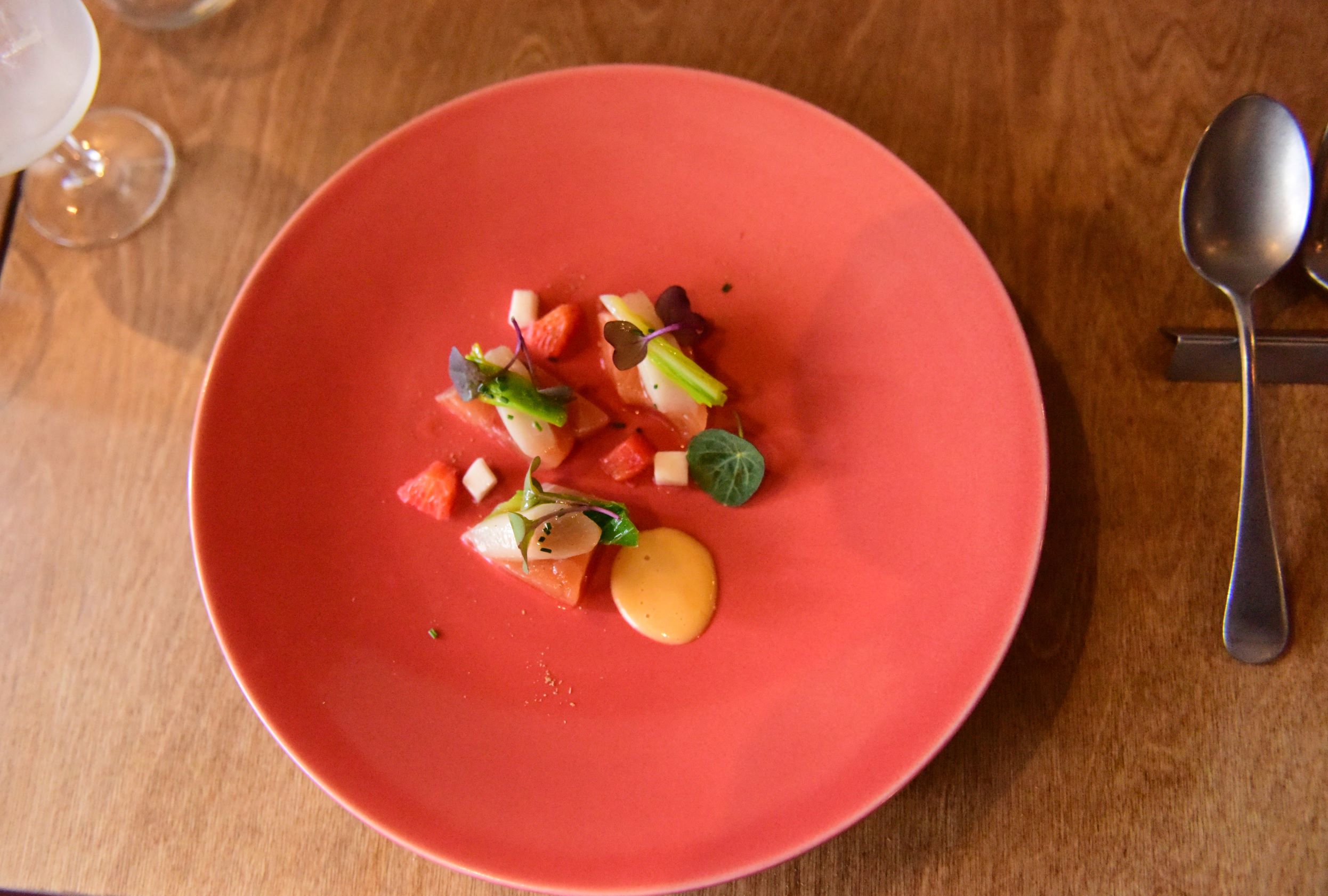 Growing up in Fukushima City, as a high school student he played soccer. Likely because of the influence of his father being a chef, he started working in the kitchen of a restaurant after graduating high school. Having developed an interest in Italy, he looked for restaurants where he could work while living-in, and just happened to stumble on the Apulia region. At Aoyagi, a cookbook of Apulian cuisine is inconspicuously on display. Undoubtedly, this is where we can track his career back to.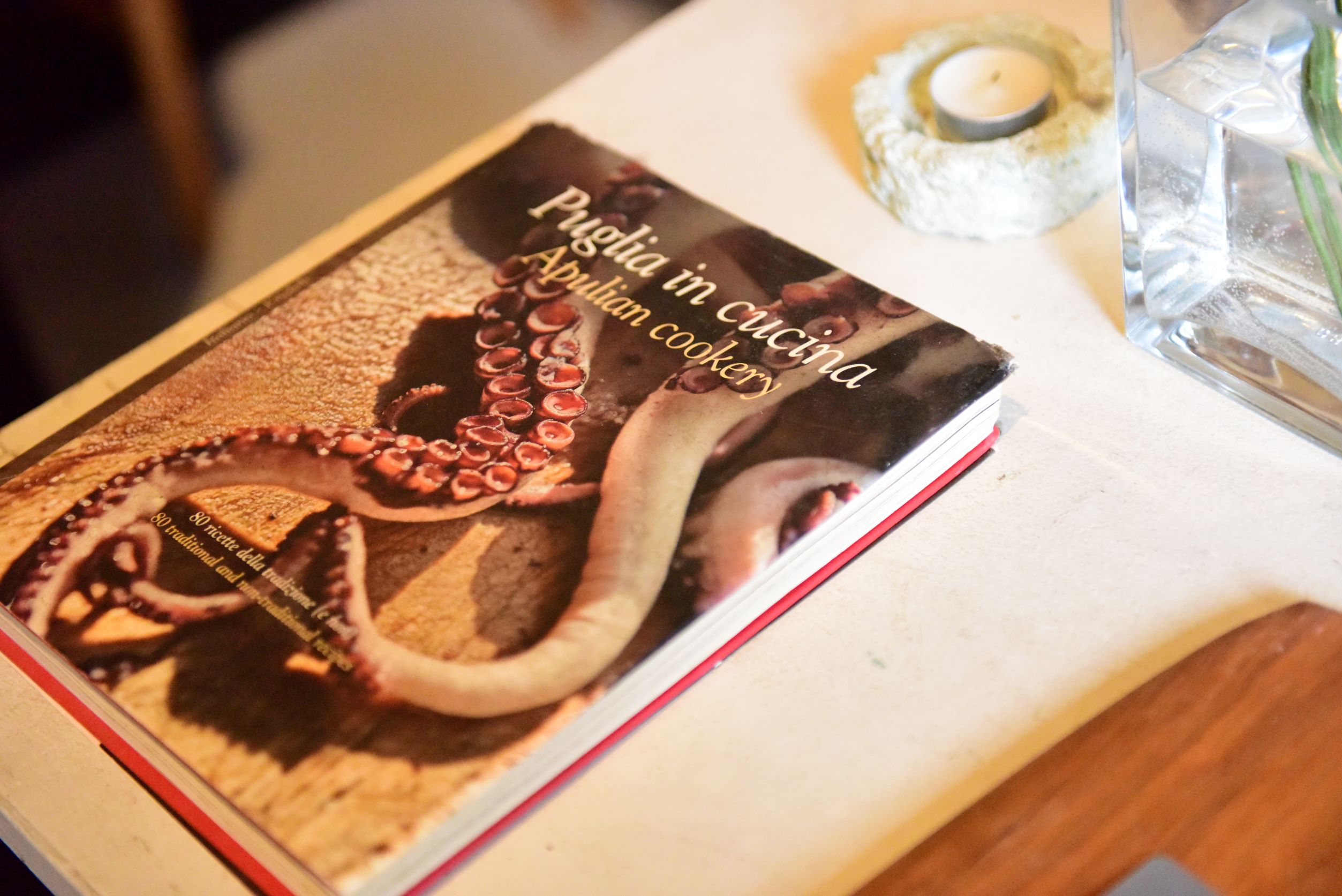 Meeting Sasaki-san
When he opened his restaurant, he never had milk on his mind. He knew about Sasaki Farm, but had not considered using their products in his restaurant. But when he first heard about the Sasaki Farm's cafe-plans, and that he could get their milk delivered straight to his restaurant, he started using their services. This was in 2015.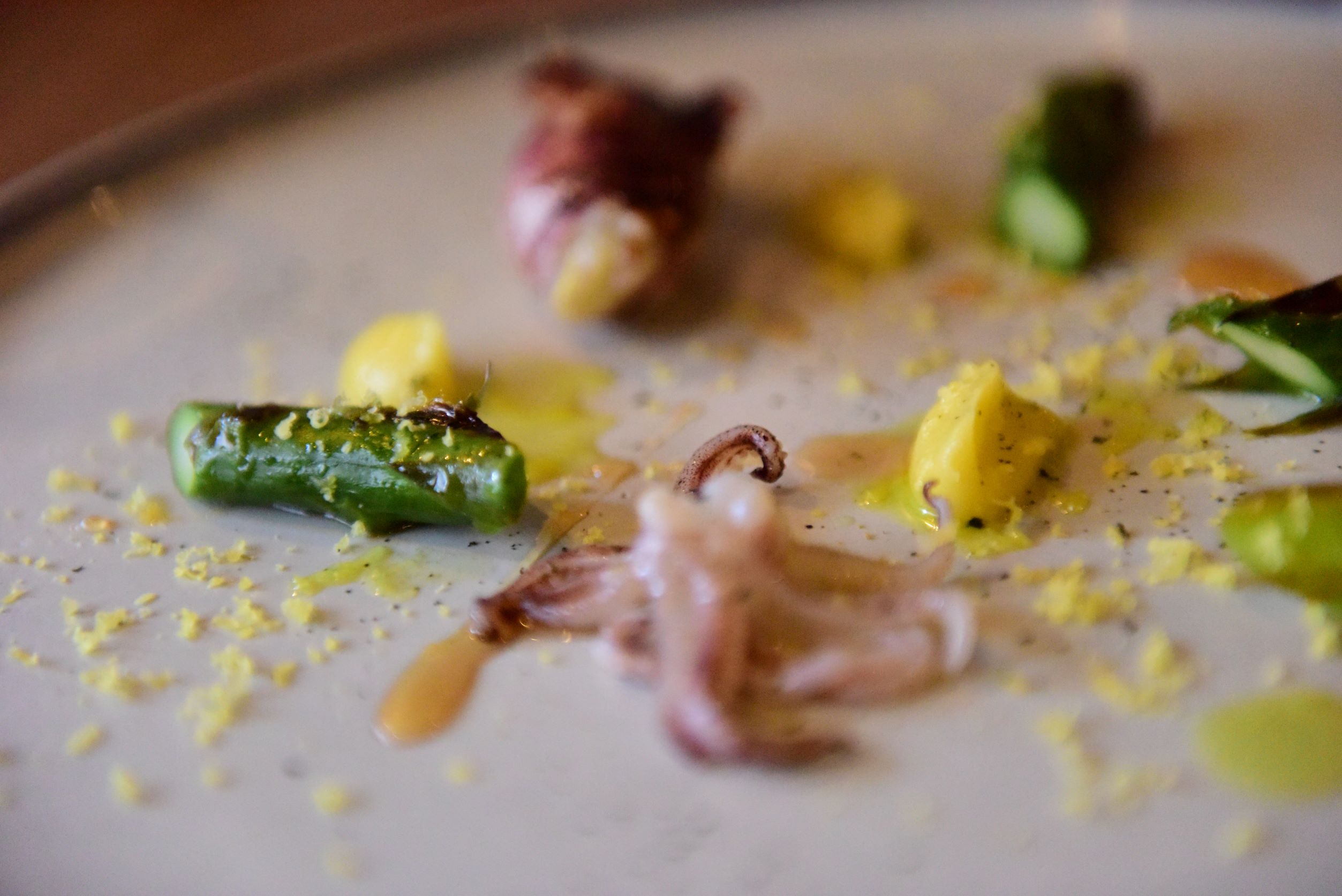 At Aoyagi, many local products from Fukushima City and the surrounding areas, Fukushima Prefecture, and the surrounding prefectures are used in abundance. To be fair, most of the products used are local. When asked for a reason, he responds, "When you use local products, you get to know the people you deal with, they have a lot to teach, and there's a sense of security and trust that you wouldn't get elsewhere."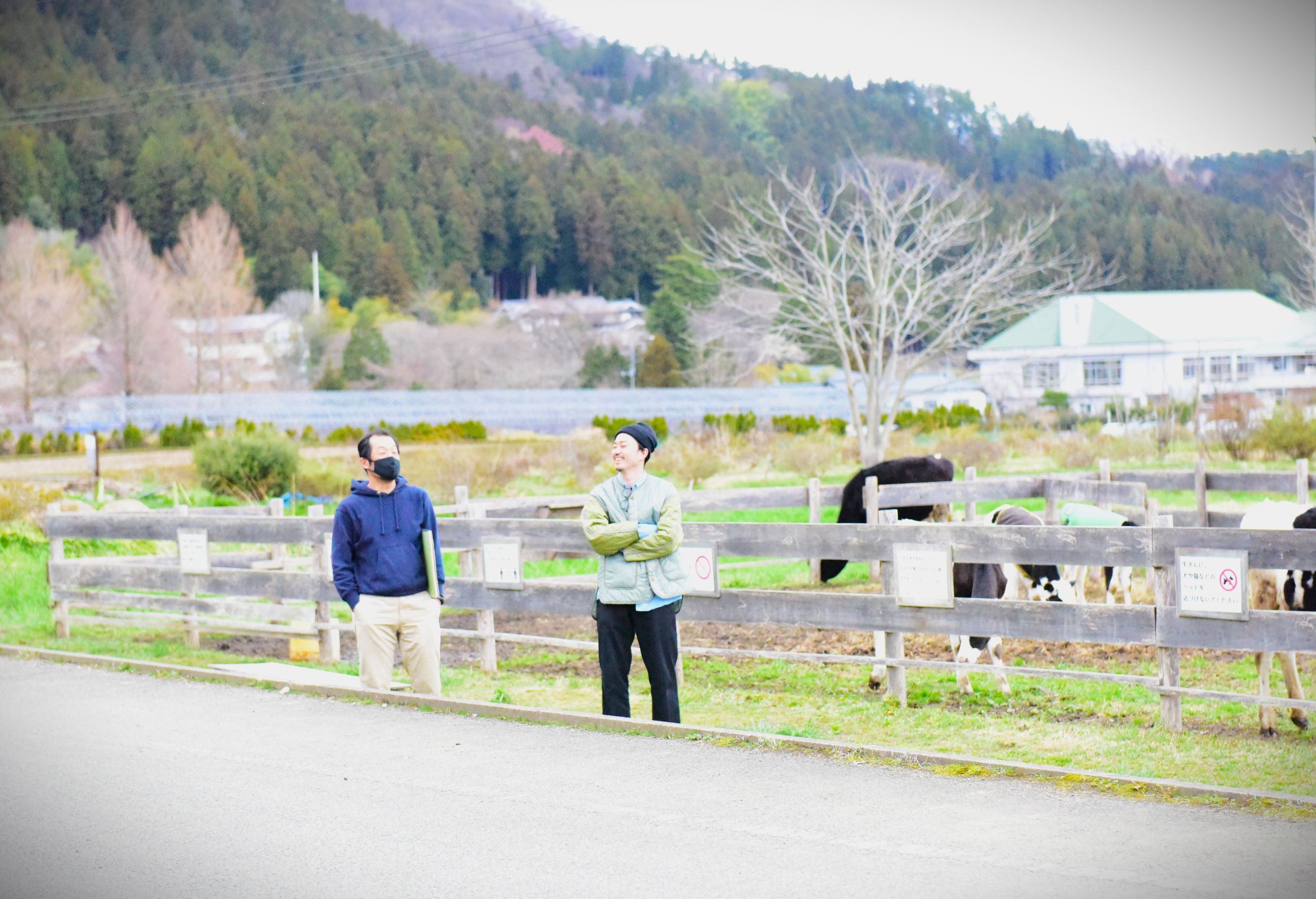 "I think he's a real craftsman," Aoyagi-san says when asked about Sasaki-san. This is likely because of all of his considered, careful efforts towards quality, and the faith in his own way of doing things as a producer. He instantly noticed a different reaction among his customers when he started using Sasaki Farm's milk.
"One day, I started serving gelato made from Sasaki Farm's milk. The customers reacted totally differently."
When using high-quality products, people can tell the difference best when they're served simply. That must be how customers can best appreciate the quality.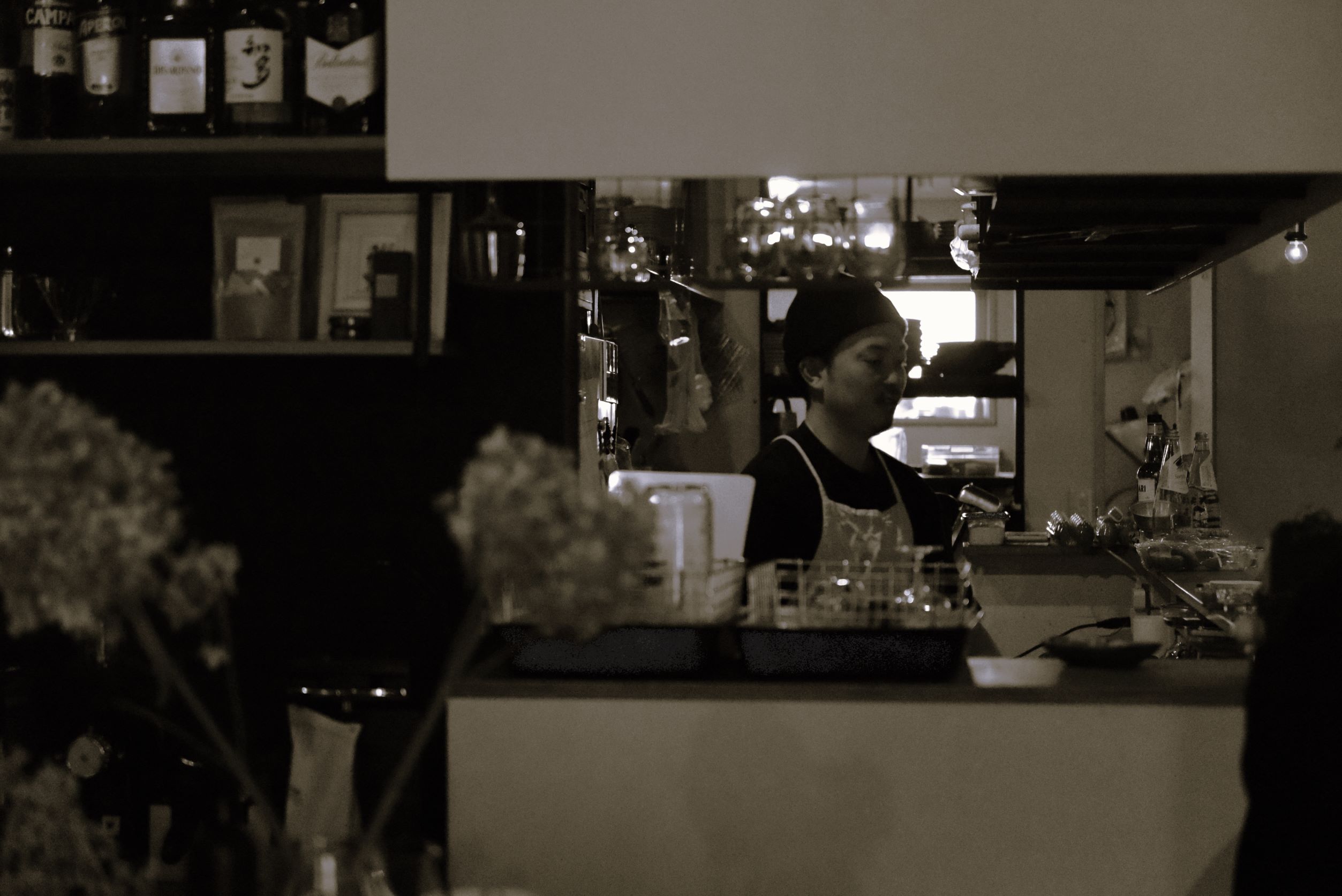 "If you don't have the ingredients, why open up?"
The development of Chef Aoyagi's stance towards cuisine must be thanks to this experience. When we tried to reserve a table for lunch, we learned that the restaurant had been temporarily closed recently, and he opened up shop just for the occasion. When asked why he was temporarily closed, he simply states that its off-season for the vegetables, and just doesn't have the ingredients he wants. "If you can't get the ingredients, why even bother opening up shop?" He really is calm and grounded to the core.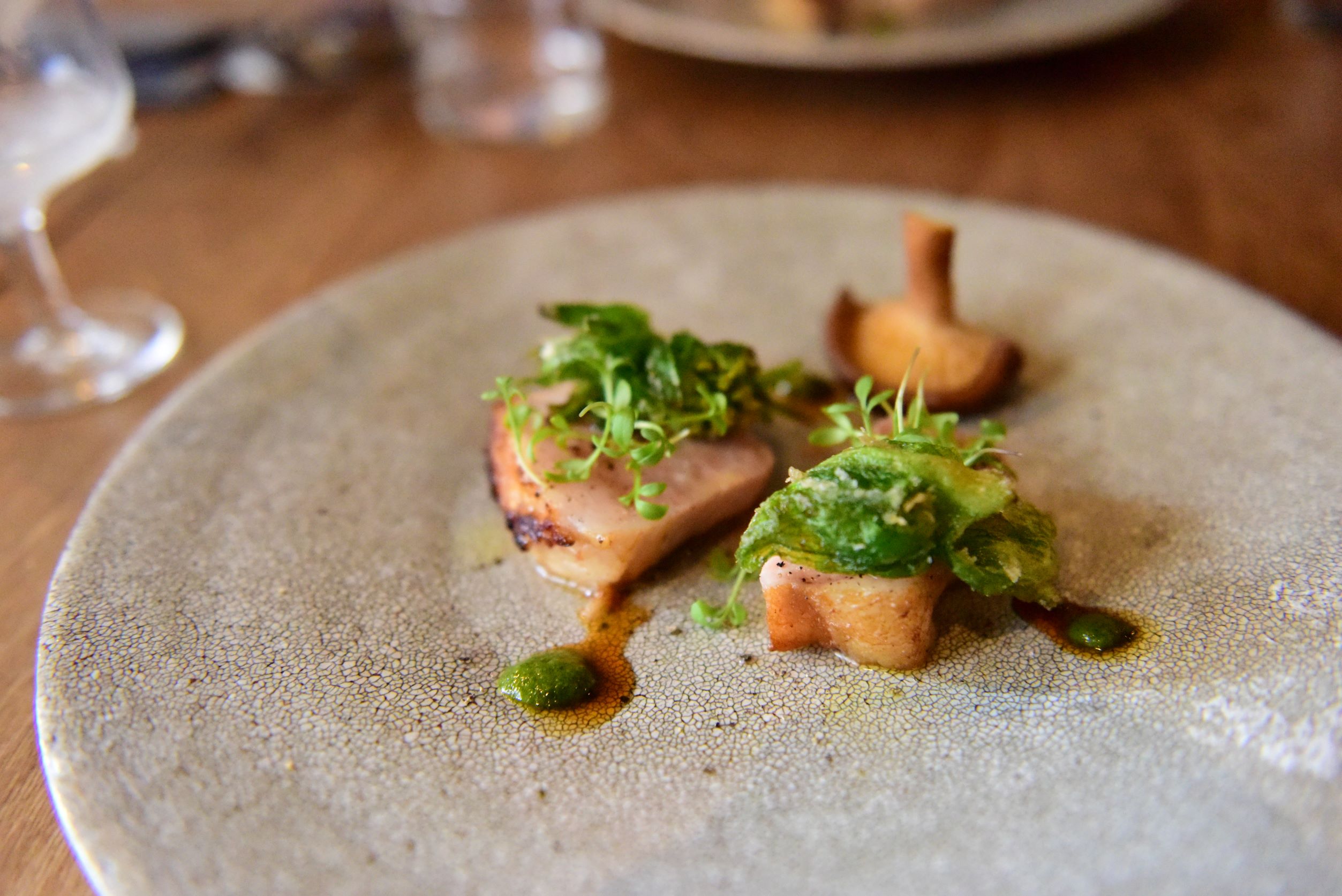 You can prepare any kind of cuisine with produce from Fukushima, and the quality is some of the highest in the country. That is why Chef Aoyagi doesn't make a big deal about lofty goals like local produce, local consumption, but simply uses local products because they happen to be high quality.
In the end, he really wants producers to have a taste of their own products through his cuisine. At the upcoming FoodCamp, he will get his way. This will be another chance to strengthen the bonds of trust with his producers. We are convinced that this will be a very special, early-summer, late-afternoon dinner.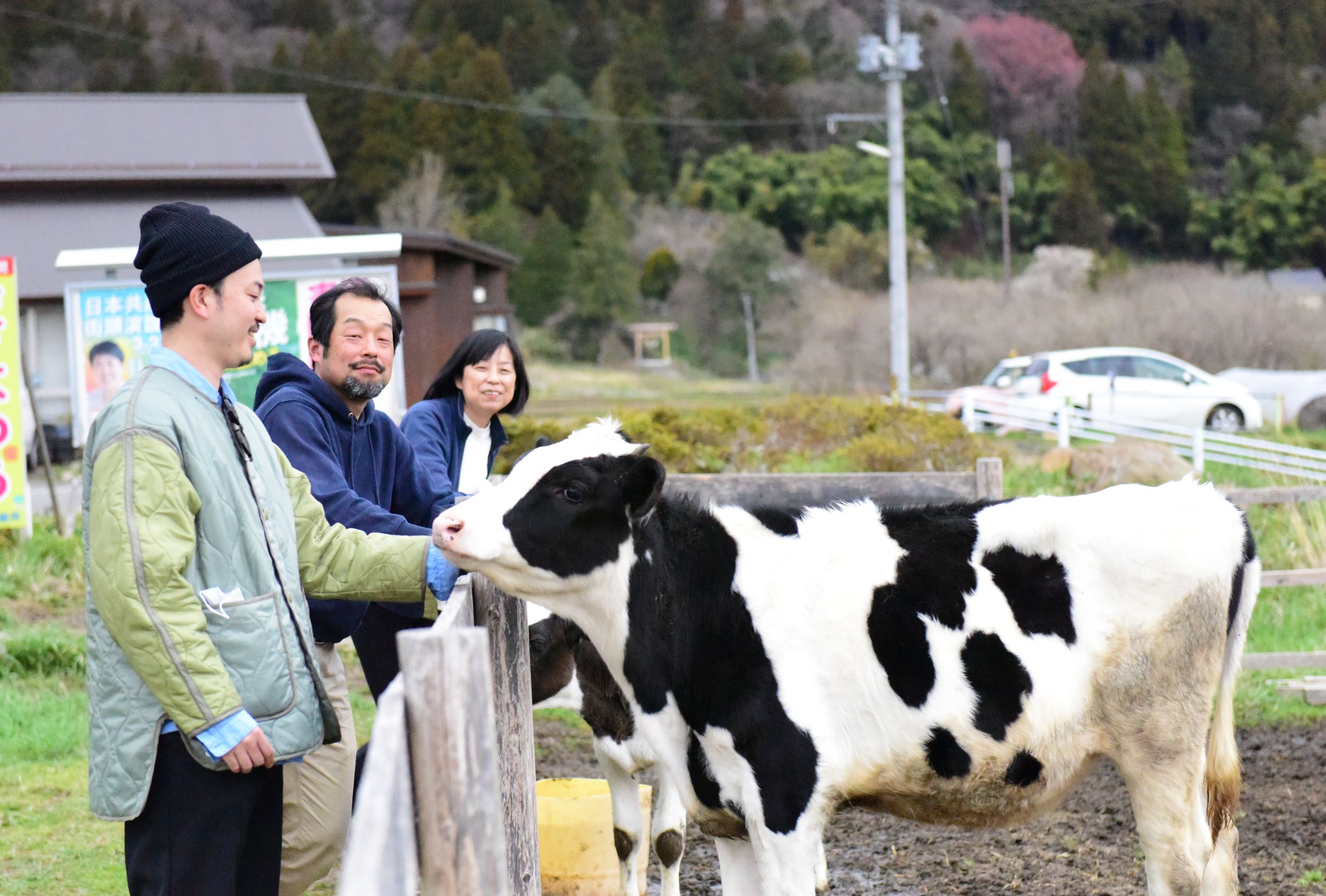 Tour Schedule
Pick-up / Meeting Place

12:30

Pick-up by taxi (Koriyama Kanko Kotsu Taxi) from your house or place of stay in Koriyama, or at Koriyama Station. We will inform you of your pick-up time one day before the tour.
*For those scheduled for pick-up at Koriyama Station, please arrive at Koriyama Station by 11:45 am.

Let's go!

13:00

Departure for the tour site, from the Magonote Travel Asaka Office.
* Those coming to the Office directly, please arrive by 12:50 (limited parking space).

Brief stop at Fukushima Station (pick-up)

14:10

Before arriving at the venue, the bus will make a stop at Fukushima Station. Those who prefer to join the tour from Fukushima Station, please be at the Fukushima Station West Exit Rotary by 14:00.

Cheesemaking Workshop and Tour of the Former Sakuma Residence

14:40

Enjoy a cheesemaking workshop and tour of the Former Sakuma Residence near Sasaki Farm. The Former Sakuma Residence is an extravagant estate, owned by a wealthy family 25 generations, and currently maintained by the city of Fukushima. After a tour of the premises and getting a feel for the history of the west-side area of Fukushima City, join the cheesemaking workshop run by owner of the Sasaki Farm Cafe Koda-san.
※Participants will be able to take their freshly-made cheese home on the day.

Arrival at Sasaki Farm

16:00

Take a leisurely tour of Sasaki Farm, where all the necesary facilities such as the cow-barn, processing factory and cafe are all compactly packed together. There will be time to purchase products such as the delicious, freshly-pasteurized milk and fresh cheese.

Sunset Dinner

17:00

The sunset dinner will start in the late afternoon before sundown. The course dinner will be prepared by owner and chef Takuya Aoyagi of the increasingly popular Italian restaurant Aoyagi in Fukushima City. Every dish is like art, and moves people by bringing new surprises and discoveries. His menu will reflect the deep understanding of Sasaki Farm's dairy products, through the already frequent use in his restaurant.
There will be various drinks to match the menu, including wine from Wintery Azuma Sanroku that was opened in 2020 in Fukushima City. (One drink included)

Departure

19:30

After enjoying the dinner and the stillness of the starry sky, we will gently take our leave.

Brief stop at Fukushima Station (drop-off)

20:10

Drop-off of participants at Fukushima Station.
For those who opt for drop-off at Fukushima Station for further travel by public transportation such as bullet-train and local lines, please prepare an itinerary from after 20:30.

Arrival at the Magonote Travel Asaka Office

21:20

After arriving at the Magonote Travel Asaka Office, you will be brought by taxi to your home or place of stay in Koriyama City, or to Koriyama Station.
*For those planning further travel by public transportation please prepare an itinerary from after 22:00.
Tour details
Date(s)

June 25 (Sat.)

Fee

*same rate applies for children/participants travelling to the venue directly with their own vehicle.

What to wear/bring

・This tour takes place outdoors. In case of clear skies, please prepare a hat or cap to protect you from the sunlight.
・Please wear comfortable shoes and clothing.
・In order to prevent the further spread of COVID-19, please wear a mask.

Conditions of Participation

Participation open to everyone over elementary school-age, and able to participate on their own (no need for accompaniment by a care helper, or with permission from a doctor). Same price for adults and children.

Operating Company

Koriyama Kanko Kotsu K.K.

Tour Operator

Magonote Travel's own staff will accompany the tour.

Travel Insurance

Travel insurance is required for all tours, in case of accidents and emergencies. The insurance fee is included in the price. For this reason, we need to ask for your date of birth.

Cancellation Fee

The following cancellation fees will be charged for tours with lodging and tickets: 20 to 8 days in advance: 20%, 7 to 2 days in advance: 30%, the day before the tour: 40%, on the scheduled date before the tour starts: 50%, no-show without notice: 100%.
For one-day tours, the following fees will be charged retroactively from the day before the start of the tour: 10 to 8 days in advance: 20%, 7 to 2 days in advance: 30%, 1 day in advance: 40%, on the scheduled date before the tour starts: 50%, no-show without notice: 100%.

In case of bad weather

The tour will not be cancelled in case of bad weather. However, in case the tour has to be cancelled due to a natural disaster, you will be informed one day before the tour. In this case, you will receive a full refund.

Minimum number of participants

If there are fewer than 15 participants the tour will be cancelled. In such case we will inform you at least 4 days in advance.

Other points of caution

In order to prevent the spread of COVID-19, we ask all guests to fill in a health-check form beforehand. We will send you the details after we have received your application. Thank you in advance for your cooperation.