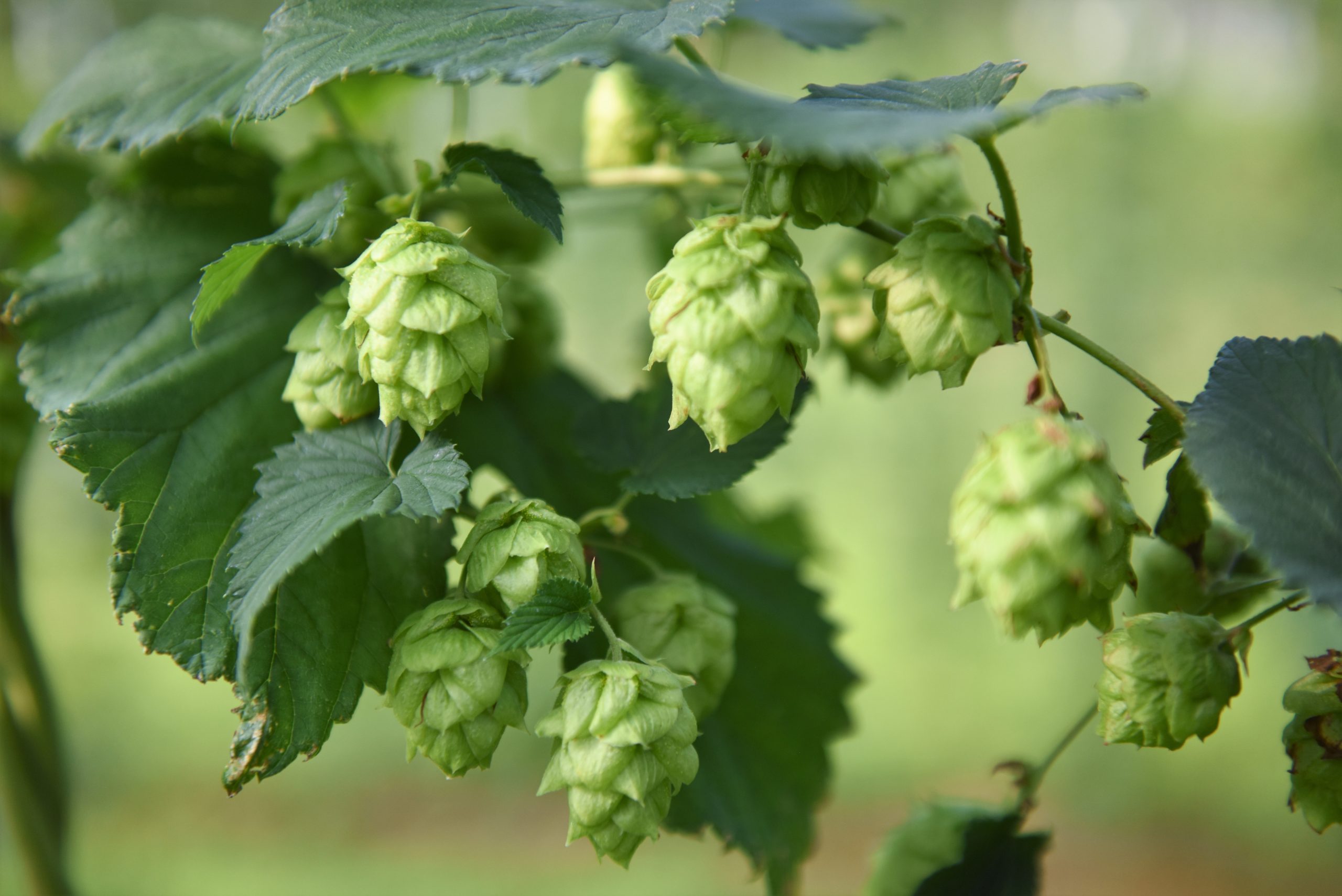 This late-night tour offers a visit to the HOPJAPAN-brewery, an ethnic-style dinner that goes perfectly with craft beer presented by Chef Serizawa, and a tour of the starry sky as seen from the Abukuma Highlands.
※Afternoon departure
※As participants will arrive back at Koriyama Station at 23:00, those coming from outside Koriyama City are advised to prepare lodging for the night (those living or staying in Koriyama City will be brought by taxi to their home address or place of stay).
HOP JAPAN https://hopjapan.com/
Seasonal VegeCafeBar – BestTable https://magonotetravel.co.jp/besttable
Highlights
A brewery tour and freshly-crafted beer tasting

Firstly, take a tour of the brewery by brewmaster Takeishi-san. Besides the brewing equipment, learn all the ins-and-outs of hops and the brewing process. After the tour, have a taste of freshly-brewed craft beer to wash away the summer thirst.

An ethnic-style dinner buffet full of delicious summer vegetables!

Chef Serizawa will prepare an ethnic-style dinner buffet that fits craft beer like a glove. As Tamura City is Chef Serizawa's hometown, let the chef take you to 'Serizawa World' through his abundant vegetables and skillful use of spices. In order for participants to get to know each other, the dinner will be buffet-style.

A guided tour of the Milky Way

Take a tour of the Milky Way, led by a guide to the stars from the Hoshinomura Observatory in Tamura City. When weather conditions are favorable, the Abukuma Highlands are a stargazing treasure trove, in which the naked eye allows you to see even third-magnitude stars! *In case of bad weather, the stargazing tour will be moved to the indoor mini-planetarium.
Cast
What happens when people drawn by craft beer meet

HOP JAPAN                                  CEO - Makoto HOMMA

Brewmaster - Shohei TAKEISHI

Makoto Homma (CEO) was inspired by the rich, fulfilling lifestyles he encountered when living in the United States, where craft beer was all around. Brewmaster Shohei Takeishi fell head over heels for a single craft beer he encountered, and ended his career as a salaryman to become a brewer.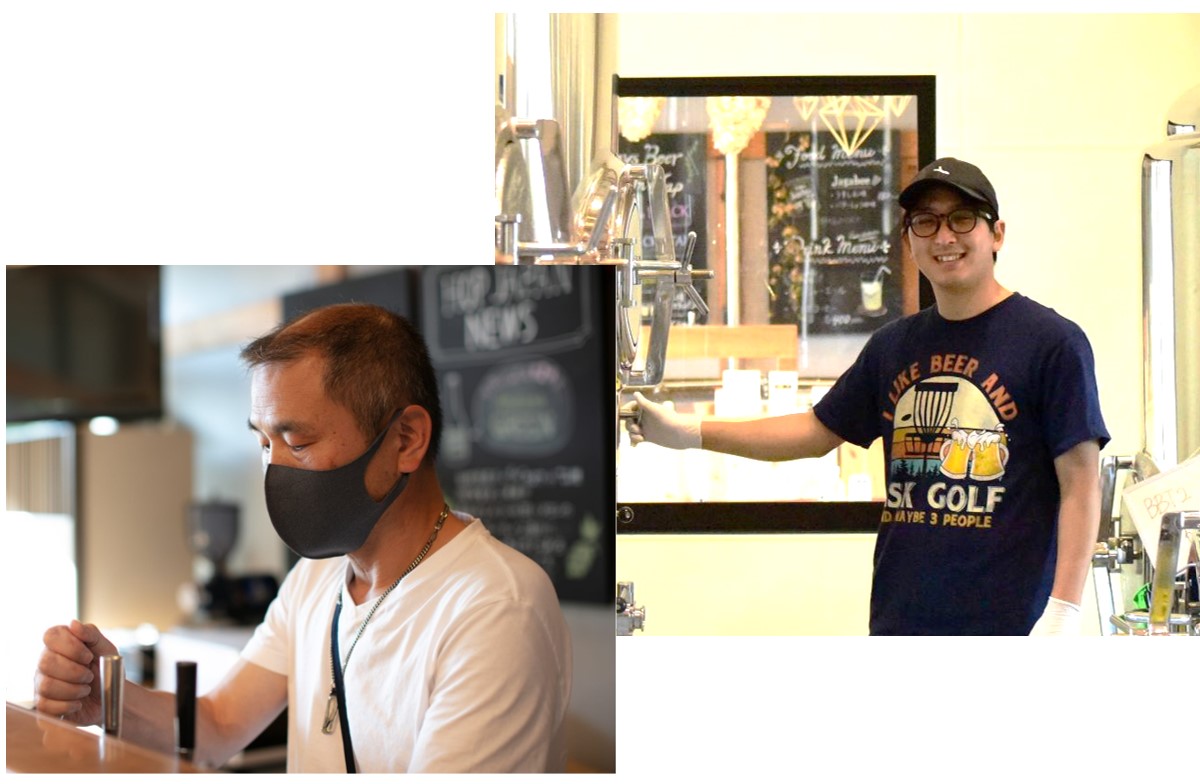 After the two met, they joined forced to start brewing beer in the Abukuma Highlands. There is an unlikely-yet-true, Cinderella-like story behind all of this.
From being inspired by American lifestyles, to the Great East Japan Earthquake
HOPJAPAN was founded in June 2015, with its brewery located on the premises of outdoor-facility 'Green Park Miyakoji' in Miyakoji-machi (Tamura City). CEO Makoto Homma was inspired by American craft beer, and the lifestyle around it, and decided to dive into the world of craft beer. Initially, he planned to start brewing after retirement, but the Great East Japan Earthquake of 2011 made him change his mind. "The right time to pursue your dream, is whenever you are able to." This idea made him quit his job, and start this new venture.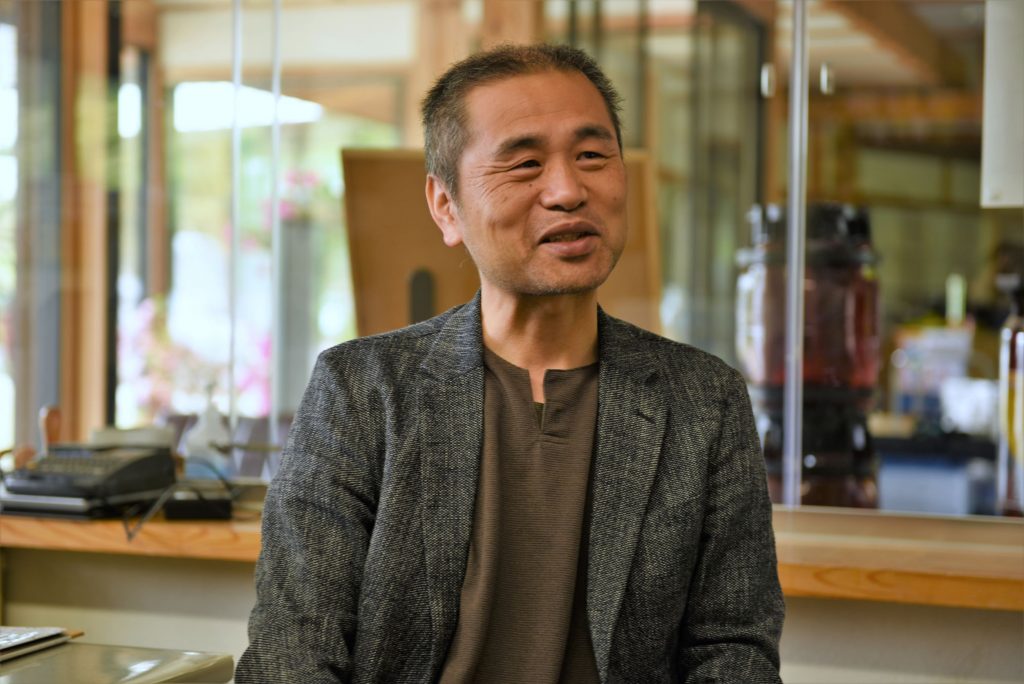 Overcoming challenges, gathering allies
Having take the first step towards his dream, mady challenges waited for him, from procuring ingredients like hop, to brewing techniques and fundraising. Especially the first few years were a lonely struggle. First, he visited many places that might be looking to host a brewery. After being introduced to Green Park Miyakoji, he found his place. Next was finding local farmers interested in helping him start to grow hop. This is how he ended up not just owning a brewery, but a hopfield as well.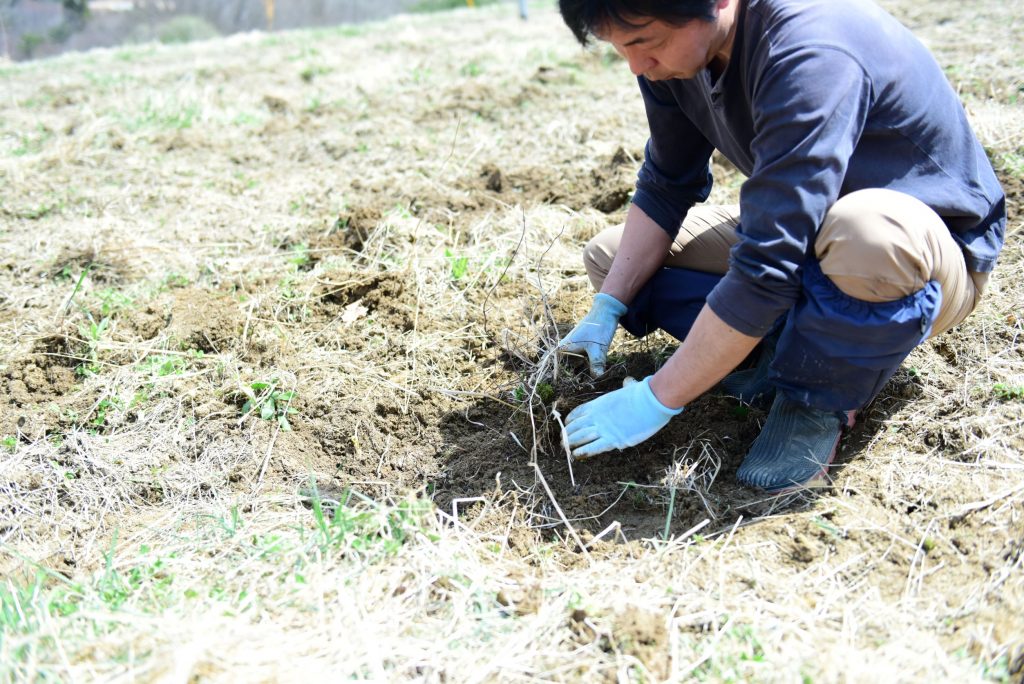 Having started HOPJAPAN all on his own, he now employs six people: Miwa-san (brand concept- and business development), Kawamoto-san (PR), Watanabe-san (accounting and general affairs), Hashimoto-san (farming- and outdoor facilities management), Oshima-san (brewing support), and finally brewmaster Takeishi-san. HOP JAPAN suddently turned into a place between the Abukuma Mountains where you can hear young people having fun.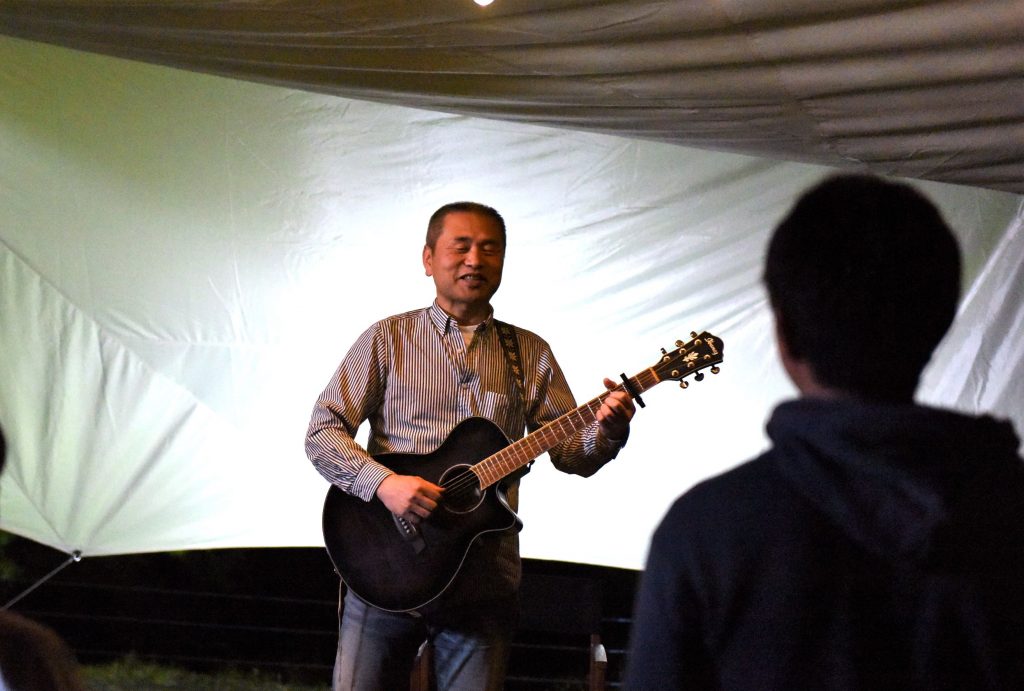 Another dreamchaser appears!
Recently, the limited-sale 'Barrel Aged Imperial IPA', the result of the second collaboration between HOPJAPAN and the Sasanokawa Brewery, was sold out in a mere two days. More surprised than anyone else by this roaring success that exceeded expectations, was the originator of this new beer, brewmaster Takeishi-san.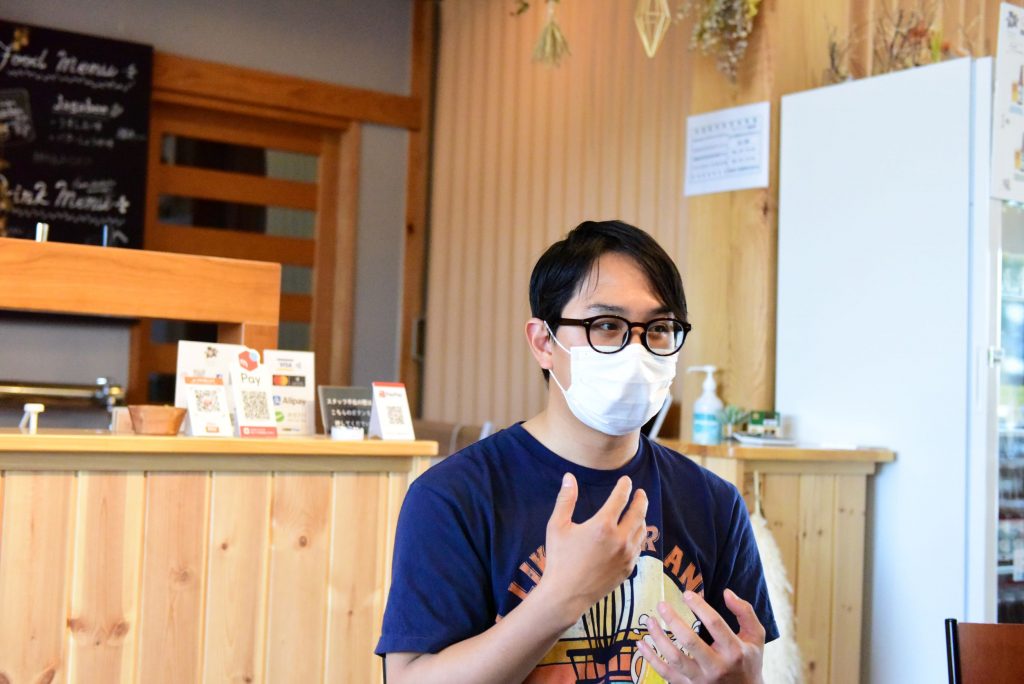 Takeishi-san is another example of a man drawn in by the attraction of craft beer. Having majored in chemistry in both college and graduate school, he joined a drug manufacturer after graduation. One single craft beer he drank in a bar he casually visited one night ended up turning his life upside-down.
"It was very bitter, but it had an amazing aroma… the balance of bitterness and the aroma was so good, it made the alcohol's bittersweet-taste come out really vividly," says Takeishi-san. Since that day, he could not get one thought out of his head: "How can one make something taste that good?" This is when Takeishi-san started delving into the world of craft beer.
While purchasing many types of craft beer and visiting various event, he met craft beer brewers. "Maybe it was the researcher in me, but I just couldn't let it go." At age 26, he quit his steady job and joined a small brewery. He was about to have some amazing experiences in the US.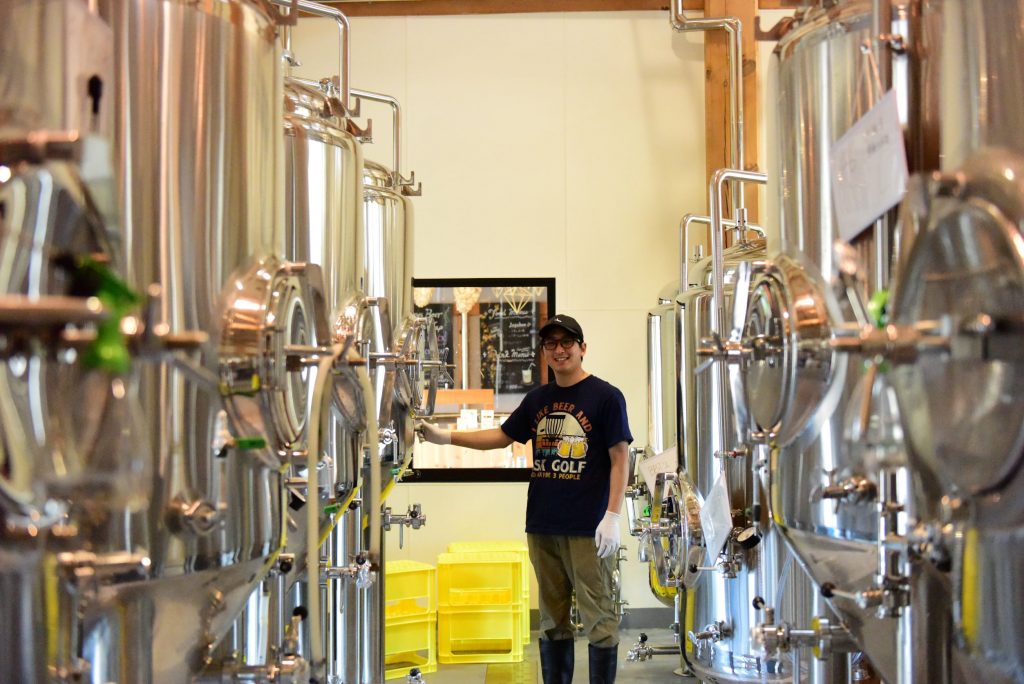 Takeishi-san visited the US during hop-harvesting season. When joining an event with 50 raw-ale breweries, he encountered some beer he had never tasted before. This turned his interest into raw-ale brewing, and he started looking for a brewery where he could do just that. When he stumbled upon HOPJAPAN, which happened to be looking for a brewmaster, he met a very likeminded spirit in the person of Homma-san.
Hearing the story of these two's first meeting, it is like a Cinderella-story. What is it about craft beer that fascinates and draws people to this extent? You are sure to find out during this edition of FoodCamp. Getting to know these passionate people is sure to make you want to pursue your own dreams.
Abukuma's nature and starry sky are the biggest treat

Chef, Seasonal VegeCafeBar BestTable -

Yasuo SERIZAWA

Yasuo Serizawa was born in the town of Funehiki, one town over from Miyakoji. When asked about his philosophy, he simply replies: "For people to eat their fill of delicious food. That's all, I guess." It must be the fresh wind of the Abukuma Highlands that gave him a mind as open as its starry sky.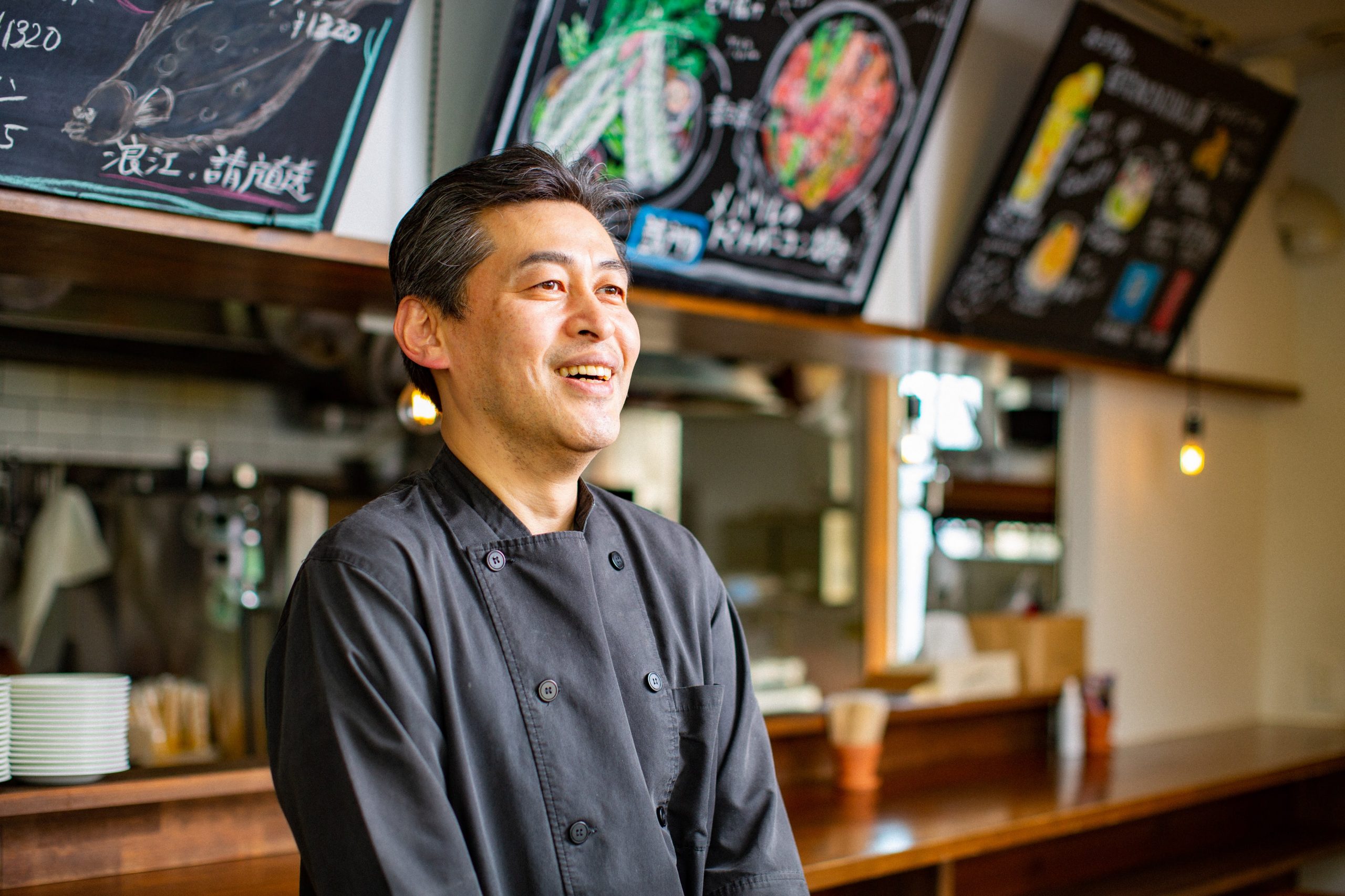 Never having to buy vegetables
Tamura City is a collection of towns between the mountains in the middle of the Abukuma Mountain Range, at an altitude between 400 and 600 meters high. As there are no wide open fields for agriculture, it is common for people to have their own little rice paddies and terraced crop fields to provide for their own consumption. In summer, people enjoy eggplant, green peppers, cucumbers and tomatoes on a daily basis. In winter, napa cabbage and daikon are harvested in large volumes, for example to be pickled. Buying vegetables at the supermarket is actually quite rare, as fresh vegetables are usually easy to get your hands on.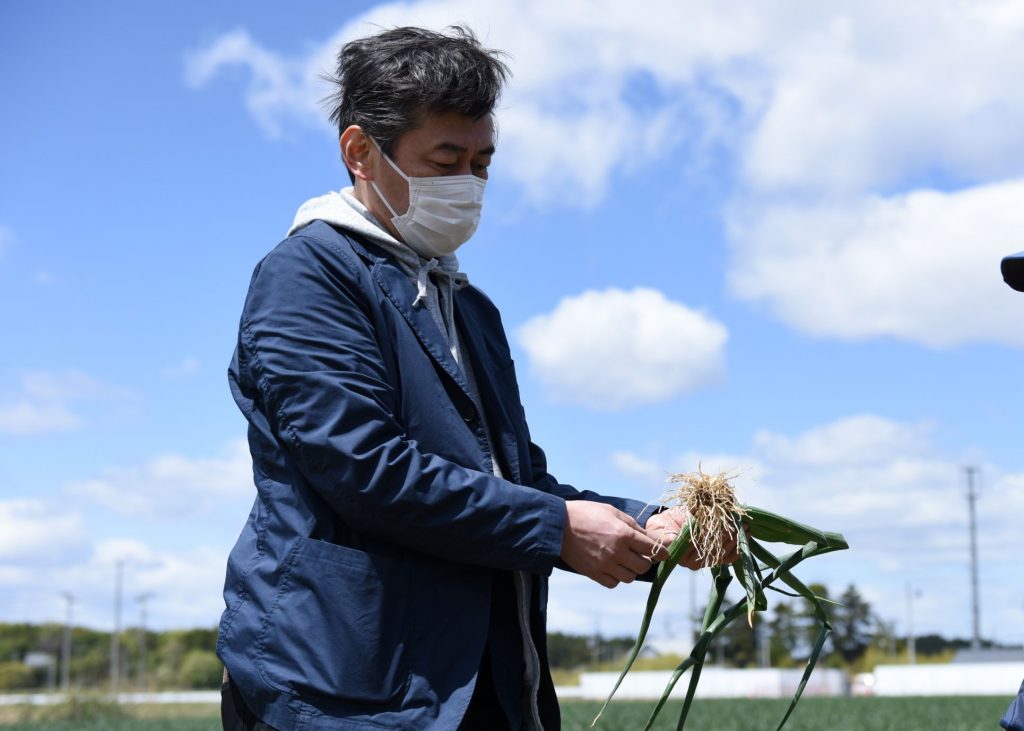 Ladies from the neighborhood giving you some vegetables "because they'd harvested a little too much," was an everyday occurence. All the more reason to consider delicious, seasonal vegetables being readily available nothing more than ordinary. This fundamental experience lilely had an impact on chef Serizawa.
Doing what's required
One of the biggest gamechangers in Chef Serizawa's career was his work in an Asian restaurant, focussing on Thai cuisine. He actually travelled to Thailand, and expereinced the heat and atmopshere. However, Chef Serizawa is not concerned about recreating that local taste, but rather to do his best to fulfill the needs of the customer.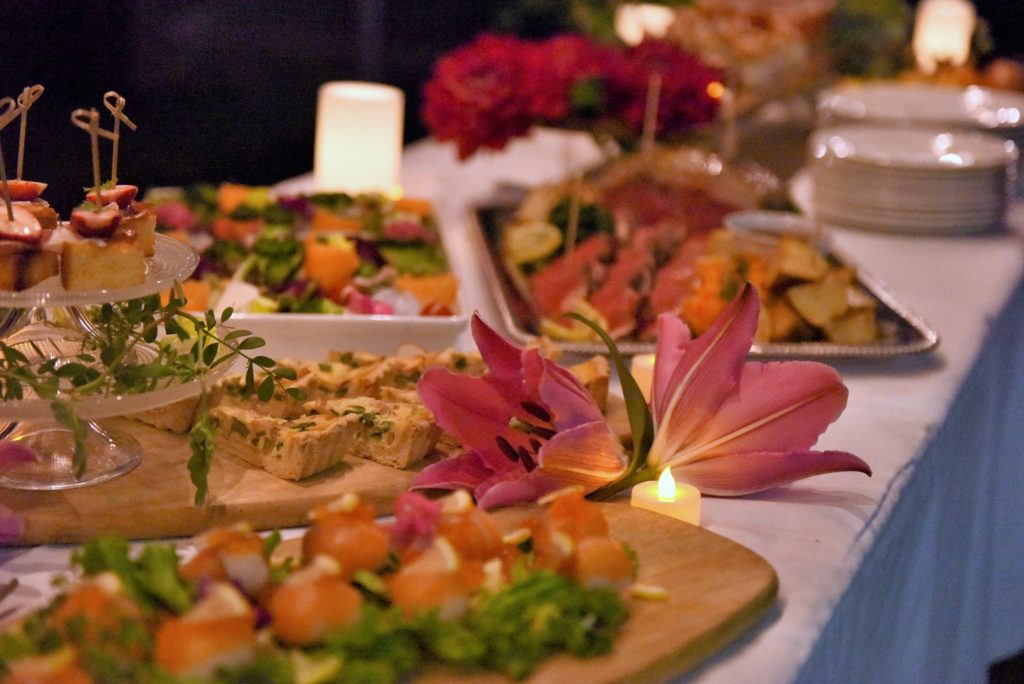 Last year, during the tour focussed on foreign tourists, Chef Serizawa expressed this sentiment through an extravagant buffet-style dinner. Guests were excited to see the colorful dishes, and the memory of bliss from the deliciousness is still vivid. The chef's quiet, subdued nature is 'betrayed' in the most positive sense of the word, by his glamorous cuisine. This is another expression of the chef's desire to 'do what is required of him.'
Tour Schedule
Pick-up / Meeting Place

14:30 p.m.

Pick-up by taxi (Koriyama Kanko Kotsu Taxi) from your house or place of stay in Koriyama, or at Koriyama Station. We will inform you of your pick-up time one day before the tour.
*For those scheduled for pick-up at Koriyama Station, please arrive at Koriyama Station by 14:15 am.

Let's go!

15:00 p.m.

Departure for the tour site, from the Magonote Travel Asaka Office.
* Those coming to the Office directly, please arrive by 12:50 (limited parking space).

Arrival at HOP JAPAN (Green Park Miyakoji)

16:30 p.m.

Divide into two groups, and take a stroll through the wide-open area, equipped with a brewery, hopfield, campsite, disk-golf facility and lodges. Let brewmaster Takeishi tell you all avout the beer-brewing process.

Buffet Dinner

17:30 p.m.

Enjoy a fabulous dinner at dusk in the Abukuma Highlands, with its refreshing summer breeze. The dinner will be in the hands of Chef Serizawa from our group-restaurant BestTable. With his gentle use of spices, he will provide ample vegetables to enjoy. During the buffet, there will be plenty opportunity to get to know the chef. Of course, we can't miss the opportunity for a cheers with HOP JAPAN's craft beer! Besides beer, there will be various other (non-)alcoholic beverages to go with the meal (one drink included, others charged separately).

Shopping time

19:30 p.m.

After the relaxed, casual dinner, there will be time for some shopping at the tap room. It is possible to enjoy the subsequent 'Starry-Sky Tour' with a beer in hand, so this would be the time to purchase it. Of course, this is also the time to purchase beer to enjoy back home.

Guided-Tour of the Starry Sky

20:00 p.m.

Ono-san, deputy-head of the Hoshi-no-Mura Observatory located next to Abukumado Cave, will give a tour of the Milky Way. Ono-san will tell you all about the you can see up-to-grade-5 stars you can see with the naked eye in the Abukuma sky.
*in case of unfavorable weather conditions, the tour will be moved to an indoor mini-planetarium.
*It may get chilly at night, so please bring some warm clothing.

Departure

21:30 p.m.

Departure from the FoodCamp site. As the bus will return late at night, please do not be late for departure.

Arrival at the Magonote Travel Asaka Office

23:00 p.m.

After arriving at the Magonote Travel Asaka Office, you will be brought by taxi to your home or place of stay in Koriyama City, or to Koriyama Station.
*For those planning further travel by public transportation please prepare an itinerary from after 23:30.
*For those who require lodging, please let us know when making your reservation.
Tour details
Date(s)

July 23 (Sat.)

Fee

*same rate applies for children/participants travelling to the venue directly with their own vehicle.

What to wear/bring

・This tour takes place outdoors. In case of clear skies, please prepare a hat or cap to protect you from the sunlight.
・At night, there may be a big drop in temperature in the highlands. Please be sure to bring some warm clothing.
・Please wear comfortable shoes and clothing.
・In order to prevent the further spread of COVID-19, please wear a mask.

Conditions of Participation

Participation open to everyone over elementary school-age, and able to participate on their own (no need for accompaniment by a care helper, or with permission from a doctor). Same price for adults and children.

Operating Company

Koriyama Kanko Kotsu K.K

Tour Operator

Magonote Travel's own staff will accompany the tour.

Travel Insurance

Travel insurance is required for all tours, in case of accidents and emergencies. The insurance fee is included in the price. For this reason, we need to ask for your date of birth.

Cancellation Fee

The following cancellation fees will be charged for tours with lodging and tickets: 20 to 8 days in advance: 20%, 7 to 2 days in advance: 30%, the day before the tour: 40%, on the scheduled date before the tour starts: 50%, no-show without notice: 100%.
For one-day tours, the following fees will be charged retroactively from the day before the start of the tour: 10 to 8 days in advance: 20%, 7 to 2 days in advance: 30%, 1 day in advance: 40%, on the scheduled date before the tour starts: 50%, no-show without notice: 100%.

In case of bad weather

The tour will not be cancelled in case of bad weather. However, in case the tour has to be cancelled due to a natural disaster, you will be informed one day before the tour. In this case, you will receive a full refund.

Minimum number of participants

If there are fewer than 15 participants the tour will be cancelled. In such case we will inform you at least 4 days in advance.

Other points of caution

In order to prevent the spread of COVID-19, we ask all participants to submit a health-check form. We will send you the specifics after reservation. Thank you very much in advance for your cooperation.
Location
【Location】
HOPJAPAN
185-6 Kitamuki, Iwaizawa, Miyakoji-machi, Tamura City, Fukushima Pref. (〒963-4702)
TEL: 0247-61-5330
※As there is limited parking available, we will need to limit the number of participants who will arrive on-site by their own means of transportation.