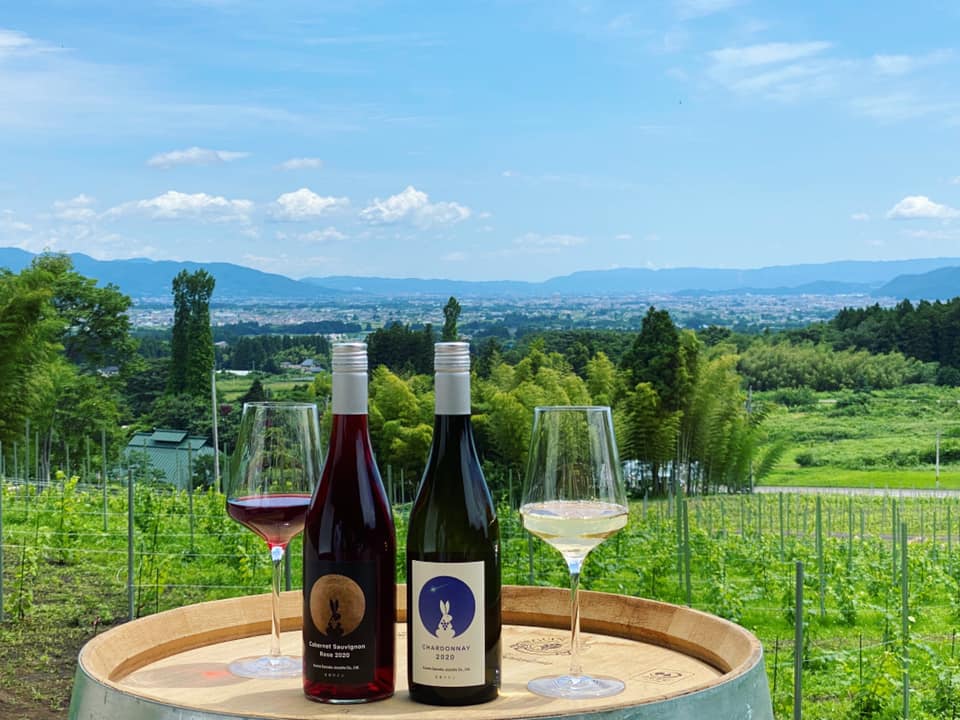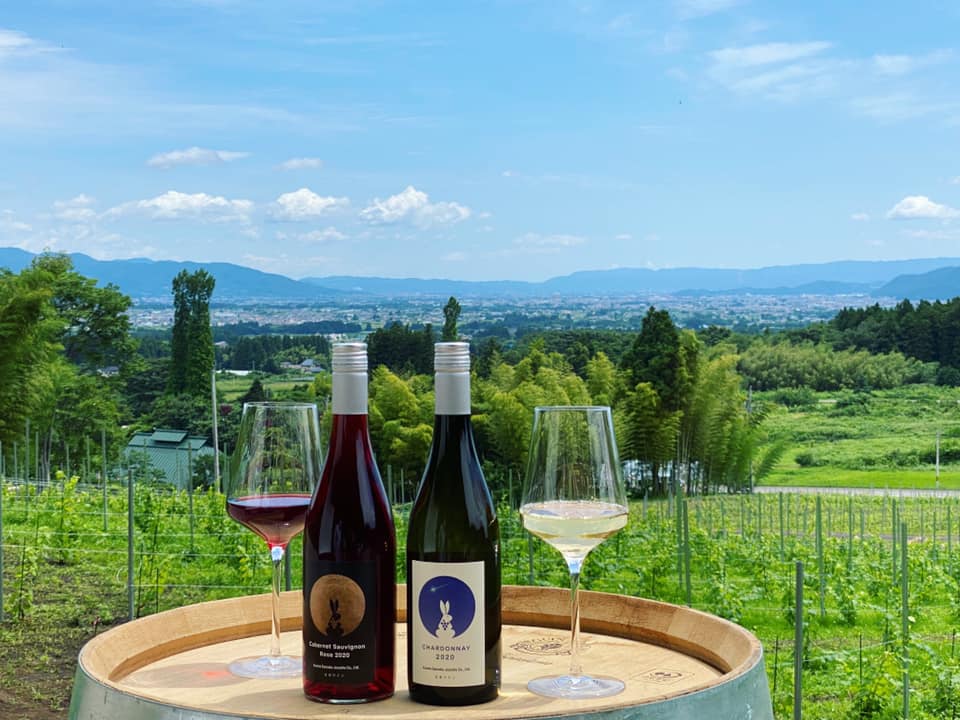 Winery Azuma Sanroku, opened on the foot of Mt. Azuma in Fukushima City in 2019, makes its FoodCamp debut! The winery's new tasting room & shop 'Cellar Door' is set to finish construction in September, offering a magnificent view of Fukushima City.
The upcoming FoodCamp tour will let you thoroughly enjoy Chef Kunioka's fine culinary skill, tasteful French cuisine and authentic wine-pairing.
WINERY AZUMA SANROKU  azumasanroku-winery.co.jp
Koriyama French Cuisine Laboratory Recettes
Report
Fukushima's new winery in the spotlights
Winery Azuma Sanroku was established in August 2019 on the foothills of the famous Mt. Azuma, in Fukushima City.
At the winery's vineyard, next to the winemaking facility, the grapevines are starting to bear fruit. The first full-fledged harvest, however, is expected to take place in 2023. It takes around 3 to 4 years from planting a seedling to the first harvest, so the current state is not yet ripe for producing wine, both in terms of volume and quality. Therefore, at the moment the winery buys high-quality grapes from Yamagata and Nagano, for production in their facility. The technique and skill, however, are undeniable; after only three years since its establishment, Winery Azuma Sanroku already received an award at the 2022 Japan Wine Competition.
Whether it was thanks to that award or not, as soon as applications were opened for this tour, all spots were taken in no time! This edition of FoodCamp would bring to light what makes Winery Azuma Sanroku so special.
What makes Winery Azuma Sanroku so special?
The entrance to the winery is quite steep, so the bus stops a bit downhill. As the guests get off the bus, they wonder: where's the brewery?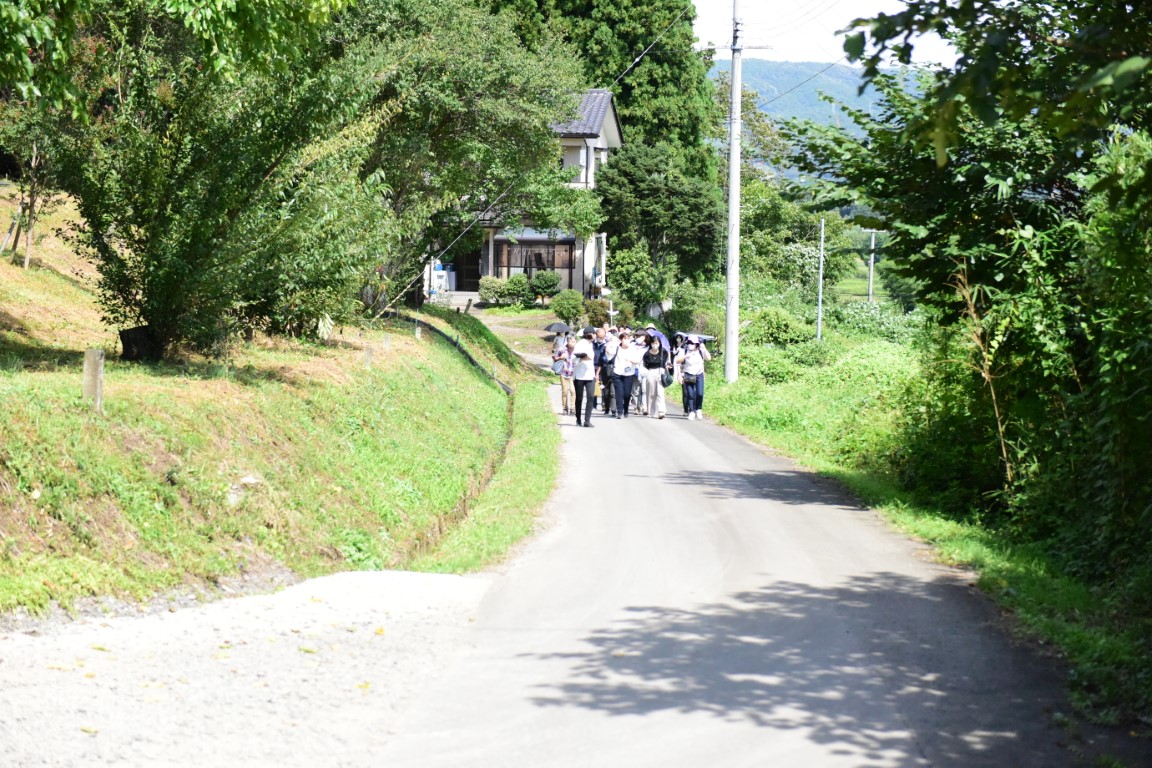 After about a 3-minute walk, we arrive at Winery Azuma Sanroku. The tour of the winery takes place in two groups; one starts at the vineyard, the other at the winemaking facility. Let's start at the vineyard!
Here to give us a tour of the vineyard is the CEO of the winery, Mr. Yasuhito Yokoyama.
Mr. Yokoyama established the winery after retirement, out of the desire to be of use to the local community. As he lived near the center of the area affected by the Great East Japan Earthquake of March 2011, he had a tough experience. Seeing himself as "someone who's been allowed to live on," he decided to start the winery to bring back some liveliness and smiles to Fukushima. Mr. Yokoyama tells his story as he leads the guests to the vineyard.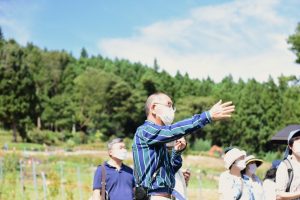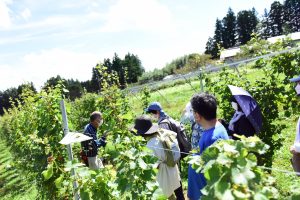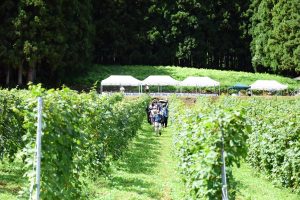 The vineyard hosts various grape varieties: merlot, cabernet sauvignon, petit Verdot, syrah, and Tannat (red), as well as chardonnay, sauvignon blanc, and albariño (white).
As the vineyard is not ready for its first harvest yet, the question on everyone's mind is: what kind of grapes will this soil produce? According to Mr. Yokoyama, the soil is exceptionally well-suited for cultivating grapes, because it offers good drainage, thanks to an abundance of large-grained sand in the delta of the river flowing to the south.
The guests got a special opportunity to taste the grapes that are still under cultivation. As many of the participants had never seen, let alone tasted wine grapes, they were very excited. Tasting the difference between the wine grape varieties made many participants realize why wines all taste so different from one another. A perfect way to really experience a winery.
Next up: the winemaking facility. Here to guide us, is head winemaker Mr. Shuji Makino.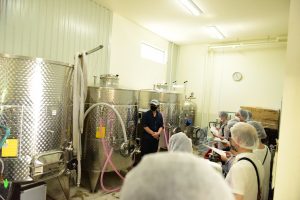 Mr. Makino studied winemaking and grape cultivation at the University of California, Davisone of the most famous winemaking regions of the world: Napa Valley. He is one of the few people in Japan with an international enology certification. First stop: a line-up of stainless steel tanks for winemaking. While showing the different sizes and shapes of the tanks, Mr. Makino tells the guests all about the winemaking process.
Here, the guests are also granted the special chance of tasting a white wine (chardonnay) that is still under development. Although it definitely has the aroma of grapes, the taste is not quite there yet, giving an interesting glimpse into the winemaking process.
Chef Kunioka's creative French cuisine complements the wine
The dining location is set up on the top level of the vineyard. Below the blue sky, the guests can overlook the Fukushima City valley in the distance, as well as Fukushima City's famous Mount Shinobu. Right below is the vineyard. You wouldn't believe how much we had our hopes set on this kind of weather, just so we could show our guests this view.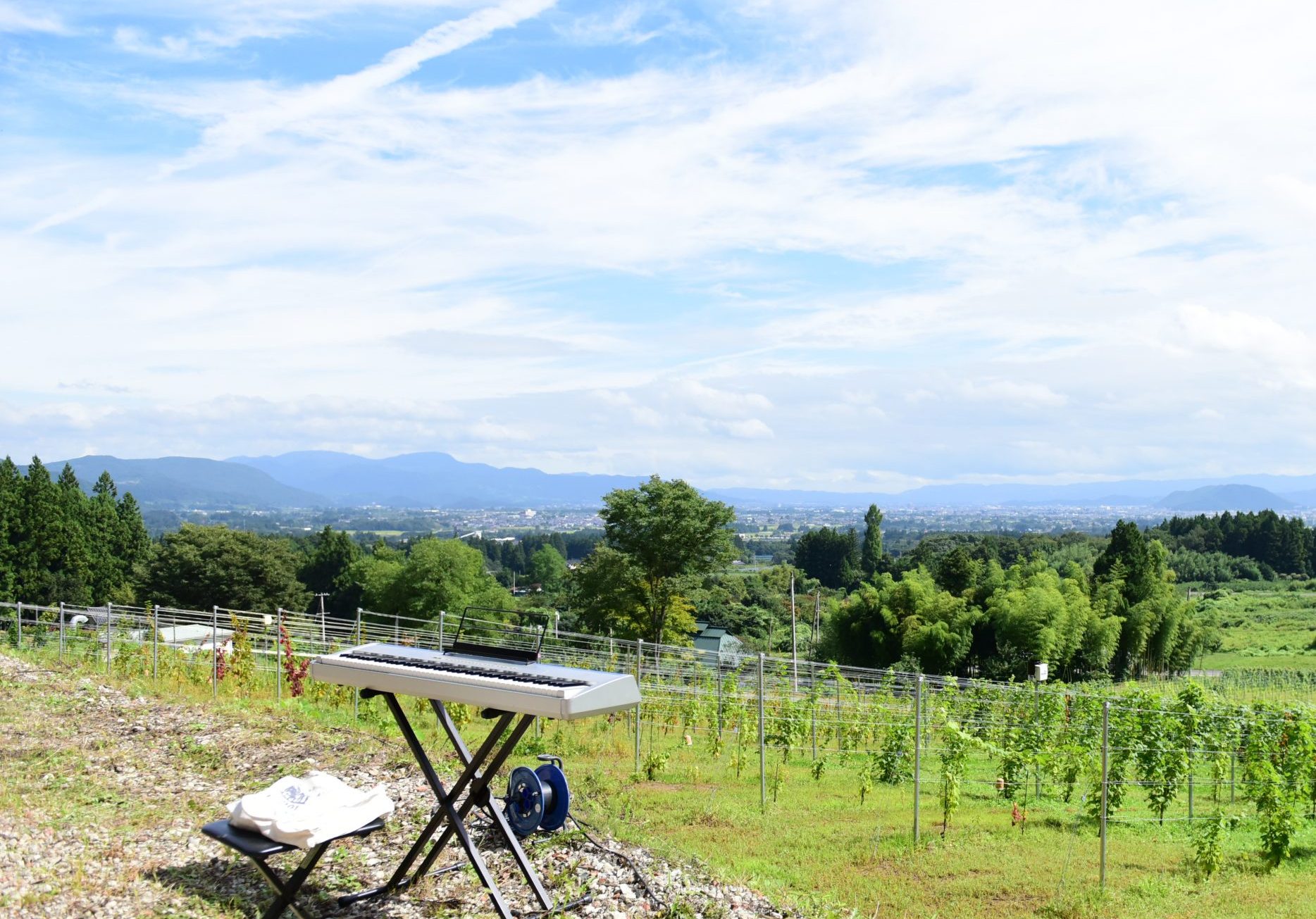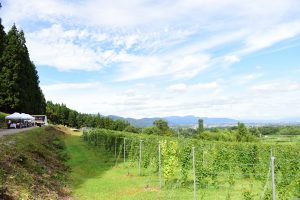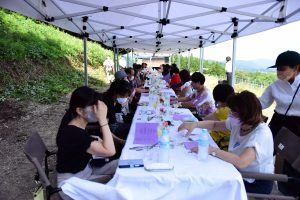 Finally, it's time for lunch!
For the toast, the guests get a glass Delaware 2022, hardly filtered, drawn straight from the tank. With its fresh, sour taste, it is the perfect way to start lunch. (This wine was only available for this day. The Delaware 2022 for sale is filtered and bottled).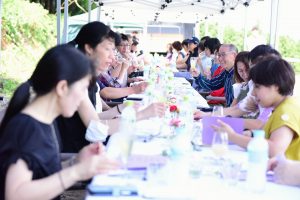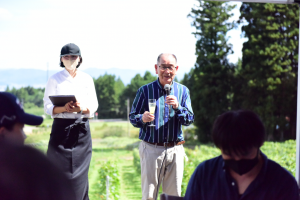 As expected from a FoodCamp at a winery, there was an option for wine pairing.
The fantastic, original course menu was developed and presented by Chef Kunioka, of the newly established counter-style French Bistro "Koriyama French Cuisine Laboratory Recettes" near Koriyama Station.
At the time of this FoodCamp edition, Chef Kunioka had only just gone solo from his previous job, and with his new restaurant scheduled to open by the end of September, this truly was a very busy time for him. "Nonetheless, I want to give this my all," says Chef Kunioka, using various local ingredients, and excited all the guests with his cuisine that perfectly brings out the deliciousness of the wines on offer.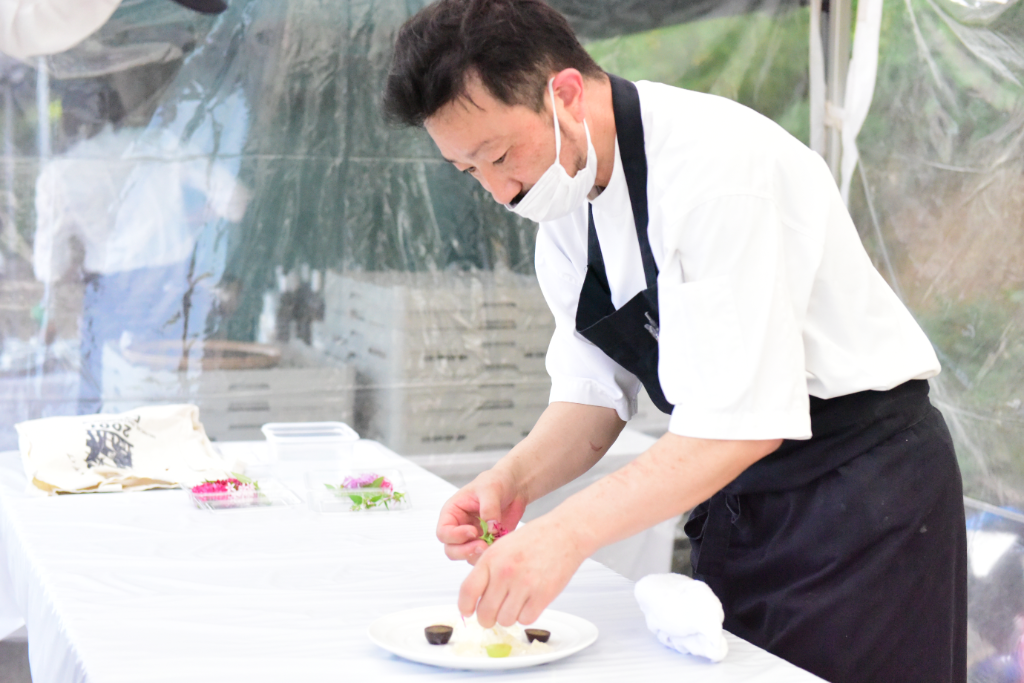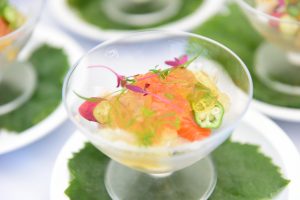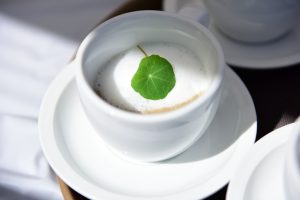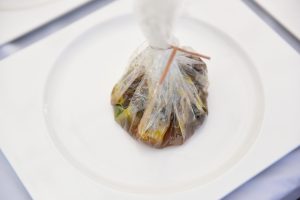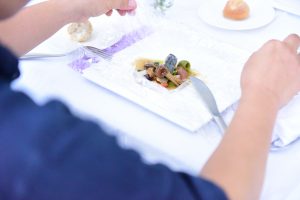 Acqua pazza of in-season white fish and large nameko mushrooms, wrapped in thin film
With all the delicate, beautiful pieces of culinary art, you hardly need wine to get a buzz. When opening up the acqua pazza in a thin film, the guests cheered with delight. The rich aroma of the nameko mushrooms really brought out the guests' appetite.
This dish was paired with Chardonnay 2021,  aged for 6 months in new French oak casks. The refined aftertaste left by the aroma of the cask is a perfect march with that of the mushrooms.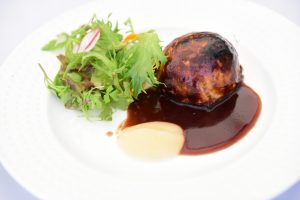 Chausson of foie gras and Abukuma Highlands pork with red wine sauce and apple purée
This dish was accompanied by a light red wine, Sangiovese 2021. The apple purée was made from the Tsugaru apples, which Winery Azuma Sanroku also uses for their apple cider. The fresh taste of the apples and the red wine that packs a punch made for a very enjoyable dish.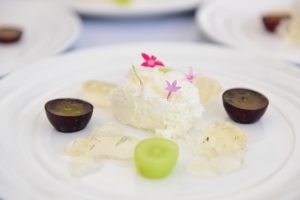 Crémet d'Anjou of Jersey Yoghurt, with shine muscat- and kyoho grapes
After the meal, the chef takes time to go from table to table to talk to all the guests, and give extra information about his cuisine and ingredients.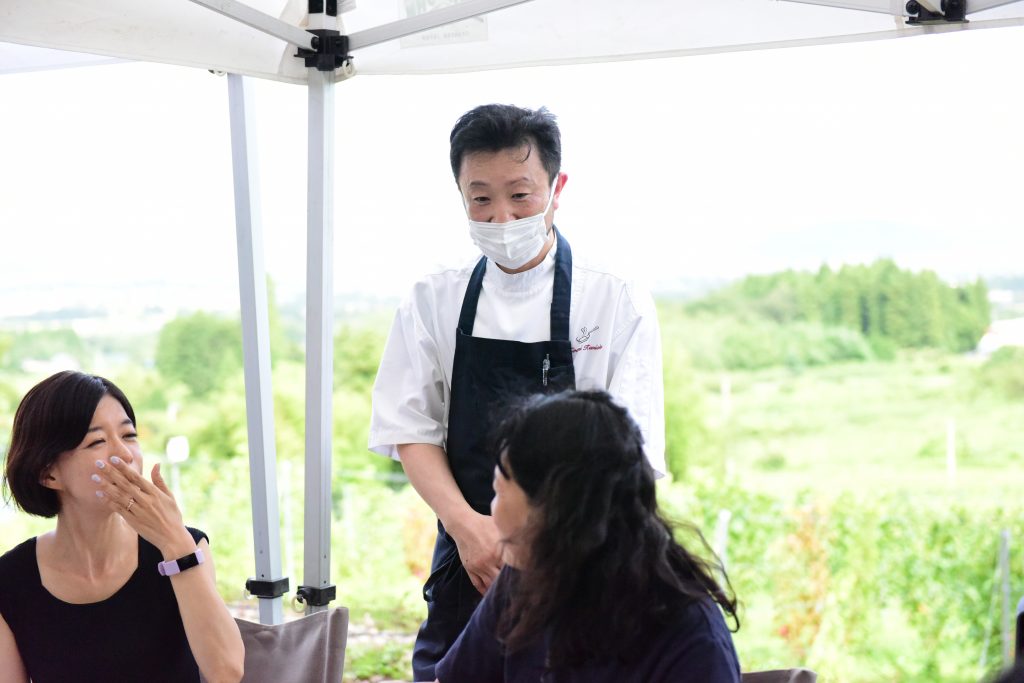 FoodCamp's very own 'Farm Pianist'!
Finally, there was still time for a little surprise.
Mr. Sō Hayano, having featured at previous editions of FoodCamp gaining him the title of FoodCamp's "Farm Pianist" was present to give a wonderful performance. His gentle tones were a perfect fit for the scenery of the vineyard and Fukushima City in the distance.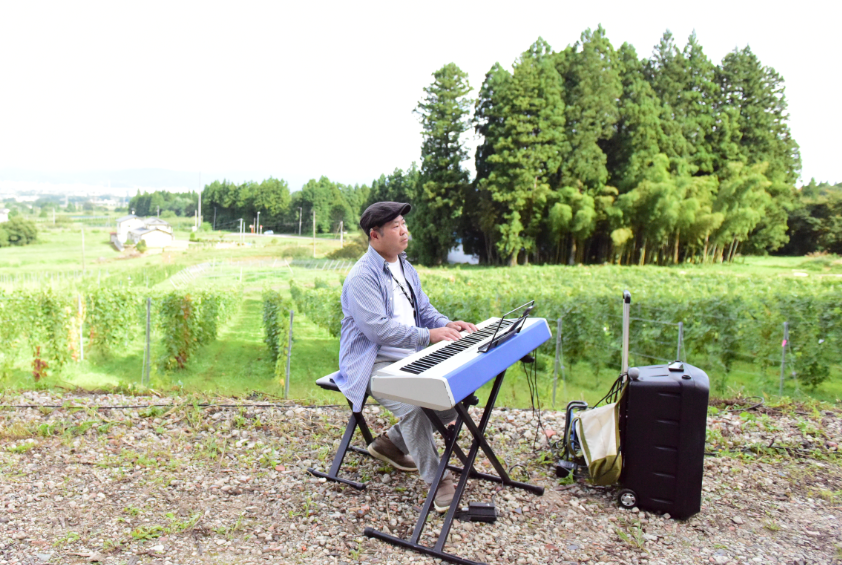 On the highest point of the hill Winery Azuma Sanroku is located, a new facility is scheduled to open in 2023: Cellar Door (a distilling room and shop). It will allow visitors to get a taste of wine, as well as enjoy a relaxing cafe time. The guests left the winery with high expectations and a great deal of support for the original Fukushima wines expected to be on sale in a few years.
Highlights
Vinyard-dining with a view over Fukushima City

The FoodCamp team will set up a fabulous outdoor restaurant on a vinyard looking out over all of Fukushima City. Take in the view and magnificent cuisine, to truly appreciate Fukushima's autumn.

Learn about the vinyard and winemaking process

Take a tour of the winery guided by Makino-san, one of the few people in Japan with an official oenology- qualification. Learn all about the cultivation of wine grapes and the winemaking process.

Authentic French cuisine and winepairing

Chef Kunioka has experience working in Michelin-starred restaurant in France. Enjoy his skilled and tasteful cuisine, paired with Azuma Sanroku's wine.
Cast
Winery Azuma Sanroku

Yasuhito YOKOYAMA (CEO), Shuji MAKINO (Winemaking Technical Master)

Azuma Sanroku Winery (Fukushima City) was established in 2019. The winery grows around 5000 grape vines and offers a superb view over Fukushima City. Despite only being active for 3 years, Azuma Sanroku is garnering a lot of attention and even taking the stage at this year's Japan Wine Competition.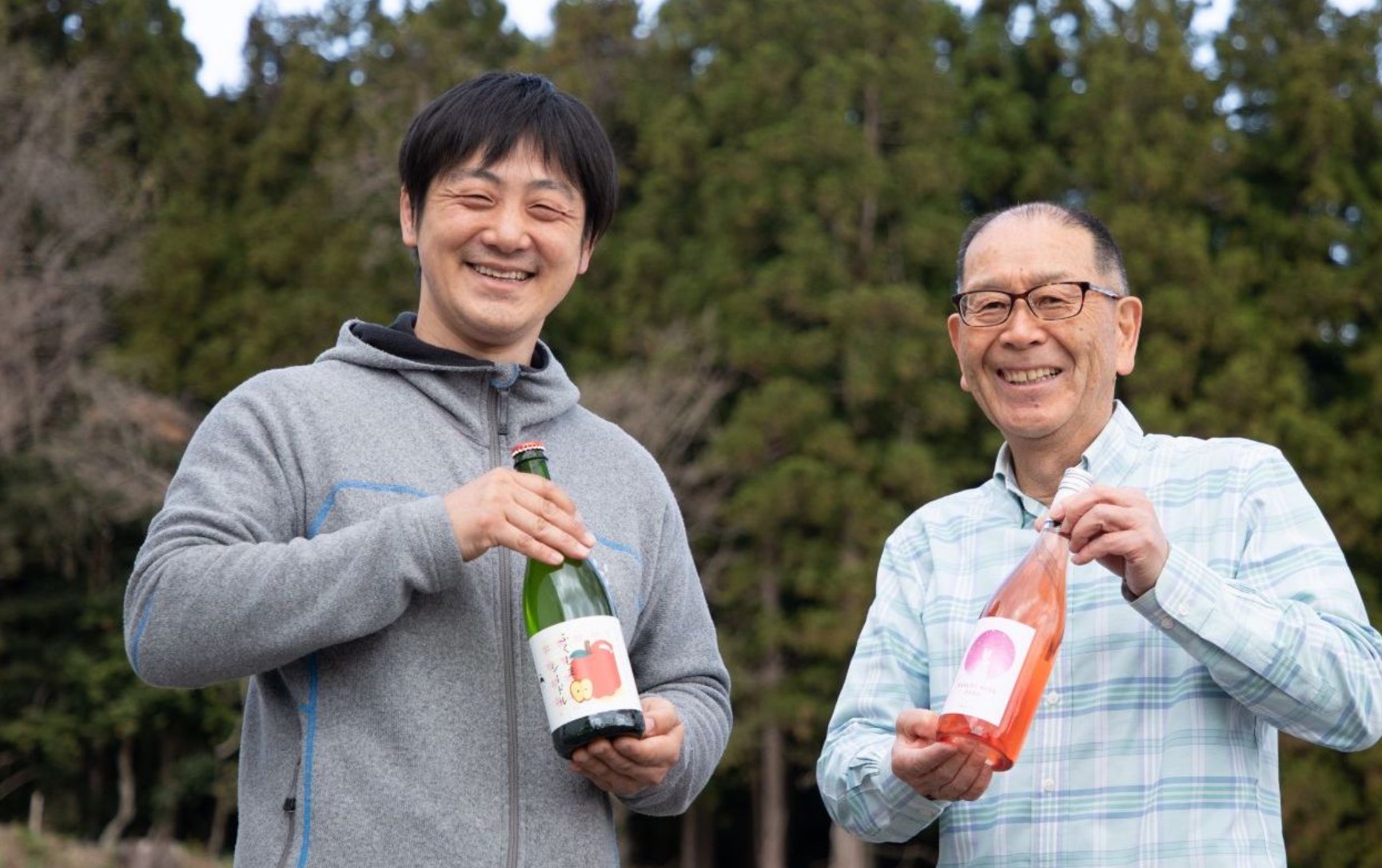 A spared life
In 2019, on the foothills of Mt. Azuma on the west side of Fukushima City, a new winery was established: 'WINERY AZUMA SANROKU.' Japan is in the middle of a full-fledged wine boom. Over the last 10 years, just in Fukushima Prefecture over 10 new wineries were founded, and an even larger number of wine-grape producers. We asked founder Yokoyama-san about his motivation for starting his winery, and his thoughts on its future.
Yasuhito Yokoyama was previously involved in the establishment of a new medical facility in the Futaba-area of Fukushima Prefecture. One month before the grand opening, in March 2011, the Great East Japan Earthquake struck. He experienced the disaster in the town of Okuma, where his workplace was. This is where he faced a terrible reality. Having survived such a tragedy, he reflects: "I consider myself someone who's life was spared. So while I live, I want to be of use to others."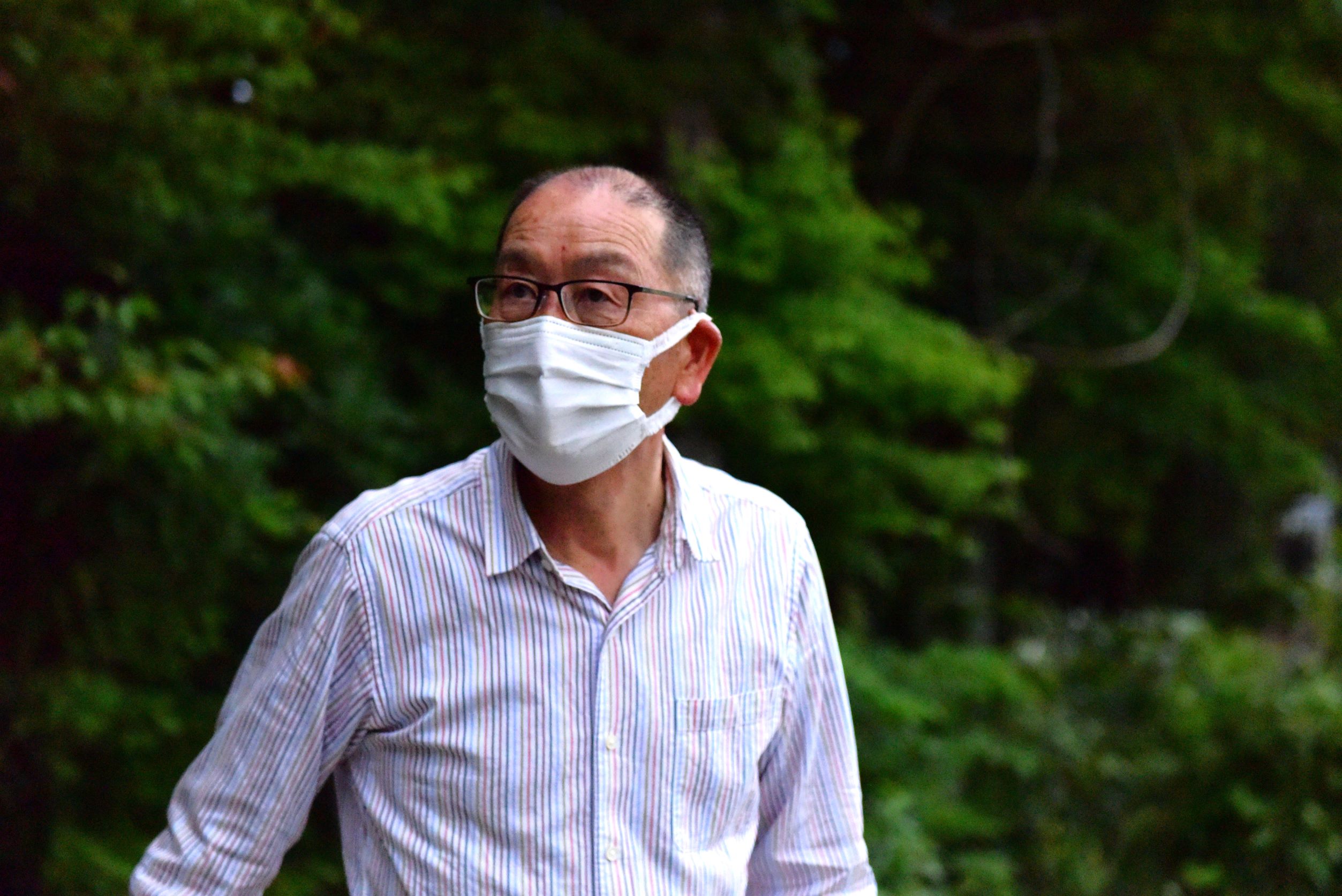 However, in the days and years after the disaster, the liveliness of Fukushima disappeared, which became noticeable on the faces of its inhabitants. When he reflected on the role he could play to improve this situation, he thought back to the time he spent on a business trip in Europe. He remembered the joy of people eating and talking, centered on wine. From that time on, he felt that wine was something that can bring people together.
And so, he decided to start a winery, something he had always been interested in, when he reached the age of retirement.
"I want to make wine that puts a smile on people's faces"
Winemaking and Grape Cultivation Technical Master Shuji Makino was born in Sendai. After graduating from a local university, he moved to the US to learn how to run a hotel lounge. The service industry was something he had always been interested in, but something led him to the path of wine production. At UC Davis in California, he studied the winemaking process, and gained the enology and viticulture qualification, which only a few people in Japan had. After returning to Japan, he started developing his winemaking career by working in grape cultivation, winemaking and sales for a large winemaking company, and a historic winery in Yamanashi.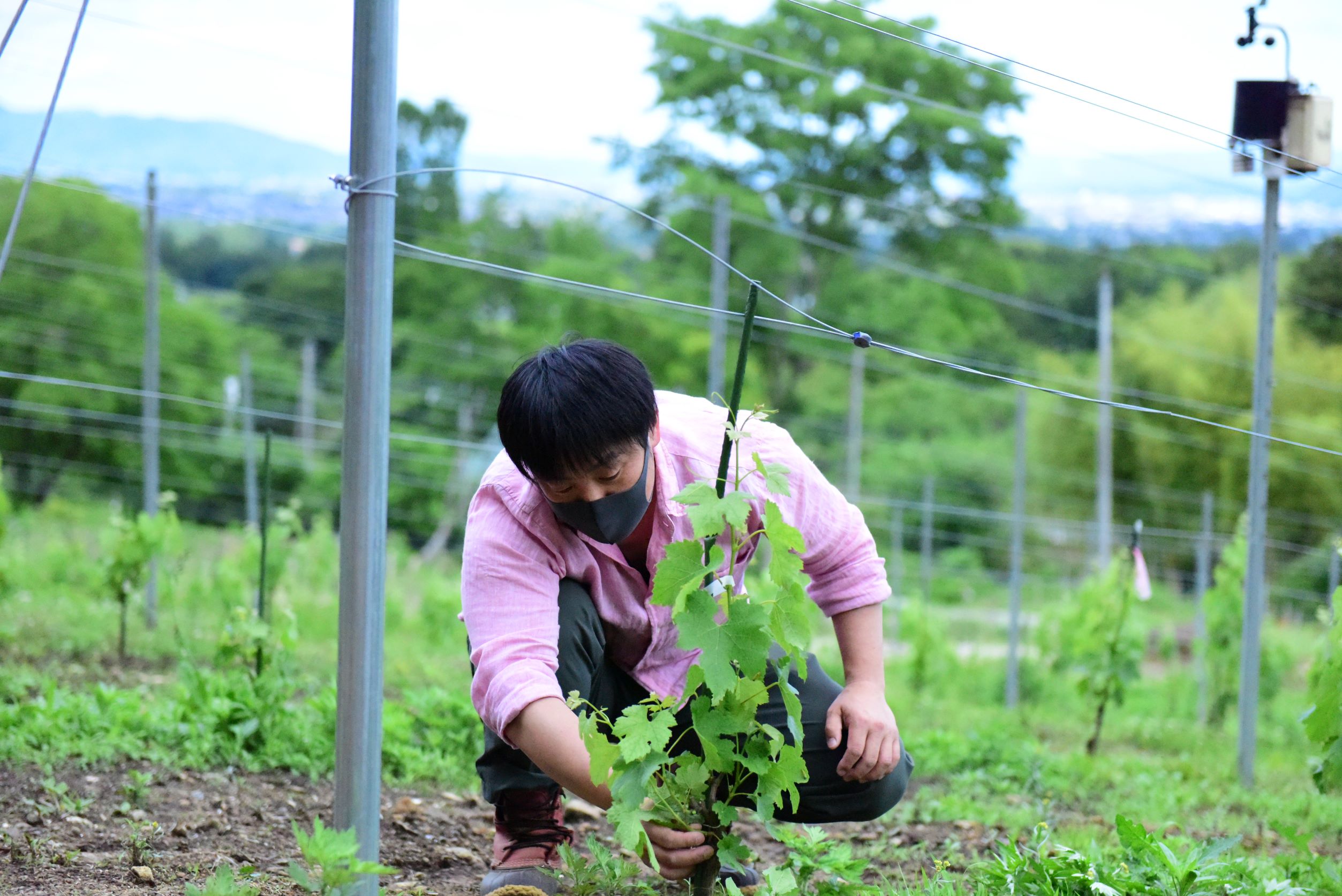 But Makino-san had a bigger dream. "I've been working in winemaking so far, but what I really want, is to make the kind of wine I envision myself. I imagine a 'drink of happiness.' Some liquors are drunk when one is sad or lonely, but I want to make a wine people drink during happy moments. For my wine to be on the table when people are exchanging smiles… that's my dream."
Then, word started getting around about a new winery in Fukushima, looking for a winemaking master. When Makino-san first met Yokoyama-san and learned about his way of thinking, he felt an instant connection. Makino-san, being from Sendai, knows the pain that was left in the affected areas after the 2011 disaster. This is how the collaboration between Yokoyama-san and Makino-san, in pursuit of a long-held dream, first came to be.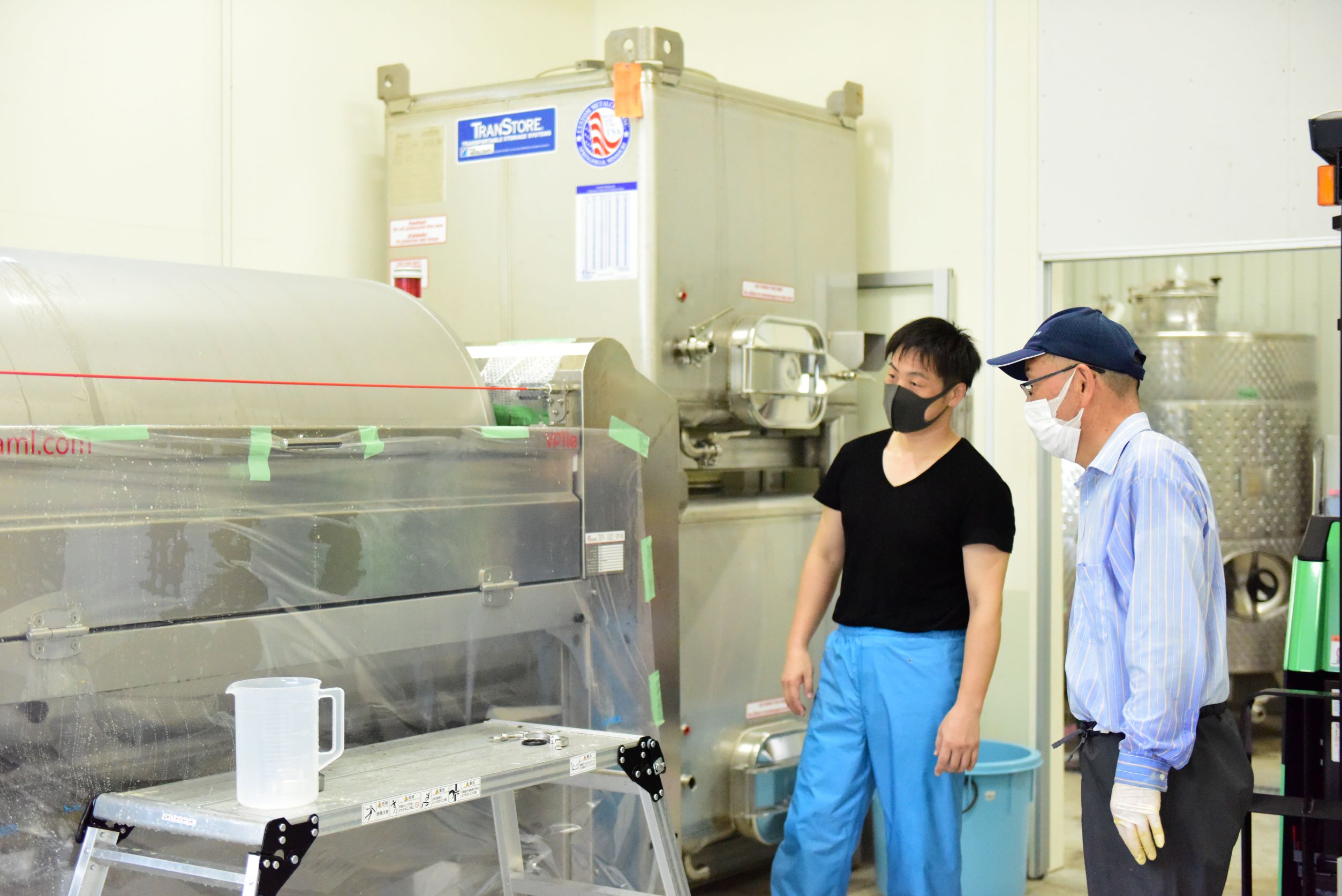 Wine that tells the story of Fukushima
This winery has a very special location, in the alluvial delta of Mt. Azuma's foothills, surrounded by such hot springs as Takayu, Tsuchiyu and Iizaka. On the grape vine fields, you can sometimes smell a whiff of sulfur from the hot springs. What kind of character this soil, with the minerals provided by the hot springs, can provide to the grapes, is something everyone at Azuma Sanroku is very much looking forward to in the upcoming harvest. At the moment, they are still purchasing grapes from Yamagata and Nagano for their winemaking, but their very own Fukushima-wine is planned for sale in a few years.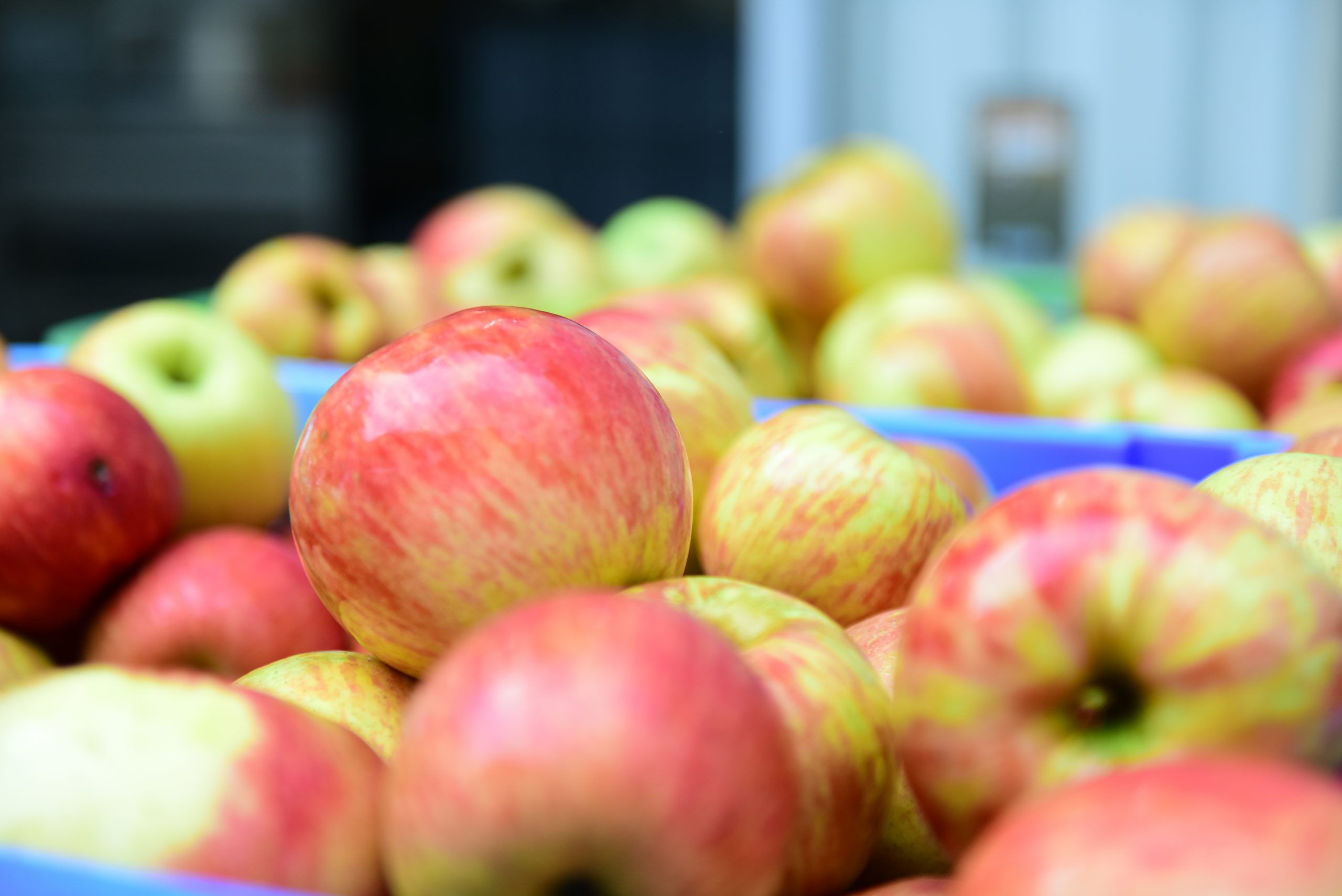 Be it by using 100% apples produced in Fukushima in their apple cider, or the wine etiquettes designed by local high school students, the winery is active in engaging the local community. And only just the other day, it became the first Fukushima winery to receive a prize at the Japan Wine Competition of 2022, showing it is serious about becoming a strong player in the wine market.
Even though it is just getting started, we have high hopes for what Yokoyama-san and Makino-san can achieve, being to bring a new type of local specialty to 'Fruit Paradise Fukushima,' turning it into "Winery Country Fukushima."
Owner & Chef, Koriyama French Cuisine Laboratory Recettes

Hiromi KUNIOKA

Chef Kunioka underwent strict training from his seniors in order to become a chef, sparked his interest in French cuisine. His encounter with a wine-trading Frenchman helped him move to France. Chef Kunioka's cuisine brings out wine's full potential and expresses his skill and fascination for food.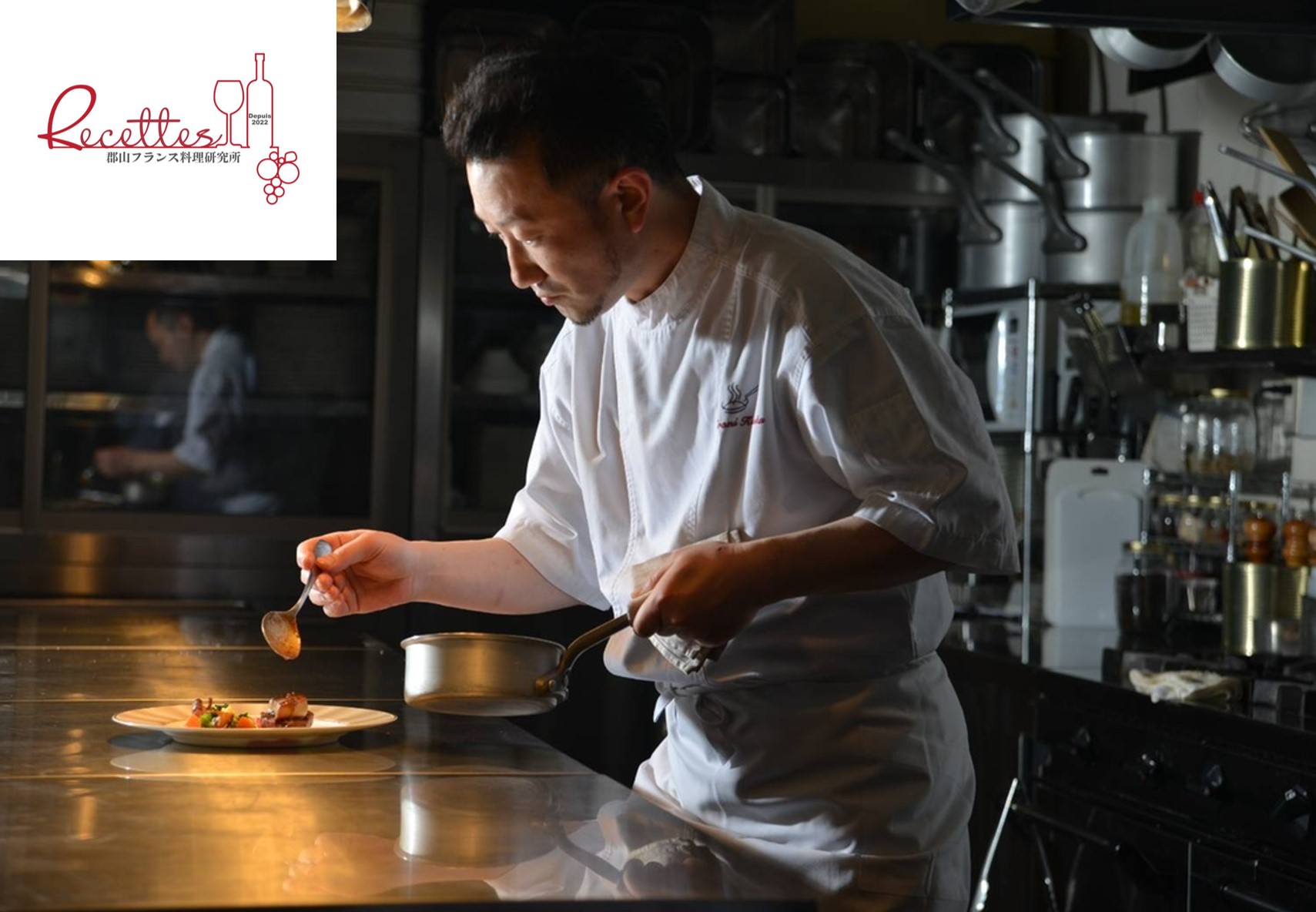 "My mother loved to cook, and made curry starting with the bouillon"
Chef Kunioka was born as the oldest son of a furniture maker in Nihonmatsu. His mother, also from Nihonmatsu, was very uncompromising when it came to the thing she loved: cooking. When she made curry, she would draw the bouillon herself. She would refuse to put frozen products in her children's lunchboxes for school. While Chef Kunioka isn't sure whether that experience is what set him on the culinary path, he does feel that 'cooking can enrich people's lives,' and decided from a young age to turn cooking into his occupation.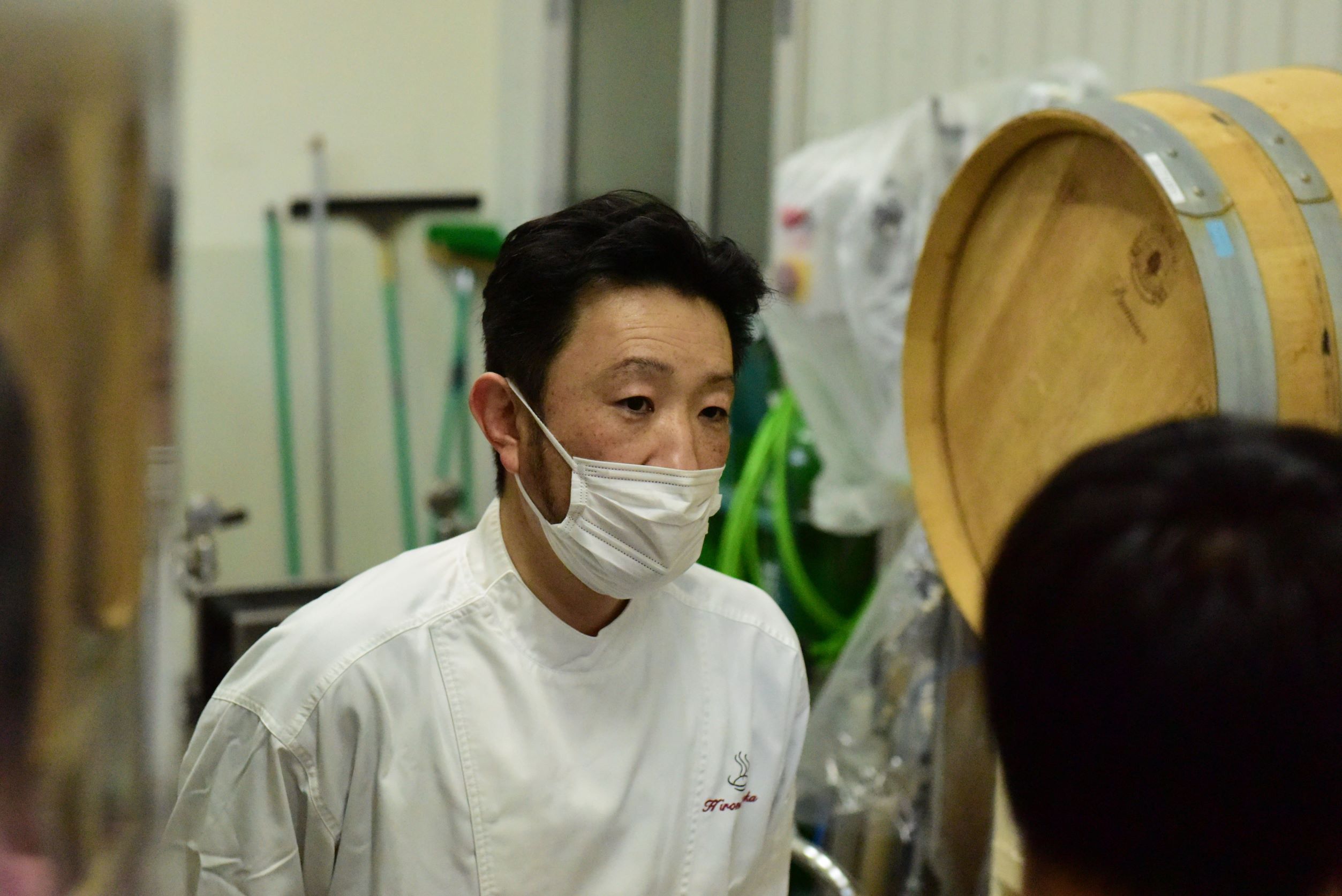 It all went according to plan. After graduating from culinary school, he moved on to work at a hotel in Fukushima City. Of course, hotels offer various departments. But how is it possible that a recently graduated youngster was placed at that hotel's top restaurant? It was a position for the chosen few, featuring some of the strictest senior chefs. "Honestly, it was pretty scary," says Chef Kunioka, looking back at that period. But one person he met here had a big career on his career as a chef.
It was someone known as the most skillful and admired chef of the hotel, known to be extremely strict and scary. Although Chef Kunioka only learned this after the fact, this particular chef never acknowledged any of the juniors sent to work with him, a role that now fell on Chef Kunioka.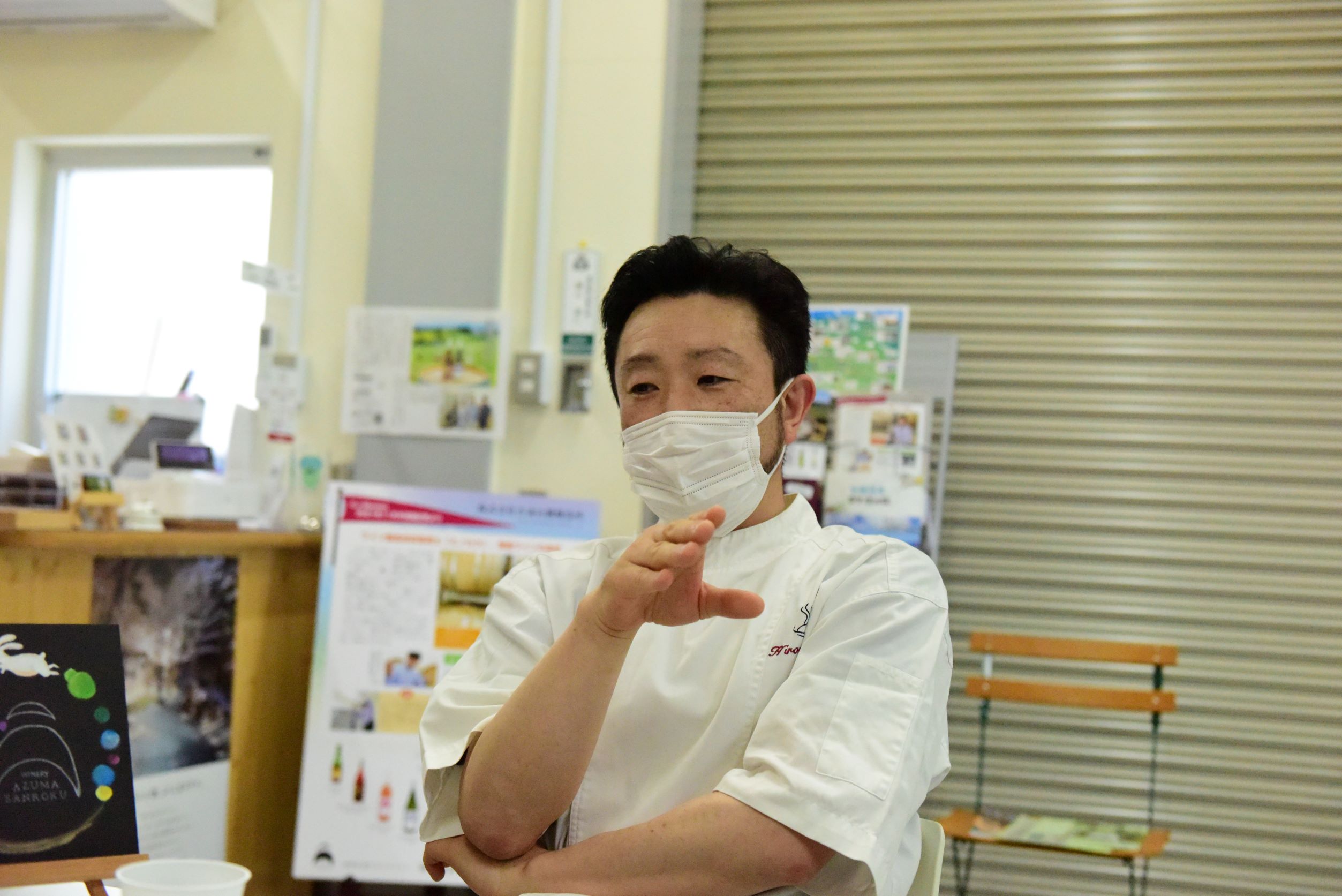 His senior was very charismatic, and his skills were recognized by more experienced chefs. His opinion carried a lot of weight. Chef Kunioka managed to get along well with him, and his senior took a liking to him. The fact that this senior had a passion for French cuisine, inspired Chef Kunioka to move in the same direction.
A French Connection
At age 25, Chef Kunioka was put in charge of a top restaurant. It was around this time that he ran into a French wine importer at a wine event in Koriyama, named Jean-Pascal Noirault. He was active in the import and sales of wine in Koriyama. When Chef Kunioka told Jean-Pascal of his love for France, Jean-Pascal helped him on his way to move there.
Having been able to come this far had everything to do with the support from his wife. At this point in his life, Chef Kunioka already had a family, but his wife is the kind of person who pushes him to pursue his dreams. With the support of his family, he moved to France, alone. With the experience of working at a Michelin-starred restaurant in his pocket, he returned to Japan two years later.
A shared belief: "Making something is impossible without passion"
After returning to Japan, he worked at several different venues all over the country, from a Michelin-starred restaurant in Tokyo to a bar-style French restaurant, to a wedding location. He only came back to Fukushima after the disaster of 2011. The person who gave him the information about a job opportunity in Fukushima, was his charismatic senior chef from years back. This is also when he first encountered Winery Azuma Sanroku's wine.
When Chef Kunioka received the offer to be the chef for this edition of FoodCamp, he decided to pay a visit to the winery. Talking with Yokoyama-san and Makino-san, they found they had a lot in common as 'makers.' They shared philosophies towards grape cultivation and winemaking, and their thoughts about wine in general. Winemaking and cuisine. These are both fields in which you cannot succeed without passion.
At the end of August this year, Chef Kunioka will finally open his very own restaurant: 'Koriyama French Cuisine Laboratory Recettes.' The word 'recettes' means 'recipe' in French. Despite having accumulated a lot of experience and recipes through the years, Chef Kunioka does not intend to simply reuse them. He prefers to change things up depending on the weather, temperature, the conditions of the guests, his own state, etc., and present the guests with the perfect recipes adjusted to their wants. This was his reasoning behind the name 'Recettes.'
Chef Kunioka also adopted the culture in France that "good cuisine cannot go without wine." He hopes that, through his cuisine, he can enrich the lives of the FoodCamp participants.
We hope everyone will enjoy a very special day, made special by the combination of Fukushima's food and wine.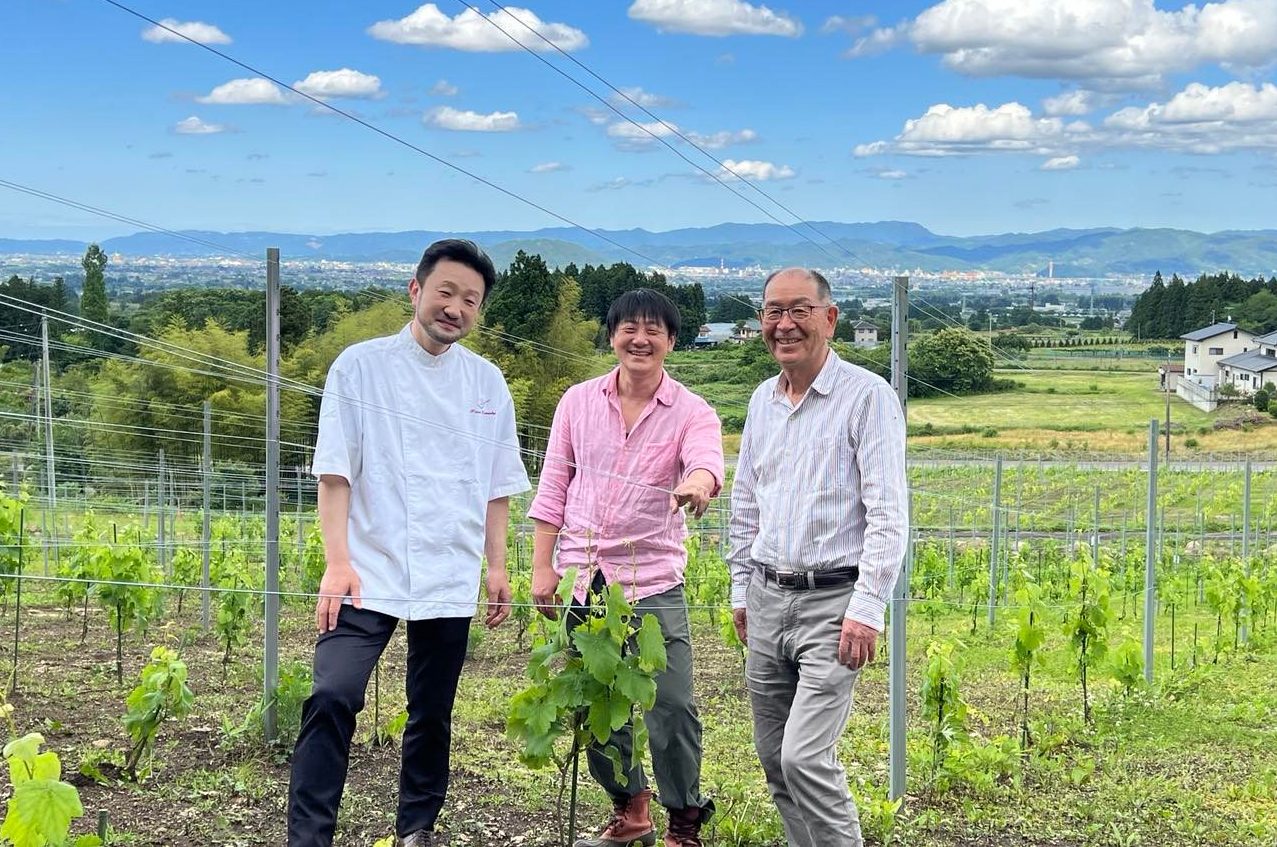 Tour Schedule
Pick-up / Meeting Place

8:30

Pick-up by taxi (Koriyama Kanko Kotsu Taxi) from your house or place of stay in Koriyama, or at Koriyama Station. We will inform you of your pick-up time one day before the tour.
*For those scheduled for pick-up at Koriyama Station, please arrive at Koriyama Station by 14:15 am.

Let's go!

9:00

Departure for the tour site, from the Magonote Travel Asaka Office.
* Those coming to the Office directly, please arrive by 12:50 (limited parking space).

Brief stop at Fukushima Station (pick-up)

10:10

Before arriving at the venue, the bus will make a stop at Fukushima Station. Those who prefer to join the tour from Fukushima Station, please be at the Fukushima Station West Exit Rotary by 10:00.

Arrival at the Azuma Sanroku Winery

10:30

Take a tour of the winery's grape fields and winemaking facilities. From the winery's 'flower road' you get an amazing view over Fukushima City. Let grapefarmer and winemaker Makino-san tell you everyhting you want to know about the growing of grapes and the winemaking process.

Lunchtime!

12:00

Enjoy a fabulous lunch on an outlook point of the gripe fields, provided by Chef Kunioka of Koriyama French Cuisine Laboratory Recettes. He will bring out the full potential of Azuma Sanroku's wine through perfectly matched cuisine. 1 drink is included. A winepairing set can be purchased separately.

Shopping time

14:30

Purchase wine at the winery shop

Departure and brief stop at Fukushima Roadside Station

15:00~15:15

Depart from Azuma Sanroku Winery and make a brief stop at the Fukushima Roadside Station (Michi-no-Eki), opened in April this year. Besides wine from Winery Azuma Sanroku, there are various local specialties available for purchase. A great place for a bathroom break!

Brief stop at Fukushima Station

16:30

Before returning to Koriyama, the bus will drop-off passengers at Fukushima Station. For those planning to use the bullet train or local train lines, please plan your itinerary from 16:50 forward.

Arrival at the Magonote Travel Asaka Office

17:40

After arriving at the Magonote Travel Asaka Office, you will be brought by taxi to your home or place of stay in Koriyama City, or to Koriyama Station.
*For those planning further travel by public transportation please prepare an itinerary from after 18:20.
Tour details
Date(s)

September 17 (Sat.)

Fee

| | |
| --- | --- |
| Per person | ¥16,800 |
| Same price applies for children/participants arriving by own transportation | |

*same rate applies for children/participants travelling to the venue directly with their own vehicle.

What to wear/bring

・This tour takes place outdoors. In case of clear skies, please prepare a hat or cap to protect you from the sunlight.
・Please wear comfortable shoes and clothing.
・In order to prevent the further spread of COVID-19, please wear a mask.

Conditions of Participation

Participation open to everyone over elementary school-age, and able to participate on their own (no need for accompaniment by a care helper, or with permission from a doctor). Same price for adults and children.

Operating Company

Koriyama Kanko Kotsu K.K.

Tour Operator

Magonote Travel's own staff will accompany the tour.

Travel Insurance

Travel insurance is required for all tours, in case of accidents and emergencies. The insurance fee is included in the price. For this reason, we need to ask for your date of birth.

Cancellation Fee

The following cancellation fees will be charged for tours with lodging and tickets: 20 to 8 days in advance: 20%, 7 to 2 days in advance: 30%, the day before the tour: 40%, on the scheduled date before the tour starts: 50%, no-show without notice: 100%.
For one-day tours, the following fees will be charged retroactively from the day before the start of the tour: 10 to 8 days in advance: 20%, 7 to 2 days in advance: 30%, 1 day in advance: 40%, on the scheduled date before the tour starts: 50%, no-show without notice: 100%.

In case of bad weather

The tour will not be cancelled in case of bad weather. However, in case the tour has to be cancelled due to a natural disaster, you will be informed one day before the tour. In this case, you will receive a full refund.

Minimum number of participants

If there are fewer than 15 participants the tour will be cancelled. In such case we will inform you at least 4 days in advance.

Other points of caution

In order to prevent the spread of COVID-19, we ask all guests to fill in a health-check form beforehand. We will send you the details after we have received your application. Thank you in advance for your cooperation.