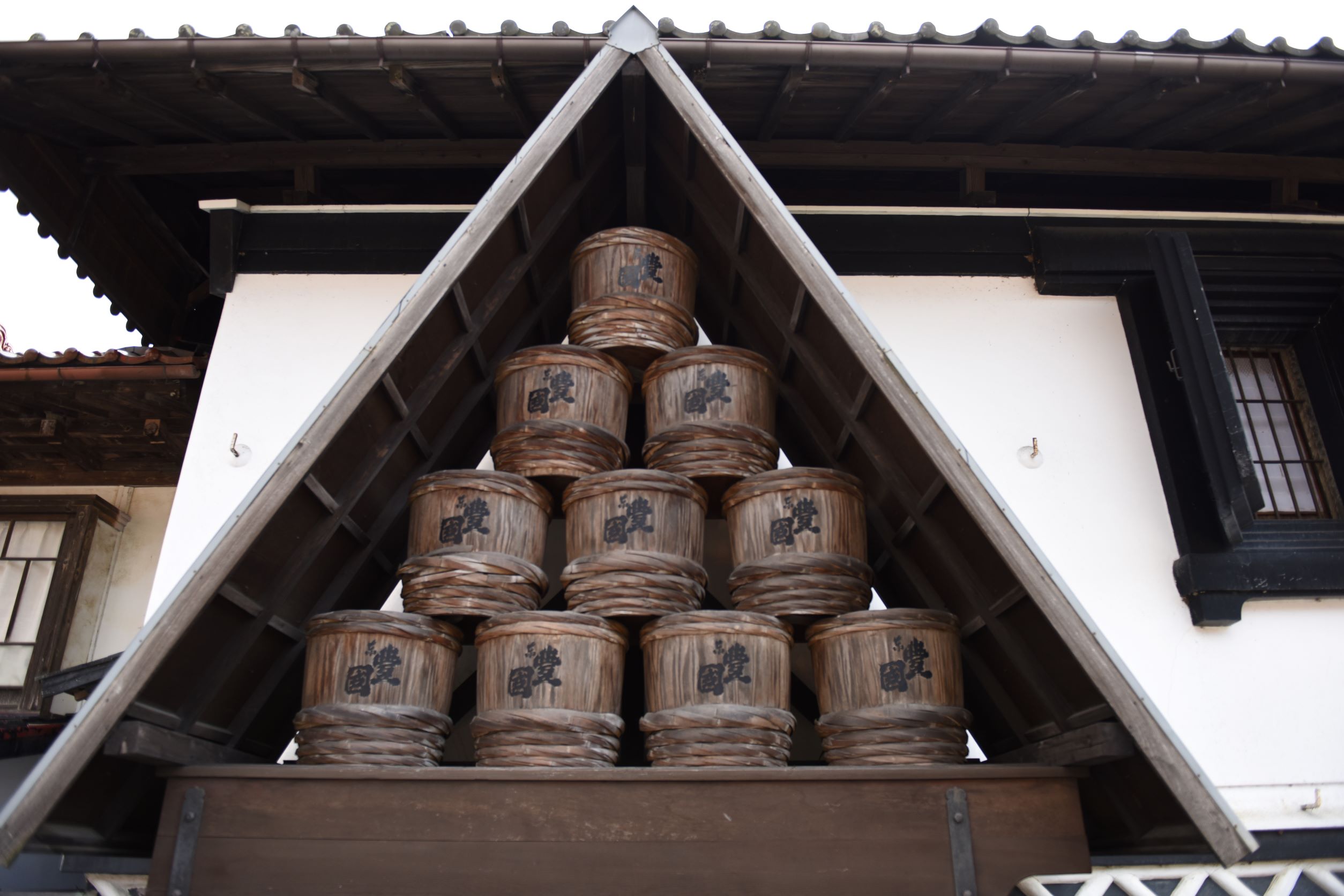 Furudono Town, in the South-East of Fukushima Prefecture. Kensei Yanai is the ninth generation in the line of brewers of the Toyokuni Brewery, with its 200 years of history. As a young brewer with a big  influence both near and far, he has recently garnered a lot of attention with the launch of a new brand, called 'Ibuki.'
Join FoodCamp-veteran Chef Matsuoka (Restaurant L-Marl) to find out what Furudono Town has to offer through this banquet of Japanese sake and French cuisine.
Toyokuni Brewery azuma-toyokuni.com
Restaurant L-Marl www.l-marl.jp
Report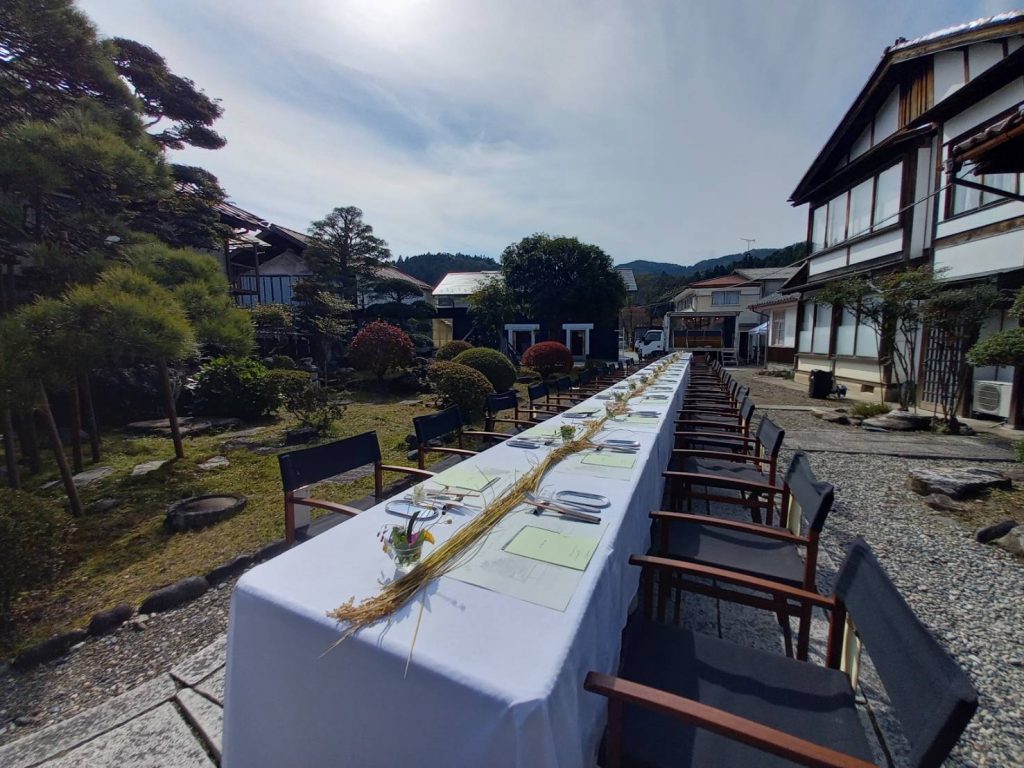 At about an hour's drive from Koriyama, in the Abukuma Highlands lies a town of about 5000 people, called Furudono.
But as small as the town may be, it can boast many interesting and delicious hidden treasures, such as a brewery with over 200 years of history, as well as the tradition of amazing regional delicacies made from local ingredients.
This edition of FoodCamp was a chance to enjoy the town of Furudono to the fullest!
What makes Furudono so special?
The story of this particular FoodCamp is also the story of Ibuki, Furudono's famous Japanese sake.
Ibuki, the current and 9th generation owner of the Toyokuni Brewery Kensei Yanai's very first own sake brand was an instant success, sweeping several big sake competitions in and outside of Japan right off the bat!
The main ingredient for Ibuki is rice, exclusively produced in the town of Furudono. We begin our story with this main ingredient for Ibuki: sake rice. The tour of the rice fields used for Ibuki is given by farmer Yoshinori Ozawa. For the biggest part of the year, he is a rice farmer, but during the winter (when sake is brewed), he takes on the mantle of sake brewery staff at the Toyokuni Brewery. Besides rice, Ozawa Farm also produces grapes, as well as mutton.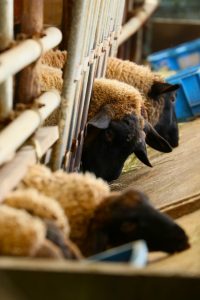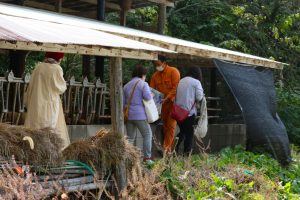 Near the rice fields, there is a little hill that Ozawa himself developed. On the way to the hill, the guests pass by the fruit garden and take a look at the adorable sheep. On top of the hill, there is a line of stone monuments, which seems to have been made in times forgotten, radiating Furudono's history.
The hill also offers a splendid view over the town, including the recently-harvested rice fields, a lumber mill and the row of cherry trees along the Samegawa River.
Yoshinori Ozawa used to work for a hotel. Although he is the first son in a farming family he never used to have that much of an interest in farming, and only helped out in his spare time. But as he stood on this spot and looked out over the town, he decided to quit his hotel job and focus solely on farming. He talks with passion and in detail about his philosophy for producing rice for Ibuki.
Back down the hill, Yoshinori Ozawa's mother, Keiko, welcomes the guests to the farm. Keiko Ozawa is somewhat of a celebrity in the town of Furudono. The town's roadside station (Michi-no-eki Furudono) has many of her handmade goods for sale. By offering farm stays and workshops, she is dedicated to reviving and passing on the local food culture to the next generation,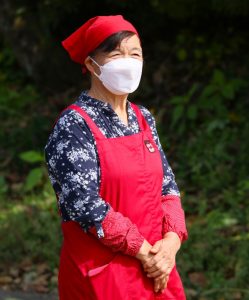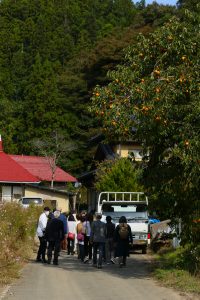 The Ozawa house used for these farm stays is an old Japanese-style townhouse, in which the old-school farming atmosphere is palpable. Here, she offers the guests a taste of her handmade local delicacies. On the pre-lunch menu were such specialties as shimimochi (mochi rice cakes hung outside to freeze and dry in winter) made from a plant called gomboppa (synurus pungens), as well as agemanma (deep fried rice cakes with a sweet miso sauce). Especially the agemanma — once a common snack originally developed to make good use of leftover rice — proved very popular.
Keiko Ozawa also teaches about her signature-dish: shimimochi. She visited many families throughout the area to help dig up the most delicious recipes the locals have to offer. This is how she found a wonderful shimimochi recipe, which is why she can't help but think of her predecessors whenever she makes shimimochi.
Her kind personality really shines through her big smile. It's fair to say that Keiko Ozawa gained a big new fanbase during this edition of FoodCamp. A visit to the Ozawa house really feels like coming home.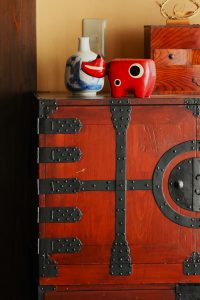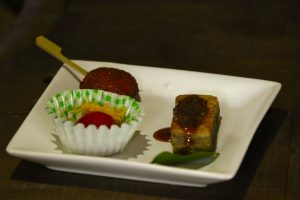 A hidden space in Furudono with a typical Japanese atmosphere
Time to head over to Toyokuni Brewery. But, the gateway that is usually always open seems to be closed… could there be another surprise waiting here? As the bus arrives on the scene, Kensei Yanai and Yoshinori Ozawa sense the time is right… open the gate! A long row of tables stretches out through the middle of the brewery's garden, and the gentle sound of live piano music starts to flow. The guests have entered another world.
9th generation brewery owner Kensei Yanai welcomes the guests, armed with both a bright smile and a palpable passion for sake-brewing.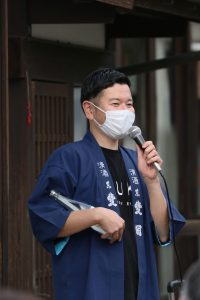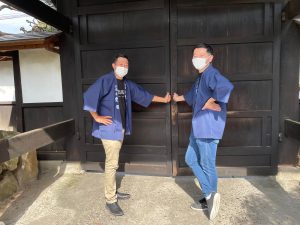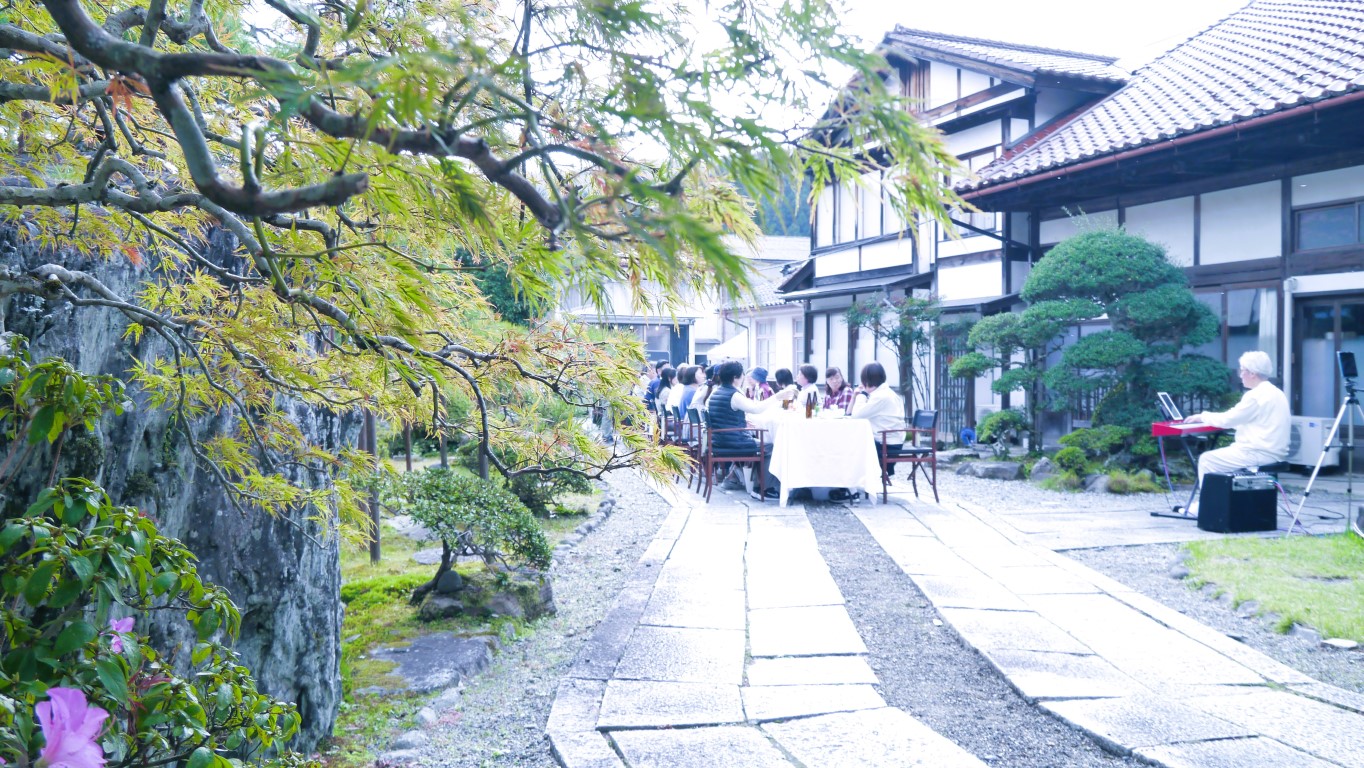 As a special musical surprise, pianist Shimpei Sato brightens up the dining area with his music, including the original song he wrote specially for FoodCamp.
A nostalgic sake-brewery visit
Even though breweries usually do not allow visitors during the brewing season, today we get special permission to see the process up close. It is an impressive experience to smell the aromas of steamed rice and see the sake rice in the midst of the fermentation process bubble up and simmer as if alive.
Some of the comments from the guests: "I can't believe we get to see this much!" and "This sake is so painstakingly-made, we really ought to cherish it." Even going so far as to let the guests have a taste of mid-fermentation moromi (the fermenting mixture that's key to sake-brewing), it really was a priceless experience.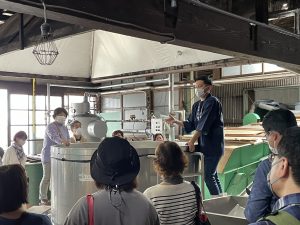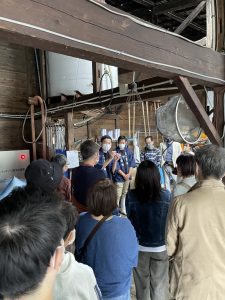 A story that can only be told through food and sake
After a toast with the original sake Ibuki Urayanagi, the lunch can finally start. This sake is made 100% from Ozawa Farm sake rice. The guests are moved to have a taste of the sake that the two young producers have poured their heart and soul in. As to be expected from a FoodCamp at a brewery, an optional Toyokuni Brewery sake drinking set was available for those wanting to compare the different types of sake.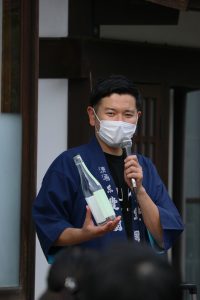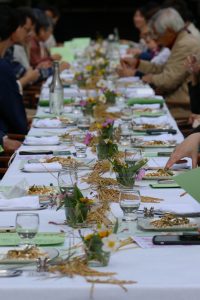 In charge of the day's cuisine is FoodCamp veteran chef Matsuoka of Restaurant L-Marl.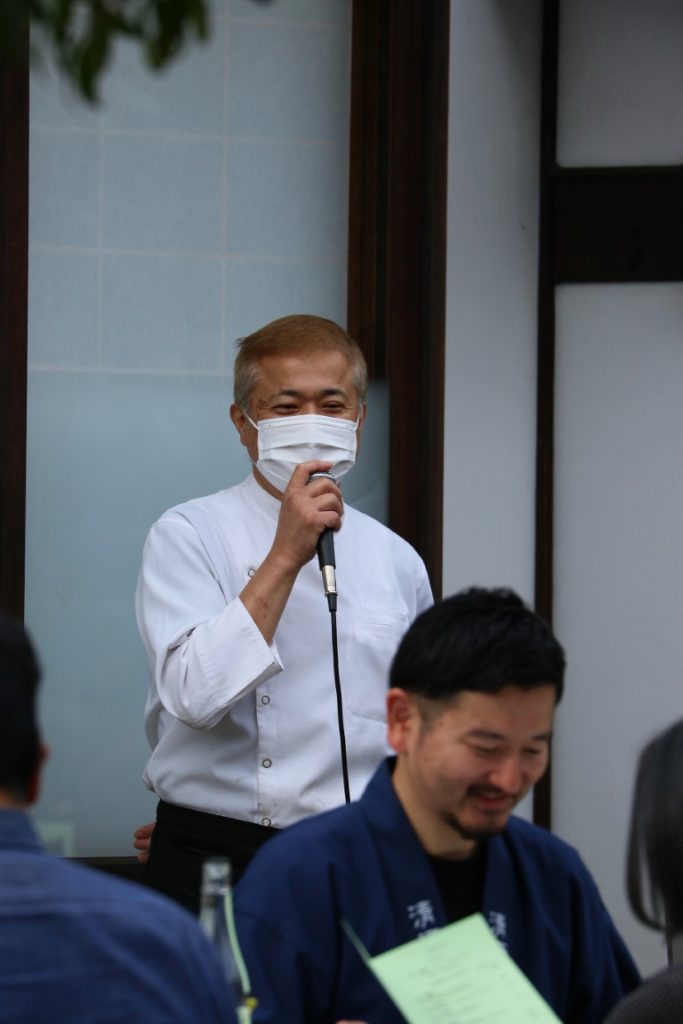 Chef Matsuoka's ingenuity comes out in full force, bringing the Toyokuni Brewery and the town of Furudono to expression, using an abundance of local ingredients. The chef also takes his time going from table to table sharing the stories behind the development of each and every dish. This is typical for the chef, who is known for his desire to please his guests. It brings the ideas and philosophies of the whole FoodCamp-cast to the forefront, from which we hope new stories will spring.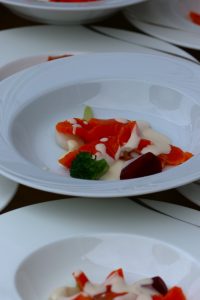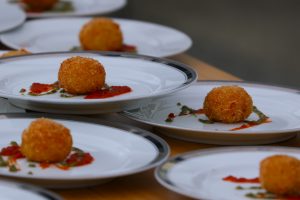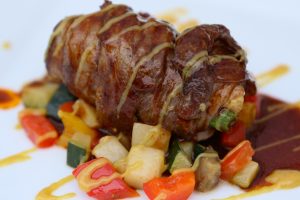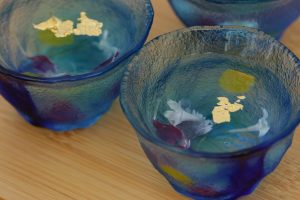 Kuranoba → Kuranobar
After this lunch, the guests get to check out a pop-up miniature farmers market at the brewery's brand-new renovated storage house, named Kuranoba. Kensei Yanai developed this new facility, with the hope that it will turn into a gathering place for the people of the town, and a place where new, exciting things will develop. Today, the guests can enjoy sake-tasting, as well as learn about and even purchase local craftworks and specialty delicacies. This includes a snack developed by Keiko Ozawa, called Kasutera-maki, a traditional, nostalgic snack that used to be a staple for family gatherings and occasions.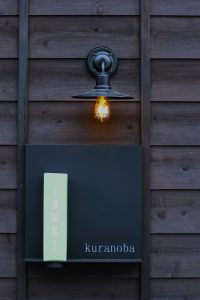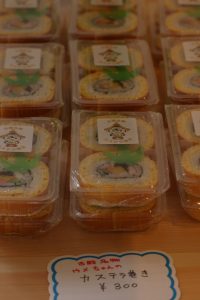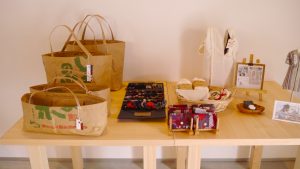 On the second floor of Kuranoba, pianist Shimpei Sato gives a wonderful piano concert. The piano sounds resonate beautifully under the storage house roof. Taking in the gentle sounds with a delicious glass of sake in one hand is the definition of luxury.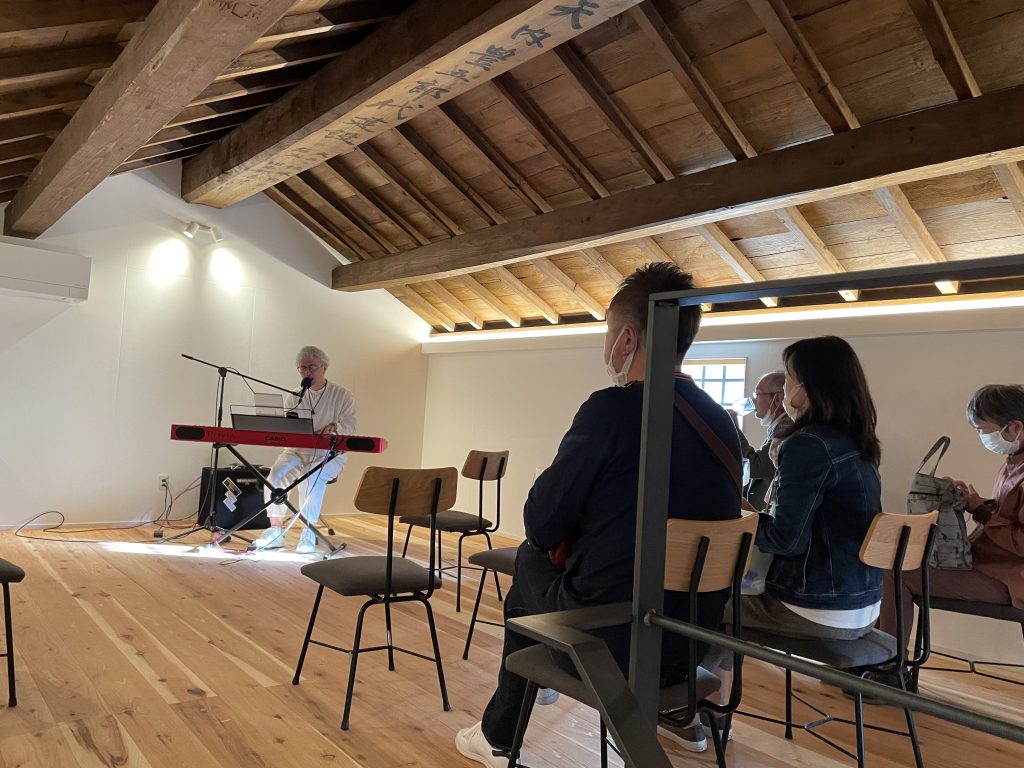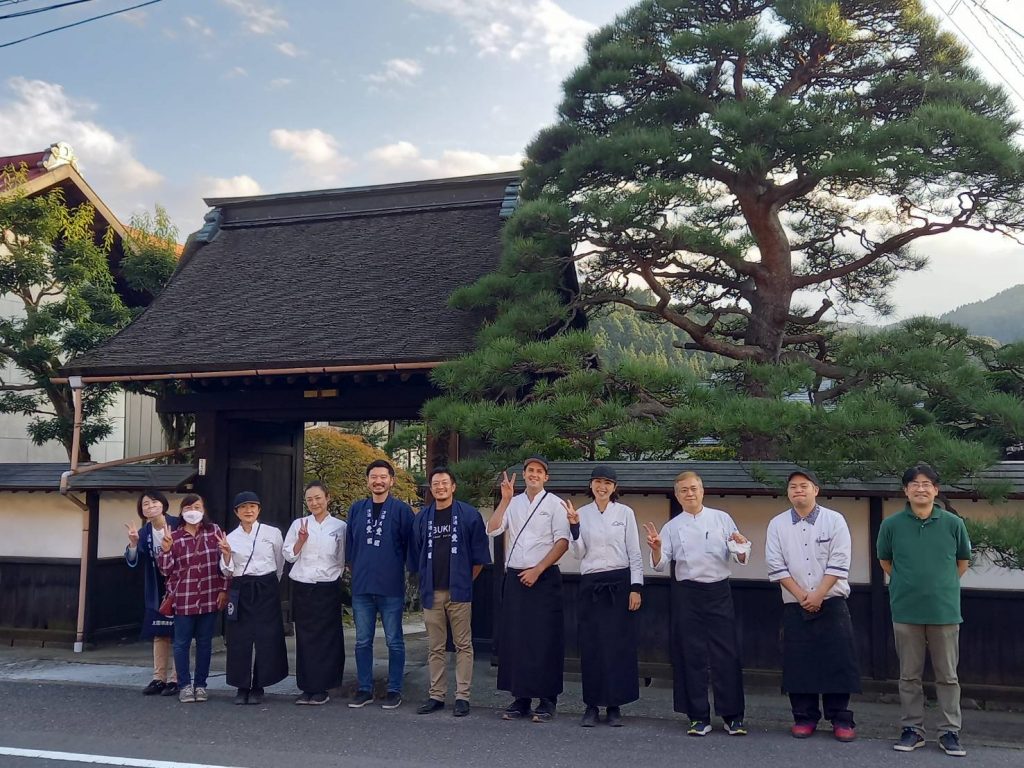 All in all, it was a day on which the passion of a young generation for its hometown came through in spades.
Highlights
Enjoy a typical Japanese atmosphere in a two-centuries-old brewery

It has been 200 years since the Toyokuni Brewery in Furudono Town was founded. Brewer Yanai-san will take you on a tour through the brewery, while regaling you with the history of sake brewed here for generations on end.

Get a feel for Furudono with a rice-paddies tour and local-cuisine workshop

Shimimochi is a common delicacy in households of the Furudono-area. Keiko Ozawa will represent local mothers in giving a class on the cuisine passed down in this area. Her son, Yoshinori Ozawa, is the producer of rice for the Toyokuni Brewery. Learn more about the sake-rice paddies.

Experience Chef Matsuoka's French cuisine in harmony with Japanese sake in a sake brewery

Chef Matsuoka ー adamant about conveying the philosophy of his ingredients' producers ー offers original French cuisine full of surprises. Expectations are high for the harmony between Toyokuni Brewery's fine sake and French cuisine. We are also excited to see the result of the brewery's rebirth as a local meeting space!
Cast
Brewer, Toyokuni Brewery -

Kensei YANAI

Kensei YANAI is the 9th generation head of the Toyokuni Brewery, which boasts a more than 200 year-long history in the town of Furudono. There is a lot of buzz surrounding his own established brand 'Ibuki'.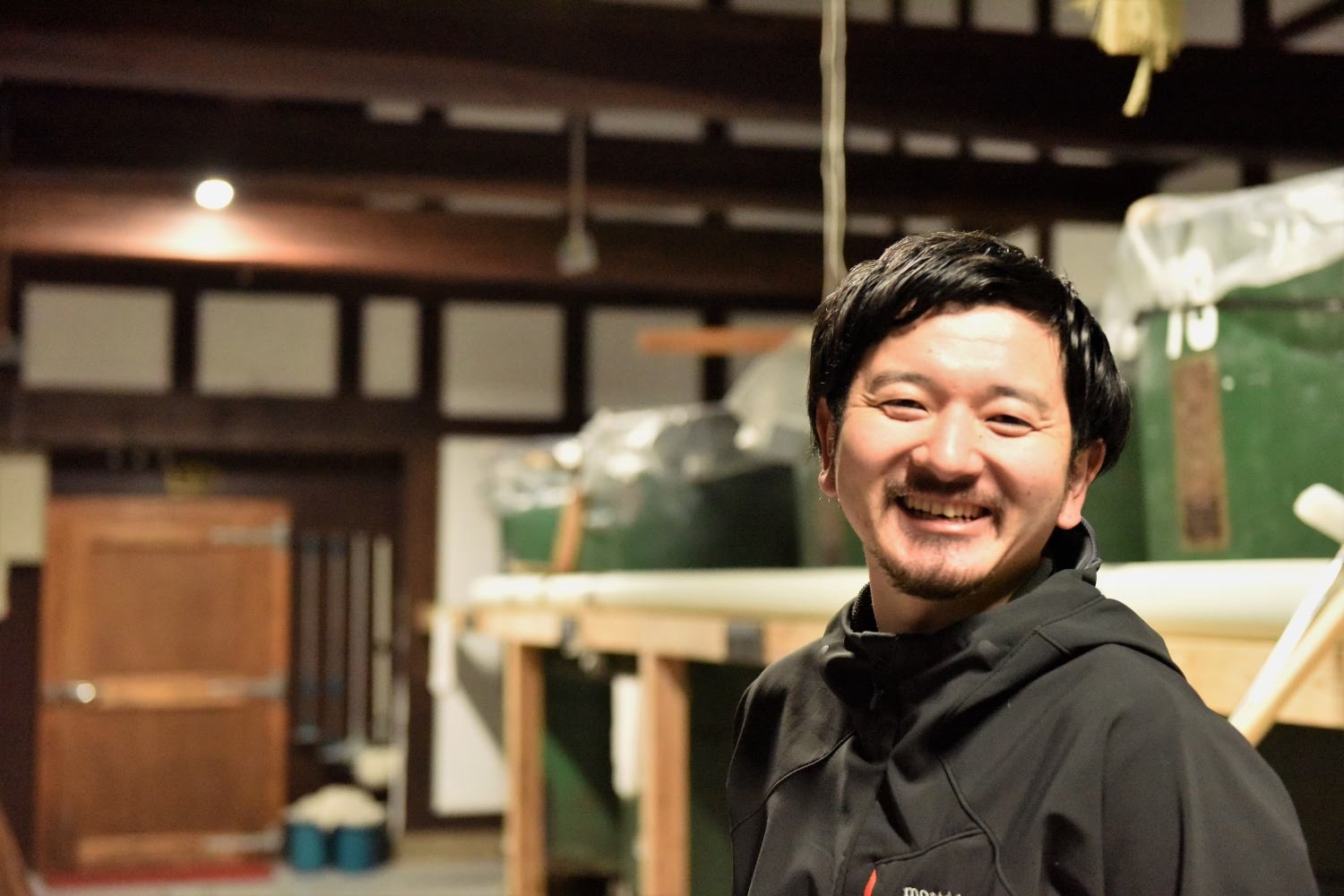 This year, the brewery is undergoing large-scale renovation, being turned into a place for people to gather. Yanai-san is also deeply involved in local revitalization, by developing new content for experiencing Furudono's nature and culture.
Furudono, town on the 'Salt Road'
Furudono Town is located in the south-east part of Fukushima Prefecture, and developed as a mercantile town along the 'Salt Road', along which both salt and fishery products were shipped from Iwaki on the Pacific Coast, further inland towards the towns of Sukagawa and Shirakawa.
The Yanai family also traces its origins, instead of always having been sake brewers. Usually sake breweries develop in major rice producing areas with wide open plains, or at castle towns where the demand for quality products was high. Yet, Furudono was not a castle town, and instead of open plains, it is located in a valley in the Abukuma  mountain range. The Toyokuni Brewery, however, managed to flourish by producing its sake for the local population.
The challenges of the 9th generation brewer
The Toyokuni Brewery goes back 200 years, to the late Edo Period (mid-19th century). Kensei Yanai, the 9th generation brewery owner, returned to Fukushima after graduating college and joined the family company, the brewery. At that time, 'Azuma Toyokuni' was still the brewery's major brand, and the brewery's management was in the hands of his father, the owner and toji (master brewer). Having been born in a sake-brewing family, once Yanai-san decided to take over the business, he wanted to make sake of his own. That is why the young brewery owner decided to learn the brewing process from his father and was able to imitate the craft to make his first sake. This became the first batch of his very own sake brand, established in 2011: 'Ibuki'. Meaning 'one step', this truly was the first step into the world of sake for the 9th generation brewery owner and toji.
The sentiment behind Ibuki
In 2012, Ibuki took the first place in the National Nambu Toji Sake Competition, putting the 9th generation brewer in the spotlight very early. Wining prizes at the Nambu Toji Sake Competition as well as the Tohoku Sake Awards, he soon became one of Tohoku's most famous brewers. But as much praise he receives, he never forgets about his first sake-brewing days. "The sake brewing process is endless. In only half a year, you have to take it one step at a time. I am very protective of this process."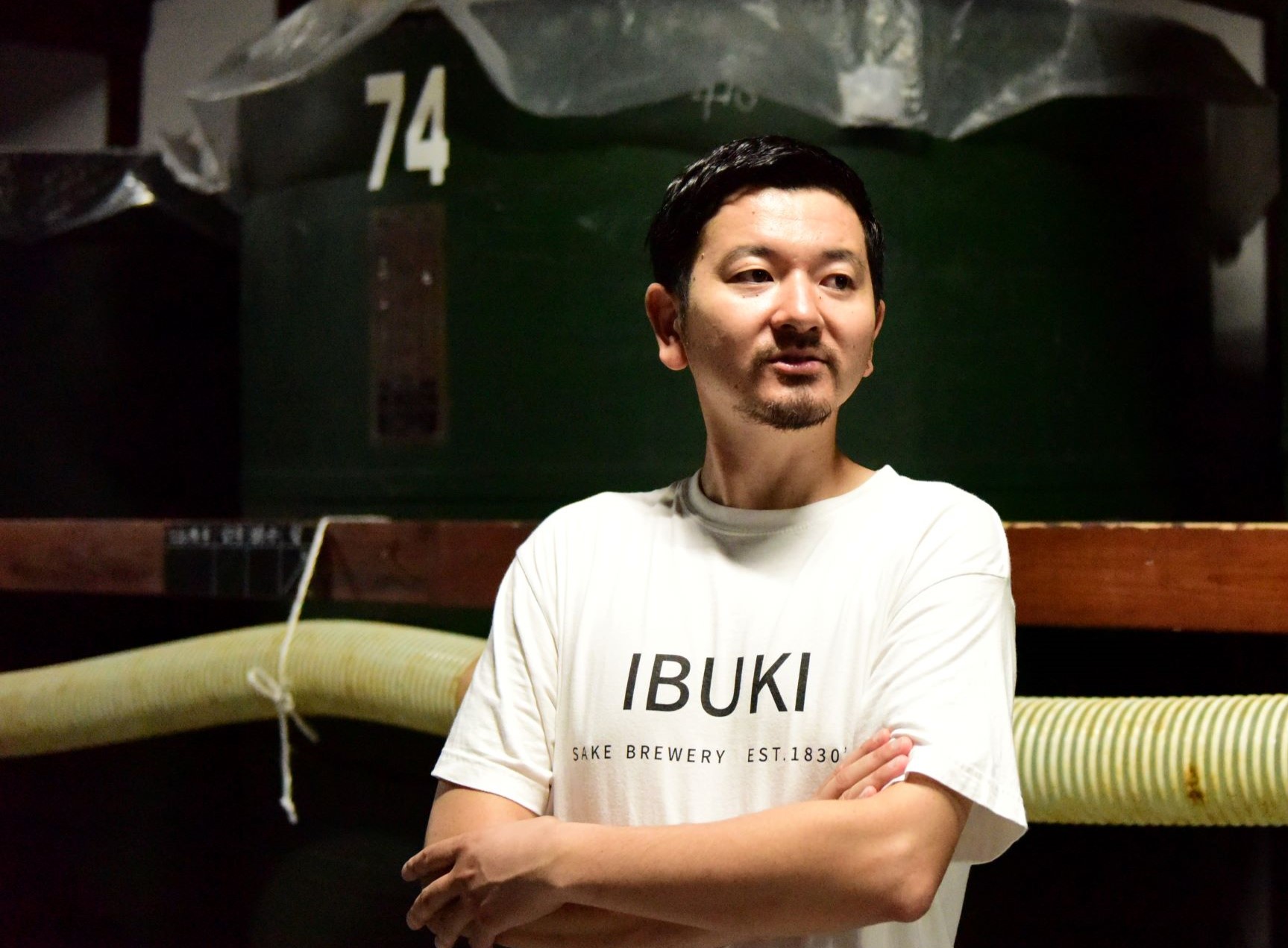 Moreover, the sake brewing process is a joint project together with the brewing staff, and keeps being challenging, year after year. This is because the so-called shikomi, the preparation, or starting phase of brewing, only takes place once a year, and determines the quality of the product for the whole year. Besides one step, the word Ibuki can also mean 'breath.' This name was given to the sake by Yanai-san to express vitality and energy, as well as the will to carefully brew sake, one step at a time.
Also, this year the brewery's annex storage is undergoing a large-scale renovation. The white plaster walls and thick beams breathes the atmosphere of an industrial sake brewery. Maintaining this vibe, but introducing modern equipment, Yanai-san is determined to turn it into a space for events, and where customers can taste sake. He hopes not only to promote his own brewery but the whole of Furudono Town. The day this dream of a new regional vitalization hub is realized, may not be that far away.
Chef, Restaurant L-marl -

Tadashi MATSUOKA

Chef Matsuoka paid a visit to the Toyokuni Brewery. When throwing a glance at the cedar tree at the brewery's entrance, he starts a conversation with brewery owner Yanai. No doubt he just found some inspiration for a fresh, new menu; something we value at FoodCamp.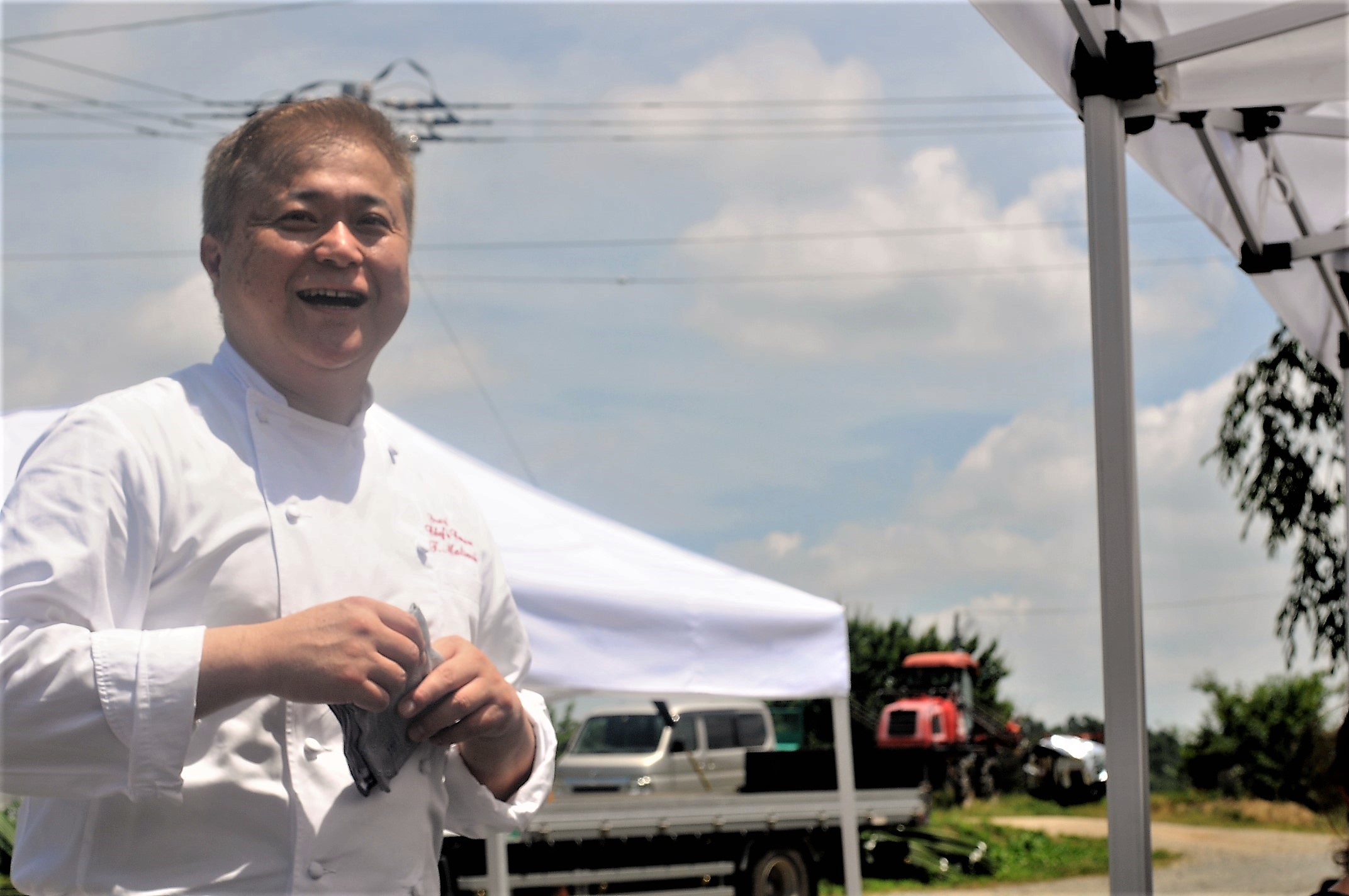 We are convinced that, with the input from the brewery, we'll get a glipse of a new world of Chef Matsuoka.
Strawberry, nameko mushrooms, Koriyama's brand vegetables, wine and… sake
Chef Matsuoka has featured in FoodCamp several times already, introducing different ingredients every time. His repertoire has been exceedingly varied, ranging from strawberries to nameko mushrooms, and from Koriyama brand vegetables to wine. Chef Matsuoka is always happy to go on site to learn about local products as well as their producers, and what makes them special. He also takes the atmosphere of the location into consideration, in order to prepare an original one-day menu for the occasion. The contents of these menus can be playful and always have a story behind them. With his own, characteristic inventiveness and proven skill, as well as a deep-seated sense of service, he always manages to please the customers. Chef Matsuoka traces all of this back to a memory of his childhood.
Wanting to make people happy
Chef Matsuoka is originally from the city of Maebashi, in Gunma Prefecture. As a child, he wasn't all that interested in food, but the thing he loved most was the fried shrimp set menu at the department store his mother often went to. At that time, it was about 1400 yen, but his mother always complied with his wishes. Remember this, he ponders: "Maybe she just had a strong desire to make her children happy, by presenting them with some luxury."  This became a formative experience for the Chef Matsuoka of today.
The atmosphere of a sake brewery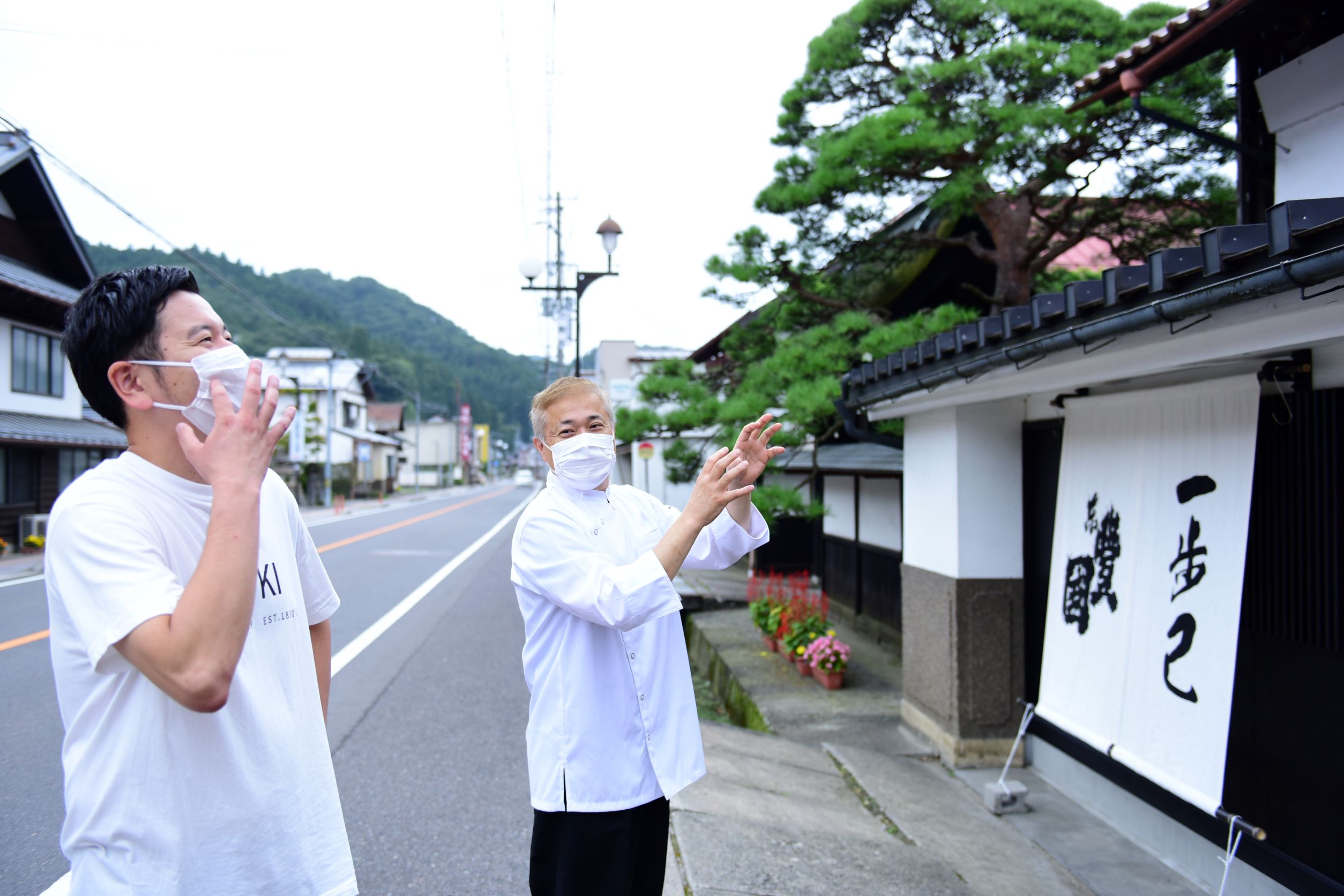 It was Chef Matsuoka's first ever visit to the Toyokuni Brewery. Glancing over at the entrance, where a sugitama (a ball of cedar that changes colors indicating the state of the sake process, often hung at the entrance of breweries as a type of advertisement) hangs, he strikes up a conversation with Yanai-san. He is excited by the imposing gate, the well-kept garden and the thick beams and pillars that make one feel the history of the place, and seems to be imagining the long years of sake brewing that have been spent here. The under-renovation storage building may look solemn from the outside, but on the inside it is becoming a very modern space, bound to become a new gathering spot.
We are looking forward to the way Chef Matsuoka will express this contrast between old and new, and create a course meal entwining his favored French cuisine with Japanese sake, in his own particular way.
Ozawa Farm -

Keiko & Yoshinori OZAWA

Ozawa-san is not only the producer of rice for Toyokuni Brewery's Ibuki sake; during the off-season for farming, he works at the brewery itself. He also produces mutton and grapes.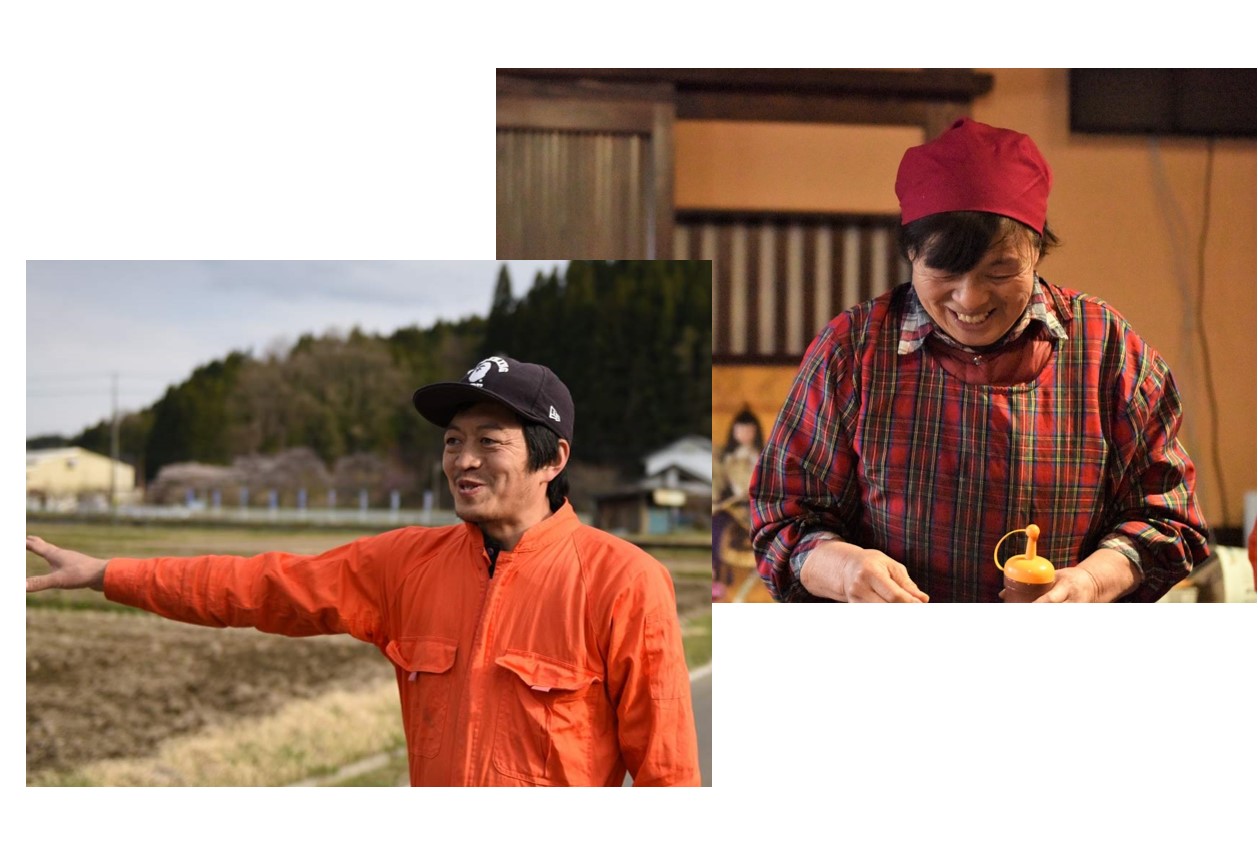 His mother, Keiko-san, helps keep local food traditions alive. At Ozawa Farm, new styles of agriculture and traditional lifestyles coexist, adding to the beauty of the town of Furudono.
Rice farming, livestock holding, fruit farming + working in the brewery
Yoshinori Ozawa's main source of income is the cultivation of rice. However, in the spirit of modern 'parallel work' he is expanding into other fields of agriculture. From spring to fall, the busiest farming season, he not only works to produce rice, but also grows vegetables and fruit, as well as raising sheep for mutton. After the busy season, in winter, he works as an employee at the Toyokuni Sake Brewery! This means he is not only the producer of rice for Ibuki Sake, he is actually one of its makers as well!
Ozawa-san hasn't been growing rice for that long yet. Originally, his family had a dairy farm, but after the disaster of 2011, they made the shift to rice farming. The fact that Furudono Town, like many other place in Japan, is suffering from a shortage of young people taking over farming business, was not lost on Ozawa-san, who worked a white collar job until just a few years back. What started as something like "Well, guess I'll do it then," gradually developed into something bigger.
Doing what you want
He was 34 years old when he made the change. The notion that "If I can work together with my parents when they're still active, there's bound to be more to learn," is what made him quit his job and become a farmer.  Of course, all he needed was already there, with the farmland and a teacher. However, Ozawa-san felt that if he was going to do it, he wanted to do something new, and actively started exploring his own style. The grape vines he planted a few years back were starting to bear fruit. He didn't particularly study hard to learn about agriculture, but perhaps it just came more naturally to him than he thought, being a farmer's (oldest) son.
Amidst this big change of lifestyle, it was Yanai-san who approached him with the idea of brewing sake together. This is how he became a winter-only sake brewer, as well as the cultivator of rice for Ibuki. It's clear that seeing everything Yanai-san was doing with the only sake brewery in the region was a big inspiration to Ozawa-san.
The mother of Furudono, passing on local food traditions
There is one more star of this FoodCamp that we surely cannot forget: Keiko Ozawa, the mother of Ozawa-san. Keiko Ozawa was born in the town of Furudono. She noticed how many of the local delicacies she used to enjoy, such as agemanma and goboppa-shimimochi were starting to disappear more and more from daily life.
Furudono Town's local dishes are simple but very nourishing, as well as heartwarming. Keiko-san started talking to local elderly citizens about the dishes they regularly made, and would like to pass on to the next generation. Often, she would hear things from the people she talked to, like: "[…]-san who lives down the road has a great recipe, but […]-san's is even better!," and before she knew it she had managed to collect and relay many a great recipe. Nowadays, when people things of a mother in Furudono Town, Keiko Ozawa is the first one to come to mind.
This edition of FoodCamp, Furudono Town will go all out! We are looking forward to presenting our guests with a warm and fun day in Furudono.
Tour details
Date(s)

October 23 (Sun.)

Fee

| | |
| --- | --- |
| Per person | ¥16,800 |
| *same rate applies for children/participants travelling to the venue directly with their own vehicle. | |

*same rate applies for children/participants travelling to the venue directly with their own vehicle.

Tour Operator

Magonote Travel's own staff will accompany the tour.

Travel Insurance

Travel insurance is required for all tours, in case of accidents and emergencies. The insurance fee is included in the price. For this reason, we need to ask for your date of birth.

Cancellation Fee

The following cancellation fees will be charged for tours with lodging and tickets: 20 to 8 days in advance: 20%, 7 to 2 days in advance: 30%, the day before the tour: 40%, on the scheduled date before the tour starts: 50%, no-show without notice: 100%.
For one-day tours, the following fees will be charged retroactively from the day before the start of the tour: 10 to 8 days in advance: 20%, 7 to 2 days in advance: 30%, 1 day in advance: 40%, on the scheduled date before the tour starts: 50%, no-show without notice: 100%.

In case of bad weather

The tour will not be cancelled in case of bad weather. However, in case the tour has to be cancelled due to a natural disaster, you will be informed one day before the tour. In this case, you will receive a full refund.