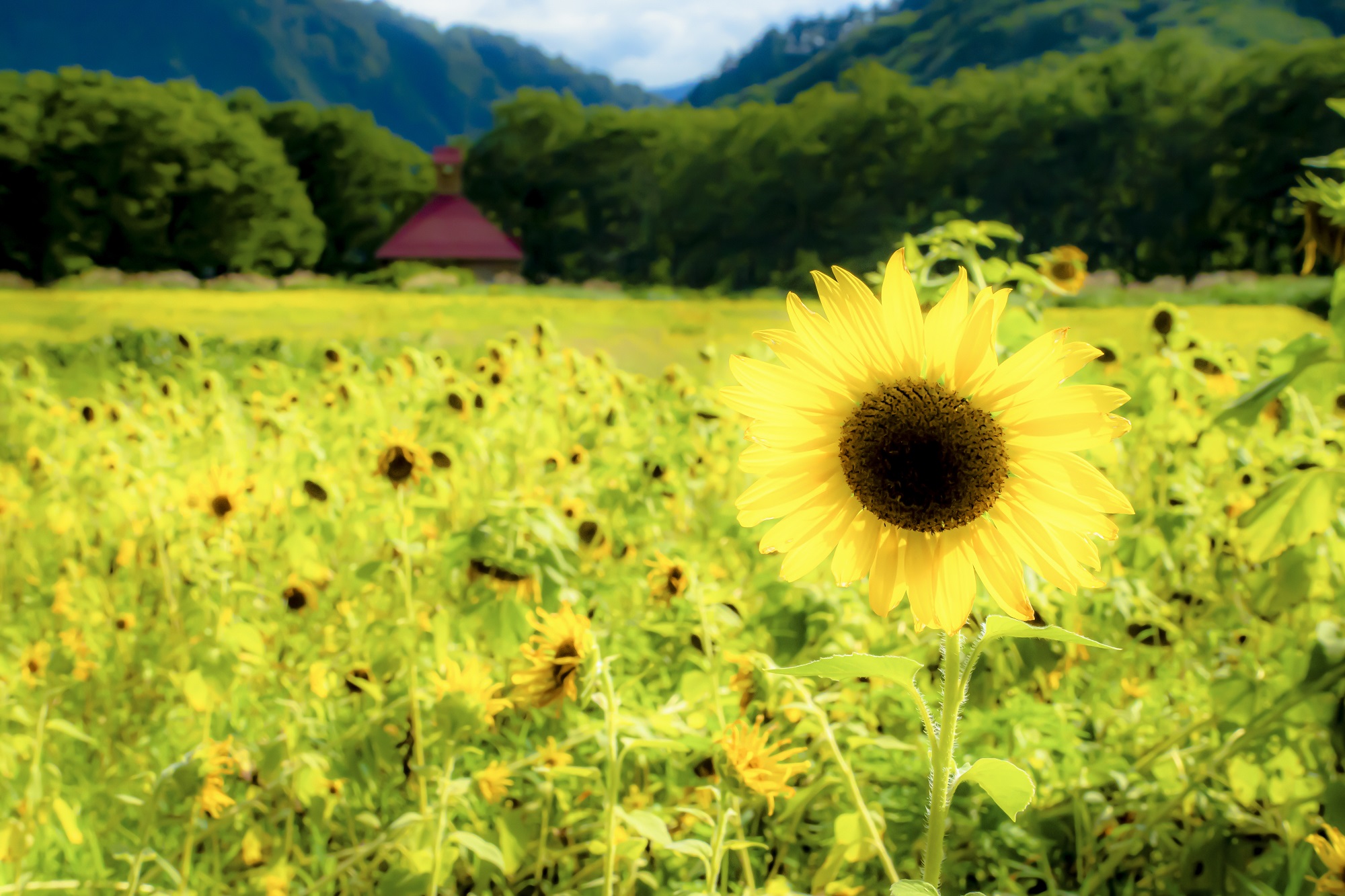 A revival of the FoodCamp that was unfortunately cancelled last year. Enjoy a course lunch with an abundance of local Oku-Aizu produce, such as Aizu-Jidori chicken and Kaneyama red pumpkins in the Misaka Highlands, right before sunflower high season. Chef Manabu Sato from restaurant 'Teppanyaki Aizu-ya' knows Aizu's local products like no other. For the producer-visit, we will be welcomed by Aozi-jidori chicken farmer-, processor and seller 'Aizu-Jidori Mishimaya', and farmer of 'Oku-Aizu Kaneyama Daishizen'-red pumpkins in Kaneyama. With the addition of a workshop of knitting-craft, this tour has a lot to offer!
Aizu-Jidori Mishimaya http://www.aizujidori-mishimaya.com/
Oku-Aizu Kaneyama Daishizen (Kaneyama Red Pumpkin) https://www.daisizen.biz/
Teppanyaki Aizu-ya https://magonotetravel.co.jp/besttable
Highlights
Feel the summer among the sunflowers of the Misaka Highlands

Sunflower season in the Misaka Highlands. Have a fabulous meal of seasonal Aizu-produce, while taking in the refreshing breeze and sunlight in a sea of sunflowers.

Learn about Aizu-Jidori Chickens

Take a lecture on Aizu-Jidori chickens from business owner Koizumi-san, who raises and processes them in Mishima Town.

Experience traditional Oku-Aizu braiding craft

Oku-Aizu's braiding craft makes use of the vines and stems of the silver vine, chocolate vine, hiroro (carex multifolia) and crimson glory vine that naturally occurs in the area. Experience life in- and the warmth of the Oku-Aizu community through this delicate handicraft. Make your own works of braiding craft and take a look and get local souvenirs at the historical archive.

Producer visit no. 2: Kaneyama Red Pumpkins!

Kaneyama Red Pumpkins are absolutely delicious! The pumpkin patches, where the pumpkins hang from the vines like lanterns, are a true sight to behold. Let the pumpkin producer tell you all about growing as well as preparing red pumpkins. These pumpkins will surely be on the menu this year!
Cast
Aizu-Jidori chicken's best feature is the sweet taste and elegant bite of its meat.

Managing Director - Aizu-Jidori Mishimaya Co., Ltd.

Kazuhiro KODAIRA

'Aizu Mishimaya' deals with everything from chicken breeding to processing and sales. Aizu-Jidori chicken meat has a rich, sweet taste and a firm bite. The company dates back over 500 years. Kodaira-san, the current president, equates his love for jidori-chicken with his love for the region.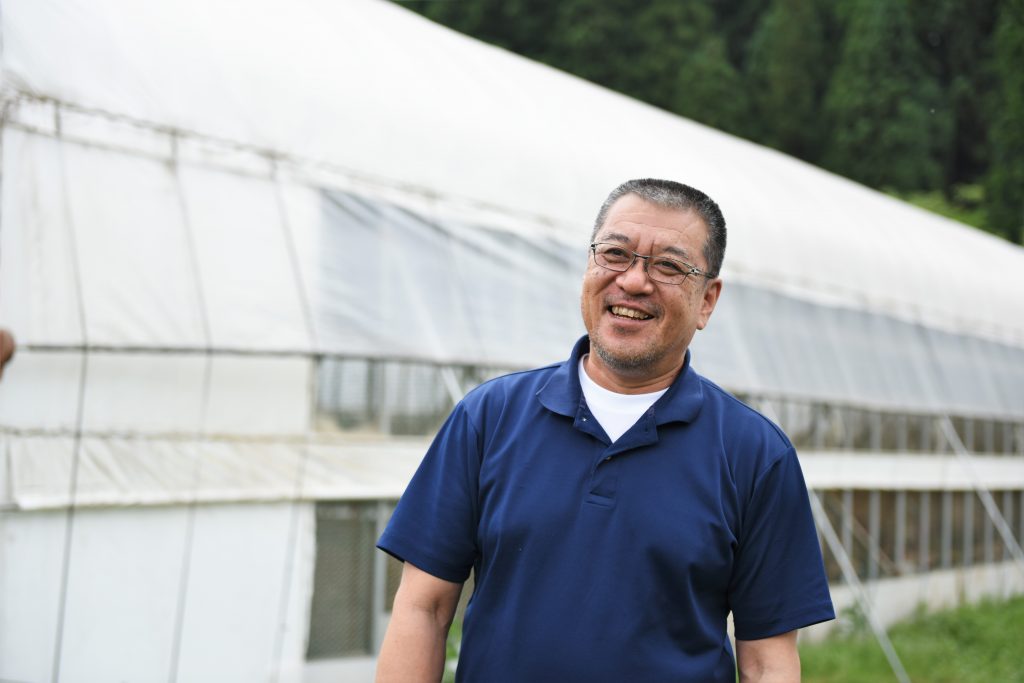 Discovering pure-bred Aizu-Jidori chickens
It is said that Aizu-Jidori chickes were first brought to the region by an Ochudo (a warrior exiled after a defeat) from one of Japan's famous historical families, the Taira clan. As evidence of this history, the decorative feathers used during the Aizu-Higanjishi festival, dating back the 1570s, are in fact of Aizu-Jidori chickens. This means this species was already inhabiting the region 400 years ago. In 1987, the then-critically endangered species started to be bred by a prefectural chicken breeding facility. It was during this experimental process that Kagoshima University learned that this species of chicken is completely different from hereto known species. The species evolved into its current state thanks to breeding processes. They are large, delicious and were even considered suitable for aesthetic purposes.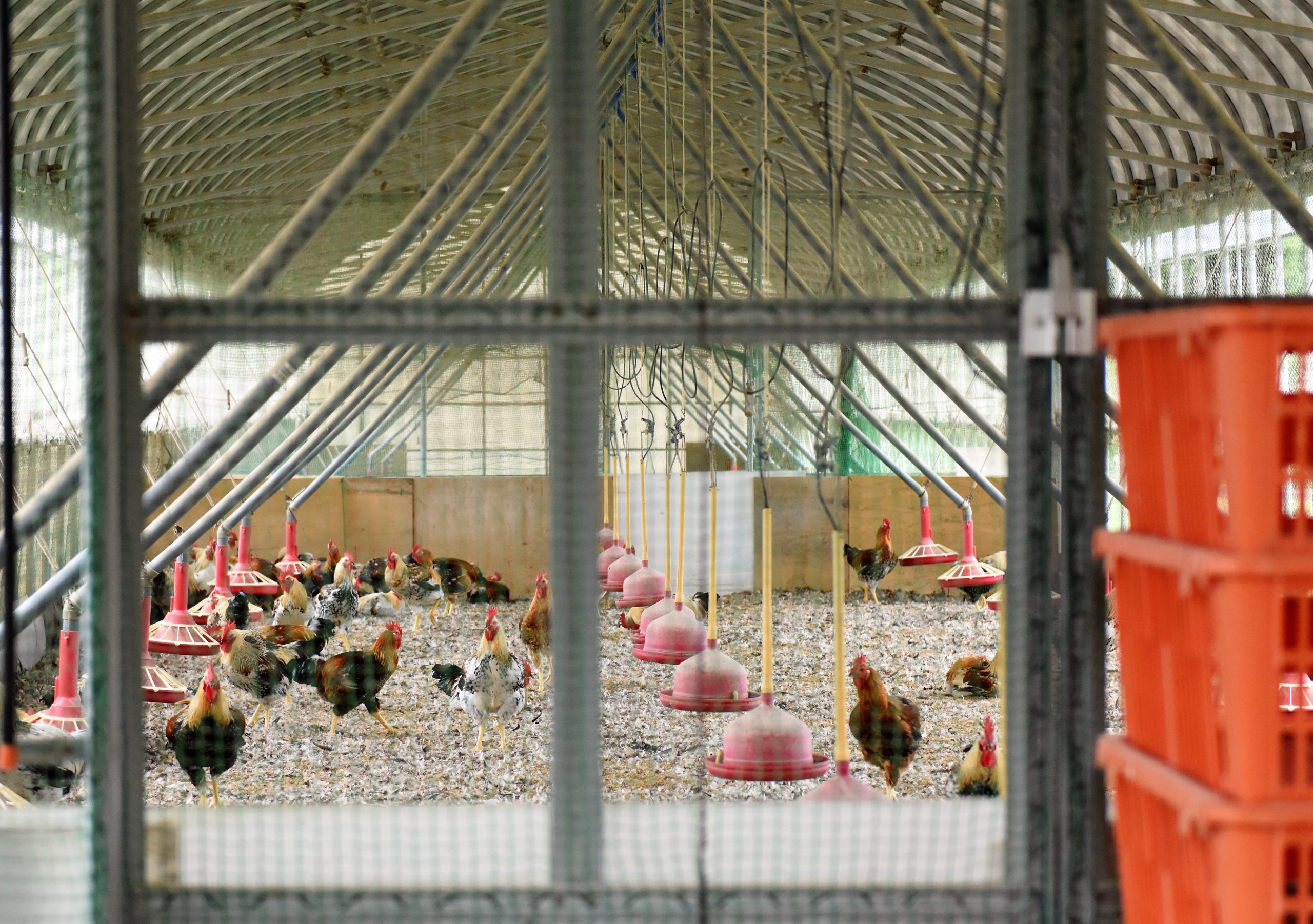 It started with a poultry-processing qualification
There's a reason why Kodaira-san became the manager of Aizu Mishimaya. The town of Mishima designated Aizu-Jidori chickens as the town's own local specialty product, and launched a company to promote the town using the chickens. However, in order to process the chicken meat, it had to be transported all the way to the city of Motomiya, making it only suitable for wholesale at first. Then, an idea began to stir: if the town had its own processing facility, that would mean the production, processing and sales could all be done within Mishima. This grand task fell on Tokyo Agricultural University graduate and poultry-processing qualification-holder Koidaira-san.
Kodaira-san's mentor in college was an authority in the field of poultry-research, and some of his seniors had been involved in the Aizu-jidori research. Kodaira-san felt that this had to be fate. Aizu-jidori is an established brand now, but Kodaira-san received a lot of advice from his mentor in the early stages. After the 2011 disaster, the Oku-Aizu area faced bad publicity despite being hardly affected. Nonetheless, the production volume currently exceeds pre-disaster levels. Koizumi-san has always kept his head high, standing by high chickens, saying, "No worries, we can do this."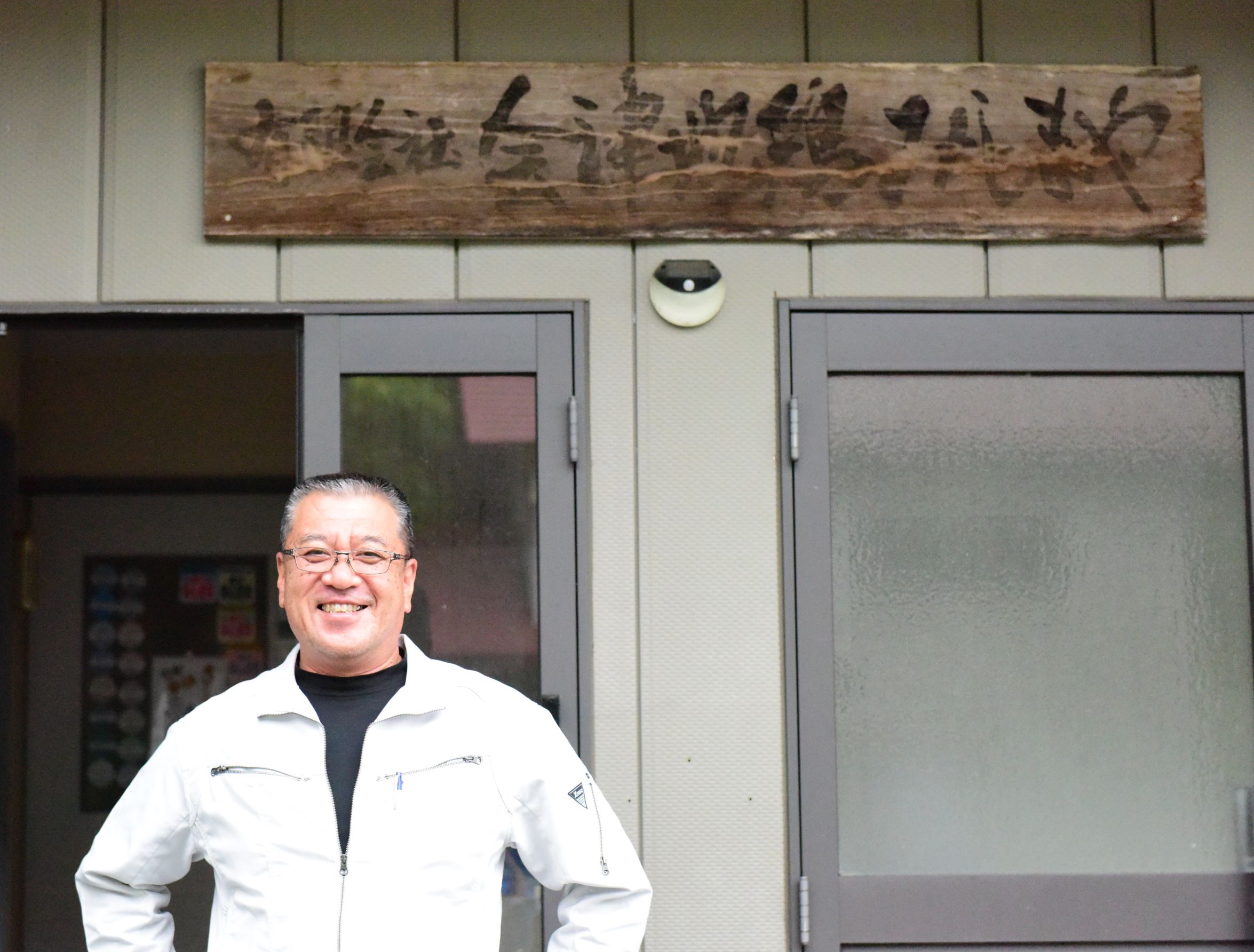 As Aizu-jidori is not shipped to general markets, Koidara-san had to get used to doing sales. As there is a set method of raising Aizu-jidori chickens, which tends to be quite costly, this is reflected in the high consumption price. This is why he turned to restaurants as an alternative sales-route. Professional chefs have various very specific questions, which Kodaira-san ― thanks to his company both raising and processing poultry ― is easily capable of answering. He knowns everyhting about the raising process, the qualities of the meat, and differences in taste depending on the season. This is how he got restaurants to support his products, adding to the brand's value.
Kodaira-san always goes in head-on, with true Aizu self-confidence and pride.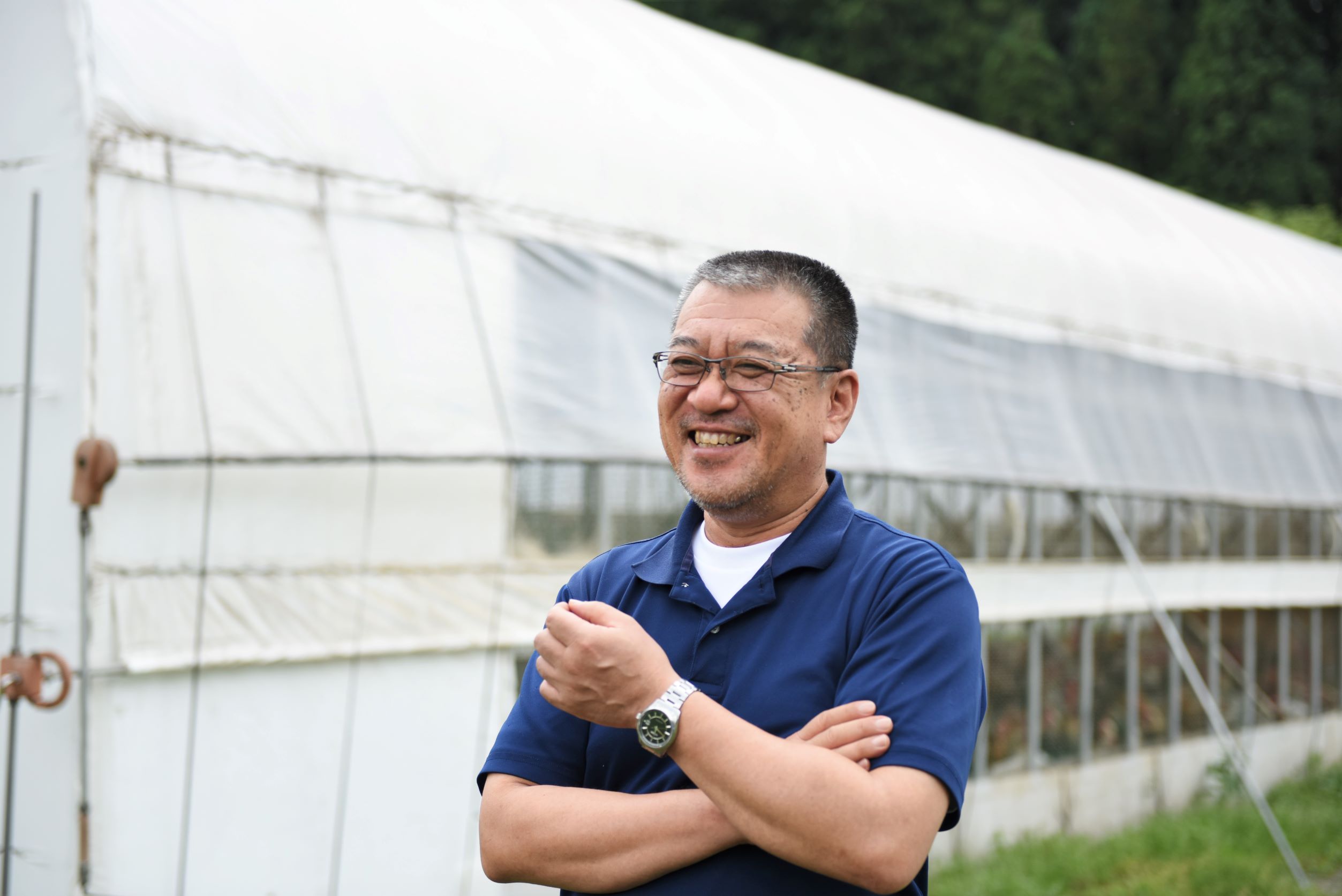 The smell of Aizu-Jidori on the hot plate is irresistible.

Chef, Teppanyaki Aizuya -

Manabu SATO

Chef Sato of restaurant Aizu-ya has been using Aizu-Jidori chicken from the very beginning. Kodaira-san is the producer he has worked with the longest. Together with Kodaira-san, chef Sato is dedicated to promoting Aizu-Jidori's quality, reflecting his deep feelings for Aizu's regional products.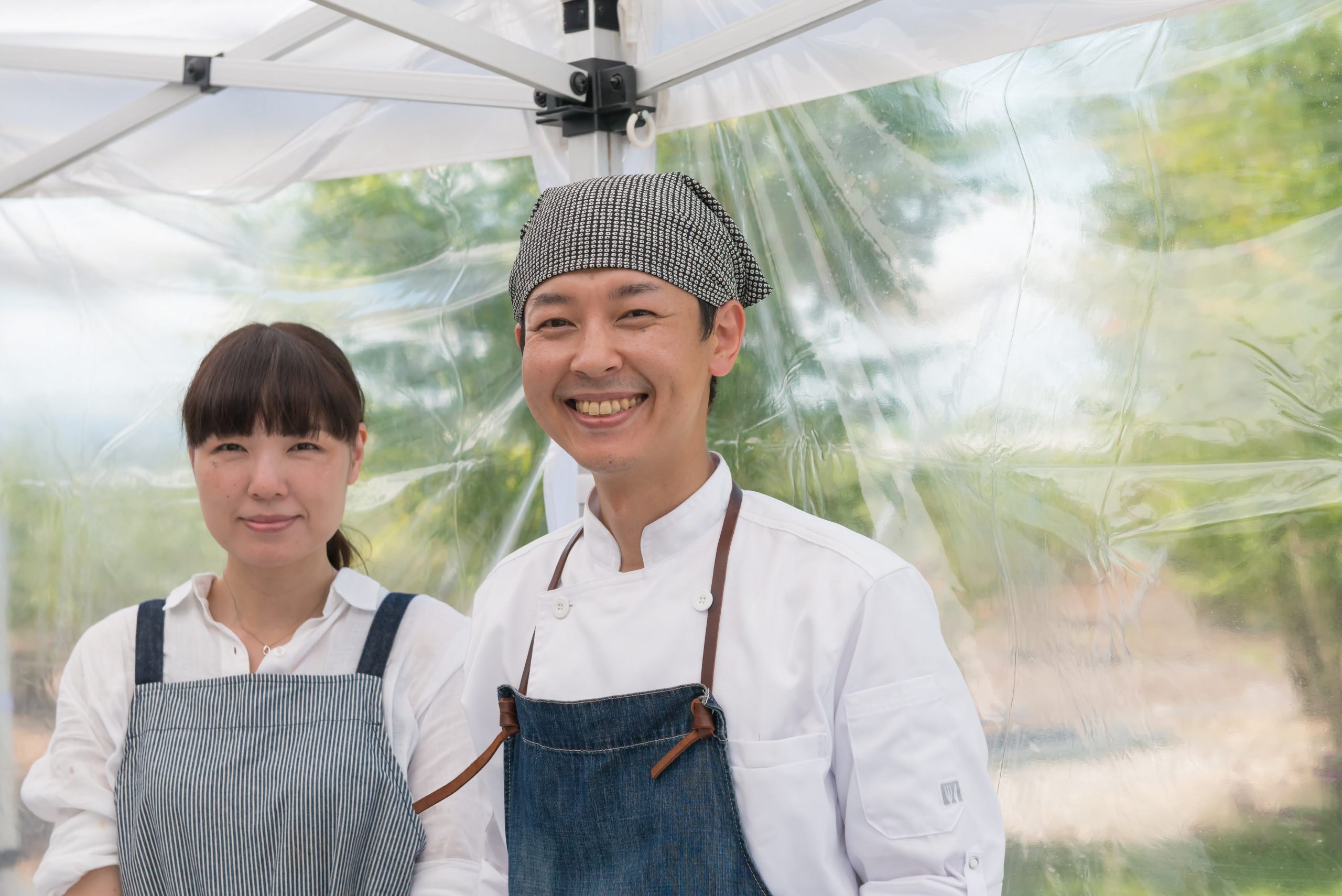 Not wanting to forget one's early years
Born in Aizu-Wakamatsu City, Chef Sato moved away from his hometown to go to college. However, he felt things weren't quite right, concluded that "if it's not for me, I should quit," and dropped out. He moved back to his hometown, and decided to pursue a career in cooking, something he had always loved. His parents recommended a French restaurant in Shimogo Town they had a connection with, called Chez Yamanobe. When he went to check out the restaurant for himself, he was moved by chef Yamanobe's cuisine. So much so, he spontaneously asked the chef, "Please let me work here!" which was rejected mercilessly. But he didn't give up, and one his fourth time requesting the chef to take him in as a trainee, the chef finally caved.
Yet, Chef Sato was only getting started on his culinary journey, didn't know how to properly hold a knife, had no knowledge, and was, in fact, an absolute novice. "It was very difficult, and the work was quite hard, but it is the experience of that time that keeps me going now," Chef Sato reflects. One of the dishes on Chef Sato's menu, Jagaimo-Tsutsumiyaki, is one he learned during these years of training. Chef Sato has the strong desire not to forget his early experiences.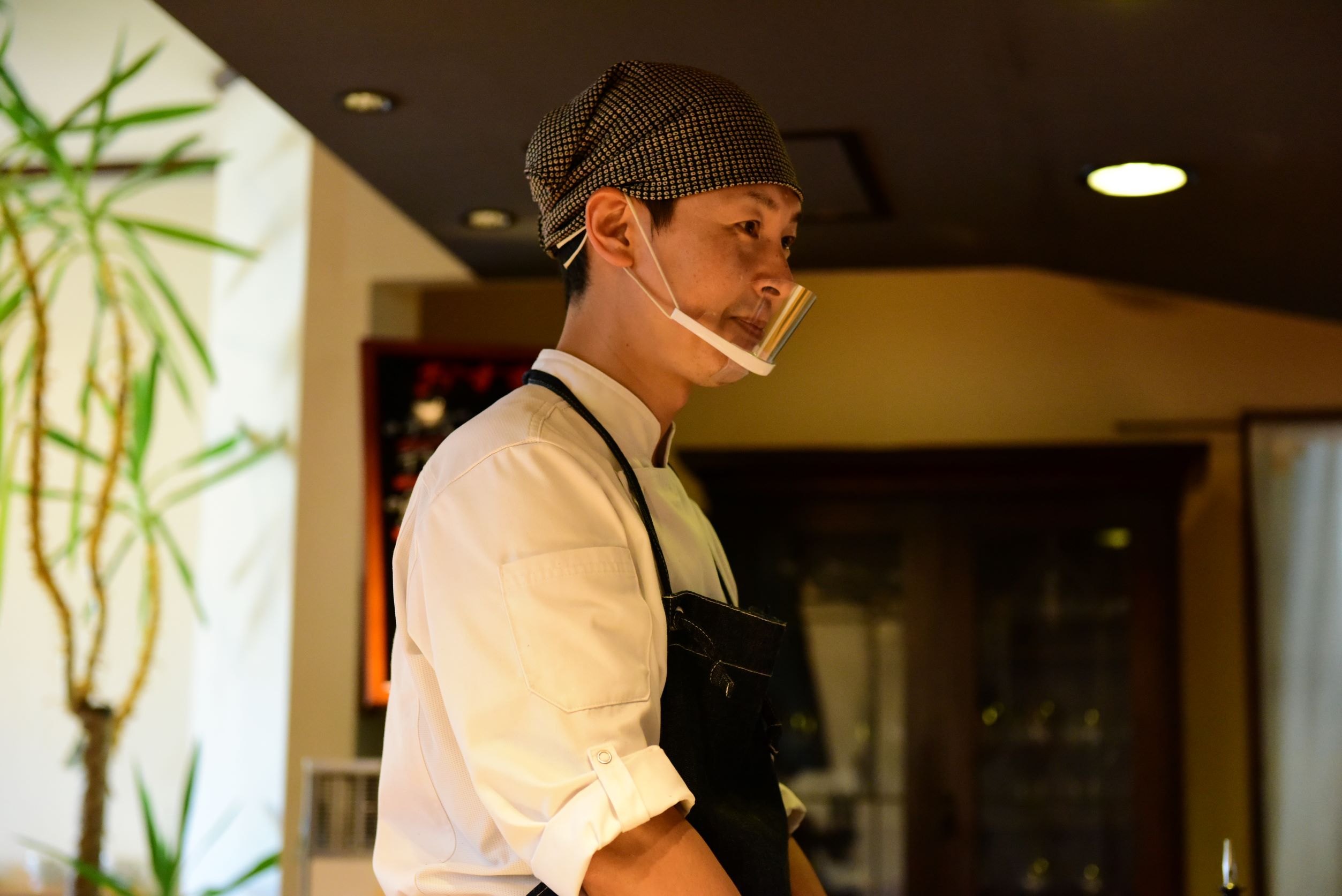 Opening up shop with a 're-discovering-Aizu concept'
In 2009, Aizu-ya officially opened. That time, there were not that many restaurants that specifically used local produce yet. Chef Sato is adamant about visiting farmers and talking with them first before using their products in his restaurant. "I want to use products of which I know the farmers' character, their land, and what vegetables are delicious. That's all," says Chef Sato softspokenly, conveying his sincere belief.
In his restaurant, Aizu-Jidori chicken is wildly popular, probably thanks to its sweet aroma when grilled. Chef Sato fulfils an important role, in conveying the taste of Aizu, and that of the local food producers. 4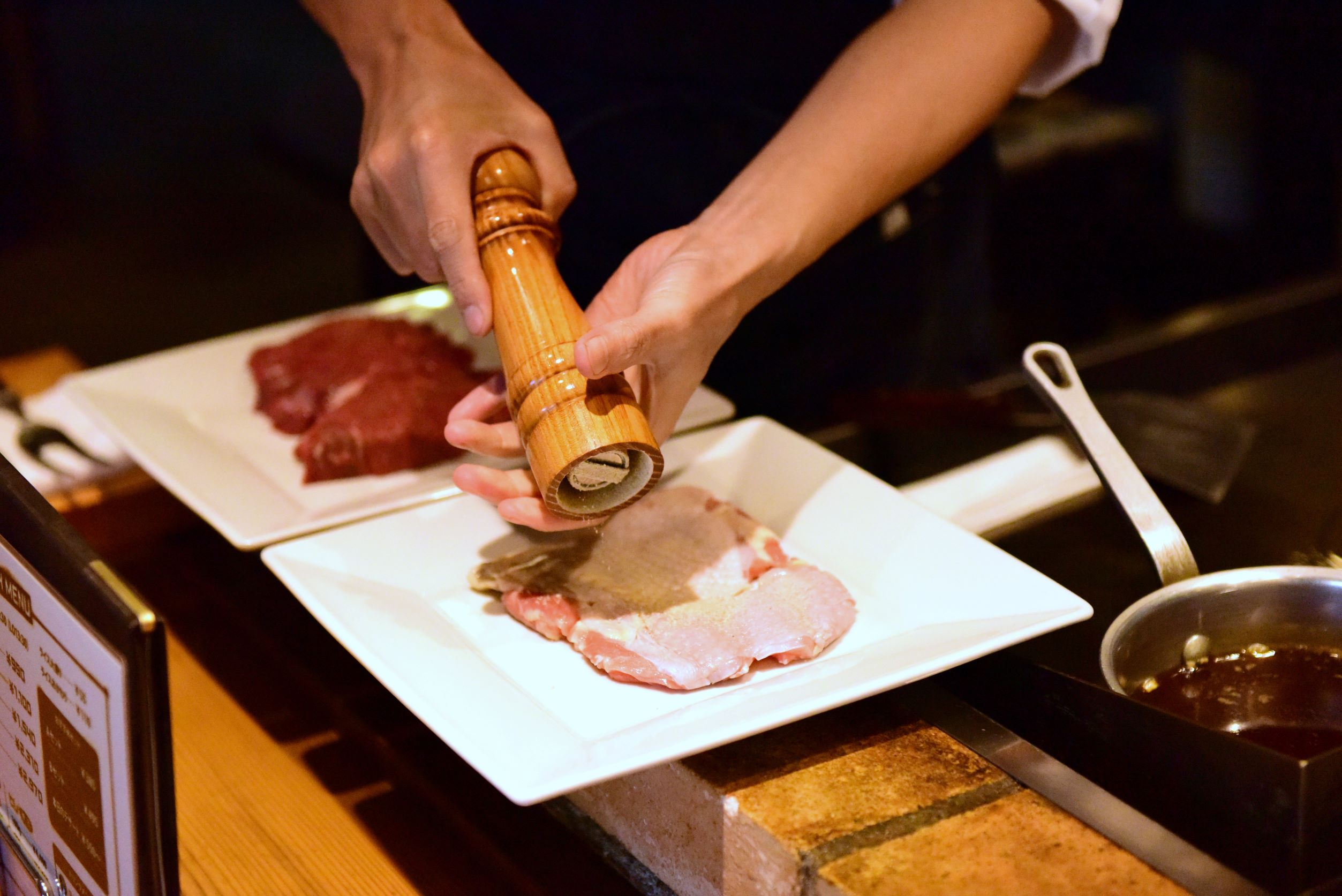 Chef Sato and Kodaira-san have been working together ever since the restaurant first opened. Kodaira-san was an acquitance of Chef Sato's father, and has become the chef's longest busines partner. The respect Chef Sato feels towards Kodaira-san, as someone who shares his desire to bring high-quality Aizu-Jidori to the forefront, and as a fellow Aizu-citizen, is evident. They share a strongh desire to give shape to the taste of the region.
When asked about Chef Sato, Kodaira-san replies, with a slight sense of bashfulness: "Every chef has their own preferences. Chef Sato explicitly chooses to use our meat, meaning he acknowledges its quality. As a producer, I am very happy that he shares our products with his customers," conveying his sense of trust in the chef. We can't wait for the participants of FoodCamp to share in the trust-based bond between these two!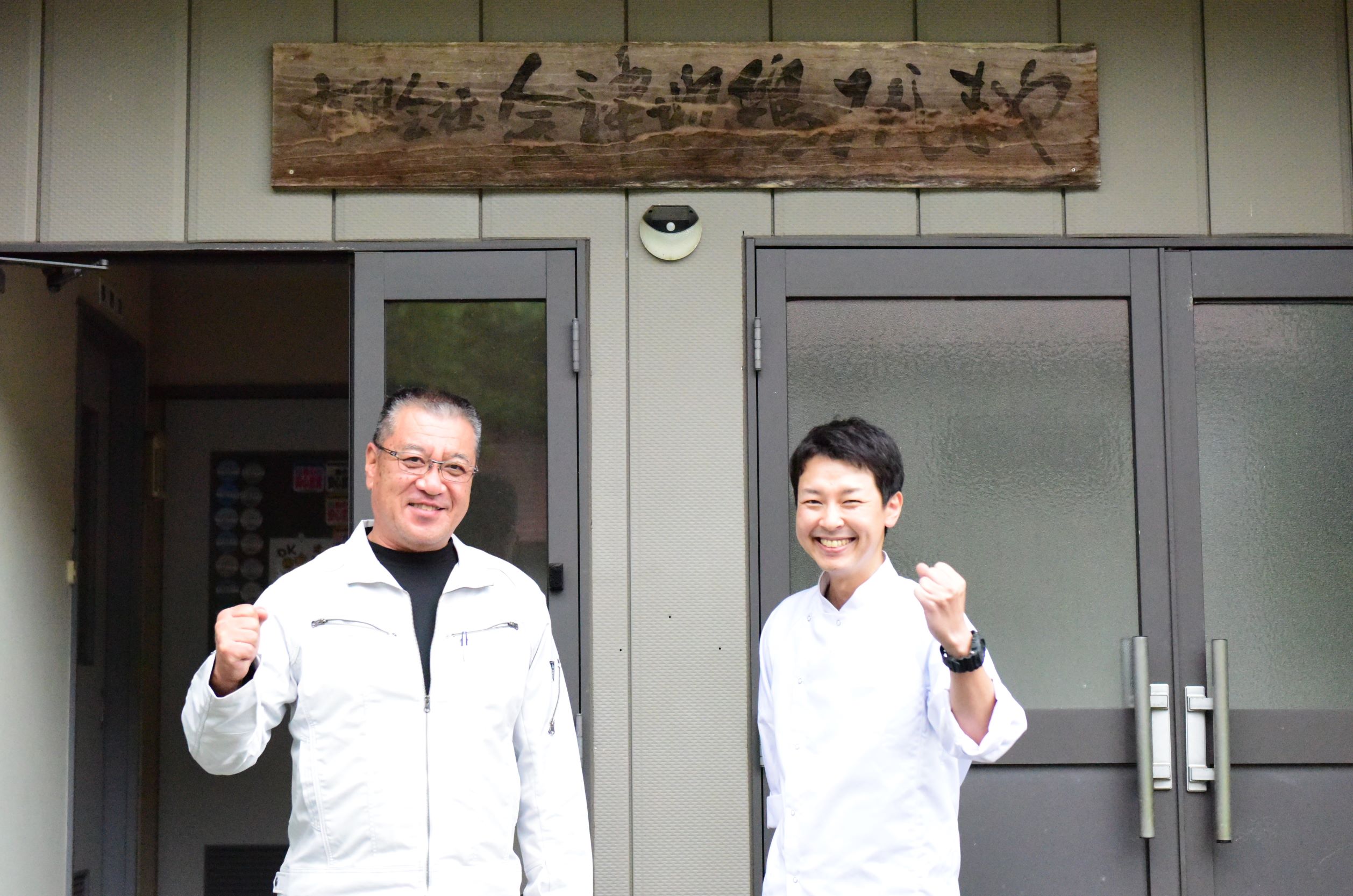 Tour Schedule
Pick-up / Meeting Place

8:30

Pick-up by taxi (Koriyama Kanko Kotsu Taxi) from your house or place of stay in Koriyama, or at Koriyama Station. We will inform you of your pick-up time one day before the tour (approx. between 8:20 and 8:50).
*For those scheduled for pick-up at Koriyama Station, please arrive at Koriyama Station by 8:20.

Let's go!

9:00

Departure for the tour site, from the Magonote Travel Asaka Office. The bus will make a quick stop at Aizu-Wakamatsu Station (approx. 10:15). Those opting to join the bus in Aizu-Wakamatsu, please do so at Aizu-Wakamatsu Station.
* Those coming to the Office directly, please arrive by 8:50 (limited parking space).

Arrival at the Kaneyama Red Pumpkin Patch

10:50

Pay a visit to a farm of the local specialty of Kaneyama Town in Oku-Aizu: Red Pumpkins! The lantern-like red pumpkins hanging off the vines is a sight to behold! Oshibe-san, producer and owner of the company Daishizen, will tell you everything about his products, its history and the production process. Finally, harvest your very own red pumpkins!

Mishima Town Local Crafts Museum

11:40

Learn about local Okuaizu 'Amikumi' basketry at the Mishima Town Local Crafts Museum. Many of the on-display craftworks (baskets, accessories, etc.) are available for purchase!

Long-awaited lunch at the Misaka Highlands

13:00

While on the bus to the Misaka Highlands, learn all about Aizu-Jidori chickens from Aizu-Jidori chicken producer Kodaira-san (Mishima-ya), including a quick look at the chicken farm from inside the bus. At the Misaka Highlands, a field of sunflowers will be ready to welcome you. The lunch will be provided by Chef Sato (Restaurant Aizu-ya), who has a strong connection with Kodaira-san. Enjoy Aizu's local produce to the fullest with a fabulous lunch course.

Departure & quick visit to the Mishima Roadside Station

15:30

After leaving the Misaka Highlands, make a brief stop at the Mishima Roadside Station 'Mishima-juku.' Fresh produce, processed goods and other souvenirs are available for purchase, as well as time for a bathroom break. Afterwards, the bus will head back to Koriyama.

Arrival at the Magonote Travel Asaka Office

17:30

After a quick stop at Aizu-Wakamatsu Station (around 4pm) , the bus will arrive at the Magonote Travel Asaka Office. You will be brought by taxi to your home or place of stay in Koriyama City, or to Koriyama Station.
*For those planning further travel by public transportation please prepare an itinerary from after 16:30 in case of departure from Aizu-Wakamatsu Station, or after 18:00 in case of Koriyama Station.
Tour details
Date(s)

August 20 (Sat.)

Fee

| | |
| --- | --- |
| Per person | ¥18,800 |
| *same rate applies for children/participants travelling to the venue directly with their own vehicle. | |

*same rate applies for children/participants travelling to the venue directly with their own vehicle.

Tour Operator

Magonote Travel's own staff will accompany the tour.

Travel Insurance

Travel insurance is required for all tours, in case of accidents and emergencies. The insurance fee is included in the price. For this reason, we need to ask for your date of birth.

Cancellation Fee

The following cancellation fees will be charged for tours with lodging and tickets: 20 to 8 days in advance: 20%, 7 to 2 days in advance: 30%, the day before the tour: 40%, on the scheduled date before the tour starts: 50%, no-show without notice: 100%.
For one-day tours, the following fees will be charged retroactively from the day before the start of the tour: 10 to 8 days in advance: 20%, 7 to 2 days in advance: 30%, 1 day in advance: 40%, on the scheduled date before the tour starts: 50%, no-show without notice: 100%.

In case of bad weather

The tour will not be cancelled in case of bad weather. However, in case the tour has to be cancelled due to a natural disaster, you will be informed one day before the tour. In this case, you will receive a full refund.