This tour has ended.
Food Camp in MIYAKOJI
This special tour is a collaboration between Food Camp® by Magonote Travel and Green Park Miyakoji.
Join us for an open-air dinner party with the Abukuma Mountains as your scenic backdrop.
Enjoy delicious local food and craft beer right at the brewery itself!
Make it a full day by signing up for one of several optional tours and experience the cuisine, nature and local culture of Fukushima.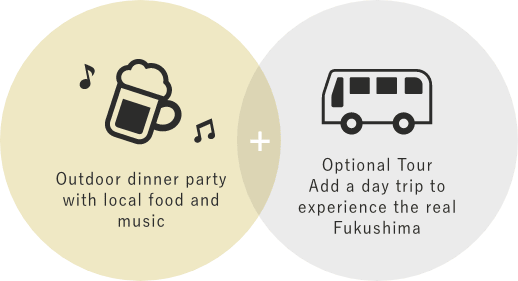 Outdoor Dinner Party
Enjoy Fukushima Cuisine with the "Chef of the Day"
Get ready for an outdoor multi-course buffet-style dinner experience centered around local Fukushima ingredients and specially prepared by a different chef each day. Head to the bar counter for drinks including locally brewed craft beer from Hop Japan, Fukushima sake, local whisky, wine, as well as cocktails.
Outdoor dinner party at craft beer brewery
Days held

7/16-7/18

Time

17:00-20:00
Campsite

Fukushina cuisine

Fukushina cuisine

Fukushima Bar

Fukushima Bar

Fireside Lounge

Fireside Lounge
Chef/Food Overview
7/16 (Fri.) Chef of the Day
[Asian-style] Seasonal vegetables with Yasuo Serizawa of Best Table

Born in Funehiki Town, Tamura, Fukushima. Head chef for veggie café/bar, BestTable. Known for ethnic cuisine that is centered around seasonal vegetables. Serizawa states, "I just want people to try everything and come away satisfied."
*Vegetarian/vegan options available upon request

7/17 (Sat.) Chef of the Day
[BBQ] Kawai Meat Shop top BBQ instructor
Tatsuya Kawai

Born in Tokiwa Town, Tamura City, Fukushima. Owner of Kawai Meat Shop with its 50+ year history, and chef. This meat specialist is also holder of a class 1 hunting license and a top-level meat meister certificate. He presents Fukushima ingredients in an authentic Mississippi-style BBQ.

7/18 (Sun.) Chef of the Day
[Washoku] Wagyu beef and seasonal veggies of A-UN restaurant
Ryota Hayashi

Born Koriyama City, Fukushima. With traditional Japanese washoku cuisine as his base, he purchases Oku-Aizu beef directly from producers he knows and trusts. Hayashi has a reputation for cuisine that respects the life of the cow by using everything from the meat to the innards. Previously he held a food camp in the middle of a hop farm and earned much praise for how well the cuisine matched Hop Japan's beer.

[BAR] THE BAR WATANABE
Hitomi Kawasaki

Born in Iwaki City, Fukushima. Second-generation owner of the long-established Bar Watanabe. Many people from Fukushima Prefecture and beyond come for its feel, the unobtrusive service which lets customers enjoy it in their own way, and the smell and atmosphere which greet you as soon as you walk through the gate.

[BAR] THE BAR WATANABE
Takahi Ajito

Chief Bartender. Born Sukagawa City, Fukushima. The taste of his cocktails combines sharpness and warmth and has made fans of men and women, young and old.

[FOOD TRUCK] Kokage Kitchen

Kokage Kitchen food truck will also offer coffee and waffles made from soba grown in neighboring Kawauchi Village.
Live Music
A musical performance sets the party atmosphere. Performance of standard jazz by duo Shinpei Sato (piano and vocals) and Mika Kusano (violin).
Piano & Vocals
Shinpei Sato

From Koriyama City, Fukushima. In 1990 with vocalist Eichi Ishii formed "Ihatov" and released a first CD single and album. Works as a multi-genre keyboardist and music teacher.

Violin
Mika Kusano

From Koriyama City, Fukushima. In addition to solo performances, she has had a wide range of experiences including appearances and supporting performances at Tokyo Midtown Classics and La Folle Journée Tokyo Playfest and other music festivals.
7/18 (Sunday) Simultaneous Event: "Tsunagari Market"
Delicious food and fun activities, craft beer and food trucks make for an event that is fun for the whole family.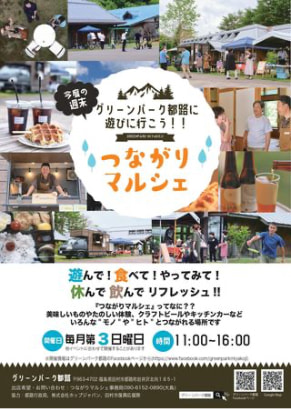 Venue: Green Park Miyakoji
Green Park Miyakoji is located in the center of the verdant Abukuma Mountains. Its expansive grounds include the "Miyakoji Hop Garden Brewery," with delicious craft beer, an auto campground managed by Tamura City, and many spots where you can enjoy the outdoors.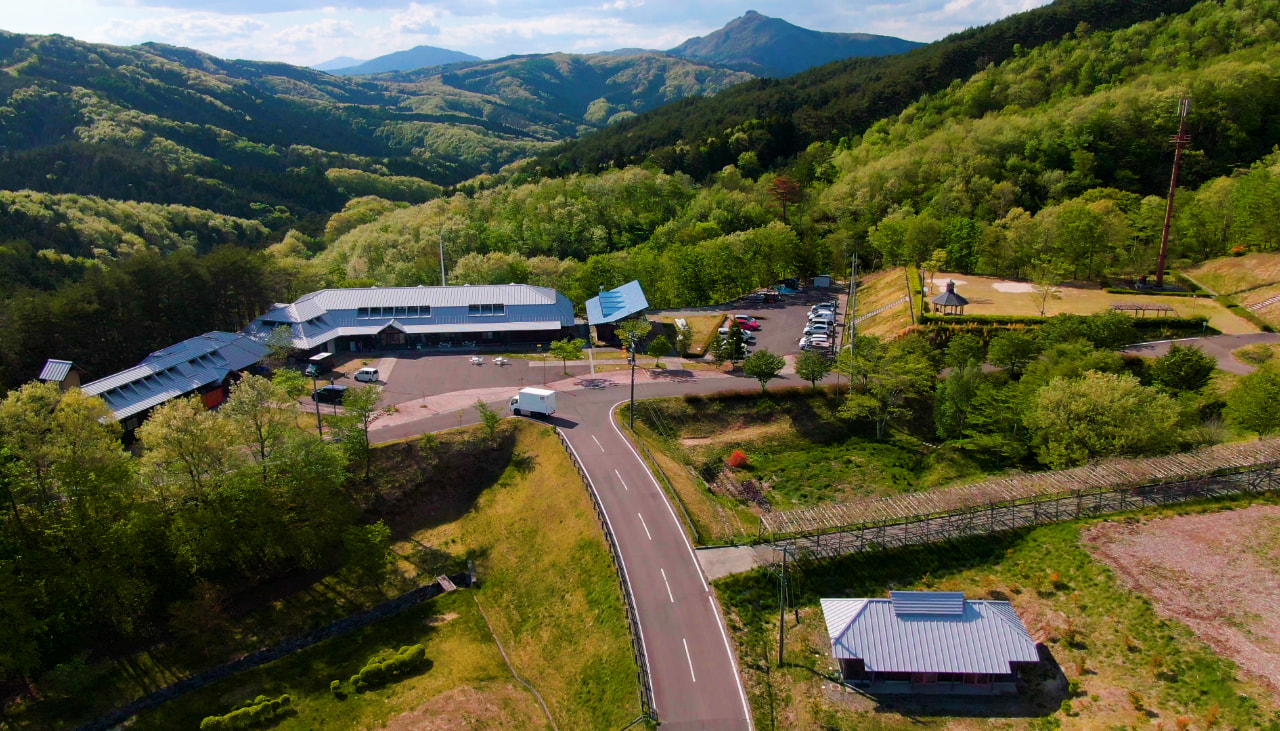 AUTO CAMPGROUND

10 sites, all with electric outlets. Coin-operated showers. Washers and dryers. Male and female flush toilets. Large and easy-to-use central cooking site.
Video

DISC GOLF

There is a disc golf course within the park grounds. Tournaments are held here. Discs and targets are available for rent so anyone can easily enjoy this sport.

YASURAGI PARK

See all of Green Park Miyakoji from this elevated park. Within the lawn area is a pavilion with table and chairs. Suitable for small children. Perfect for picnics.

SPORTS GROUND

Spacious enough for both baseball and soccer. Each summer the grounds are home to the fantastical "Miyakoji Fire Festival," a night-time illumination with 10,000 bamboo candles.

FARM

Hops for beer, barley, wheat, rye and oats are cultivated here. Hops picking experience in summer. Spring has golden fields of barley, autumn has pinkish red soba in full bloom.
Video

VIEWING PLATFORM

From the viewing platform at the elevated rear part of Yasuragi Park you can see a panoramic view of the majestic mountains of Abukuma Kogen. The sharp peaks of Kamakuradake and the wind turbines of Hiyama Kogen are highlights.

WATER AREA

Just before the sports ground is a small pond with stone wall and waterway. Enjoy this area in comfort thanks to shade trees and a pavilion. Perfect for rolling out a sheet and relaxing.

FLOWER GARDEN

Within the park are many seasonal flowers including nearly 100 meters of wisteria trellis, with changing colors to enjoy. The upland meadow is dotted with natsuhaze (Japanese blueberry) bushes. This open area with a view is pleasant for walks.

DRONE PORT

Tamura City utilizes drone technology in partnership with Keio University, and has a droneport located in the park. This open site is used for practice and drone experience events.
Miyakoji Hop Garden Brewery
Brewery Tour + Beer Tasting
When you arrive at Green Park Miyakoji first we'll guide you through the brewery. Then have a drink using an Obori Soma pottery beer tumbler! (Take the tumbler home as an included gift.) Enjoy your beer with a view of the row of large tanks in the brewing facility and appreciate the difference freshly brewed craft beer makes!
Makoto Homma, the founder and president of Hop Japan
While in America, Makoto Homma, the founder and President of Hop Japan, became deeply impressed by the taste of craft beer and become immersed in its culture.
"Truthfully, this was something I thought about doing after retirement, but the shock of the disaster made me question my values. I thought, 'I've got to pursue my dreams when I can!'"
Two years after the disaster, he left the company where he worked and then founded Hop Japan.
The brewery is located in Miyakoji Town, part of Tamura City which used to produce leaf tobacco. However, in recent years, imported tobacco took over and the number of abandoned farms increased. Hop Japan has contracted with local farmers to produce hops and established the Hop Garden Brewery within Green Park Miyakoji. At Hop Japan, we have a "Session IPA" with reduced bitterness as Japanese people prefer, and produce craft beers in harmony with the delicate flavors of Japanese cuisine and the local climate.
At Hop Japan, along with enhancing lifestyles through craft beer, we have a mission to help revitalize the region. The pure water from the Abukuma Mountains, locally-grown hops, and diligent approach to brewing enabled us to give birth to a made-in-Tamura authentic craft beer last year.
Overnight Stays
The glamping experience comes with spacious and open-feeling SnowPeak brand tents. Bedding and tableware are also specially selected, including an Aizu lacquer table within the tent. Enjoy this collaboration of traditional Fukushima craftsmanship and natural environment.
For those less interested in staying in a tent, there are also rooms available at the lodge within the brewery complex. Whichever stay you choose, you can soak in the "hop bath" (with real hop flowers) in the lodge.
Special "glamping" camping stay (within the event grounds) *Maximum 4 groups
Lodge stay (within the brewery complex) *Maximum 4 groups
Includes

sleeping bag, hop bath, charging outlet, breakfast

Does not include

amenities such as soap, shampoo, towels, hairdryer, etc.

Checkout time

10:00AM (Bus to Koriyama departs at 10:30AM)
Access
From the Ban-etsu Expressway, take the Funehiki-Miharu Interchange (IC) to National Route 288 east towards Miyakoji. Follow signs to Green Park Miyakoji (グリーンパーク都路)25km from the Funehiki-Miharu IC.
Hop Garden Auto Campground (at Green Park Miyakoji)
185-1 Kitamuki, Miyakoji Town Iwaisawa, Tamura City, Fukushima Prefecture, 963-4702
TEL

0247-61-4114
Side Tours
Tours to see Fukushima as it is today
Before heading to the dinner party, take part in an optional side tour to get to know the surrounding area. See the lasting impacts of the 2011 disasters with a trip to the coast or head to a farm to pick vegetables and then see a sake brewery, or visit an orchard for orchard followed by tea ceremony at a traditional house.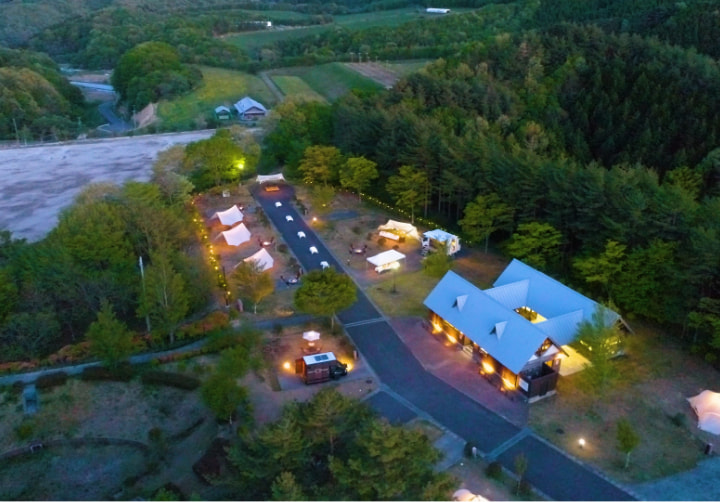 Disaster Area Course (depart from Iwaki Station)
It's been 10 years since the Great East Japan Earthquake and already it seems like the memories and lessons learned are starting to fade. On the other hand, misconceptions and prejudices about the area affected by the nuclear accident are stubbornly persistent.
On March 25th, the Tokyo Olympic torch relay started at the J-Village in Naraha located in the coastal disaster area. It then traveled through the towns of Hirono, Kawauchi, Iwaki, Tomioka, Katsurao, Futaba, Okuma, and Namie before ending in Minami-Soma City.
You may have seen images showing the state of the recovery, but actually visiting the coast and seeing the "Real Fukushima" with your own eyes is an opportunity to replace your preconceptions with direct experience about the disaster and state of rebuilding of the local society. Telling people what you see here is also a way you can support Fukushima. On this tour, you will be led by knowledgeable guides who have been here countless times along with local kataribe storytellers who will share their own experiences.
Held daily during the event period of 7/16-7/18
Futaba Station area

Nakano Ward

Ukedo Elementary School

Arakwawa Gardening
Overview of the Great East Japan Earthquake
On March 11, 2011, Fukushima's coastal area was devastated by an unprecedented combination of disasters with a magnitude 9.0 earthquake, tsunami and nuclear disaster at the Fukushima Daiichi Nuclear Power Plant. Many residents lost their lives in the earthquake and tsunami. At its peak, 160,000 people were ordered to evacuate with approximately 40,000 people still unable to return home even now.
Progress of Recovery and Challenges
Decontamination and reconstruction activities continue while the number of residents returning gradually increases. As of May 2021, with the exception of one area, the evacuation orders have been lifted and it is also possible to visit.
However, the problems of decommissioning the reactors and processing contaminated waste remain, and it is said that a full recovery will take decades. Many efforts are needed to restore the broken local communities.
Tour Route
In this tour we will visit two coastal towns, Futaba and Namie.
Futaba Town
Due to the nuclear accident the entire town was designated as a "restricted area" for 9 years. However, in March 2020, evacuation orders were lifted for an area surrounding Futaba Station and a part of the Nakano area by the coast (an area totaling 5% of the town's land area). Still, at present, the number of Futaba residents is 0. Recovery and reconstruction efforts have been accelerated so that former residents will be able to return from the spring of 2022.
We will conduct a walking tour of the area around Futaba Station where entry restrictions have been relaxed and to the Nakano area with its memorial museum and New Industries Development Zone.
Namie Town
In Namie Town the evacuation order was lifted in some areas (about 20% of the town area) in March 2017, but as of the end of March 2021, the number of residents was less than 1,600 (including new residents; before the earthquake the population was about 21,000).
Here we will go to Ukedo district where almost the entire area was swept away by the tsunami. We will visit a flower farmer who returned following the evacuation and has been working to raise the spirits of the town by growing flowers.
Meeting place

10:30

Iwaki Station (JR Joban Line), outside the ticket gates. Staff with a sign stating "Food Camp" will be waiting for you. For those coming directly from Tokyo, take the 8AM special rapid train "Hitachi."

Departure

10:40

Depart from Iwaki Station by chartered bus

Visit Futaba Town

~11:40

Start Futaba walking tour

Visit "limited entry district" near the train station
See Nakano Ward archive facility and new industry development area

Lunch

13:00

Lunch/ optional visit to the Great East Japan Earthquake and Nuclear Disaster Memorial Museum (free time)

Visit Namie Town

~14:30

Arrive at Namie

Visit tsunami-affected Ukedo Ward
See Arakwawa Gardening, which reopened after the evacuation order was lifted.
Visit OCAFE, which opened with the goal of giving the returning residents "a place to come home to and a place to smile."

Arrive Food Camp venue

~17:00

Arrive Green Park Miyakoji

(Day-trip only) Depart for station

20:00

Depart from Green Park Miyakoji

(Day-trip only) Arrive at station

~21:10

Arrive Koriyama Station/end of tour
(arrange transportation departing at 21:40 or later)

(Overnight stay) Depart the next day

10:30

Depart from Green Park Miyakoji

(Overnight stay) Arrive at station

~12:00

Arrive Koriyama Station/ end of tour
Additional Information
Dates / Participation Fees

The 7/16 (Fri.) tour will have video/photography by members of the media. If you choose to participate on this date, please note that you may be included in such pictures or recordings.
Members of the media, please contact us directly .

Food Camp dinner party only (depart from Koriyama Station)

Dates:

7/16~18

Participation Fees

Event-only 5000 yen; with accommodation 8000 yen
*Fees include round-trip bus. Possible to meet at the event location, but cost is the same.

Tour Shuttle Bus Schedule

15:00 
Leave Koriyama Station
→
16:30 
Arrive Green Park Miyakoji
20:00 
Leave Green Park Miyakoji
→
21:10 
Arrive Koriyama Station(for day-trip customers)
10:30 
Leave Green Park Miyakoji
→
12:00 
Arrive Koriyama Station (for those staying overnight)

Outdoor Dinner Party + Disaster Area Course (depart from Iwaki Station)

Dates

7/16-18

Participation Fees

Tour-only 7000 yen; with accommodation 10000 yen

Outdoor Dinner Party + Vegetable Picking Farm Experience and Sake Brewery Course (depart from Koriyama Station)

Date

7/16

Participation Fees

Tour-only 7000 yen; with accommodation 10000 yen

Outdoor Dinner Party + Orchard and Tea Ceremony at Traditional House Course (depart from Fukushima Station)

Dates

7/17 & 7/18

Participation Fees

Tour-only 7000 yen; with accommodation 10000 yen

Monitor tour participants wanted!

Foreign participants wanted for monitor tour.
Take part in the tour, fill out a short web survey afterwards, and receive a 2000 yen reward. Up to 30 participants total.
(Dinner party-only not eligible)

Included in tour cost

Transportation (bus) after the tour starts and until the tour finishes at Koriyama Station
Open air restaurant dinner party food and drink
If staying overnight: lodging, breakfast, return bus fare (to Koriyama Station)

Not included

Participation requirements → Transportation costs from your home to the tour start/end location
Lunch
Souvenirs/ shopping
(Disaster Area Course only) Entrance fee for the Great East Japan Earthquake and Nuclear Disaster Memorial Museum (optional, 600 yen)

What to wear

Much of the tour will be outdoors so please bring the following

Casual clothes
Comfortable and okay to get dirty shoes (sneakers, etc.)

*We will walk on some unpaved roads

Hat
Long-sleeved outerwear

*for insects and cool temperatures, the dinner location may be below 20℃ (68F)

What to bring

Drinks (please hydrate while we are in transit)

Bug repellant (as necessary)

Mask (required at all times other than eating)

Participation requirements

This tour intended for participants elementary school age and up. Anyone able to perform the tour activities without physical assistance or medical restrictions can participate. Participation fees for children are the same as adults.

Operating Company

Koriyama Kanko Kotsu

Staff

Tours accompanied by English interpreter/guides.

How to pay

Please see the steps here

Trip Insurance

We will enroll all participants in trip insurance. The cost for insurance is included in the tour price. (For this reason, we ask for your birthdate.)

Cancellation Fees

For cancellations of overnight stay tours, from 20 days to 8 days before the tour date a fee of 20% will be assessed; from 7 to 2 days before the start 30%; the day before 40%; the day of the trip 50%; and no-shows without contact before the start of the tour will be charged a fee of 100%.
For cancellations of day trip tours, from 10 days to 8 days before the tour date a fee of 20% will be assessed; from 7 to 2 days before the start 30%; the day before 40%; the day of the trip 50%; and no-shows without contact before the start of the tour will be charged a fee of 100%.

Inclement Weather

In case of rain the tour will still be held with dinner moved from outdoors to indoors. In the event of cancellation due to a natural disaster we will notify you the day before by email. In that case we will give a full refund.

Minimum Tour Size

5 people
If we have to cancel due to reservations below our minimum size, we will notify you at least 4 days in advance.

Tour Terms & Conditions

Caution

If not feeling well, please do not take part in the tour
Temperature checks prior to bus boarding. In the case of a fever greater than 37.5°C, we may refuse participation.
(In the above cases, we will waive the cancellation fees.)
Estimate of radiation exposure for tour participants is .001 sieverts. For reference this is 1/100th the radiation dosage experienced on a Tokyo-New York flight. There are no effects on the body so you can participate without worry.
How to apply
Applications for the tour

Please submit information (including the tour you wish to join, tour date, your full name, address, date of birth, participant phone number), and apply via fax or online. Payment may be made by credit card from our website or by bank transfer.

Apply online

Please click on the "Tour Sign up" button .

Apply via fax

FAX

024-945-1324

Request for Payment

We will email you with instructions for payment.

Payment confirmation

Your booking will be confirmed when payment for the tour has been received. Please pay within 15 days of application.

Final confirmation

The tour conductor will email you on the day prior to the tour and provide information regarding taxi pick-up times.

Tour day

Please arrive at the meeting point where a shuttle bus will bring you to the destination. In addition, we will provide a detailed tour schedule in English to all tour participants upon arrival. A return shuttle bus will bring you back to Koriyama Station.
About Food Camp®
There are places of wonder in Fukushima which few people know about. Places with fascinating people and delicious food. We searched long and hard to find special locations, far from tourist areas, to open an outdoor restaurant for one day only. While standing in a field full of life, see and touch the vegetables harvested there. Then gather around a table with the farmers for a memorable experience. Let's head out for a trip like none you've experienced before!
Immersion in the local environment, food and people is what "Food Camp®" is all about.
*Food Camp is a registered trademark of Magonote Travel.

Our Hope
Fukushima is an agricultural giant. Delicious rice, delicious vegetables, delicious fruits are found in abundance. Besides produce, Fukushima is rich with natural beauty. Bordered by the Pacific Ocean to the east and home to active volcanoes of Mt. Bandai and the Ou Mountains, as well as Lake Inawashiro (Japan's 4th largest lake) which was formed by an eruption of Mt. Bandai, Fukushima has mountains, lakes, waterfalls, the ocean, and starry skies. On top of that are the wonderful people who live here. Each feature is like a treasure making this an unforgettable region.
As you likely know, this region experienced major damage in the 2011 Great East Japan Earthquake. On top of the earthquake and tsunami, many people lost their families and hometowns due to the nuclear disaster. Even areas that avoided direct damage suffered damage to their reputations and endured discrimination, leaving scars which remain to this day. There are some who say the "recovery" has yet to happen. Furthermore, we see recovery not as returning to the way things were before, but building a new society. Of course, there is a need to continue to conduct surveys, verify safety, and find ways to continue living in spite of the present situation.
The people of Fukushima press on without giving up from hardship, giving in to despair, or running away. As nature in all its vitality regenerates, it gives us strength. We hope to offer you an opportunity to directly know and feel the real Fukushima through the Food Camp program.
Concept
Green Park Miyakoji is located in the eastern part of Fukushima Prefecture, near the center of the Abukuma Highlands. It has outdoor recreational facilities, as well as a brewery which opened after the disaster. Miyakoji Village is in a largely untouched mountainous area where a traditional rural lifestyle has not been overly changed by development. This area originally had farming, forestry and raising livestock as the major industries, but a lack of successors has led to an increase in abandoned farmland. The new brewery contracts with local farmers and helps to address this problem.
Miyakoji Town is roughly 30 kilometers (18.6 miles) from the Fukushima Daiichi Nuclear Power Plant. At the time of the accident, some residents were ordered to evacuate. However, with the exception of one part of town, it became clear that radiation levels were low, and new industries are now starting here. We selected this location as an ideal place to understand the real Fukushima today.
During event periods, Green Park Miyakoji reaches its full potential, delivering a fun, delicious and relaxing experience. Hear the chirping of the birds as the summer winds brush against your cheeks. The twinkling of the stars will captivate your heart as you are moved by delicious Fukushima cuisine. This collaboration between Magonote Travel's Food Camp® and Green Park Miyakoji offers a fulfilling day of immersion in the cuisine, people, and nature of Fukushima.