Who are we?
Magonote Travel provides order-made tours, thanks to its deep roots in the local community and a proven understanding of everything Fukushima has to offer.
As part of the Yamaguchi Taxi Group with its wide range of experience, we provide one-stop service, from transportation by taxi or tour bus, to access to characteristic local cuisines and restaurants, as well as hotels and lodging.
Contact us for:

Joining an edition of FoodCamp(for individual travelers, or small groups)
Requesting an order-made edition of FoodCamp (larger groups)
Facilitating bus tours in Fukushima Prefecture (tour guiding services in English available!)

Company Outline:
Magonote Travel originated from the Yamaguchi Taxi Group in Koriyama City (Fukushima Prefecture). Starting with regular taxi services, the company expanded into other territories, such as bus travel, goods transportation, and welfare transportation services. Wanting to provide our elderly customers with not only transportation between their home and care facilities but also with carefree, convenient bus tours in order to enrich their daily lives, a small-scale travel company was established in 2008: Magonote Travel. With the purchase of a food truck in 2015, as well as taking over the management of 'VegeCafeBar Best Table' in 2016, Magonote Travel entered the food business, culminating in our flagship project: FoodCamp.
Details:

Company Name: Yamaguchi Taxi Group / Koriyama Kanko Kotsu KK
CEO: Shonoshin Yamaguchi
No. of employees: +/- 120
Address: 1-2-7 Nagakubo, Asaka-machi, Koriyama City, Fukushima Prefecture (MAP)
TEL:  +81 (0)24-945-1313
Areas of business:

■ Common Taxicab Operators Standard Transportation Business
■ Passenger Vehicle Transportation Business
■ Welfare Services
■ Food Business
Koriyama City, Fukushima; your portal to the Tohoku Region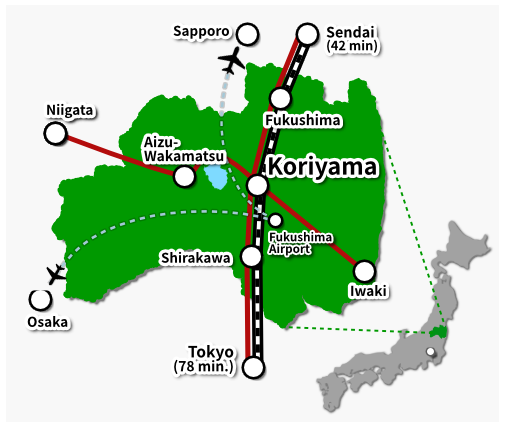 We are located in Koriyama City, the central hub of Fukushima Prefecture and doorway into the Tohoku Area. Koriyama is accessible by bullet train from Tokyo in 78 minutes, and from Sendai in only 42 minutes. With the intersecting Tohoku―and Ban-etsu Expressways, as well as being a mere 30 minutes away from Fukushima Airport, Koriyama is the perfect place to start your visit to Fukushima and beyond.
On March 11th 2011, the east coast of Japan was struck by a magnitude 9 earthquake and tsunami, triggering a nuclear accident at the Fukushima Dai-ichi Power Station on the coast of Fukushima Prefecture. Although the decommissioning of the power station is still ongoing and some areas remain closed off to visitors, amazing progress has been made in the area's revitalization. Slowly but steadily people are returning to evacuated areas, and Fukushima-produce is gradually getting recognized for what it is: safe and excellent. Example: sake from Fukushima-based breweries are on a 9-year winning streak in the Japan Sake Awards.

Through extensive investments in renewable energy and new technologies, including robotics and the use of hydrogen in the energy transition, great innovations are emerging from Fukushima. Magonote Travel has an extensive network of people and organizations in the areas affected by the 3.11 disaster, from citizens and local governments aiming to share their experience with the world, to innovative tech projects, and to local players in the fields of agriculture and fishery. Experience Fukushima's amazing resilience by paying a visit to the re-opened areas and hearing the latest developments from the people who call this place home.
Services
An overview of past order-made tours can be found HERE (Japanese).
What is FoodCamp?
Farm to Table, Table to Farm. Armed with our very own kitchen car, FoodCamp can turn any location into a restaurant.  Our guests visit farms, factories or breweries, and learn about the products before enjoying a fabulous meal right there, on-site. Outstanding chefs from restaurants throughout Fukushima serve original menus using these local ingredients, making for a luxurious, one-day-only outdoor restaurant. From farm land to parks, from nature to your company's premises or even warehouse, we can provide fine dining at any outdoor location.

FoodCamp provides farmers, chefs and guests with the opportunity to create new connections and experiences, contributing to Fukushima's regional sustainability. These efforts were recognized by the Japanese Ministry of the Environment, which chose FoodCamp out of 243 applicants for the 7th annual Good Life Award in 2019.

Besides our regularly scheduled editions, we organize taylor-made FoodCamps for groups, providing an outdoor dining experience with a menu linked to the venue or to your preference. These tours can be conducted entirely in English, or in Japanese with English-language support.
Hydrogen Fuel Cell Food Truck: FoodCamper
In March 2023, Magonote Travel took a bit leap towards the future. Together with Toyota, we introduced a national premiere: a hydrogen fuel cell food truck, or as we call it, the FoodCamper! Supported by Fukushima Prefecture and NEDO (New Energy and Industrial Technology Development Organization), the aim is serve as a model feasability study for the use of hydrogen in Fukushima. The food truck (a converted Toyota HiAce) is equipped with professional restaurant-grade equipment such as IH stoves and a steam convection oven. Running solely on hydrogen for both driving and operating the kitchen, it is extremely quiet and only exhausts water, making it the perfect choice for dining experiences in pristine, natural environments. Interested in the FoodCamper? Feel free to contact us.
Contact

Interested in a taylor-made tour, joining an edition of FoodCamp, or just want to know more about our activities?
Feel free to contact us using the CONTACT FORM.

Contact: Joost Kralt (Japanese/English/Dutch)