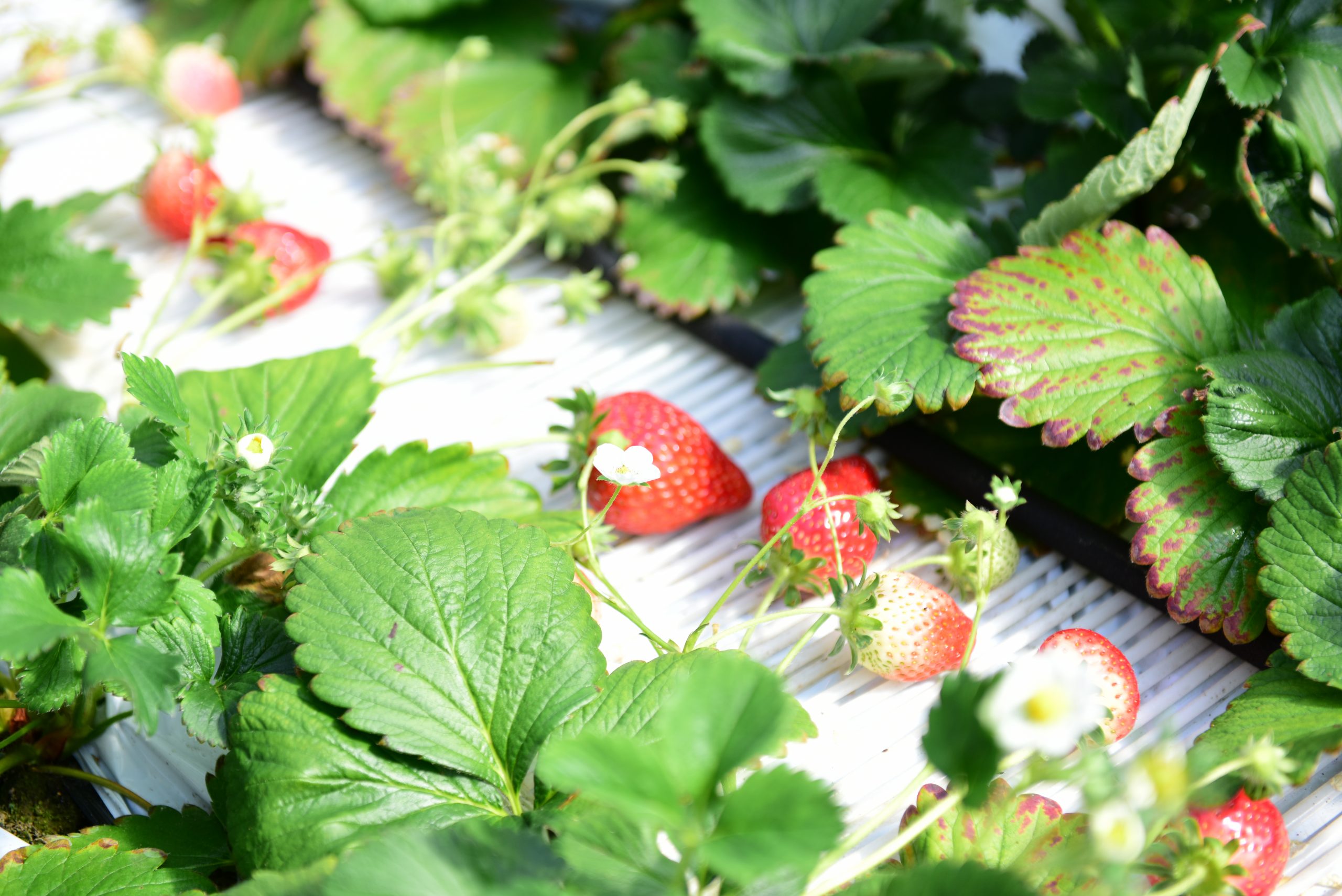 Fully ripe strawberries and Oku-Aizu Beef lunch course on a sweet-scented strawberry farm
A collaboration between Chef Hayashi (Wagyu & Seasonal Vegatables A-UN) and the fully-ripe strawberries of Ozawa Farm (Sukagawa City), which have gotten so popular they are increasingly hard to get your hands on. Drawn by his use of Oku-Aizu Beef and the careful presentation which has garnered a lot of attention, working together with Chef Hayashi was a special request from the wife of farmer Ozawa. The first FoodCamp of 2022 will offer a chance to fully appreciate the spring season, among the sweet-scented strawberry fields.
◎ Ozawa Farm
69 Maedagawahiro-machi, Sukagawa City, Fukushima Pref.
◎
Wagyu & Seasonal Vegetables A-UN

1-2-9 Omachi, Koriyama City, Fukushima Pref.

TEL : 024-954-7880
Report
Did you know strawberries are 'all-rounders'?
Most people will only think of strawberries as a dessert. But at Ozawa Farm, we learned that these popular, sweet tasting and-looking berries are actually 'all-rounders'.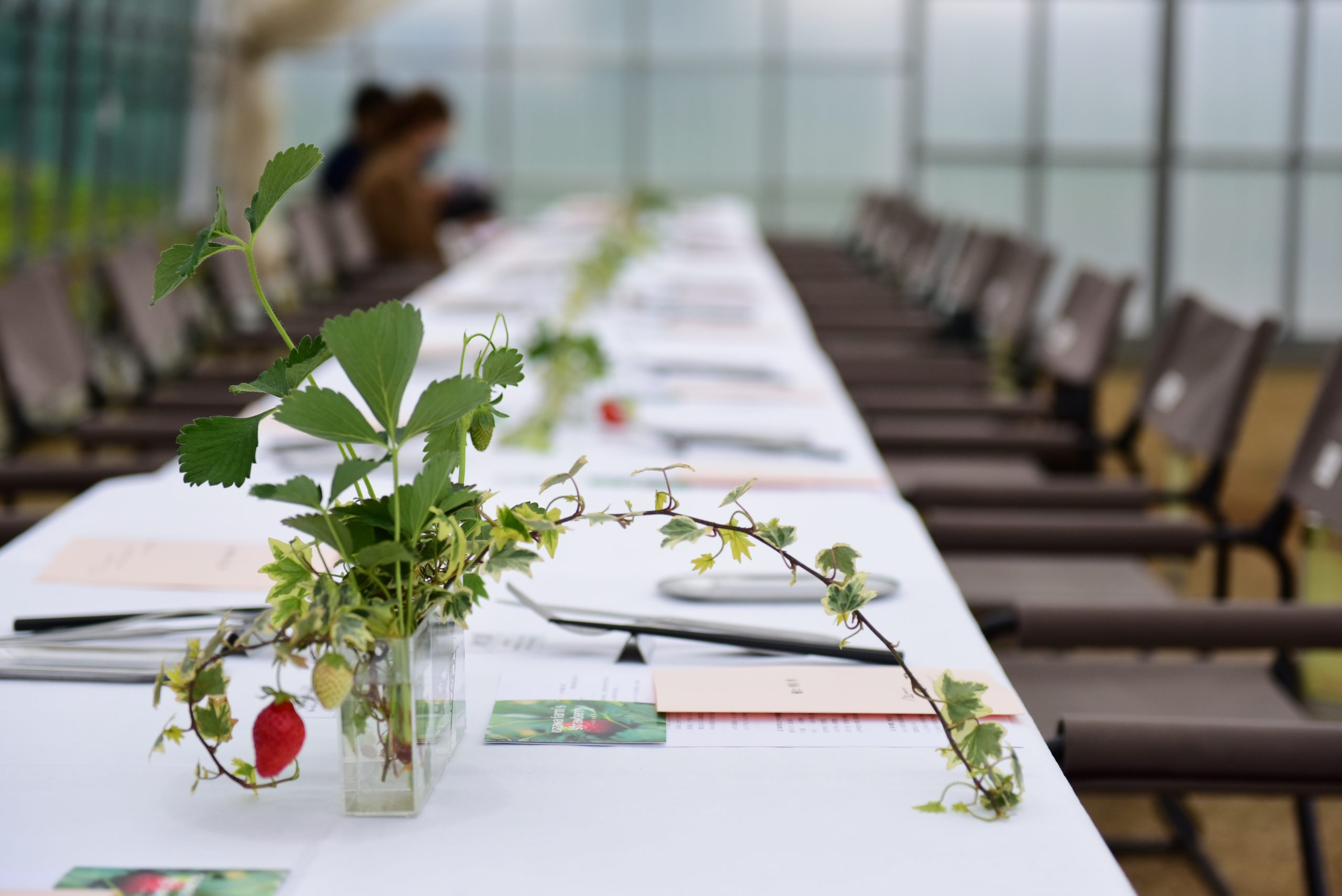 Tables were decorated with strawberry branches and ivy, both grown at Ozawa Farm
The first FoodCamp of 2022 was held at the ever-popular Ozawa Farm. The strawberries produced here are known to instantly raise the bar for strawberries as a whole. The fact that the tour was fully booked within two days, and ended with a waitinglist of 15 people hoping for a spot, is evidence of the popularity of Ozawa Farm's strawberries, especially in the rare combination with the Oku-Aizu beef of Chef Hayashi (Wagyu & Seasonal Vegatables A-UN).
One of Ozawa's greenhouses was the stage for this FoodCamp, perfect for a season with unpredictable weather conditions. The rain was kind enough to wait for all participants to come back to their seats after the farm tour before starting to fall.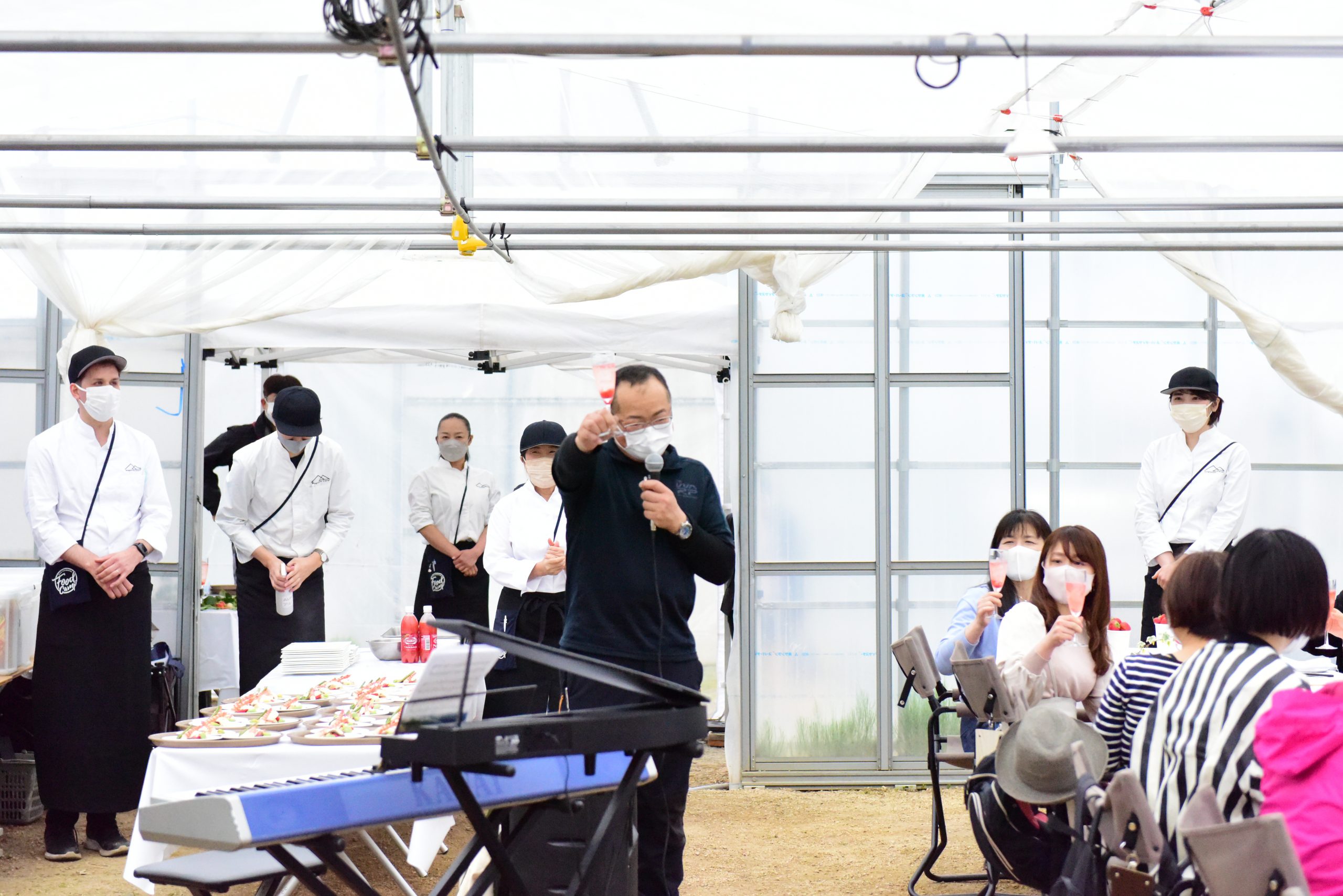 A toast from farm owner Ozawa-san to open the FoodCamp 2022 season
Bringing out strawberries' inherent quality: tricks of the trade
Ozawa-san: "April to May is the season in which even us farmers can't help ourselves from eating some every once-in-a-while."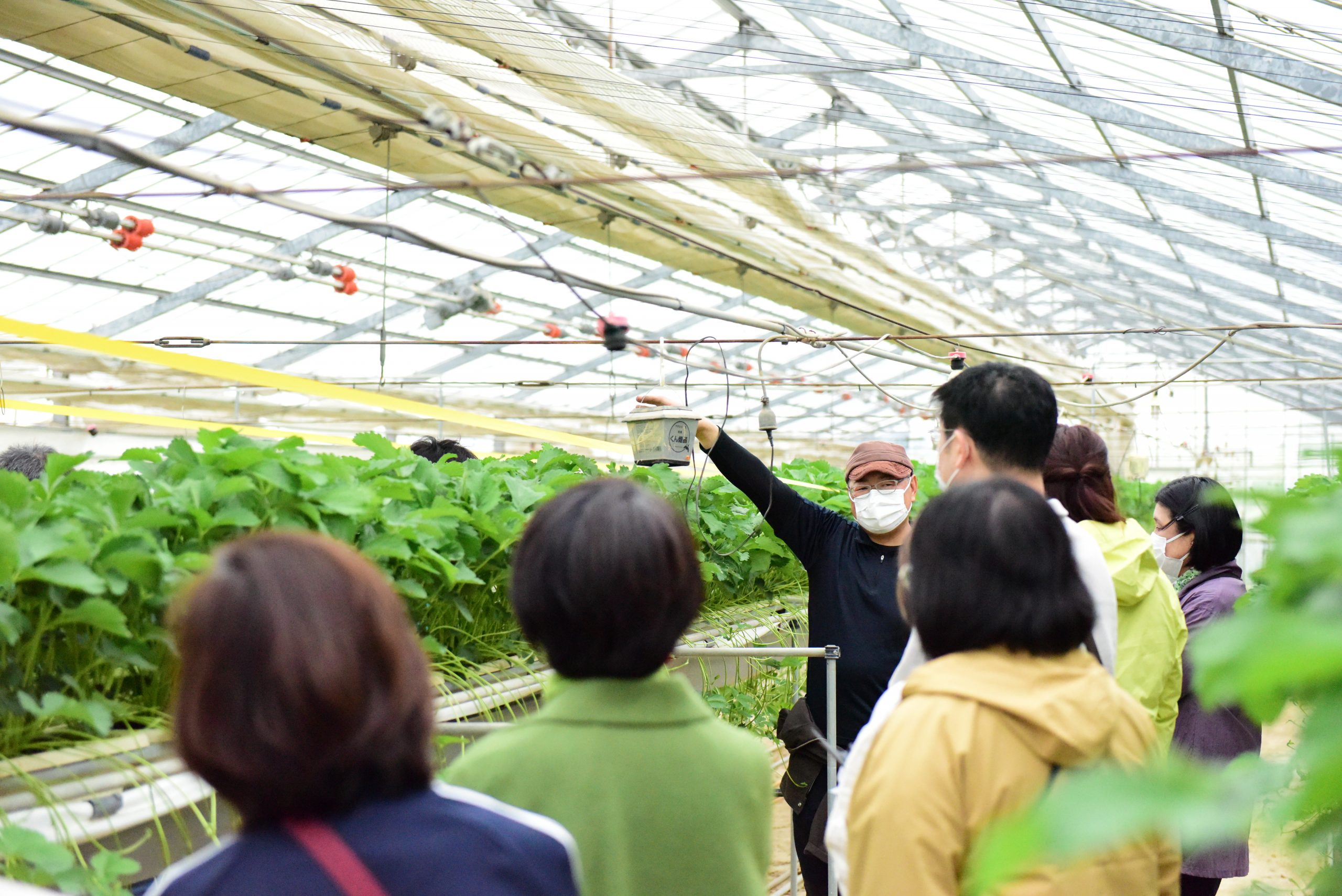 Ozawa-san shares his passion for strawberries
During a leisurely stroll of the farm, with its sweet strawberry scent, Ozawa-san guided the participants into the world of strawberries, by passionately detailing their history, characteristics, his efforts to grow every single berry with care, and the newly-installed advanced lighting system.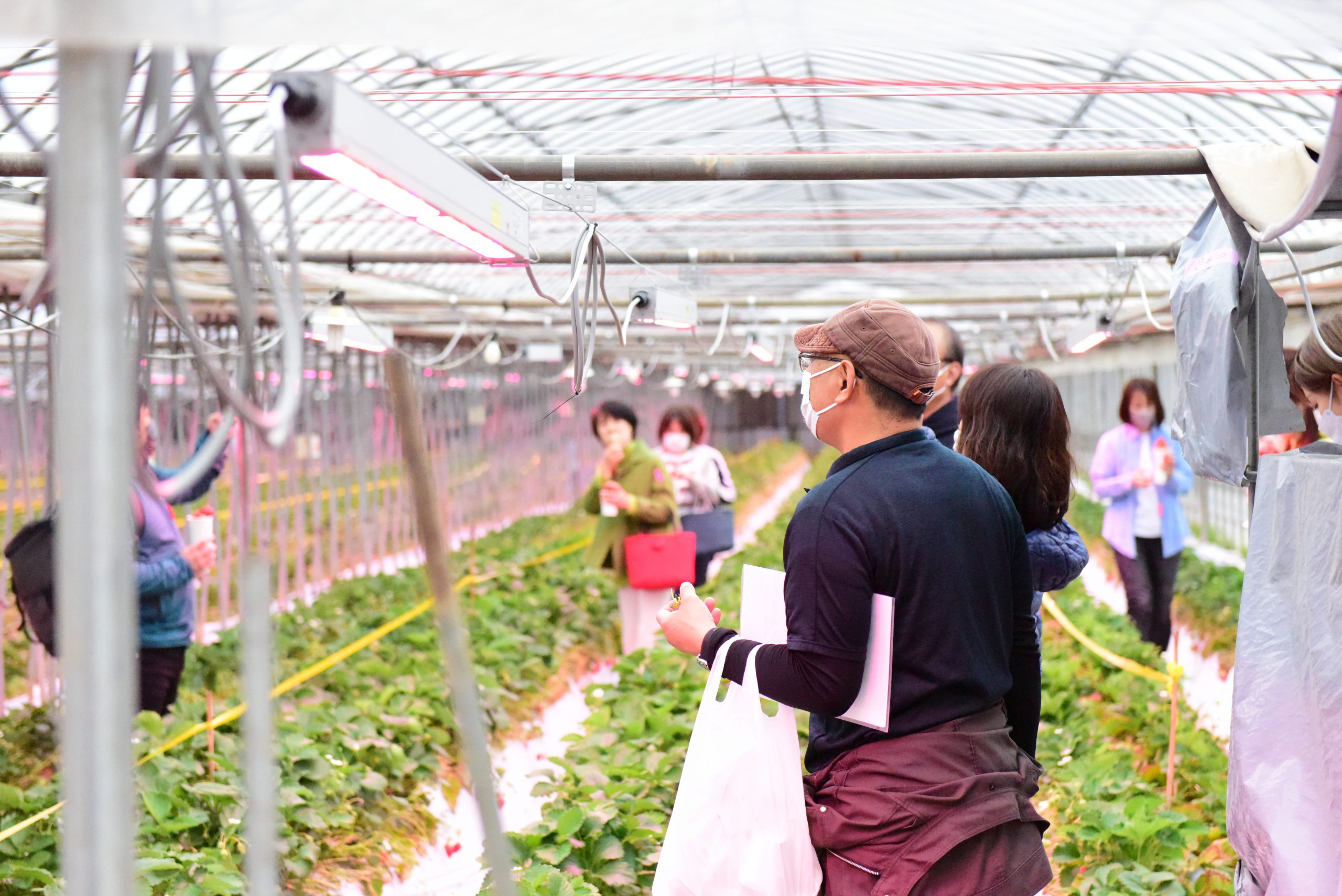 The romantic pink glow from the lighting system brightens up the strawberries
At the push of a button, the greenhouse is suddenly lit with a romantic pink glow. "This lighting system is the first of its kind in Japan. By supplementing natural sunlight, we can simulate different kinds of climate. In doing so, we can adjust the taste and texture according to the needs of the customer," says Ozawa-san. Not overly-relying on technology, his passion and personality make a deep impression to the participants.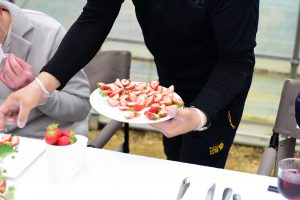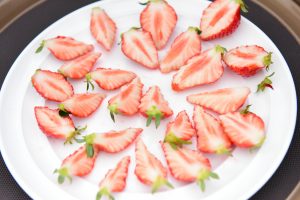 During the meal, Ozawa-san shares a very special technique with the participants. If you make a x-shaped cut into the top of the berry (at the stem), and rip the berry into four pieces by hand along the berry's inner fibres, you will find a very different texture, and more balanced flavor than you are used to. It is clear that Ozawa-san really knows his strawberries to the core.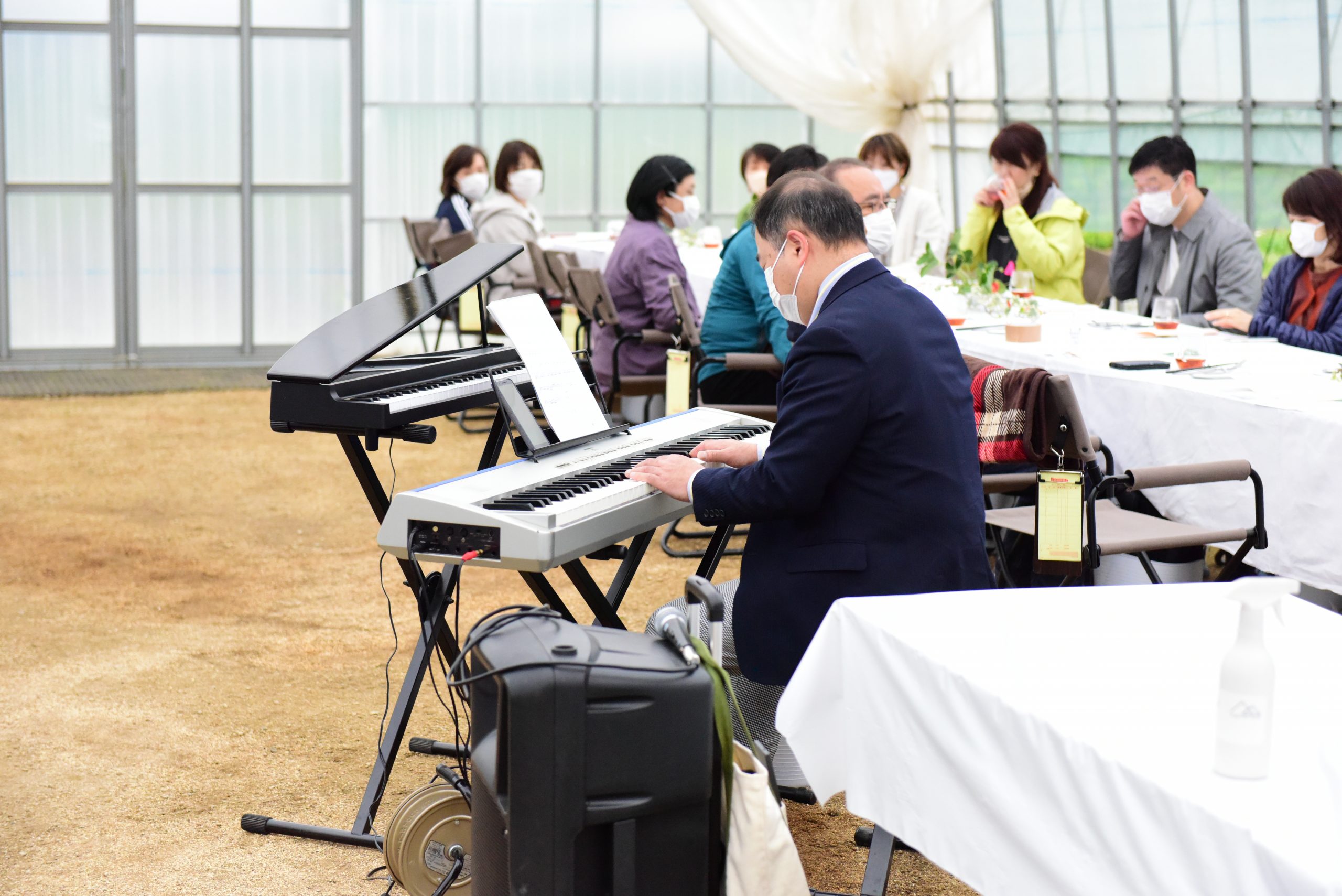 Pianist So Hayano's beatiful live performance gives the greenhouse a tranquil atmosphere
Surprisingly versatile strawberries
From the hors d'oeuvre to the dessert, strawberries featured in all stage of the menu. At first glance, participants may have been a bit surprised. "Are strawberries really this versatile?" Every dish was colorfully presented, with great care for the presentation of the ingredients. As soon as the dishes started being arranged on a table in the greenhosue, you could see the glances of the participants shift in the table's direction, with some walking over to take a peak, or even a picture.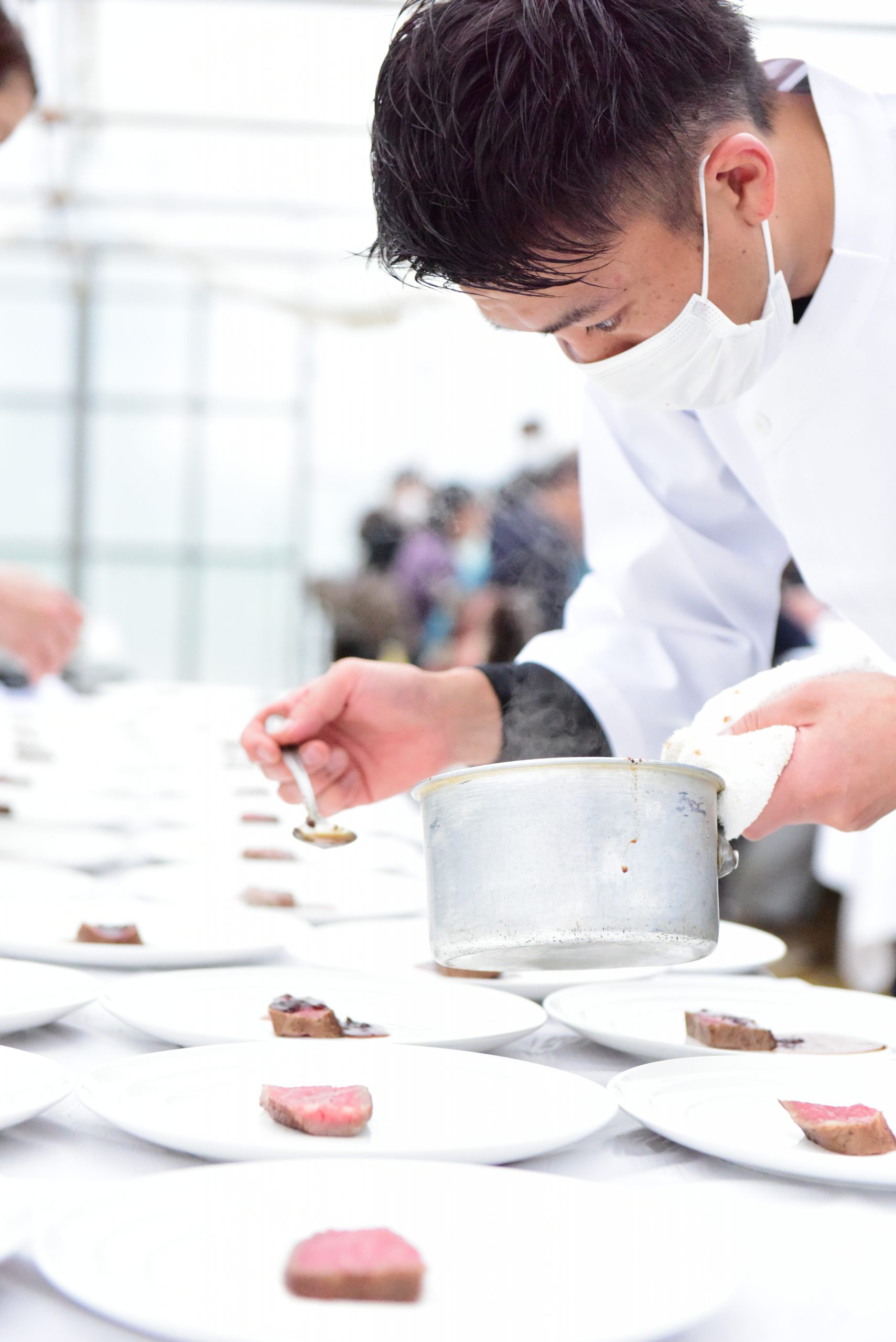 The one drawing all these glances was chef Hayashi, who is becoming increasingly popular for his use of- and skill with Oku-Aizu Beef. The bar was set very high by the rare combination of beef and strawberries, but he was adamant about meeting the special request from Ozawa-san's wife. In the end, we can safely conclude that Hayashi-san went above and beyond.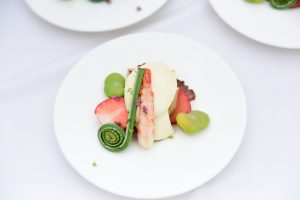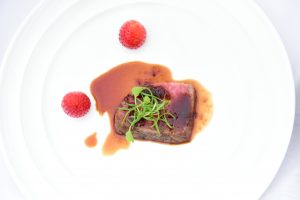 With the idea in mind that "leaves, stalk, unripe berries… in the end it's all strawberry," Chef Hayashi used every part of the strawberries, from the flowers to the flesh, arranging it with Oku-Aizu Beef in a way that made the participants fall head over heels.
(Re)discovering the treasure-trove of strawberries and Oku-Aizu beef
As the rain started falling heavier by the end of the tour, the FoodCamp-staff had to send-off the participants from the back-entrance of the greenhouse. Even at this distance, the participants responded by waving back enthusiastically.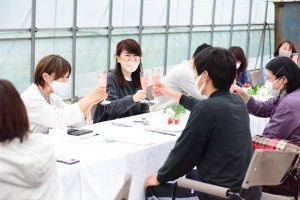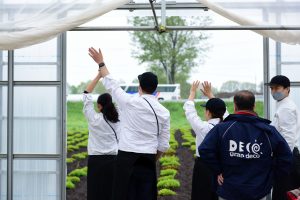 From the hidden potential of the suprisingly all-round strawberries, to the high quality of the Oku-Aizu beef that exceeded the already high expectations; FoodCamp will continue to look for new treasures that Fukushima's soil has to offer!
Highlights
A farm tour with Mr. Ozawa

Follow Mr. Ozawa on a guided tour of the sweet-scented farm, enthralling people with in-season strawberries. As a special treat, you can pick some strawberries yourself!

A one-time lunch experience in a strawberry-greenhouse

Enjoy a unique, one-day-only dining experience in one of the farm's greenhouses.

A course of fully ripe strawberries and Oku-Aizu beef

The meals will be prepared by Chef Hayashi (Wagyu & Seasonal Vegetables - A-UN). The top-grade Okuaizu beef and fully ripe strawberries are a match made in heaven! Discover a whole new approach to strawberries with this Japanese-style lunch.
Cast
Bringing out the strawberries' inherent quality

Ozawa Farms -

Mutsuhiro OZAWA

The 10 years that have passed since Ozawa-san took on strawberry farming have been more than worthwhile. His straightforward philosophy of 'bringing out strawberries' inherent quality' aptly reflects Ozawa-san's character. Take the opportunity to (re)discover what makes him so very special.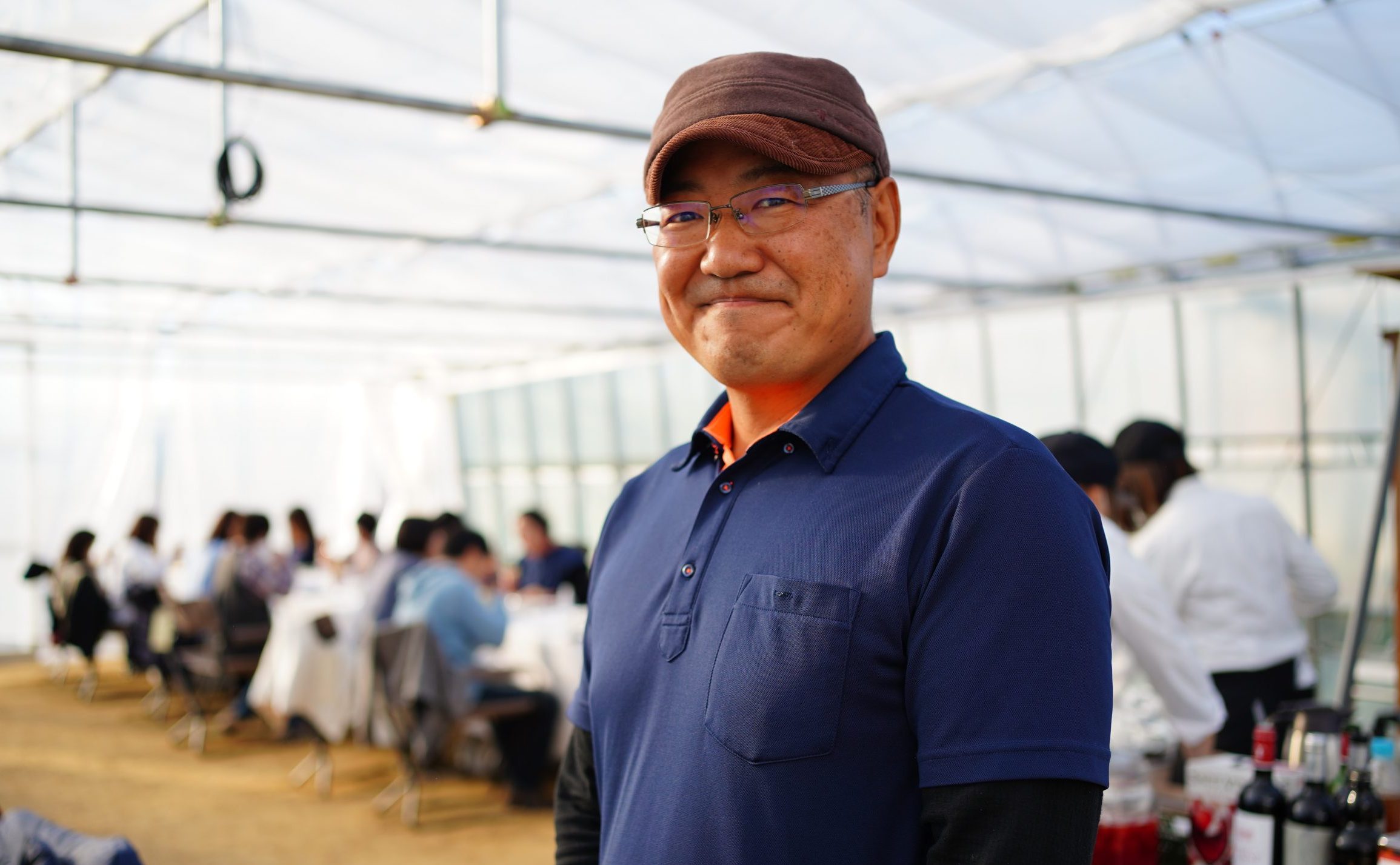 Even the greenhouse is different
You could hardly blame one for falling in love with the sight of honeybees gently flying from bud to bud, and the rows of plump red berries hanging from the vines. You may even get a bit jealous of the strawberries, especially those as delicious as the ones produced by Ozawa-san. His fully ripe strawberries were already a well-known secret to both producers and customers in Fukushima, making the farm-shop a place where many people cross paths.
Last fall, a new shop opened on the premises of Ozawa Farms, called 'And Roll,' serving roll cakes made of Ozawa Farms' fully ripe strawberries. On Saturdays and Sundays, customers without reservation start lining up in droves.
Once you try one of Ozawa Farm's fully ripe strawberries, you will forget you ever tasted any other.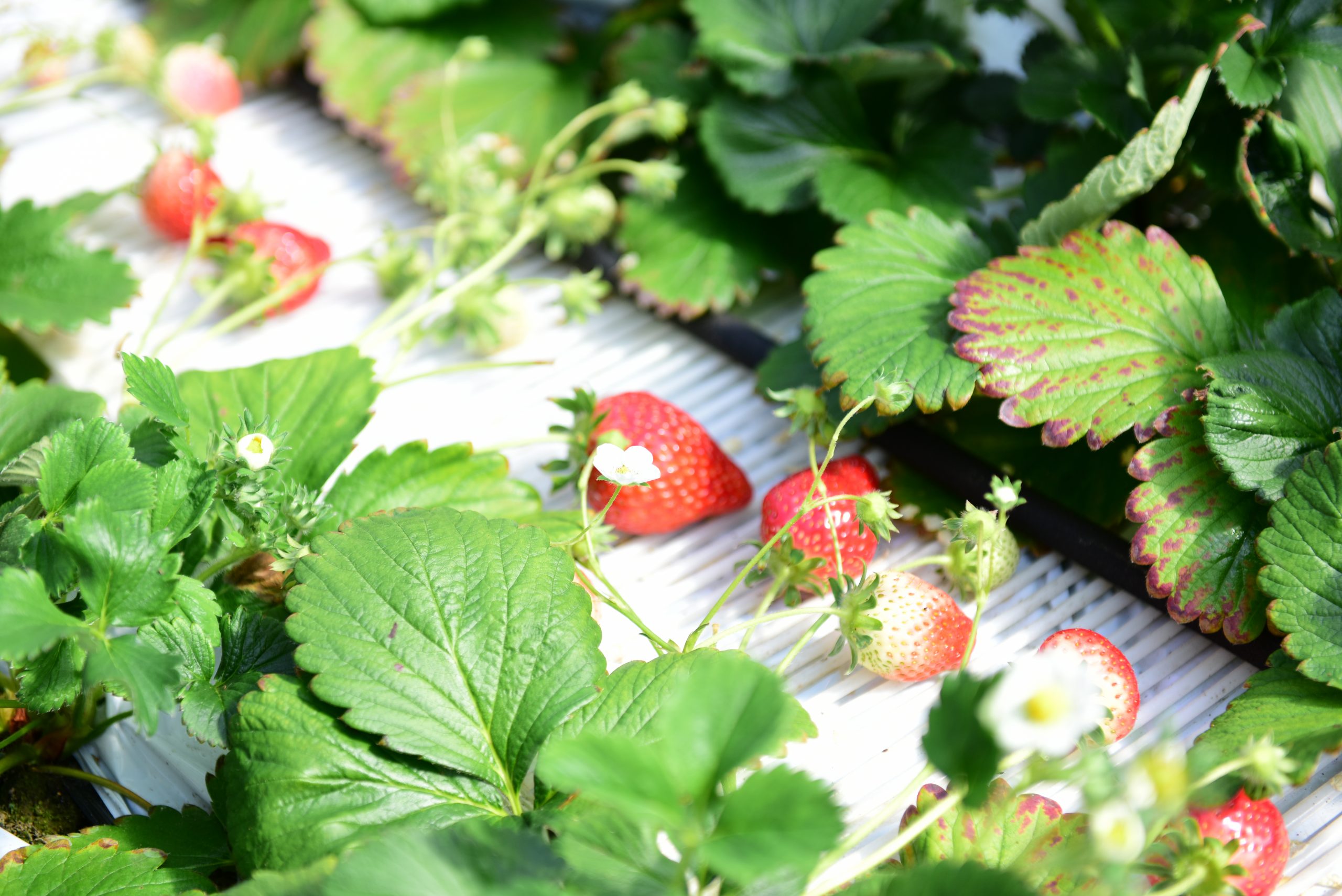 Ozawa Farms has six greenhouses, which look the same, but are actually quite different.
The greenhouse on the north-side of the farm has relatively low mounts running from north to south. The vinyl cover has a high transparency, allowing in very strong sunrays, especially when the sun is up high. In another greenhouse, the mounts run from east to west, and go up to an adult person's knees, and the cover makes the sunrays slightly more gentle.
The shade provided by the bamboo-patch on the premises makes for subtly different conditions. This may not seem like much of a charge in conditions to people, but for strawberries this makes all the difference. It is like a 'dosage,' controlling the production throughout the season.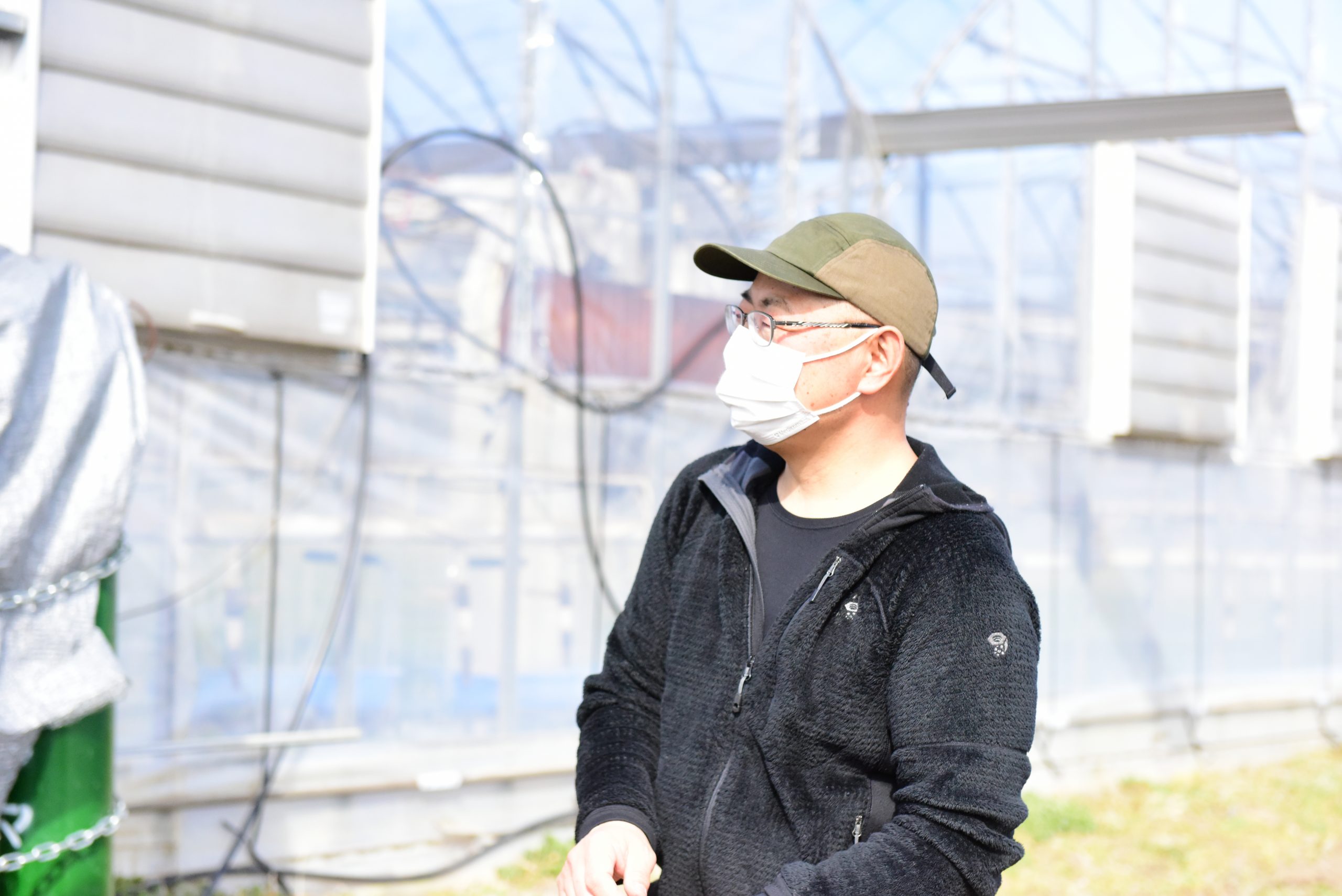 Different tastes and textures
It's also possible to have different tastes and textures in strawberries, even within the same variety.
Ozawa Farms cultivates the variety known as 'tochi-otome.' Tochi-otome strawberries are brightly colored, and have relatively defined cone-like shapes. The berries have a glamorous look, being quite large and pinkish, with a red center. The strong, sweet scent is prominent, and it has an exceptionally good balance between sweet and sour. Despite its relatively strong flesh, it is very juicy, making it a popular variety around the country.
When you try one of Ozawa's fully ripe strawberries, it's clear that he has brought out their full potential. Even within the tochi-otome variety, it is in a league of its own.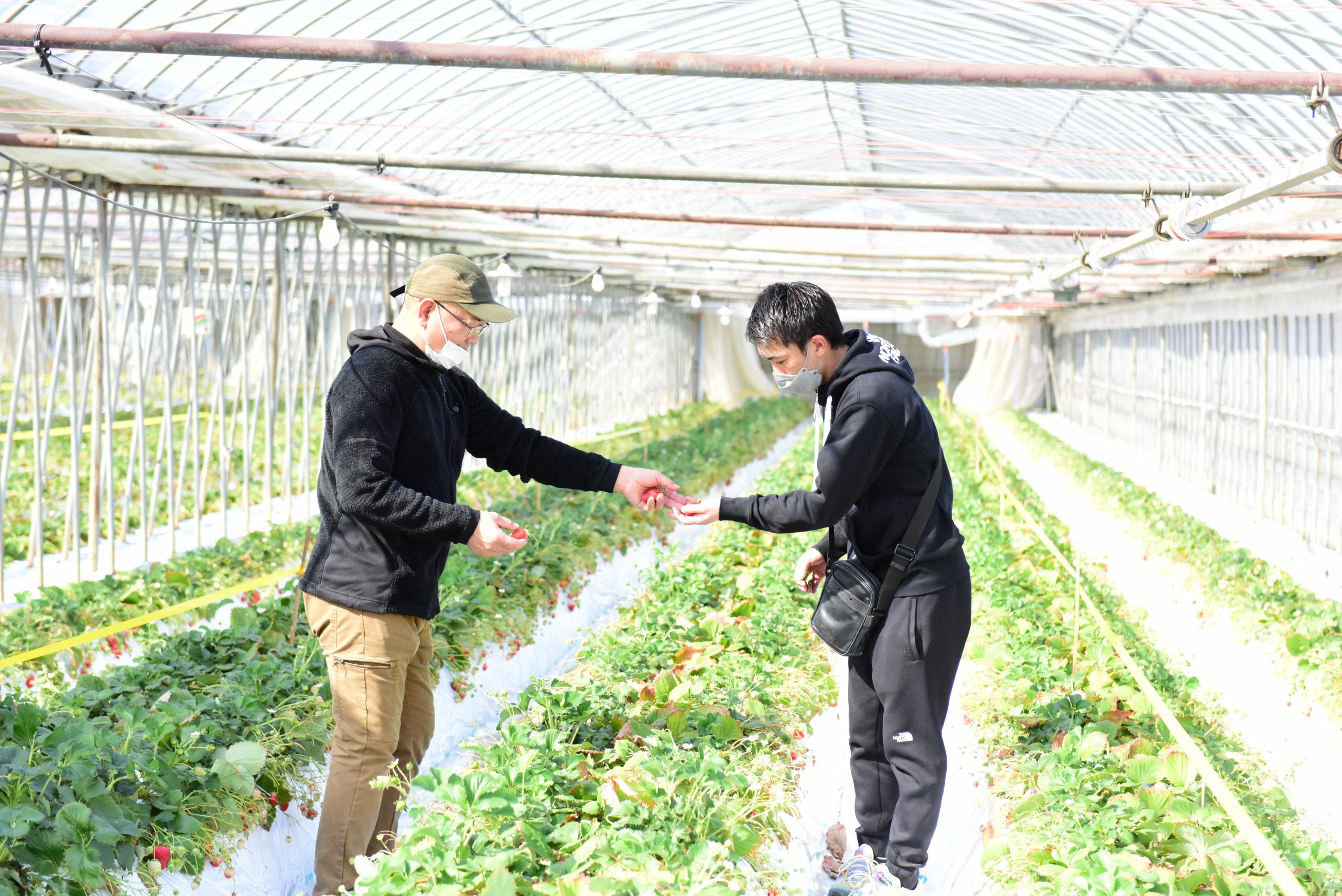 Enjoy all the different expressions of the strawberry
Everyone knows the different stage of the ripening process, from the unripe white berries, to the ripening ones that are slowly turning red, to the bright-red fully ripe strawberries. The taste and texture depends on the size of the berry, and the condition in which they are grown. However, that is not everything. Even within a single berry the taste differs varies greatly between the tip and the part near the stem.
Every year, the FoodCamp at Ozawa Farm is immensely popular. And every time there are new things to discover. Undoubtedly, everything Ozawa-san has told us about strawberries so far is like the first few pages of a book. With the help of chefs, it is the pleasure, or rather the calling of FoodCamp to dig even deeper.
Discover the further secrets of strawberries together with Ozawa, at the strawberry farm in spring!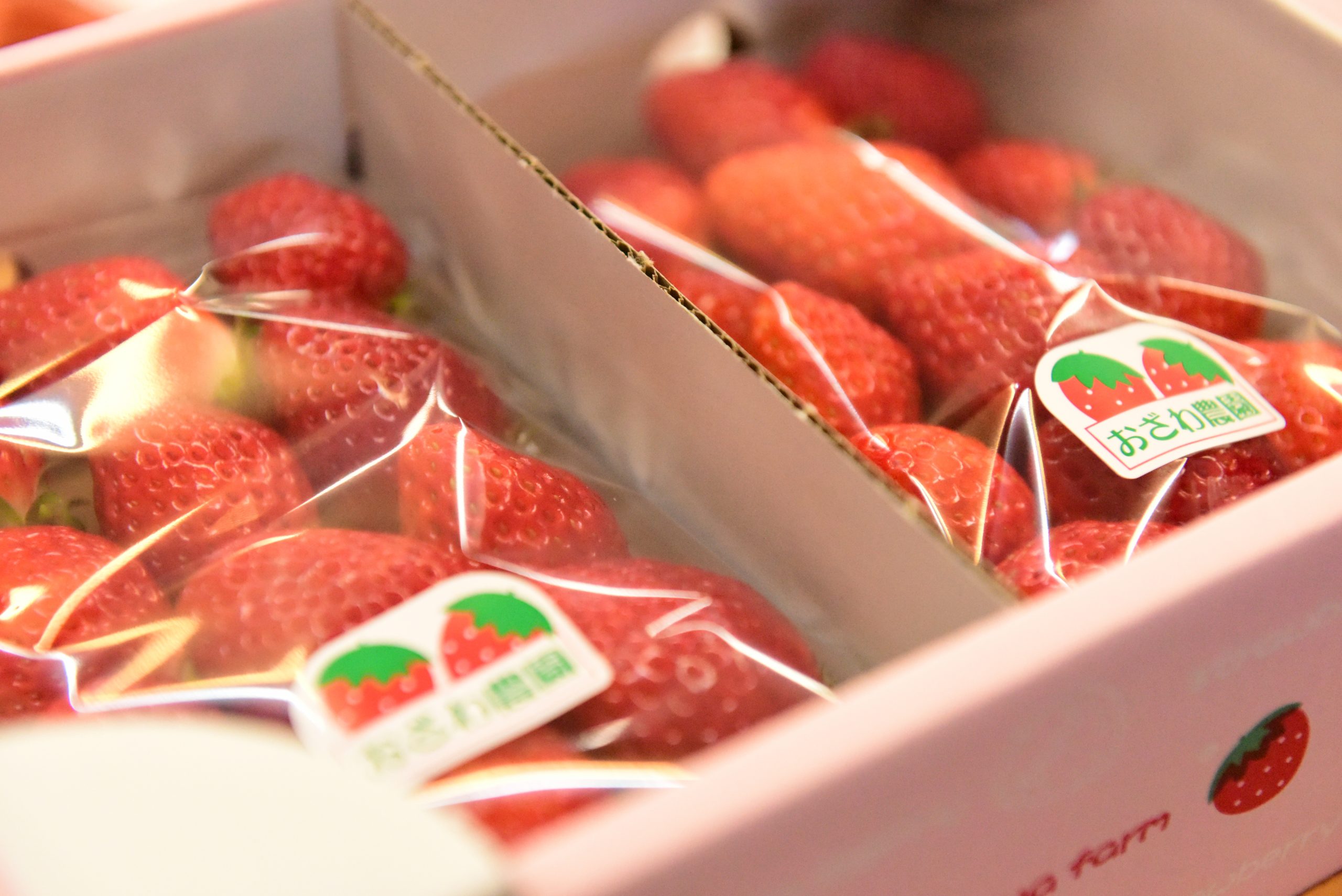 Exploring the possibilities of strawberries beyond deserts

Wagyu & Seasonal Vegetables A-UN -

Ryota HAYASHI

"Leaves, stem, unripe berries... it's all strawberry," Hayashi says as he picks one off the vine. Unrestricted, he is always in pursuit of new ventures. His careful preparation and respect for producers makes him very popular. Long in the making, expectations are high for this collaboration!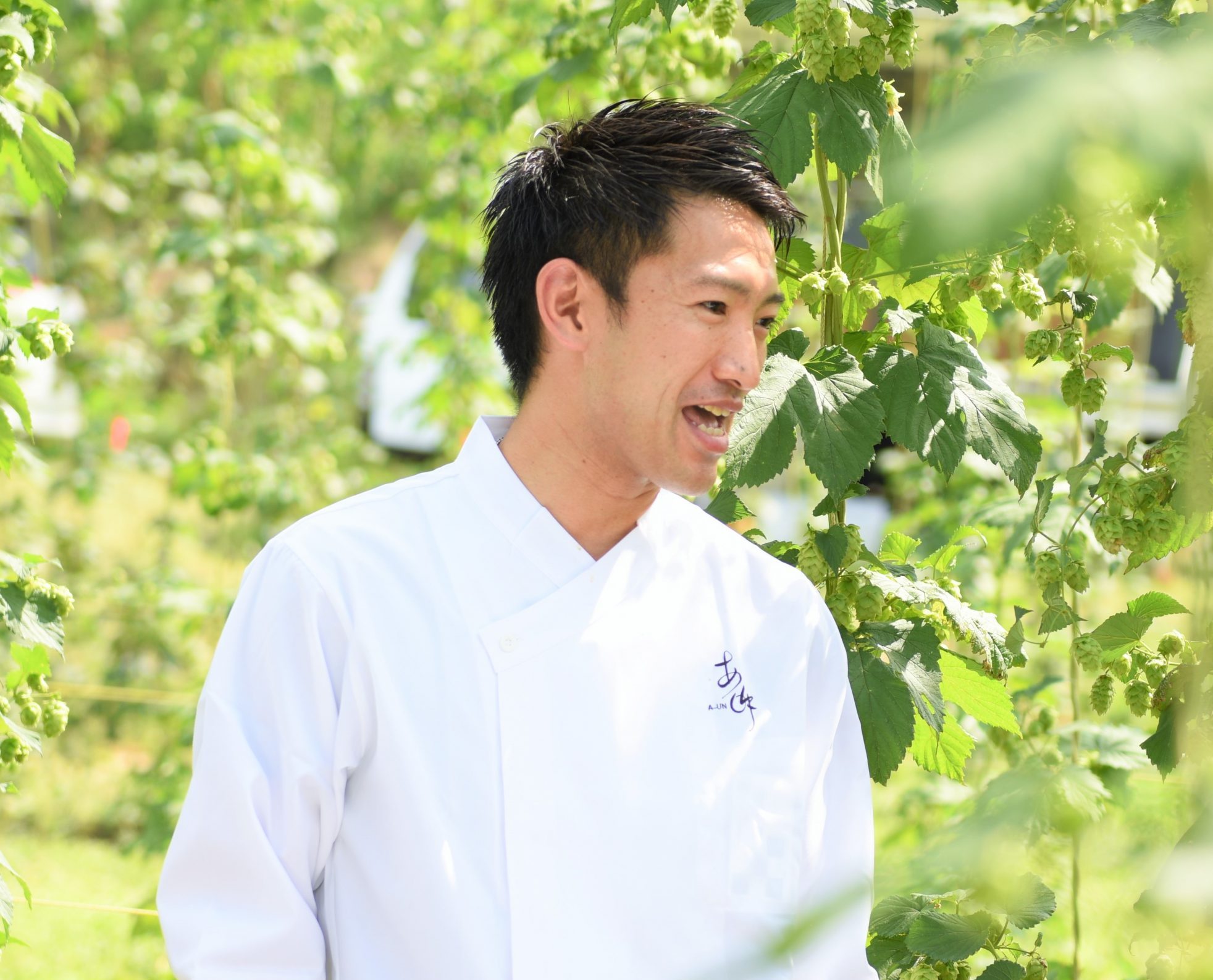 Possibilities of strawberries beyond desert
Chef Hayashi is the owner and head chef of Wagyu & Seasonal Vegetables A-UN, in the Koriyama Station area. The restaurant specializes in Japanese course-style seasonal dining, with Oku-Aizu beef as the main feature.
Oku-Aizu beef is a rare type of beef produced at designated farms in Aizu-Bange town (on the west-side of Fukushima Pref., where the beef gets its name from) with a sweet fattiness and a delicious, yet mild aftertaste. There are so few producers of Oku-Aizu beef it is generally only sold through direct relationships. Chef Hayashi was drawn to Oku-Aizu beef through its superior quality and the determination of the producers, and has been using it ever since. There seems to be some similarity with Mr. Ozawa there…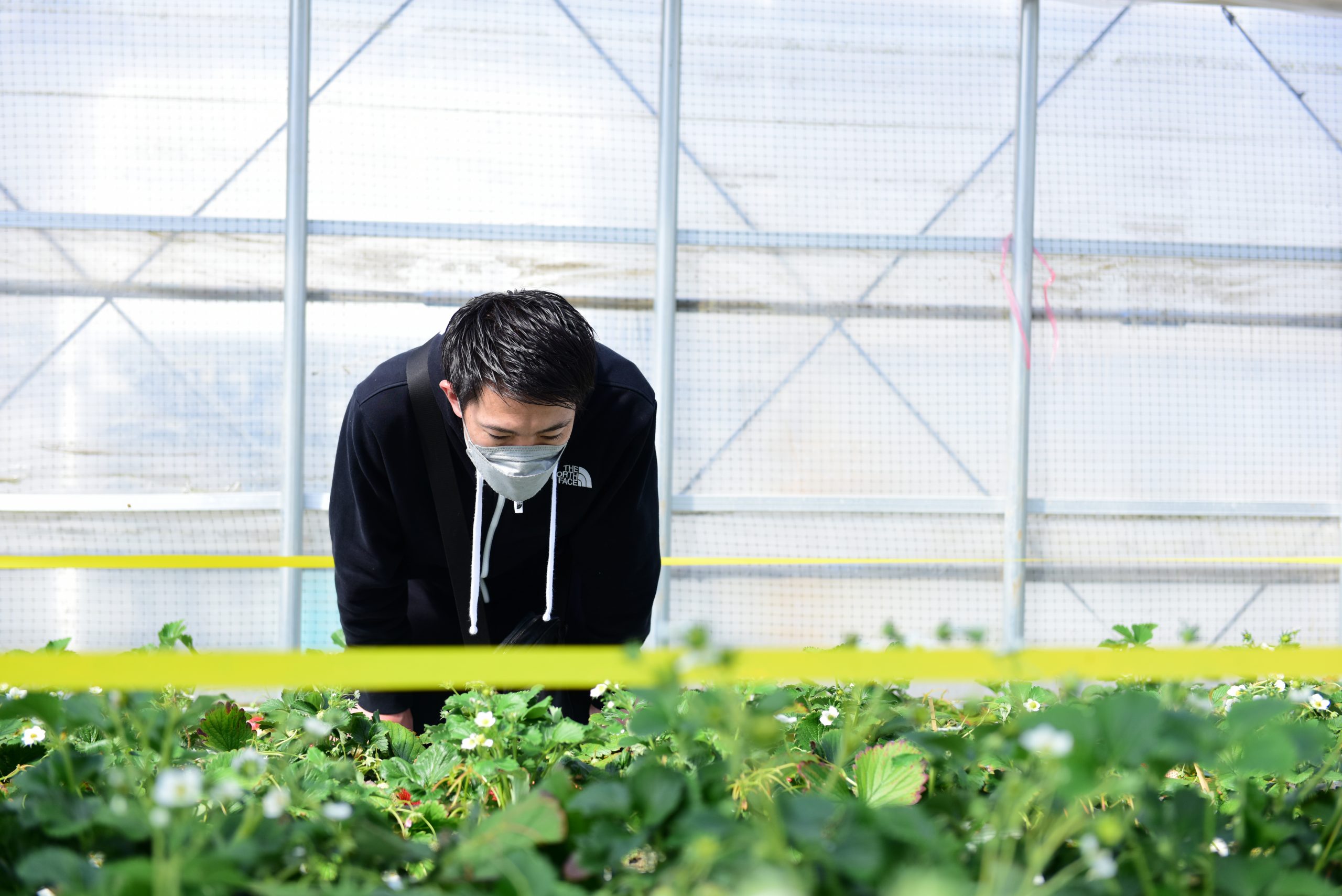 The two already know each other (Chef Hayashi already uses Ozawa's strawberries in his restaurant), but they have fewer opportunities to just meet up and have a talk than one would think. The two spend some time between the mounts; standing, then crouching, almost as if in direct conversation with the strawberries. Chef Hayashi is handed a strawberry by Ozawa, and takes a bite. The berry, still warm from the strong sunlight, seems to give him a flash of inspiration.
"Strawberries tend to be used only for deserts. I'd like to take this opportunity to explore more possibilities beyond just deserts," says Hayashi. Ozawa nods with a deep sense of interest.
"Leaves, stem, unripe berries… in the end it's all strawberry."
"Can I try one of the sprouts?" asks Hayashi. As he tastes the pungent, bitter leaves, Ozawa instinctively follows suit. Chef Hayashi might just be the only chef to try the not-yet-ripe, green berries. But with FoodCamp, this is not a rare sight.
This is exactly the kind of thing a chef has an eye out for. And this might just lead to a new kind of revolutionary taste. During a previous FoodCamp, Chef Hayashi used hop to make miso, and went on to combine it with Oku-Aizu beef, to the great delight of the guests. So much so, some of them practically begged him to bring it to market.
Fully ripe strawberries; a gift of skill and character
When asked for his first impression of Ozawa Farm's fully ripe strawberries, he responds: "When I first had a taste, I thought "Wow, this is sweet!" Getting to know Ozawa, I was impressed more than anything by his character and passion towards strawberries. That's the best quality of Ozawa Farm." The skill of the farmer is beyond doubt, but for Hayashi, the 'person behind the product' is also important.
In fact, this collaboration was made possible by the recommendation from Ozawa's wife. Hayashi: "I always wanted to work together with Ozawa, so I was very happy to learn I was chosen, but also a bit nervous."
As Ozawa reassures Hayashi by saying, "I'll adjust the conditions to make sure you get strawberries with the exact taste and texture you're looking for!", there's no doubt this tour will be a great success.
Tour Schedule
Pick-up / Meeting Place

9:30 a.m.

Pick-up by taxi (Koriyama Kanko Kotsu Taxi) from your house or place of stay in Koriyama, or at Koriyama Station. We will inform you of your pick-up time one day before the tour.
*For those scheduled for pick-up at Koriyama Station, please arrive at Koriyama Station by 9:15 am.

Let's go!

10:00 a.m.

Departure for the tour site, from the Magonote Travel Asaka Office.
* Those coming to the Office directly, please arrive by 9:50 (limited parking space).

Arrival at Tour Site

10:30 a.m.

Enjoy a tour of the strawberry farm guided by Mr. Ozawa, as well as strawberry-picking.
(Note: Ozawa Farms does not usually accept farm-tours and strawberry picking. Please refrain from inquiring.)

Lunchtime

12:00 p.m.

A one-time-only lunch by collaboration of Ozawa Farms' fully-ripe strawberries and Okuaizu Beef. Look forward to Wagyu & Seasonal Vegetables A-UN's Chef Hayashi's unique approach to strawberries! Discover new ways of enjoying their flavor during this lunch course. (Includes one welcome-drink. Further drinks charged separately.)

Shopping time

14:30 p.m.

Opportunity to purchase in-season strawberries. Considering the limited space, shopping at the farm shop will be done in groups. Reservations for delivery also possible.

Arrival back at the Asaka Office

15:30 p.m.

After arrival at the Asaka Office, a taxi will bring you back to your home or place of stay in the city, or to Koriyama Station.
*For your return trip, please prepare your itinerary for departure after 16:30.
Tour details
Date(s)

April 29 (Fri.)

Fee

*same rate applies for children/participants travelling to the venue directly with their own vehicle.

What to wear/bring

・For COVID-19 prevention, please wear a mask.
・The tour will include outdoor activities, as well as dining and an activity inside a greenhouse. Please wear comfortable? Clothing, that suitable for a wide-range of temperatures.
・It may be very bright out. It is recommended to bring a hat or cap.
・Participants will spend time on the farmland, so please refrain from wearing sandals and shorts. Please wear clothing you not mind getting dirty (Sneakers OK).

Conditions of Participation

Participation open to everyone over elementary school-age, and able to participate on their own (no need for accompaniment by a care helper, or with permission from a doctor). Same price for adults and children.

Operating Company

Koriyama Kanko Kotsu K.K

Tour Operator

Magonote Travel's own staff will accompany the tour.

Travel Insurance

Travel insurance is required for all tours, in case of accidents and emergencies. The insurance fee is included in the price. For this reason, we need to ask for your date of birth.

Cancellation Fee

The following cancellation fees will be charged for tours with lodging and tickets: 20 to 8 days in advance: 20%, 7 to 2 days in advance: 30%, the day before the tour: 40%, on the scheduled date before the tour starts: 50%, no-show without notice: 100%.
For one-day tours, the following fees will be charged retroactively from the day before the start of the tour: 10 to 8 days in advance: 20%, 7 to 2 days in advance: 30%, 1 day in advance: 40%, on the scheduled date before the tour starts: 50%, no-show without notice: 100%.

In case of bad weather

The tour will not be cancelled in case of bad weather. However, in case the tour has to be cancelled due to a natural disaster, you will be informed one day before the tour. In this case, you will receive a full refund.

Minimum number of participants

If there are fewer than 15 participants the tour will be cancelled. In such case we will inform you at least 4 days in advance.
Location
Ozawa Farm – 69 Maedagawa Hiromachi, Sukagawa City, Fukushima Pref.
TEL: 0248-76-7495
※near the Iwase Agricultural High School
※As there is limited parking, we need to limit the amount of participants to meet on-site.